Discover more from The Her Hoop Stats Newsletter
Unlocking better insight about women's basketball
Over 3,000 subscribers
2020 Reflections and 2021 Forecasts: Minnesota Lynx
Thanks for reading the Her Hoop Stats Newsletter. If you like our work, be sure to check out our stats site, our podcast, and our social media accounts on Twitter, Facebook, and Instagram. You can also buy Her Hoop Stats gear, such as laptop stickers, mugs, and shirts!
Haven't subscribed to the Her Hoop Stats Newsletter yet?
---
Now that the Seattle Storm have won the 2020 WNBA championship over the Las Vegas Aces, it's time for the next installment of our series reflecting on the 2020 season for each WNBA team and looking ahead to 2021. Below is our analysis of the Minnesota Lynx.
---
Our breakdowns of other teams:
---
By the numbers
14-8 (.636), 4th seed in the playoffs, eliminated in Round 2 by the Seattle Storm

Points Scored: 84.4 (6th), Points Allowed: 80.6 (5th), Margin Per Game: +3.8 (4th)

Offensive Rating: 105.5 (3rd), Defensive Rating: 99.8 (6th), Net Rating: +5.7 (3rd)

Pace: 80.4 (11th)
2020 Synopsis
If Minnesota Lynx General Manager and Head Coach Cheryl Reeve had known prior to the 2020 season that two projected starters would only play nine regular-season games, yet the team would still finish as the No. 4 seed, that likely would have been a pleasant surprise. 
Karima Christmas-Kelly went down with a torn Achilles tendon in the second game and only played 25 minutes in 2020. WNBA all-time leading rebounder Sylvia Fowles only managed 168 minutes due to a strained calf muscle.
The Lynx seemed to have a different star each night, but a key piece of the team's success fell into place on draft night. However, it was not in the first round, but in the second round when they selected Crystal Dangerfield with the 16th pick. Dangerfield would become the second consecutive Lynx Rookie of the Year after Napheesa Collier in 2019. 
Collier had an impressive sophomore season, improving nearly every single statistic and being named to the Second Team All-WNBA and All-Defensive Second Team. Damiris Dantas also showed improvement, increasing her scoring average from nine points per game in 2019 to almost 13 in 2020. Dantas finished strong, averaging 18 points per game the last seven regular-season games with a career-high 28 on Sep. 2.
Reeve sensed in the preseason that the team had a positive chemistry that could result in wins. That chemistry led to several come-from-behind victories. Reeve said the team believed in themselves and never gave up when trailing in a game. The injuries thrust former role players into more playing time and starts. This resulted in Bridget Carleton (25 points on Aug. 5) and Rachel Banham (29 points 10 assists on Sept. 12), responding with career highs in their initial starts for the Lynx. Before concussion symptoms sidelined Lexie Brown, she had a two-game stretch (Aug. 5 and 7) in which she totaled 41 points, 11 rebounds, 13 assists, and seven steals.
Although it's not always easy to bring in a player mid-season, the addition of Odyssey Sims after maternity leave worked out well. She scored in double figures in the last five regular-season games and all four playoff games. 
In light of Reeve's success guiding all these moving player parts while adding two new assistant coaches (Rebekkah Brunson and Katie Smith), she was voted Coach of the Year.
Cap Situation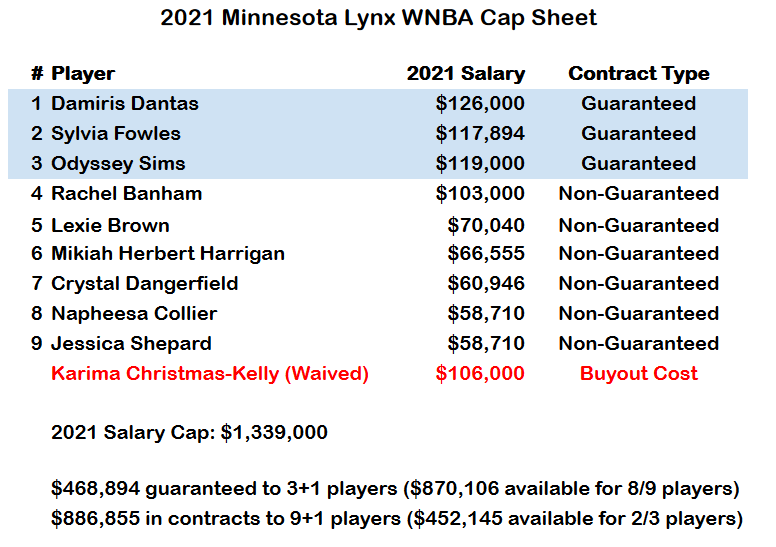 Unrestricted free agents
Free to sign with any team
Restricted free agents
Current team can match contract signed with another team
Reserved and "Suspended-Contract Expired" players
Can only negotiate with the Lynx
2021 Draft Picks
9th Pick (9th pick 1st round), $64,375

Traded 2nd round pick to Connecticut

Traded 3rd round pick to Indiana
2021 Roster and Cap Situation Summary
Minnesota is the only team already carrying "dead money" into 2021, due to waiving Karima Christmas-Kelly's guaranteed deal during the 2020 season, but is in pretty good cap shape regardless. With starters such as Collier and Dangerfield still on rookie-scale contracts and key veterans like Fowles and Dantas on manageable deals that originated under the old CBA, the Lynx are in position to go shopping this offseason.
The nine players currently under contract don't include any obvious cuts, but the $452,145 of space remaining is likely more than enough to re-sign players like Bridget Carleton and Cecilia Zandalasini, then chase a max free agent (even if it requires a supermax deal). Their first choice would presumably be Maya Moore if she wishes to return to the game, but any prime free agent could also be on the Lynx's list. A team that finished top-four in 2020 with its star center injured for most of the year is in position to significantly strengthen its roster for 2021.
Looking to 2021
While the Lynx hope to further develop Crystal Dangerfield and Mikiah Herbert Harrigan, they can also look forward to the return of Jessica Shepard, who should be fully recovered from a torn ACL. In just six games in 2019, Shepard showed remarkable vision and passing skills while averaging 3.5 assists a game. Having Fowles at full strength will also make a big difference, especially on the defensive end. Increased depth in a backcourt that includes Dangerfield, Brown, Sims and Banham is a big plus. They will likely still be a young team, but they will have increased confidence after an unforgettable season in the Wubble.
---
Thanks for reading the Her Hoop Stats Newsletter. If you like our work, be sure to check out our stats site, our podcast, and our social media accounts on Twitter, Facebook, and Instagram.
---