2020 WNBA Roster and Salary Cap Breakdowns: Western Conference
Editor's Note: This piece is intended to serve as an analysis of the salary cap situation and implications for the Western Conference teams in the WNBA rather than breaking news on contract details. It is the policy of Her Hoop Stats to cite the work of others when it is used as the source of that analysis. The vast majority of the contract details in this article have been previously reported and can be seen in the High Post Hoops salary database.
We at Her Hoop Stats have been pleased to see the original reporting and tremendous effort of outlets such as High Post Hoops to cover the WNBA in general and free agency this offseason in particular. Organizations such as Winsidr and Women's Basketball247 have also been doing excellent work to break news in the WNBA. We strongly encourage our readers to support those groups and others to help ensure independent coverage of the women's game.
---
Thanks for reading the Her Hoop Stats Newsletter. If you like our work, be sure to check out our stats site, our podcast, and our social media accounts on Twitter, Facebook, and Instagram. You can also buy Her Hoop Stats gear, such as laptop stickers, mugs, and shirts!
Haven't subscribed to the Her Hoop Stats Newsletter yet?
---
Dallas Wings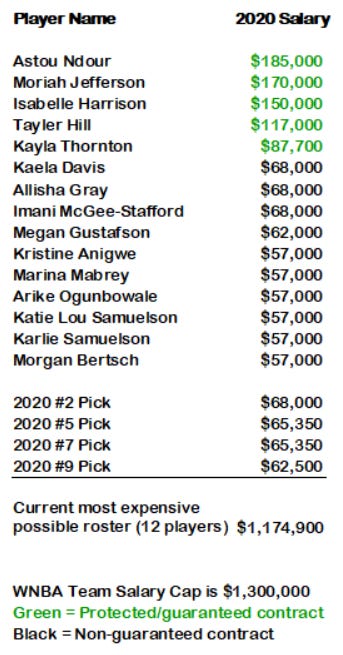 PG: Moriah Jefferson
SG: Arike Ogunbowale/Allisha Gray
SF: Kayla Thornton/Katie Lou Samuelson
PF: Isabelle Harrison
C: Astou Ndour
...plus five more from the options in the graphic above. If they keep all the draft picks, a lot of the currently signed veterans heading for the door.
Dallas is one of the more complicated teams at this stage in proceedings. They already have 15 players under contract, with four first-round picks (and two second-round picks) to add in the upcoming draft. If this was a WNBA 2K video game - and it had the franchise mode that they'll eventually get around to offering us - you'd combine the limited value of several of their pieces and trade them for one better player. But this is the real world, and here it's hard to find partners for that kind of deal unless a player is forcing their way out. So the Wings may well end up just cutting a lot of players in training camp.
One good thing about having such a young roster is that they're cheap, which means Dallas has a lot of room to maneuver. As the list above indicates, Tayler Hill's contract is guaranteed, but that doesn't necessarily mean she'll be on the roster. Usually if a WNBA team wants to cut a player with a guaranteed deal they try to agree a buyout figure for less than the total, which the player receives once she passes through waivers (saving the team both actual cash and salary cap room). The Wings are in the fortunate position where they wouldn't even have to talk Hill into accepting less money. With the 2020 WNBA team salary cap at $1,300,000, they have the space to cut her and pay the whole $117,000 if they want someone else on the roster. Considering Hill's only been seen for 11 total games over the last two WNBA seasons due to injury, that may well be the way they go.
Las Vegas Aces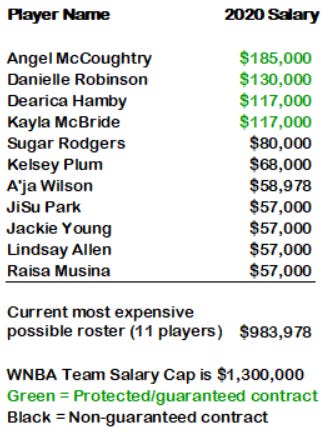 PG: Kelsey Plum/Danielle Robinson/Lindsay Allen
SG: Kayla McBride/Sugar Rodgers
SF: Angel McCoughtry/Jackie Young
PF: A'ja Wilson/Dearica Hamby/Raisa Musina
C: (Liz Cambage)/JiSu Park
Remembering that the team salary cap this year is at $1.3 million, you may notice that the Aces appear to be a long way under that figure on the graphic above. That's primarily because, at time of writing, restricted free agent and star center Liz Cambage is yet to sign a contract. She has, however, been in the US and even made phone calls for the Aces to try to sell season tickets, so the general expectation is that eventually she'll sign and play in the 2020 season. Although given her history of missing several WNBA seasons, you can understand Aces fans being a little nervous. Her maximum salary is $185,000, which would cut out about half of their current cap space.
Beyond Cambage, the Las Vegas roster is currently very straightforward. They only have 11 players under contract, and their sole draft pick is at #33 where players very rarely make the team. So without further signings, you'd expect the current 11 plus Cambage to be the final roster. However, even if you assume Cambage gets her max, their remaining cap space of $131,022 is significantly more room than most of the other teams expected to contend for a title have left. One of the few remaining veteran free agents (Essence Carson, Tamera Young, Shavonte Zellous) could end up in that space, or Bill Laimbeer may save it for a potential trade either around the draft or during the season.
Los Angeles Sparks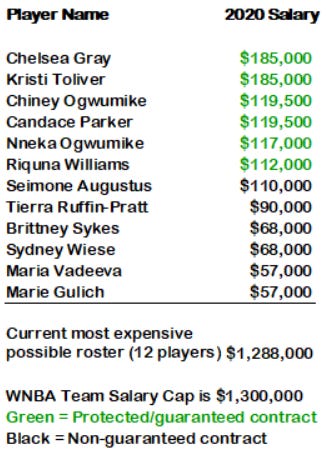 PG: Chelsea Gray/Sydney Wiese
SG: Kristi Toliver/Riquna Williams/Seimone Augustus
SF: Tierra Ruffin-Pratt/Brittney Sykes
PF: Candace Parker/Chiney Ogwumike
C: Nneka Ogwumike/Maria Vadeeva/Marie Gulich
This is another team that currently appears very straightforward. The Sparks have 12 players under contract, who just barely fit under the salary cap (they basically gave Augustus everything they had left). They don't have any picks in the draft until #20 and #22, players who you'd expect to be nothing more than training camp fodder. So unless they make another move or someone like Marianna Tolo or Alina Iagupova unexpectedly shows up - international players LA has signed in previous years and still holds the rights to - it looks like the current 12 could stick.
Minnesota Lynx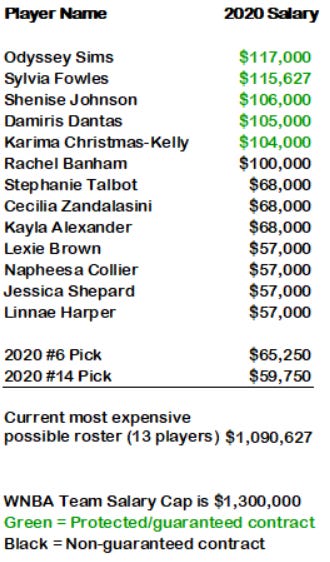 PG: (Odyssey Sims)/Lexie Brown
SG: Cecilia Zandalasini/Rachel Banham/Shenise Johnson
SF: Napheesa Collier/Karima Christmas-Kelly/Stephanie Talbot
PF: Damiris Dantas/Jessica Shepard
C: Sylvia Fowles/Kayla Alexander
...plus the #6 pick, and the #16 hoping to displace someone above.
Here things are back to being a little complicated again. You may notice that the total figure listed above is for 13 players, which is more than WNBA teams are allowed to carry on their rosters (teams are required to have either 11 or 12). That's because Odyssey Sims is pregnant, and therefore expected to miss at least some of the 2020 season. Thanks to signing very few free agents - and no one to anything above the old CBA's maximum salary - the Lynx have acres of cap room. Therefore they can afford to temporarily suspend Sims - which means her whole salary counts on the cap and she can return at any time, but the roster spot opens up - and replace her with someone else until she's ready to play. She also receives 100% of her salary regardless of the suspension, under the new CBA's Pregnancy Disability Benefit section. Hence the total of 13.
Beyond the Sims situation, there aren't too many complications for the Lynx. The #6 pick will make the roster and the #16 has a chance. Backup center Temi Fagbenle is a reserved player but is yet to sign a contract or commit to playing in the WNBA in 2020. If she was added then Kayla Alexander would find her spot under threat. Along with Indiana and New York, Minnesota is also one of the teams with the most cap space left to work with, so the Lynx could sign one of the few remaining veteran free agents if they wanted to. However, if Cheryl Reeve was looking to make deals like that, you'd think the signings would've already happened. The space will likely be hoarded for any surprise trade opportunities that crop up, or just go unspent.
Phoenix Mercury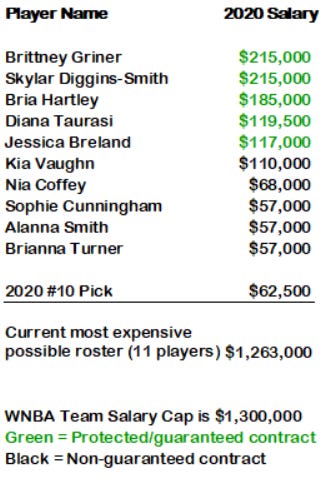 PG: Skylar Diggins-Smith/Bria Hartley
SG: Diana Taurasi
SF: Nia Coffey/Sophie Cunningham
PF: Jessica Breland/Brianna Turner/Alanna Smith
C: Brittney Griner/Kia Vaughn
...plus the #10 pick.
This is the first team discussed so far that is almost certainly expecting to head into the season with only 11 players on their roster (as opposed to the maximum of 12). The 10 players currently under contract, plus the #10 pick in the draft, would leave Phoenix with only $37,000 in cap room - and the minimum salary is $57,000. The only way that changes would be if Kia Vaughn was cut, but given that she was signed very recently and Sandy Brondello has typically shown a fondness for veterans over youth, that seems unlikely.
Salaries for players signed midway through the season are pro-rated based on how much time is left, so they'd be able to use that remaining 37k to sign someone on a minimum contract about a third of the way through the season. Alternatively, it offers enough room for someone not currently on the roster to sign for up to $94,000 (the minimum of 57k plus the 37k of room) and beat out one of the minimum salaried players currently under contract. Whether someone like Essence Carson, Tamera Young or Shavonte Zellous would be interested in that spot - and whether the Mercury would want to go that route - remains to be seen.
The other possibility that could shake up the roster is one or more of the Mercury's reserved players - Sonia Vasic (née Petrovic), Marta Xargay or Angel Robinson - signing a contract and showing up to play, but to this point there've been no signs of that happening.
Seattle Storm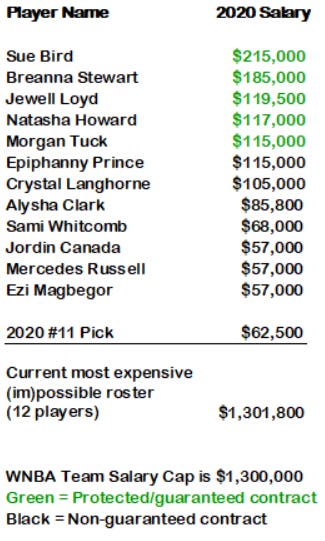 PG: Sue Bird/Jordin Canada
SG: Jewell Loyd/Sami Whitcomb/Epiphanny Prince
SF: Alysha Clark/Morgan Tuck
PF: Breanna Stewart/Crystal Langhorne/Ezi Magbegor
C: Natasha Howard/Mercedes Russell
...with the #11 pick getting cut.
The roster construction here is a little odd. Assuming last year's first-round pick Ezi Magbegor is intending to show up for the 2020 WNBA season - and all the signs suggest that that's still the plan - then the Storm have 12 players under contract and no obvious space for the #11 pick in the upcoming draft to make the roster. On top of that, as the graphic above shows, the #11 pick can't even beat out one of the minimum salary players - Russell, Magbegor or Canada - because that would put the Storm over the cap. Instead, #11 would have to beat out one of the non-guaranteed veterans - Prince, Langhorne, Clark or Whitcomb - in order to make the team. That's certainly possible - Langhorne in particular has been a fading force in recent years, and Prince isn't the player she once was - but it's a strange way to head into a draft. Also, if they'd given Prince just a little less - 113k instead of 115k - it would've been possible for #11 to fit under the cap instead of Magebgor if she outplayed her in camp. Which seems like an option that would've been worth leaving open.
Beyond that odd situation, the Storm roster looks essentially complete. Like everyone else they'll probably add a few training camp signings and they have a couple of later draft picks, but it'll be a surprise if any of those players threaten to make the opening day roster.
Part Two of this piece, featuring breakdowns of the Eastern Conference teams, will be coming later this week.
---
Thanks for reading the Her Hoop Stats Newsletter. If you like our work, be sure to check out our stats site, our podcast, and our social media accounts on Twitter, Facebook, and Instagram.