"A Heartbreaking Day for All of Us": Analyzing the Recent Cuts to Women's College Sports Programs
Ten women's basketball teams have been cut, the second-most of any women's sport
Thanks for reading the Her Hoop Stats Newsletter. If you like our work, be sure to check out our stats site, our podcast, and our social media accounts on Twitter, Facebook, and Instagram. You can also buy Her Hoop Stats gear, such as laptop stickers, mugs, and shirts!
Haven't subscribed to the Her Hoop Stats Newsletter yet?
---
Imagine that you are a college student-athlete one day … and then you wake up the next morning and suddenly, you're not.
You haven't exhausted your eligibility, dropped out of school, or decided to quit your sport. Instead, your school announced that it would no longer offer your sport.
You can transfer to continue your athletic career, but there are downsides: leaving your friends and a familiar campus community, and potentially having to retake courses if your credits don't all count at your new school.
That experience has happened to 83 women's basketball players this offseason across the NCAA and junior college ranks, as 10 programs have been cut in the past five months. Sixty-eight other women's basketball players at six schools faced a double whammy: their schools announced that they would close completely, giving them no choice but to continue their academic and athletic careers elsewhere.
Across all sports, 279 teams at over 70 schools have been cut and 3,481 student-athletes have been impacted.
Some of these cuts might have happened regardless of the COVID-19 pandemic, but many of them are undoubtedly a result of the pandemic putting colleges in increasingly dire financial straits. For example, at East Carolina University, athletic director Jon Gilbert said, "Had COVID-19 not happened, we may have looked at [eliminating] one or two sports, not four." And in April, 27 Division I conference commissioners asked the NCAA to temporarily relax several rules, including the requirement for schools to sponsor a minimum number of varsity sports, in order "to retrench and rebuild the financial structures of the institution." (The NCAA Division I Council responded that it would consider waivers on an individual basis but would not reduce sport sponsorship requirements for all schools.)
Jason Bryant, a sportswriter, broadcaster, and announcer, has been tracking these cuts and closures on his website, Mat Talk Online. He was kind enough to share his data with Her Hoop Stats for this story. Let's take a look at the numbers for women's basketball as well as for women's sports in general. All data are through July 17, 2020.
Women's Basketball Cuts and School Closures
Here is the full list of schools that are eliminating women's basketball, including schools that are remaining open as well as schools that are permanently closing and therefore cutting all of their teams.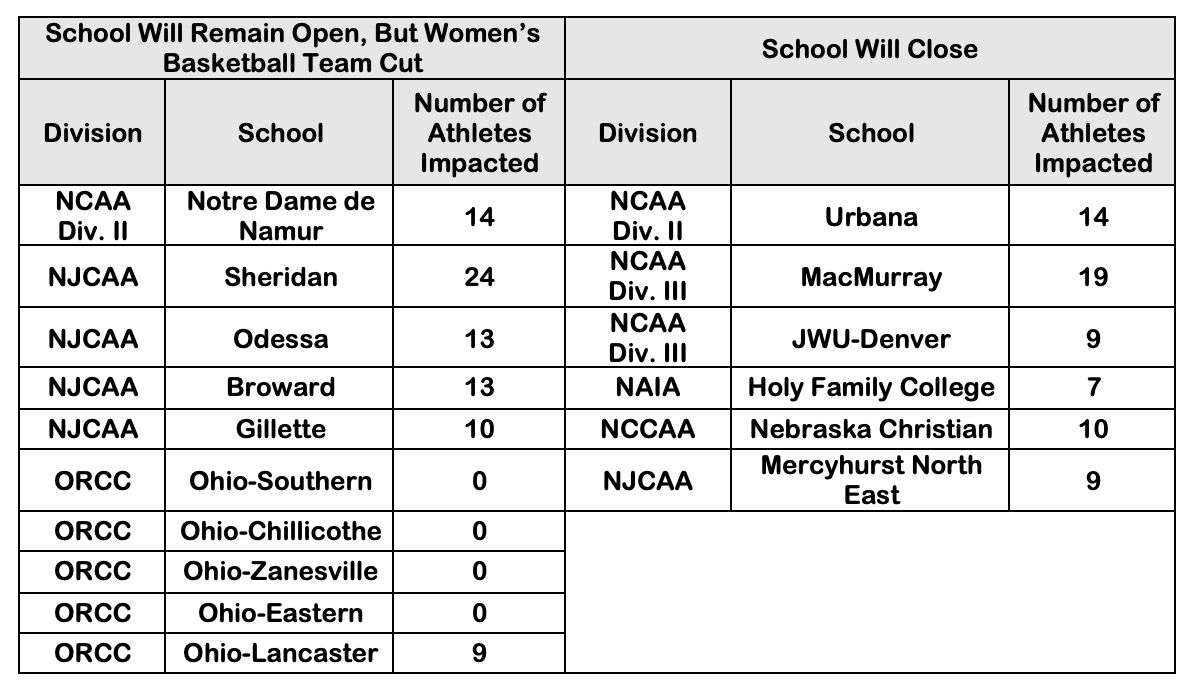 No Division I schools have eliminated women's basketball, but two Division II and two Division III schools have, impacting a total of 56 student-athletes. Notre Dame de Namur, a Division II school in Villanova, Pennsylvania, is the only one that will remain open. In the NJCAA, four schools are staying open and cutting women's basketball and one school is closing. Five ORCC schools are also staying open and cutting women's basketball—though only one, Ohio University-Lancaster, had any players listed on its roster last season. Rounding out the list are Holy Family College (NAIA) and Nebraska Christian (NCCAA), which are both closing.
The remainder of this analysis will focus on schools that are remaining open and cutting some sports teams, not on schools that are closing. There are two reasons for this: a school that is closing has no choice but to eliminate all sports, and the decision to close a school is usually made outside of the athletic department.
Timing of Cuts
Since April, there has been a consistent uptick in the number of college sports teams cut per month at schools that are remaining open. In March and April combined, just 35 teams were cut, whereas 47 were cut in May and 63 were cut in June—and 59 were cut in the first 17 days of July. (Those numbers are for all teams, but the pattern is the same if you look only at cuts to women's teams.)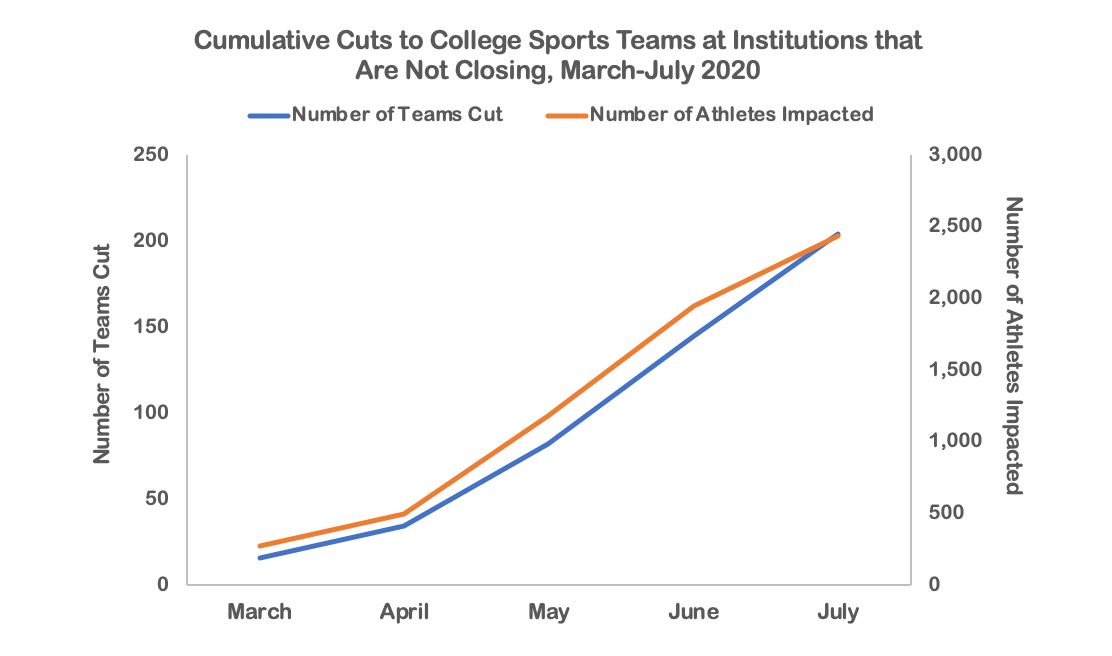 Cuts to Women's Sports
The 10 women's basketball teams that have been cut are the second-most of any women's sport, while the 83 women's basketball players impacted by cuts is the fourth-highest total of any women's sport. Here are the five sports with the most women's teams cut, as well as the five with the highest numbers of female athletes impacted by cuts.

There is a similar pattern of cuts on the men's side, with tennis, golf, and basketball teams facing the most cuts and the highest number of tennis and soccer athletes impacted.
Relative Cuts to Men's and Women's Sports
The 83 women's basketball players whose schools have cut their program outnumber the 66 men's players in the same situation. In other words, 56% of the basketball players whose teams have been cut are women. Ten women's basketball teams and nine men's basketball teams got cut in all.
Looking beyond basketball, there were twice as many sports where cuts affected only female athletes (10) as sports where cuts affected only male athletes (5). In sports such as ice hockey, skiing, and water polo, all of the cuts affected female athletes despite the fact that both genders compete at the college level.
Yet, across all sports, women represent just 43% of the impacted athletes, and women's teams represent 49% of all teams that have been cut. In absolute terms, about 360 more male athletes than female athletes have been impacted by these cuts, which may be partly due to Title IX.
According to the NCAA, Title IX requires schools to give women and men "equitable opportunities to participate in sports." This is assessed based on whether the gender balance among athletes at a given school is proportional to the gender balance of the broader student body. Because football requires so many male athletes, schools may need to add a lot of women's teams—or cut men's teams—in order to create more gender balance among their athletes. While adding women's teams is more consistent with the intent of the law, the Women's Sports Foundation reports that in practice, schools typically opt to cut men's teams when they need to rebalance.
---
This spring, the sports world collectively mourned with college basketball players and other student-athletes whose seasons—and sometimes careers—ended prematurely due to COVID-19. The effect can be the same when schools cut teams, as players wake up one day to find their careers and lives suddenly thrown off course. It's impossible for college sports to avoid cutting teams forever—particularly during a pandemic—but that doesn't mean it doesn't sting every time.
Stanford University sent shock waves throughout college sports on July 8, when it announced it would cut 11 sports after the 2020-21 academic year. "This has been a heartbreaking day for all of us," athletic director Bernard Muir said, adding that the decision was made "only [after] exhausting all other viable alternatives" to steady the athletic department's finances.
Just over a week later, two Stanford alumni and over 5,000 supporters published an open letter in The Stanford Daily, an independent area newspaper. "By choosing to eliminate these teams, particularly ones that have a tradition of being the best in the nation and who attract and produce Olympians, you are setting a dangerous precedent for other schools to follow," the letter said.
Sixty-five schools have made the same decision as Stanford over the past few months, impacting over 2,400 athletes. Six other schools have closed completely, affecting over 1,000 athletes. Here's hoping no other schools are forced to follow.
---
Thanks for reading the Her Hoop Stats Newsletter. If you like our work, be sure to check out our stats site, our podcast, and our social media accounts on Twitter, Facebook, and Instagram.