Discover more from The Her Hoop Stats Newsletter
Unlocking better insight about women's basketball
Over 3,000 subscribers
Aari, Adia and an Arizona awakening
On the driving forces that have re-energized a fan base and put the Wildcats back on the map
Thanks for reading the Her Hoop Stats Newsletter. If you like our work, be sure to check out our stats site, our podcast, and our social media accounts on Twitter, Facebook, and Instagram.
Haven't subscribed to the Her Hoop Stats Newsletter yet?
---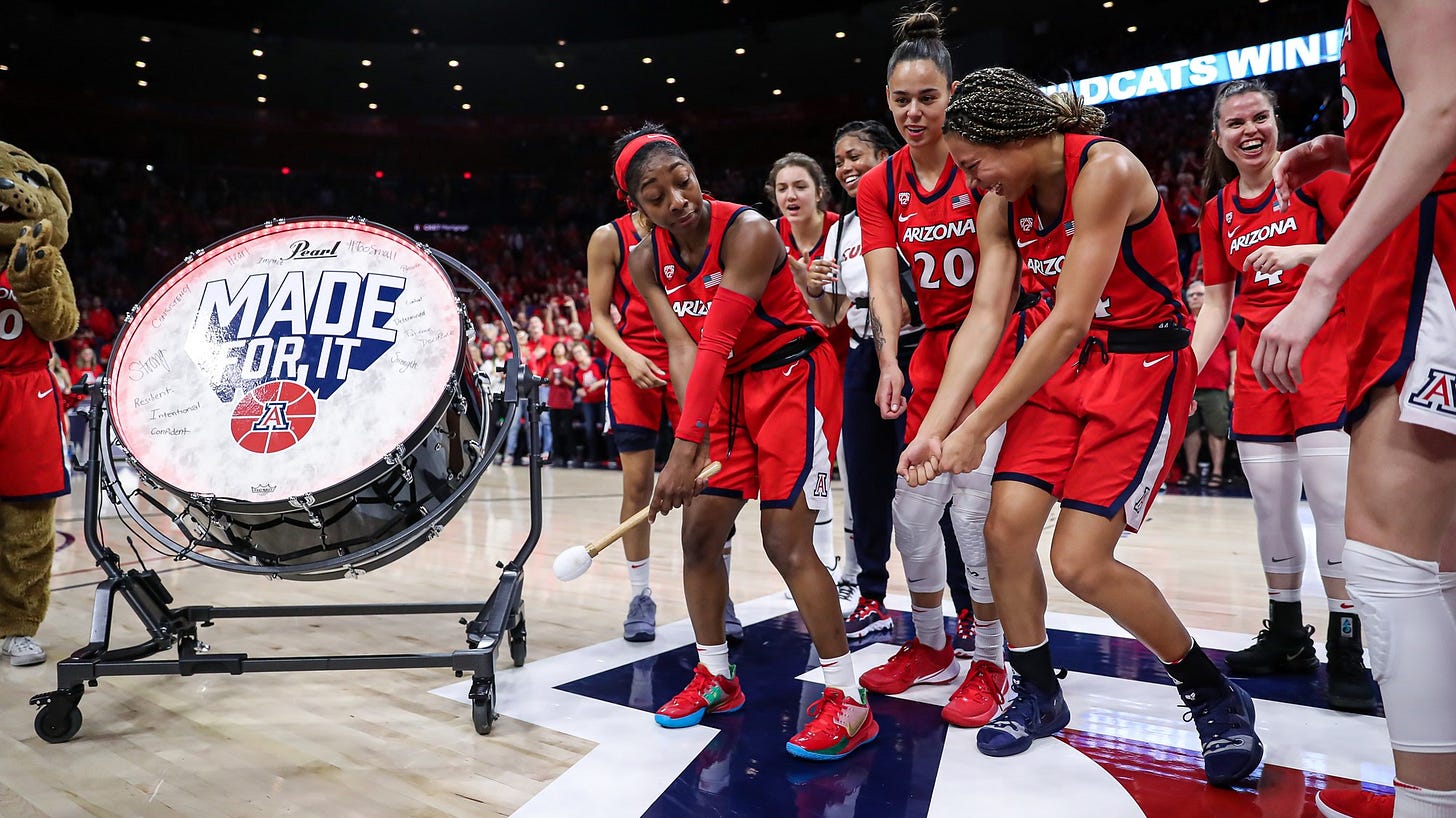 TUCSON, Ariz. — Aari McDonald hit the ground running, and nobody is going to catch her anytime soon. 
After surpassing Arizona's 20 combined wins in head coach Adia Barnes' first two seasons in Tucson, the redshirt sophomore led the 2018–19 Wildcats to six consecutive wins in front of their home crowd en route to a WNIT crown and a 24–13 overall record. With three weeks remaining in the 2019–20 Pac-12 regular season, the No. 12-ranked Arizona Wildcats are on track to make their first NCAA Tournament appearance since 2005 and host two games as a top-16 seed. 
Even better, the community has responded to rally around the women's basketball program—an awakening, as Barnes likes to call it.  
"I think the Tucson basketball community has been asleep for a long time," Barnes said. "It was an awakening. This is a basketball city. You've just gotta win…The cool thing about the WNIT is we made fans out of people that were not women's basketball fans. They liked basketball, but they liked men's basketball. They came to the NIT, and they decided to come and support us. And a lot, I think like 85 percent, of our new tickets were new accounts."
"When I first transferred here, there weren't that many people at the games," McDonald added. "But as we started winning, the crowd started to see how competitive we were. The turnout has been incredible."
The fan support grew over that WNIT run, culminating with a sellout crowd of 14,644 in attendance as they defeated Northwestern 56–42. The next objective was clear. Get to The Big Dance — a far cry from the future many saw for Barnes in Tucson. 
"I love the fact that everybody told me not to take this job at Arizona," she said. "[They] said we couldn't recruit. I've recruited well. Everybody told me we'd never win, never get fans, never get support. We've done it." 
It all starts with McDonald, who Barnes recruited to Washington while a member of the Huskies' staff. McDonald possesses unbelievable quickness; she is the 100th percentile. The 5'6" guard has emerged as one of the country's most prolific scorers and is an impact defensive presence. She has become appointment viewing. 
"She's evolved. She hasn't been this way the whole time. She wasn't a go-to player," Barnes said of McDonald. "I knew I wanted her to come here together so we could build something special together. I thought we'd make a great team and we do. My job is to get great players around her."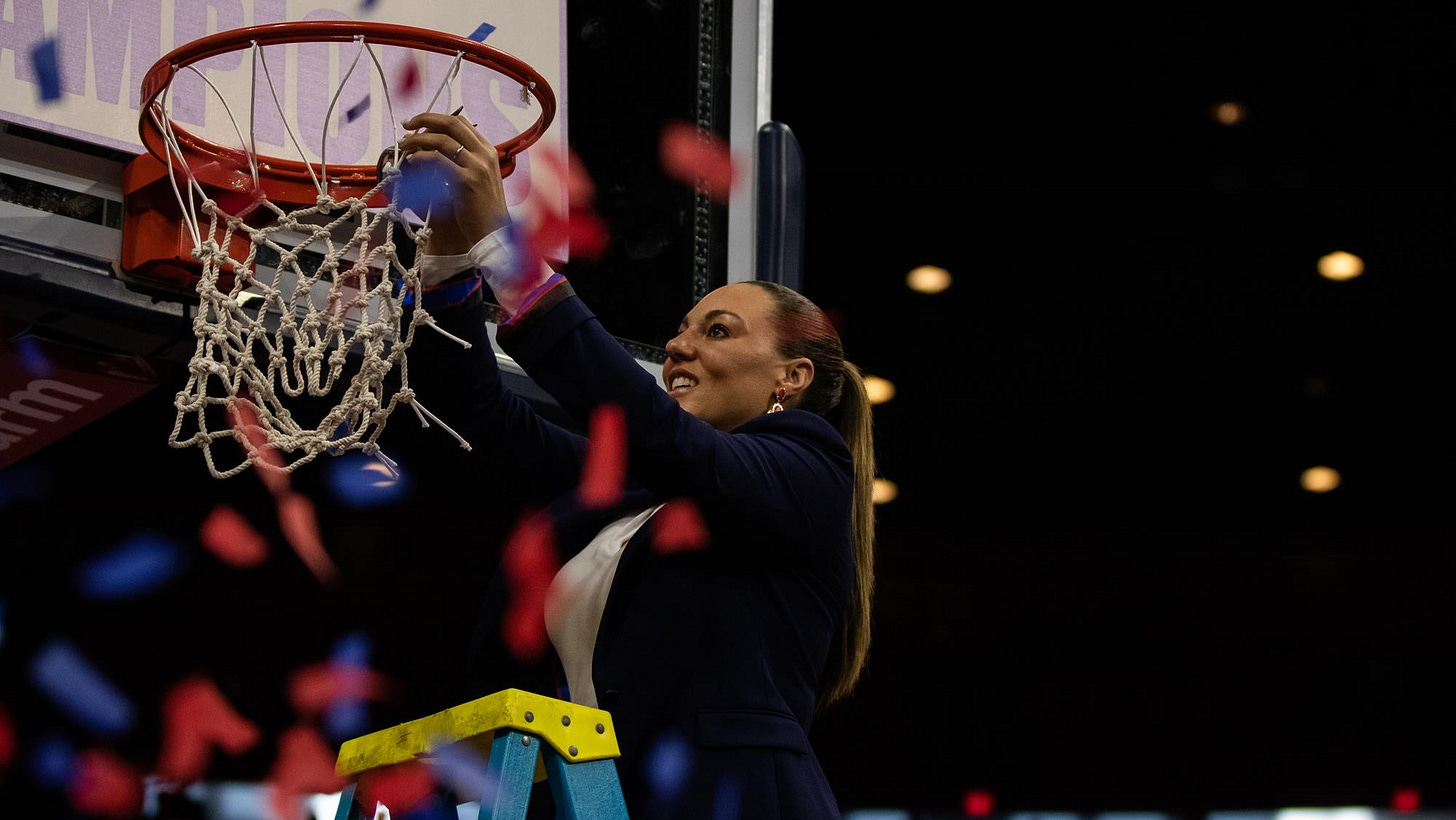 McDonald proved her abilities as a leading scorer last season. She ranked third nationally in both points per game (24.1) — while shooting nearly 54 percent on two-pointers — and usage rate (37.4). She also ranked in the top-10 nationally in field goal (688, 1st) and free throw (269, 4th) attempts and total minutes played (1,324, 3rd).
Barnes and her staff needed to continue adding great players to compete with the Pac-12's top tier right now while setting the program up for long-term success. The current group of freshmen, comprised of five international recruits, is headlined by Helena Pueyo, a highly-coveted sharp-shooting wing.
Assistant coach Salvo Coppa, a key figure in those international recruiting efforts, has a wealth of experience coaching overseas at the professional and youth levels. "European basketball can be very different," he said, citing the hand-checking rules as an example and potential learning curve. "These players have talent. They play 10 months a year. They have a good basketball IQ and read situational offense. They are prepared."
Pueyo (36.4 percent) and junior wing Sam Thomas (35.4 percent) are the team's top 3-point shooters. They'll be stationed around McDonald to open up driving lanes and (attempt to) shoot opponents out of zone defenses. 
The Wildcats have also raised their game on a team level. They're a top-10 defense allowing just 77.2 points per 100 possessions and have managed 1.08 points per scoring attempt, which ranks 22nd — up from 71st last season. This season's group looks the part. They've become an even better team. 
"Even without her, other players step up — things that didn't happen last year when she was off the court," Coppa said, citing games against ASU and UTEP where McDonald sat with foul trouble. "This year we have a different mental toughness and a different way to react to adversity with and without Aari."
The Pac-12's depth both at the very top and one-through-12 made this kind of breakout even tougher. Many of the top teams are led by standout lead guards, including future pros like Oregon's Sabrina Ionescu and Oregon State's Destiny Slocum. (Ionescu is the projected No. 1 overall pick in the 2020 WNBA Draft. Both McDonald and Slocum are eligible to declare as early entrants.)
Fans won't run out of fascinating individual matchups to circle on the calendar. McDonald can't get enough of them either. "I love playing against Sabrina, Destiny, all of those great players," she said. "The tougher the battle, the harder we play. I love it. It makes me better."
How has this all translated between the lines, then, against such stiff competition? Last season's group knocked off then-ranked Arizona State and Cal at home — solid Pac-12 wins, but not enough to headline a tournament resume. They came up just short in double and triple overtime against Oregon State and UCLA, respectively, before announced crowds of 2,119 and 2,327. Both clubs advanced to the Sweet 16 in the 2019 NCAA Tournament.
The Wildcats went to Austin and stomped then-ranked Texas as McDonald erupted for 44 points on 14-of-18 shooting. They swept Arizona State and housed No. 8 UCLA 92–66 in Tucson, handing the Bruins their second loss of the season. This group gave itself a chance in one-possession games in the closing minutes back in January against Oregon and Oregon State, ranked No. 2 and 3, respectively, at the time. 
They built on that effort against the Oregon schools last week going into Corvallis to beat the Beavers 65–58 in overtime. A road win of that caliber jumps right to the top line of any NCAA Tournament resume. It was a signature moment for the program made more powerful by circumstance; they bounced right back from a 33-point loss at the hands of Oregon two days prior.
And even though Arizona won't be sneaking up on anyone this season, they have managed to win all the conference games they're 'supposed' to win with one juicy matchup remaining. They'll welcome Stanford, who they had a chance to beat at the buzzer last season at Maples Pavillion, to Tucson on the final weekend of the regular season for their lone meeting this season. 
Arizona has emerged on a national stage, led by an alum roaming the sidelines and McDonald, the guard from Fresno shattering many of the program records that Barnes set during her playing career. 
Who knows what they'll accomplish together next. Just don't be surprised if they deliver ahead of schedule once again. 
---
Stats from the 2019-20 season are current through February 12. Photos via Arizona Athletics.
Thanks for reading the Her Hoop Stats Newsletter. If you like our work, be sure to check out our stats site, our podcast, and our social media accounts on Twitter, Facebook, and Instagram.