An Inside Look at the Las Vegas Aces
What an Advance Scout Might Say about the Top Seed in the Playoffs
Thanks for reading the Her Hoop Stats Newsletter. If you like our work, be sure to check out our stats site, our podcast, and our social media accounts on Twitter, Facebook, and Instagram. You can also buy Her Hoop Stats gear, such as laptop stickers, mugs, and shirts!
Haven't subscribed to the Her Hoop Stats Newsletter yet?
---
Las Vegas and Seattle are the favorites to win the WNBA title, and since we scouted the Storm already, it seems only fair to do the same for the Aces. So here's a report an advance scout might send to the coaching staff of  a Las Vegas opponent in the playoffs…
Bill Laimbeer is rightly considered one of the best coaches in the WNBA, and it doesn't take long to see why. The Aces are versatile, physical and competitive, and Laimbeer maximizes their strengths by putting players in spots where they can do what they do best.
What this means is simple: If you have a weakness, Las Vegas will find a way to exploit it. And even though his roster appears to have some holes, Laimbeer skillfully moves the pieces around the court to cover his team's weaknesses while still playing up his strengths.
Oh, and it doesn't hurt to have one of the league's best players in A'ja Wilson, who not only has a tremendous skill set but plays with the kind of fire and passion that a coach can only dream of from his best player.
Put it all together, and it's going to be a challenge to beat this team. We can't wait around for them to stumble and hope they find a way to lose -- we have to go out and out-compete them from the opening tip, and aggressively look to make winning plays. In short, we have to play as well as we can, and even if we do, it still might not be enough.
Offense
The key is A'ja Wilson, who gives the Aces a chance to score every time down the floor. She's deadly on the block and will kill us if she gets the ball at the elbow and we don't immediately sag in to help from the wings. She can hit the mid-range jumper, and if the close-out is too strong, can go right or left to finish. They like to lob to her deep if she can get her defender above her (closer to the free-throw line), so weakside help is crucial.
Kayla McBride is the outside counter to Wilson, but she's really the only consistent shooter. Some, like Danielle Robinson and Jackie Young, just don't shoot threes, and the others prefer to score closer in.
Still, the offense is versatile, so you can't really predict how they'll attack you. Against Seattle, they barely ran a pick-and-roll the entire game because of the Storm's ability to blow those plays up. Against Phoenix and Minnesota, they weren't shy about bringing Carolyn Swords and Wilson out for screens. 
Laimbeer also loves the UCLA cut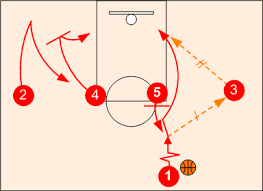 to initiate the offense, and there are a lot of options. In the one below, Robinson sets up McBride's UCLA cut by knifing through the post, but the Aces also go with the standard motion.
The only answer to these wrinkles is to play fundamentally sound defense all the time, with help when needed while staying conscious of Wilson's whereabouts. In short, Las Vegas constantly tests the defense with basic motion and variations, and if we don't focus on the task at hand, they'll get easy baskets.
Also, everyone likes to talk about how the Aces don't shoot threes, but that doesn't mean you can relax when the ball's on the perimeter. They're fourth in the league in three-point percentage, which means they could hurt us if they get good looks. Even so, given Wilson down low, the odds are better for us if we let anyone but McBride shoot threes and long twos. So we should dig down on entry passes to Wilson, as Skylar Diggins-Smith does twice below, and put pressure on their (non-McBride) shooters.
If they miss a few, we can start to collapse on Wilson and the other post players and limit them close to the hoop. 
One wild thought: Think about a zone, or even a box-and-one on McBride, who is their only consistent perimeter shooter. If nothing else, it will make the Aces get away from their tried-and-true offense and have to adjust to us. And hey, if those defenses can work in the NBA -- as Toronto head coach Nick Nurse showed -- why not in the WNBA?
One other note: The Aces get to the line more than any other team -- a byproduct of their focus on inside scoring -- and it's going to be vital to keep our fouls to an absolute minimum. Sometimes you just have to let Wilson or whoever just make a tough  close-in shot rather than fouling if you've been beat.
Defense
There's nothing fancy here -- it's just straight-up man the whole time, played by a well-coached team that talks and helps at a championship level. Note this on-court communication between weakside defenders as they make sure their coverage is just as it should be: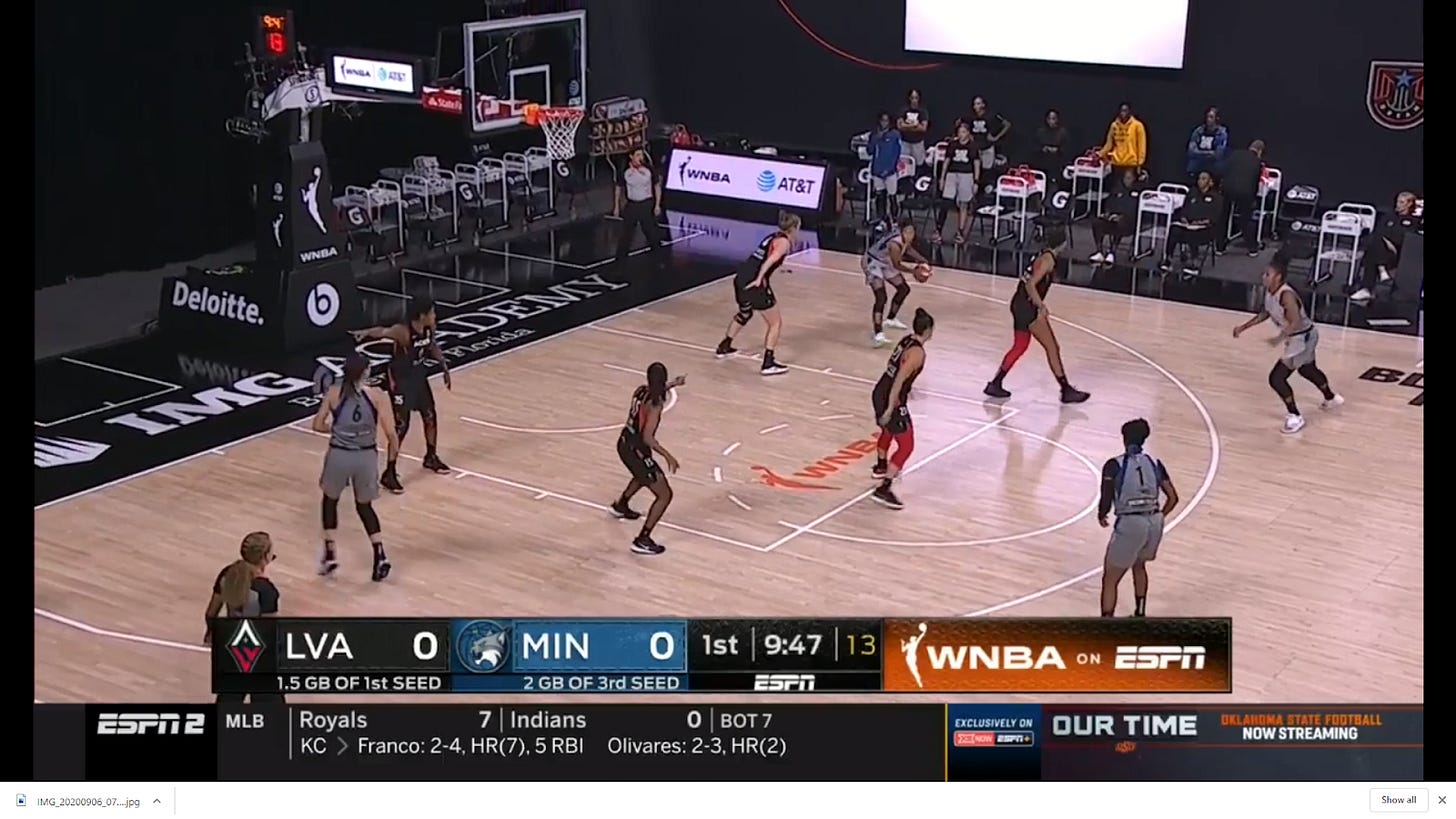 When Swords is in the game, she can be exploited in the pick-and-roll as she sometimes sags back and gives up the open jumper. But Swords, like this whole team, is very intelligent and sometimes she steps out so you can't predict the best option until you come off the screen.
Another key for the Aces is their devotion to stopping transition. Though they lead the league in defensive rebounds, they are just sixth in offensive rebounds because they are drilled to get back on defense as quickly as possible. Notice how Wilson doesn't even twitch in the direction of her missed shot and is sprinting back as soon as it's clear the shot is off the mark.
Though this means transition baskets will be hard to come by, it also means we don't have to worry too much about the offensive boards.
Finally, Las Vegas avoids fouls (the Aces have fewest in the league), but it's never a bad plan to try to get someone like Wilson in foul trouble. She does love to block shots, so it's worth going at her a few times early to see if we can get her to pick up a couple of quick ones.
Inbounds
Again, nothing fancy, though if Laimbeer sees a weakness he'll draw something up to exploit it. They do like getting the ball to McBride, and if she has any room at all, she will put it up immediately. 
Players
35 Angel McCoughtry 5-11 (34 years old): Laimbeer has rationed her minutes to have her ready for postseason, and that was a great decision. McCoughtry is a wonderful basketball player whose only weakness is a loss of quickness due to age. She can go right or left, score from the perimeter, pass and is a very good off-the-ball defender. And she's a great rebounder, the only Ace who really crashes the offensive boards.
22 A'ja Wilson 6-4 (24 years old): Well, sometimes she forces things. That's about it for the negatives, as Wilson is an offensive force and a defensive presence around the rim. Her intensity and passion set the tone for the team (as if Laimbeer weren't enough). There's no good choice here: If we double, she'll make the right pass (she averages 1.3 assists per turnover, right there with some point guards); if we don't, she'll score and/or get to the line. Maybe she'll break a team rule or something …
4 Carolyn Swords 6-6 (31 years old): She's not blazing fast, but she's smart. She is always in the right place, understands her strengths and weaknesses, and uses her size and strength to full advantage. If we can force the switch, we can take advantage, but Swords won't make it easy. 
21 Kayla McBride 5-11 (28 years old): McBride is the only consistent shooter on the roster, and her job is to keep shooting -- which she's happy to do. She would rather go left than right, and most of the screens set for her allow her to go in that direction. She's not a particularly good defender and they will try to hide her whenever possible, so we might think about attacking her as much as possible. It could get her in foul trouble, which would be a big blow to the Aces' offense. All in all, though, McBride is a very good player in her physical prime and a perfect complement to Wilson.
15 Lindsay Allen 5-8 (25 years old): It's hard to figure out why Laimbeer starts her and then doesn't play her much after the first rotation, but it works. Allen looks to be a decent defender and handles the ball well, but doesn't offer much in the way of offense. She's usually not on the court in crunch time.
5 Dearica Hamby 6-3 (26 years old): Hamby is essentially a starter, and in fact has played the second-most minutes on the team. Hamby would replaceMcCoughtry when she didn't play as much, but now look for Hamby and McCoughtry to play together a lot. They're both capable of playing the three or the four, and will create serious matchup problems when both are on the floor at the same time. Hamby is taller, but just as effective from three (47.4%) and is a good defender who can switch onto almost any offensive player and still be solid.
0 Jackie Young 6-0 (23 years old): Young was an elite scorer in high school -- she set the record for all players, boys and girls, in Indiana -- and though that hasn't translated to the WNBA level, she's still very effective on the block. And as one would expect, Laimbeer will take full advantage of a mouse in the house by posting her up.
She's very strong, athletic and can go both ways off the bounce, but she's not an elite defender. And since she's only made three three-pointers all year, playing off of her is definitely the way to go.
3 Danielle Robinson 5-9 (31 years old): Robinson may not be quite as quick or fast as she was a few years ago, but she's a high IQ player who defends reasonably well. She's even made five threes this year, but she, like Young, is not a perimeter threat. Laimbeer will go with either Robinson or Young down the stretch, depending on who's having the better game, but don't expect either one to be taking big shots at crunch time.
14 Sugar Rodgers 5-9 (30 years old): Rodgers has a reputation as a shooter, but on the downside of her career, she's no longer consistent enough to be counted on. This year she just hit 31% from deep. She also much prefers to go left, which makes guarding her even easier. With McCoughtry's minutes expected to go up, expect Sugar's to go down.
---
Thanks for reading the Her Hoop Stats Newsletter. If you like our work, be sure to check out our stats site, our podcast, and our social media accounts on Twitter, Facebook, and Instagram.