An inside look at the Seattle Storm
What a scouting report on the WNBA's best might look like
Thanks for reading the Her Hoop Stats Newsletter. If you like our work, be sure to check out our stats site, our podcast, and our social media accounts on Twitter, Facebook, and Instagram. You can also buy Her Hoop Stats gear, such as laptop stickers, mugs, and shirts!
Haven't subscribed to the Her Hoop Stats Newsletter yet?
---
You can't ignore Seattle. Fans simply enjoy watching the Storm, even when they struggle a bit. Coaches and players, though, see the league's top team somewhat differently, especially when they're next up on the schedule.
If you've been watching the WNBA much, you may realize Sue Bird loves to go left and Breanna Stewart likes to trap unwary ballhandlers. Coaches know this, but they dig in much deeper with advance scouting during the season where they watch game film play by play, rewinding as needed to identify tendencies. Back in the day, I did some advance scouting and heere's the report I would send if I worked for one of the Storm's upcoming opponents
Back in the day, I did some advance scouting for Indiana and Chicago, and after breaking down two games -- one with Sue Bird and one without -- what follows is the kind of report I might write to send to the team.
"Coach,
So we've got the Storm next, and they're in first place for a reason – which means our path to victory is pretty narrow, but it's there. Hey, if Indiana can beat them, so can we.
First, obviously, Seattle has a bunch of really good players, but the key at both ends of the floor is Breanna Stewart. She's incredibly active defensively, plays the pick-and-roll like a demon recently released from hell, and can score from all over the court. She's relentless, talented, smart, skilled and that 7-1 wingspan is even longer than you think it is. Which means job one is to always know where Stewart is – if Seattle has the ball, they're looking to get it to her; if we have the ball, she's looking to take it away.
A big variable is whether Sue Bird plays, as she takes the pressure off Jordin Canada and lengthens the rotation so that Sami Whitcomb and Epiphanny
Prince can go in when the matchups favor the Storm. Also note that when Bird is in the game, Seattle will run the pick-and-roll much more than when Jordin Canada or Epiphanny Prince are the primary ballhandlers.
Seattle doesn't shoot a lot of threes (sixth in the league), but they make such a high percentage that we have to be ready to close out in a hurry. Like a lot of teams, they do not crash the boards (11th out of 12) – which means we can look to run after a missed shot. On defense, they do the flashy stuff (block shots and go for steals) but they also have the best overall defensive rating by a lot. With Stewart, Howard, Mercedes Russell and Ezi Magbegor, they control the paint defensively, which is why they hold other teams to the lowest shooting percentage in the league.
Beating Seattle will take a highly focused effort, with attention to detail on both ends of the floor – and some good shooting wouldn't hurt either.
Offense
With Sue Bird in the game, the Storm will pick-and-roll us as often as they can. Bird loves to go left, and Stewart – who's a superb screener along with everything else – will set up just left of the top of the key and the two will go to work. The other three offensive players are on the right side, but whoever's guarding Natasha Howard, or a non-shooter like Ezi Magbegor, should be ready to double Stewart on the roll.
Jordin Canada, however, is much less effective in the pick-and-roll and often you can beat her over the screen. Of course, you can go under the screen with her as well, because she's not a good shooter -- the rotation on her shot is scary.
And Bird, of course, is a brilliant offensive player and still a deadly shooter. She will punish a close out with a ball fake, a dribble to her left and a mid-range jumper, and of course will make the right play at the right time.
Seattle favors two sets, this one when Bird is in the game: Horns, with the posts spread a little wider than usual. There are a lot of actions off this, but the first one the Storm ran with Bird was a flare screen for a three.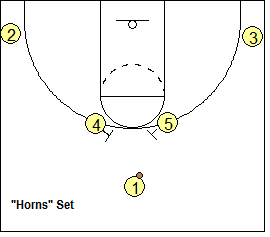 They also like the Iverson cut, usually getting the ball to Jewell Loyd.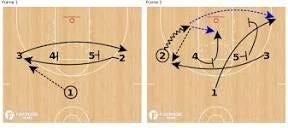 If Sami Whitcomb is in the game, they will run plays for her, and they love staggered screens to get her open for a three. They did show Floppy (below) once as well.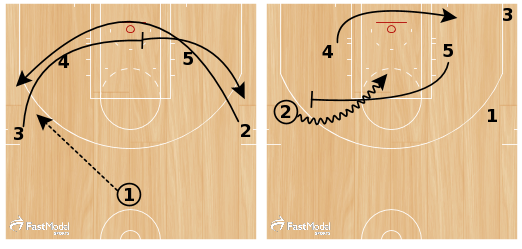 Defense
With Stewart and Howard at full speed, involving their player in a pick-and-roll is asking for trouble. Both hedge really hard and with their quickness and length, the ballhandler can't split the hedge to cut directly to the basket and usually winds up just picking the ball up. (When Las Vegas beat Seattle, they hardly ever used the pick-and-roll; Connecticut kept trying to run it, but never got much out of it.)
When Mercedes Russell or Ezi Magbegor are in the game, though, the pick-and-roll is a much better option. Russell lacks quickness and Magbegor lacks experience, so both can be exploited.
Jordin Canada can also be taken advantage of, as she loves to double-team and then loses sight of her man. You can beat her by slowly sliding out of her sight as she gets drawn to the ball. She so wants a steal that she forgets she has to guard someone, so a quick cut to the hoop is often wide open. In this clip, Canada tries to double-team A'ja Wilson, but even if she got there -- which she didn't -- how is a 5-5 guard going to keep a 6-5 post player from finding the player Canada abandoned? The answer: She won't.
Canada is very quick and will go for steals, but she is small and is a woeful off-the-ball defender. Sue Bird, on the other hand, really can't guard any more and whenever she's on the floor we want to go right at her. The Seattle defense is very, very smart and communicates really well, so they will cover for her, but it does put pressure on them when she's isolated or in a pick-and-roll. In space, though, you can see the issue.
Connecticut attacked Bird directly on five of its six first trips down the floor, and we should do the same.
Inbounds
Seattle does not like to switch on inbounds plays, and they communicate so well, and are so committed, that the Storm recover from screens incredibly quickly. Still, a quick pass right after a screen might generate a good look.
From the sidelines, they will look to get Whitcomb a three off staggered screens or have Loyd curl off a corner screen into the lane.
Individuals
10 Sue Bird 5-9 Point (39): So good with the ball in her hands – best bet is to not let her get it. Great shooter from three and in mid-range, and will always make the right decision. A very weak defender, so try to exploit her and make her work whenever possible. Doesn't like contact and will not go to the rim – hasn't shot a free throw all season so don't worry about the drive.
24 Jewell Loyd 5-10 wing (26): Wants to go right. Will go left but shoots a lesser percentage. Excellent three-point shooter, excellent foul shooter (89.7%) so don't foul her. Not a great defender. Force her left and hope she has an off night.
30 Breanna Stewart 6-4 post (or whatever she feels like) (26): Does everything and does it all well. Scores, rebounds, defends, passes, handles the ball. Best player in the league. Know where she is at all times at both ends of the floor. No apparent weaknesses. Maybe she'll get tired.
32 Alysha Clark 5-11 wing (33): Like Bird, basketball IQ is off the charts. 3.7 assist/turnover ratio, 43.8% three-point shooter, 84.6% from the line. The perfect veteran complement to Bird, Stewart and Loyd – or anyone, really. And watch out because she'll lull you to sleep. She won't do anything for a while (except the right thing) and then all of a sudden she makes a cut, buries a three and you're wondering why you're coming out of the game.
21 Jordin Canada 5-6 guard (25): Very, very quick and athletic, and will make plays others can't. But she's small, and is not an outside shooter (1-11 from three this season). Go under the screen in the pick-and-roll and sag into help when she's on the perimeter. Don't close out quickly, if at all, when she gets a pass, because she's so quick she'll go by you if you're leaning the wrong way. She's always looking for a steal, so be wary, but she will lose sight of you when she turns her head to look at the ball. Will go left but would rather go right. Explosive to the hoop.
6 Natasha Howard 6-2 post (28): Elite, off-the-charts defender. Still only playing 19.6 minutes a game, but that number could jump dramatically at any time. Though she will drive left or right, she doesn't want to use her left hand for layups, so the right-hand layup from the left side could be an easy block for a big.
33 Sami Whitcomb 5-10 guard (31): She's taken 103 shots, and 58 have been three-pointers, so you know what she's in there for. Very active, quicker than she looks and like so many Storm veterans, a very smart player. When she's in, there will be screens aplenty, so communication is crucial. If she's given room, she's going to make shots.
2 Mercedes Russell 6-6 post (25): A competent WNBA post. Strong and can get the job done around the basket against smaller, weaker players, but struggles in space. Not a great free-throw shooter, so sometimes a foul rather than an open layup might be a good option.
13 Ezi Magbegor 6-4 post (21): Active but still learning the game at this point. If she's allowed to just be an athlete she'll hurt us, so we want to put her in positions where she has to make decisions – such as defending the pick-and-roll or dealing with weakside screens. Could be a major asset someday but isn't yet, so enjoy this while you can.
11 Epiphanny Prince 5-9 guard (32): Veteran whose bounce has deflated significantly. Make a mistake and she can still punish you, but just a role player now.
---
Thanks for reading the Her Hoop Stats Newsletter. If you like our work, be sure to check out our stats site, our podcast, and our social media accounts on Twitter, Facebook, and Instagram.