Analysis of NCAAW Recruiting Part Three: Who are the best recruiting schools in the country?
In part three of our study, we examine what schools bring in the top prospects and analyze how different programs approach recruiting.
Thanks for reading the Her Hoop Stats Newsletter. If you like our work, be sure to check out our stats site, our podcast, and our social media accounts on Twitter, Facebook, and Instagram. You can also buy Her Hoop Stats gear, such as laptop stickers, mugs, and shirts!
Haven't subscribed to the Her Hoop Stats Newsletter yet?
---
"If you asked me where Coach Wooden's pyramid of success was, I couldn't name you one of them. So my pyramid of success is the same as his. His was [Lew] Alcindor, [Bill] Walton and Gail Goodrich and you name them down the line. Mine is Diana [Taurasi], Maya [Moore] and Stewie [Breanna Stewart]. That's my pyramid of success." – Geno Auriemma.
In one quote, Auriemma sums it up just about perfectly. Auriemma, like Wooden before him, is one of the best coaches in collegiate history. Both have/had an excellent understanding of X's and O's, a terrific command of the huddle, and an understanding of how to maintain excellence. Yet, if it weren't for the stars that decided to play for UConn and UCLA, respectively, neither coach would be the legend he is today. Coaching plays an important role in college basketball, but more than anything, talent wins games. And to have the most talent, you need to be able to recruit.
So who is winning on the recruiting trail? I examined espnW HoopGurlz Class Rankings from the past 10 years to determine where the top recruits come from, what conferences are the top recruiting conferences in the country, and in this article, which schools dominate the recruiting landscape. 
Which schools are winning on the recruiting trail?
Since 2010, 10 schools have separated themselves from the rest of the field in terms of top-100 and top-10 commitments.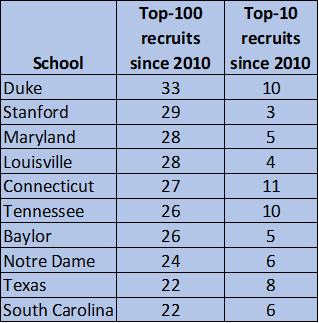 These 10 programs have dominated the recruiting landscape. They rank 1-10 for the highest number of both top-100 and top-10 recruits (with a few other schools technically tied for 10th in top-10 recruits). These 10 programs alone account for 26.5% of top-100 recruits and 68.0% of top-10 prospects. This domination has largely translated on the court as well, as these 10 programs have accounted for 32 of the 40 most recent Final Four appearances. 
If you look at the next 20 schools in terms of top-100 commitments, there continues to be a clear correlation between recruiting success and success on the basketball court over the decade.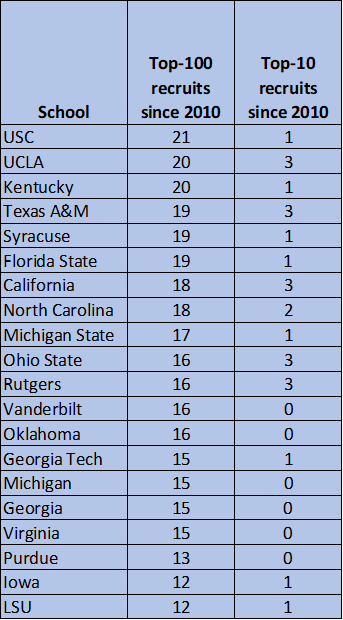 However, these leaderboards are also a great example that recruiting doesn't guarantee success. Duke, who has the most top-100 and second most top-10 commitments over the past 10 years, hasn't appeared in the Final Four since 2005-06. Texas has gotten past the Sweet 16 just one time since 2002-03. Recruiting is an important part of developing a program, but it's not the only part. 
How are schools recruiting?
When matching up on the court, teams have specific advantages and disadvantages against each opponent. On the recruiting trail, programs have a similar battle. Every school has a unique set of benefits and challenges facing them in terms of recruiting. Location, size of the fanbase, program status, potential playing time, development programs, and facilities all play a role in recruiting. Some of those are under the coach's control; some aren't.
And just like on the court, not all advantages are not created equal. If you were being recruited to play for Tennessee and Tennessee State, which program would you choose? No offense to the Lady Tigers, but some schools have an undeniable upper hand over others. Because of those advantages/deficiencies, teams employ different strategies.
One of the most drastic differences is between the distinct approaches taken by the UConn Huskies and the Baylor Lady Bears. UConn, located in the relatively weak region of the Northeast, has taken a national approach, grabbing elite players from all across the country. The Lady Bears, located in East Texas, have decided to recruit their home, the South. 

But recruiting strategies aren't always based on location. The Duke Blue Devils and North Carolina Tar Heels are just 21 miles apart. Yet, whether it's due to the national "Blue Devil" brand or for other reasons, Duke has broadened its recruiting reach much more expansively than the Tar Heels. 

The majority of teams tend to follow Baylor and North Carolina's regional recruiting strategy. Of the 62 Power Five teams that had, at a minimum, three top-100 recruits over the last 10 years, 84% received at least half of their top-100 commitments from one region, 66% of schools received over two-thirds of their top-100 commitments from one region, and 10 teams received 100% of their top-100 commitments from a single region. 
Perhaps the most interesting trend is that you don't need to have a national recruiting base to become a powerhouse. Baylor has just two recruits outside of the South, Oregon doesn't have one domestic top-100 commit from outside the West (although they do have a strong international presence), and Iowa doesn't have a single top-100 commit from anywhere but the Midwest. If you can find enough talent in your backyard, you don't have to scour the entire country. 
But, in general, to become one of the top recruiting programs in the country, it's nice to be able to draw from multiple wells. Of the top-10 recruiting programs we mentioned earlier, five received less than half of their top-100 commitments from the same region, and eight have at least one top-100 recruit from every region.
Ultimately, teams will do what they need to be successful. Programs that need to expand their pipeline beyond just a few states will search the country. Those located in the talent-rich parts of the map will tend to focus on the higher-probability prospects in neighboring states. Recruiting doesn't have a one-size-fits-all key strategy.
And recruiting isn't everything. Coaching, chemistry, and development all still matter. Baylor and Texas have similar recruiting profiles over the past 10 years. Which one would you rather be? 
While recruiting might not be everything, it is a prerequisite for real success. If you don't have the top players, you can't compete on the largest stage. The best prospects are won on the recruiting battleground. 
But it's deeper than that. Schools aren't only trying to recruit the highest-rated players. They want to find and develop the best players. In part four of our analysis, we will examine what types of players have historically over/underperformed their recruiting rankings and explore where potential market inefficiencies may exist.  
---
Thanks for reading the Her Hoop Stats Newsletter. If you like our work, be sure to check out our stats site, our podcast, and our social media accounts on Twitter, Facebook, and Instagram. You can also buy Her Hoop Stats gear, such as laptop stickers, mugs, and shirts!