Duke's Kara Lawson Has Built Her Success on Communication and Strong Relationships
Even in a profession built on those skills, the new Duke head coach stands above the rest
Thanks for reading the Her Hoop Stats Newsletter. If you like our work, be sure to check out our stats site, our podcast, and our social media accounts on Twitter, Facebook, and Instagram. You can also buy Her Hoop Stats gear, such as laptop stickers, mugs, and shirts!
Haven't subscribed to the Her Hoop Stats Newsletter yet?
---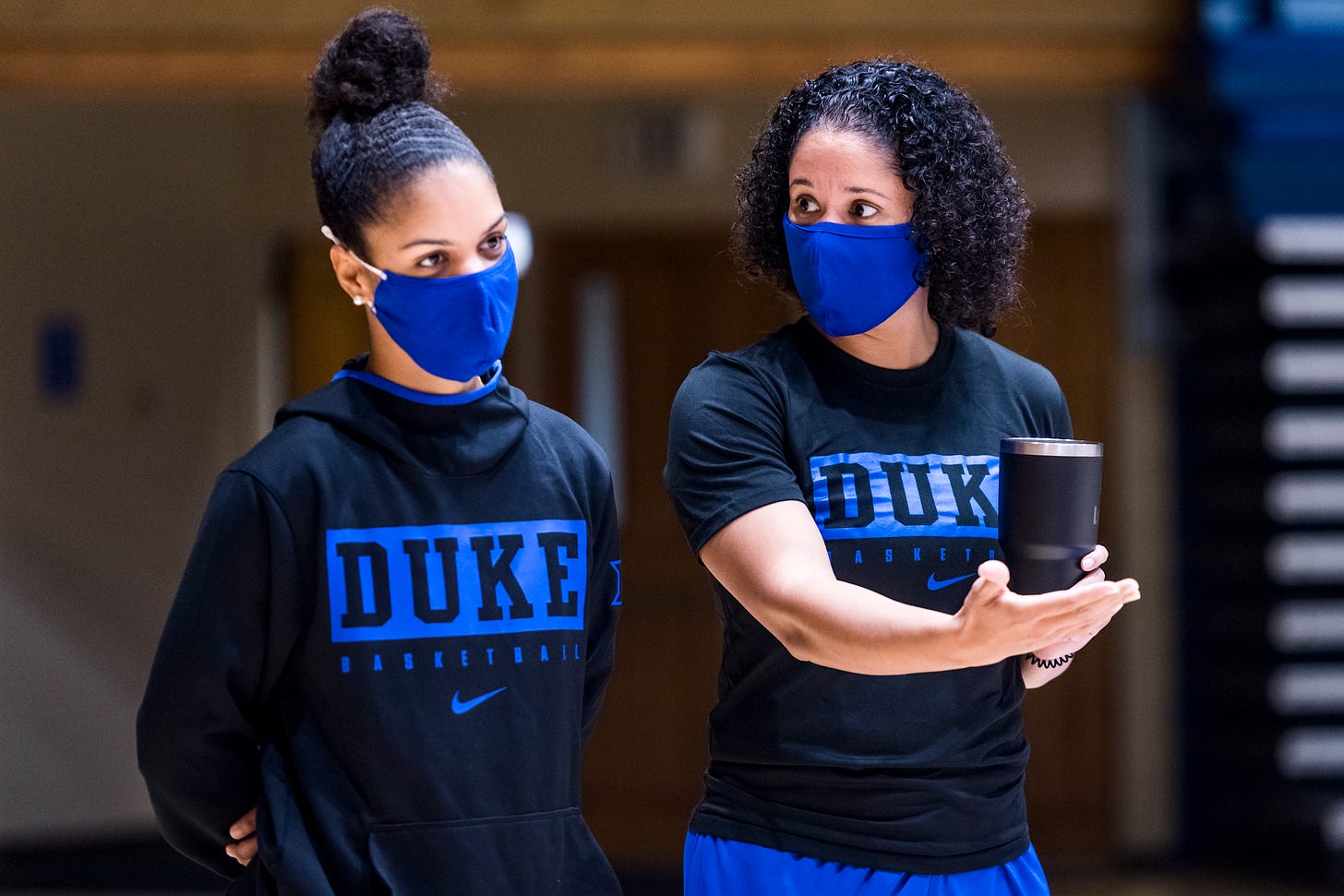 Duke women's basketball head coach Kara Lawson (right) talks with special assistant Sarah Wilkinson on Aug. 26. Photo credit: Duke Athletics
The COVID-19 pandemic has made this a summer like no other for college sports. Take the Duke women's basketball team, which is just a few weeks into on-court workouts rather than having a full summer session in the books. As of late August, those workouts were also limited to one player and one coach at a time due to social distancing protocols.
While those restrictions make it challenging for new head coach Kara Lawson to implement offensive schemes or defensive principles, the one-on-one setting does allow the players and staff to work on a few things that will be even more foundational to their success: developing trust and creating lines of communication.
"I think any time you are working with somebody, whether it's a colleague, whether it's a coach/player relationship, you have to understand that building that relationship is really important," Lawson said. "… So that's been a big part of what I've spent my time doing is building trust with our players, building relationships with them … and just getting to know them."
After the players arrived on campus on Aug. 2, Lawson made a point to meet with each player individually for an hour. She has since started another round of one-on-one conversations, and as her assistant coaches arrived, they began meeting with players, too.
"We're a relationship culture," Lawson explained. "... We want our players to feel comfortable. We want our players to know that they're cared for, know that we support them. So what I do every day … and what our assistants do every day is we meet with our players."
Lawson's staff includes former Notre Dame assistant coach Beth Cunningham, former Washington Wizards player development coordinator Winston Gandy, and Tia Jackson, who previously coached at Duke under Gail Goestenkors from 2005 through 2007. Lawson indicated that she prioritized experience, versatility, and communication in selecting her assistants.
"Every one of our coaches can work with any position," Lawson said, espousing a different philosophy than head coaches who have a designated coach for each position. "… We cycle our players through every assistant coach in the first couple weeks. That's done intentionally … I've told each of our players, 'You have to have an open line of communication with the staff. It doesn't have to be a specific coach; it can be any coach, but there needs to be an open line of communication there so that when you need to talk to one of us, you're comfortable [with] that.' … That's something that we've placed a high priority on and we always will."
A big part of Lawson and her staff's recent conversations with players have been about social justice. For example, on Aug. 26, Lawson said that social justice issues had been "a significant portion" of her conversations with three different players on that day alone. "I can't say that we do anything special or have a special night or anything like that," Lawson said. "It's my life. It's their life. … [Those conversations are] just a regular part of the fabric of the environment, being an African American woman coaching a team that is majority African American."
Lawson and her players shared a poignant moment at a peaceful protest on campus on Aug. 27 that was organized by Duke men's basketball director of operations and player development Nolan Smith. Several people addressed the crowd, including Duke professor Mark Anthony Neal, men's basketball head coach Mike Krzyzewski, and Lawson.
When it was her turn to speak, Lawson took the microphone and said she wanted to "give a little insight into what it's like to be an African American in this country." She paused for an extended period to try to collect herself—and then redshirt junior guard Mikayla Boykin, standing offstage and behind her, walked up and put a hand on Lawson's shoulder. The rest of the team followed, flanking Lawson as she found the strength to talk about the confusion, anxiety, and anger she and many of her players experience as Black women in America.
Fittingly, Lawson developed the communication skills that she used on that stage, and that she is emphasizing in her first college coaching job, when she was a college player herself at Tennessee. Lawson recently told The Washington Post, "I'll never forget one of the first things [head coach Pat Summitt] told me was, 'Kara, you're one of the smartest players I've ever had. … You're one of the hardest-working players I've ever had. But your ceiling is always going to be lower if you don't learn how to communicate.'"
In part because of a public speaking class Summitt forced her to take, Lawson rose to the challenge, so much so that she even worked full-time as a broadcaster for the Washington Wizards after her playing career ended. On the court, those communication skills helped, too, if three NCAA Final Fours, a WNBA championship, and an Olympic gold medal are any indication.
Lawson's former WNBA teammates consistently rave about her as a person, a basketball mind, and a communicator. Renee Montgomery, who played with Lawson on the Connecticut Sun from 2010 through 2013, had the most memorable reaction when I asked her about Lawson last summer, yelling, "Oh, man, my homie!" Washington Mystics forward Emma Meesseman, a Belgium native, said that Lawson taught her how she could communicate her opinion and build a relationship with her American coaches. Lawson also had a big influence on Mystics point guard Natasha Cloud, whom she mentored in her final professional season in 2015. Mystics head coach Mike Thibault spoke recently about the impact that those one-on-one conversations with Lawson had on Cloud:
"I talked to Natasha one time about a year after Kara had been done playing and she said, 'Boy, I miss those day-to-day conversations about things.' Things that you don't really know if they're that important at the time you're hearing them, but now when you're the one running the point and running the team, those things can come back to you … That was important for us here in DC."
Last summer, Lawson made history when the Boston Celtics plucked her from the broadcast booth to become an assistant coach, joining an exclusive but growing club of female coaches in the NBA. She immediately went to work building relationships with players, and it paid off. Guard Marcus Smart recently said of Lawson, "She became more than just my shooting coach; she became a longtime friend and somebody I know I can talk to if I ever need advice."
One year later, she had made such an impact on the Celtics that, when she was hired away by Duke, the players quickly acquired Duke women's basketball T-shirts and posed for a photo—despite the distaste that many of them may harbor for the polarizing Duke men's team.
"[Celtics wing] Jaylen Brown came up to me and said he never thought he'd cheer for Duke, and now he's going to cheer for Duke," Lawson revealed. Center Enes Kanter even requested courtside seats at Lawson's home games.
Although Lawson shed several tears as she prepared to leave the Celtics, she has made a habit of keeping in touch with people from every stage of her life and will likely remain close with many people in the Celtics organization. For instance, she has kept "a pretty good feel" for what is happening with the Mystics through conversations with Thibault and his son Eric, the team's associate head coach, even as her schedule has prevented her from watching many games this season. Her high school coach, Bill Gibson, called her to congratulate her on being hired at Duke, and she frequently called and texted with the late Pat Summitt after graduating. Lawson is now an honorary co-chair of the Pat Summitt Foundation Advisory Board as well as a member of the University of Tennessee's Board of Trustees.
A major reason why Lawson's people-first approach has been so successful is that she doesn't consider it simply a means to an end or a coaching technique to produce more wins. "Basketball is about relationships. And the coach/player relationship is paramount … to any team," she told The Athletic's Lyndsey D'Arcangelo last month. And on July 14, she posted an emotional goodbye to the Celtics on social media that read in part, "Having relationships with players that move you to [tears] is the most meaningful pursuit one can have as a coach. I love them and I will miss them."
Lawson's career path, from player to broadcaster to NBA coach and now college coach, may look winding on first glance. But Lawson has built relationships and communicated well everywhere she has been and, not coincidentally, been successful at every stop. And although it's not unusual to hear coaches mention those interpersonal skills, Lawson has done much more than talk about them—she has lived them. Now, she is betting on them again to help her reenergize the Duke women's basketball program.
---
Thanks for reading the Her Hoop Stats Newsletter. If you like our work, be sure to check out our stats site, our podcast, and our social media accounts on Twitter, Facebook, and Instagram.