Discover more from The Her Hoop Stats Newsletter
Unlocking better insight about women's basketball
Over 3,000 subscribers
Jacki Gemelos: The Star Who Never Got to Shine
After high school, Jacki Gemelos was the next Taurasi
Thanks for reading the Her Hoop Stats Newsletter. If you like our work, be sure to check out our stats site, our podcast, and our social media accounts on Twitter, Facebook, and Instagram. You can also buy Her Hoop Stats gear, such as laptop stickers, mugs, and shirts!
Haven't subscribed to the Her Hoop Stats Newsletter yet?
---
The journey hasn't been an easy one for Jacki Gemelos -- though it started out like a dream come true.
During her senior year in high school, Jacki Gemelos averaged 39 points a game against one of the toughest schedules in the country. The long, skilled 5-11 gym rat from Sacramento, California played against three future WNBA players that season – Vicki Baugh, Jayne Appel and Danielle Robinson – and she was better than all of them. 
In fact, there was only one player in her class who was even compared to Gemelos: future WNBA MVP Tina Charles. 
So let's start with those who saw in her brief, spectacular prime. 
"She could do what she wanted," says Robinson, a nine-year WNBA veteran known for her defense who currently plays for the Las Vegas Aces. "She could shoot over people, she could handle the ball. It was natural for her; it was easy for her. Her dominance reminds me of Diana Taurasi. 
"She would have led college teams to championships," Robinson says. "I don't think there was a ceiling for her." 
Robinson's high school coach was Sue Phillips, who's seen the best young players in the country year in and year out thanks to her involvement with USA Basketball. Phillips, Robinson and their Archbishop Mitty High School team from San Jose played Gemelos and St. Mary's of Stockton in 2006 and all three remember the game well. 
"Gemelos required the unique and elite type of defensive attention we gave only to Diana Taurasi and Maya Moore," says Phillips. "The game had two future WNBA players battling head-to-head, and Mitty started five [future] D-1 basketball players in that game, too (we had eight on the roster)." 
But even a future WNBA defensive specialist like Robinson couldn't slow down Gemelos. 
"We had three people at one time responsible to 'triangulate' their attention and angles on Jacki," says Phillips, "and all five players were dedicated to mak[ing] Jacki's looks at the rim as difficult as possible. She still had 20-plus points and some incredible shots and assists, but one play sticks in my mind to this day. 
"I've never quite seen a play like this: Jacki split two D-1 signee defenders with some crafty ball-handling moves at the top of the key, elevated high and deep into the lane for what appeared to be a typical Gemelos acrobatic finish, only to draw two more D-1-signee defenders. She double-clutched in the air, and just inches before her feet hit the floor, made this beautiful behind-the-back pass to a streaking teammate for a layup.
"She was a fundamentally sound, complete player with a flair for the dramatic," says Phillips. "She was uber-talented and flashy, but never showy at the expense of being effective. Jacki played the game the right way – she made the correct basketball play time and time again while willing her team to victory in the process. 
Mark Trakh, her coach at USC, put it more simply: "Jacki was basically unstoppable. She could score at all three levels."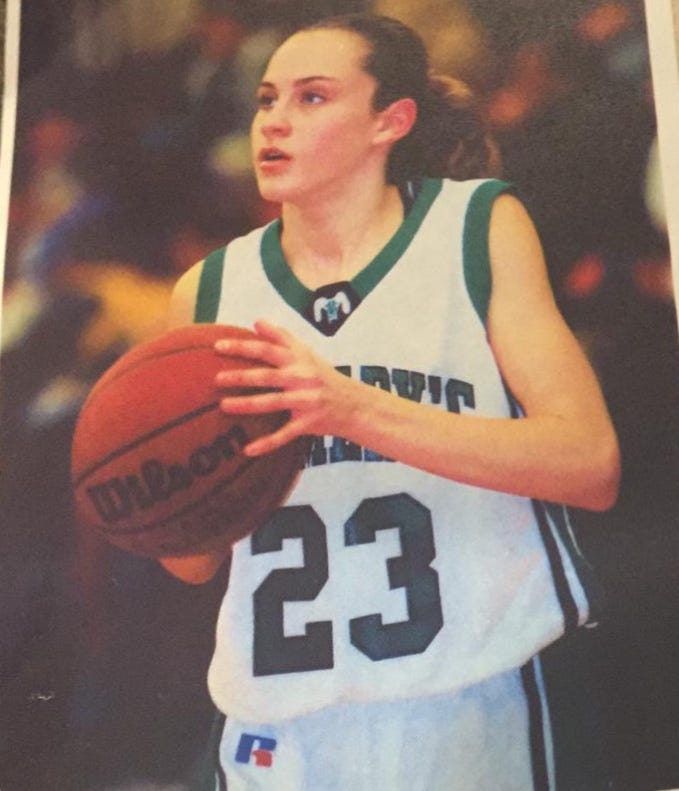 Photo: Jacki Gemelos
"There wasn't anyone like her," says Margaret Gartner, the long-time coach at Carondelet High School in Northern California – and Gartner's collection of talent included U.S. National Team member Appel-Marinelli, Notre Dame's Hannah Huffman and more than 20 other future Division I players. "It didn't matter if you put two people on her – it was like she was just playing with you."
"She could flat-out score and she could get the ball to her teammates," says Appel-Marinelli, who had a seven-year career in the WNBA and played for the U.S. National Team in 2010. "Her court vision was exceptional – and you can't teach that." 
"I always thought she was like Pistol Pete Maravich – she was Diana Taurasi all over again," says her coach at St. Mary's in Stockton, Tom Gonsalves, who also coached Chelsea Gray of the Los Angeles Sparks among many other elite talents. "I'm biased – I thought she was the best player I've ever seen in high school." 
To get an idea of what we've missed -- and what she missed -- here are some highlights from a game her senior year against Sacramento High. And note that Gemelos is going against a future WNBA player in 6-4 Vicki Baugh (22) and another elite player in 6-3 Jessika Bradley (23), who played in Europe after a collegiate career at Baylor and San Diego State. 
"No one I've ever seen could do what Jacki could do on the court," says Gonsalves. "There was no doubt she was going to be an Olympian – USA Basketball loved her. She could have done what Sabrina (Ionescu) has done – that's the kind of impact she could have had." 
"When she walked into a gym, people just gravitated toward her," says Gonsalves. "When we played Carondelet in Stockton her senior year, I went outside before the game to relax a bit, and there were people lined up in the parking lot to get in. I had never seen that for a girls' game." 
"When she played, all eyes were on Jacki," Appel-Marinelli says. 
"She was an entertainer," says Gonsalves. "She was there to put on a show." 
But the lights began to dim in the last game of her high school career. 
"We were ahead late in the game," says Gemelos, "and they wanted to foul. The girl pushed me in the back" – and the ACL in her right knee gave way. She missed the McDonald's All-American Game, which would have been a perfect showcase for her crowd-pleasing talent, and settled for rehab to try to get ready for her freshman year at USC. 
Trakh decided to hold her out the entire season to let the knee heal completely, but all systems were go heading into her second year at USC. However, in September, 18 months later, playing three-on-three, the same knee gave way again. 
So Gemelos went back into rehab. "It's the same thing over and over again," she says. "It was a boring, mentally grueling process, and it's painful." 
"So we go another year," says Trakh, "and it's the day before official practice starts. We're just shooting in the gym." 
"I screamed just like I screamed the first time," says Gemelos – but this time it was her left knee. 
"There wasn't a dry eye in the gym," says Trakh. 
More rehab. More boredom. More pain. 
"Eight months after the operation," she says, "I noticed something wrong with my knee. I made a cut and told the trainer, 'It doesn't feel right.' They took an MRI (to examine out the newly grafted ACL) and couldn't see anything, so they decided to just do a scope and clean it out. 
"I went into surgery at noon and was supposed to be out at 12:45. When I woke up, I looked at the clock and it was 4 p.m. My trainer was crying on the phone. 'Your body rejected the graft,' he said. 'We had to start over.'" 
Three of her friends – Charles, Brittainey Raven and Devenai Hampton – had been waiting at her apartment for her to get back from the "minor surgery." "They came in crying," says Gemelos. "After eight months of rehab – I thought, 'How does this happen to someone?'" 
One reason it may have happened, Gemelos now realizes, is that the work ethic that helped make her so good in the first place, the work ethic that got her through rehab and back into the WNBA, put tremendous pressure on her knees from a young age. 
"I was just a hooper," she says of her childhood. "The gym was where I wanted to be, with the guys, playing five-on-five for seven hours. Looking back, I worked too hard." 
And she didn't want to heed the warning signs. Her knees would give her trouble, but she kept playing. After an AAU tournament in Oregon before her senior year in high school, knee pain put her in a wheelchair in the airport – where she was flying to Atlanta for the next tournament. Her coach wouldn't let her play, but of course she wanted to. 
"Things pre-injury were one big dream," she says. "The atmosphere before those big high school games was amazing – people stopped and stared and all eyes were on me. I grew up just down the street from where the Sacramento Monarchs played, and that stage was where I wanted to be." 
But she never basked in the bigger spotlight, and never got the chance to show the big crowds how much she had to offer. And it was her knees, not her talent, that let her down.
"It was really hard to adjust," she says, "and very humbling, having to accept the new me. There were so many things to accept – it was devastating." 
Gemelos did finally get back on the court, making her college debut in 2010, four years after graduating from high school,  to a standing ovation at Cal, close to her hometown. She made it through the 2010-11 season, averaging 12 points a game and slowly getting her game back. 
But then, at the beginning of her sixth year, she tore her ACL one more time, ending her college career in another wash of tears and apparently closing the books on what at one time seemed to be a fairy tale of basketball glory. 
"There was a lot of pain behind closed doors," she says. "It took a lot of time, a lot of growth." 
And Gemelos didn't give up, though many close to her wanted her to. Her body was sending her a message, they said, and the message was to hang up her adidas.
But that work ethic that may have led to her injuries hadn't gone away, and Gemelos went at the rehab for her fifth ACL operation with the same intensity as the first four. "I wanted to prove everyone wrong," she says. "I would have doubts but they didn't last long. I had this stubborn mentality – I didn't feel like I couldn't do it. I felt I still could come back." 
And she did. It took a while, but she did. 
"You lose quickness, speed, strength, athleticism," she says of the aftermath of her ACL surgeries. "After one or two, maybe you can come back all the way -- after four or five, no." 
Surprisingly, though, the physical obstacles were not the most difficult to overcome. "The hardest thing to get back is confidence," she says. "I used to feel like I was the best player on the court" – but she knew she wasn't any more. 
"I lost my instinct to drive to the basket with five people around me, knowing I could make a play. I couldn't slash anymore – I never got that back." 
But Gemelos was always an excellent shooter, and she relied on that to carve out an overseas career that now includes a spot on the Greek national team. And she called on her feel for the game and ability to sense the right play to make at the right time.
"I was going to make my teammates better," she says. "You have to adjust – so I just worked harder." 
And in 2015, it paid off, as she played 17 games for the Chicago Sky. "It was the greatest year of my life," she says. "If I played or not, it didn't matter." 
Every year since, she's been at WNBA training camps, but until this season, she couldn't grab a roster spot. "The WNBA is about fit," she says, as coaches are looking for players who fill a particular need. "I was always right there – but the team would need a particular kind of player and it wouldn't be my kind." 
In 2020, at age 31, with five ACL operations behind her, Gemelos finally found another fit with the Connecticut Sun — but then, abruptly, she was waived. Two days later, though, the journey took another twist as the Washington Mystics picked her up. So once more, Gemelos had to shift gears and deal with a new reality.
"It takes a special person to come back from all that," says Appel-Marinelli, and the same adjective comes up for Robinson as well. "Her attitude never wavered," says Robinson. "That's what makes her so special." 
And it's not just the work she put in to get back on the court, but also the kind of person she's become. 
"As soon as Connecticut signed her," says Appel-Marinelli, "I reached out to Curt Miller and said 'You've got a great person and a great teammate.'" 
And those qualities, plus her shooting skill and understanding of the game, make her an attractive mid-season pickup for a team that suddenly needs help in the backcourt. She's in the bubble, after all, and no one knows what might happen next.
She does know, though, that the future that looked so bright back when she was a star in the making has dipped in and out of the shadows ever since. 
"I think about how different my life might have been," says Gemelos, "but even with everything that's happened, I'm so appreciative of the journey. If what I've been through can inspire young players to keep going through adversity, that's good enough for me. 
"I'm playing as long as I can – I'm going to ride this to the end," she says. "I still made it. I'm still living the dream."
---
Thanks for reading the Her Hoop Stats Newsletter. If you like our work, be sure to check out our stats site, our podcast, and our social media accounts on Twitter, Facebook, and Instagram.