Last Season Was a Family Affair (Again) for Vic and Blair Schaefer
Thanks for reading the Her Hoop Stats Newsletter. If you like our work, be sure to check out our stats site, our podcast, and our social media accounts on Twitter, Facebook, and Instagram. You can also buy Her Hoop Stats gear, such as laptop stickers, mugs, and shirts!
Haven't subscribed to the Her Hoop Stats Newsletter yet?
---
On Sunday, Texas athletic director Chris Del Conte revealed on Twitter that he had hired Mississippi State head coach Vic Schaefer, bringing Schaefer back to his home state to replace Karen Aston. It's a great hire for Texas: Schaefer won 78% of his games and was named SEC Coach of the Year three times in eight seasons at Mississippi State. In 2018 alone, four different outlets named him National Coach of the Year.
In what turned out to be his final season with the Bulldogs, Schaefer also marked an important "first," welcoming daughter Blair to his staff as the coordinator of women's basketball player development. It seemed like the natural next step for the Schaefer family: Blair had played for the Bulldogs from 2014 to 2018, helping the program to two appearances in the national title game, and she finished her career third in program history in 3-point shooting percentage and with one SEC All-Defensive Team award on her resume. Vic has not yet announced his staff at Texas, but both Schaefers gushed about their year together with the Bulldogs, and it seems likely that Blair will follow him to Austin.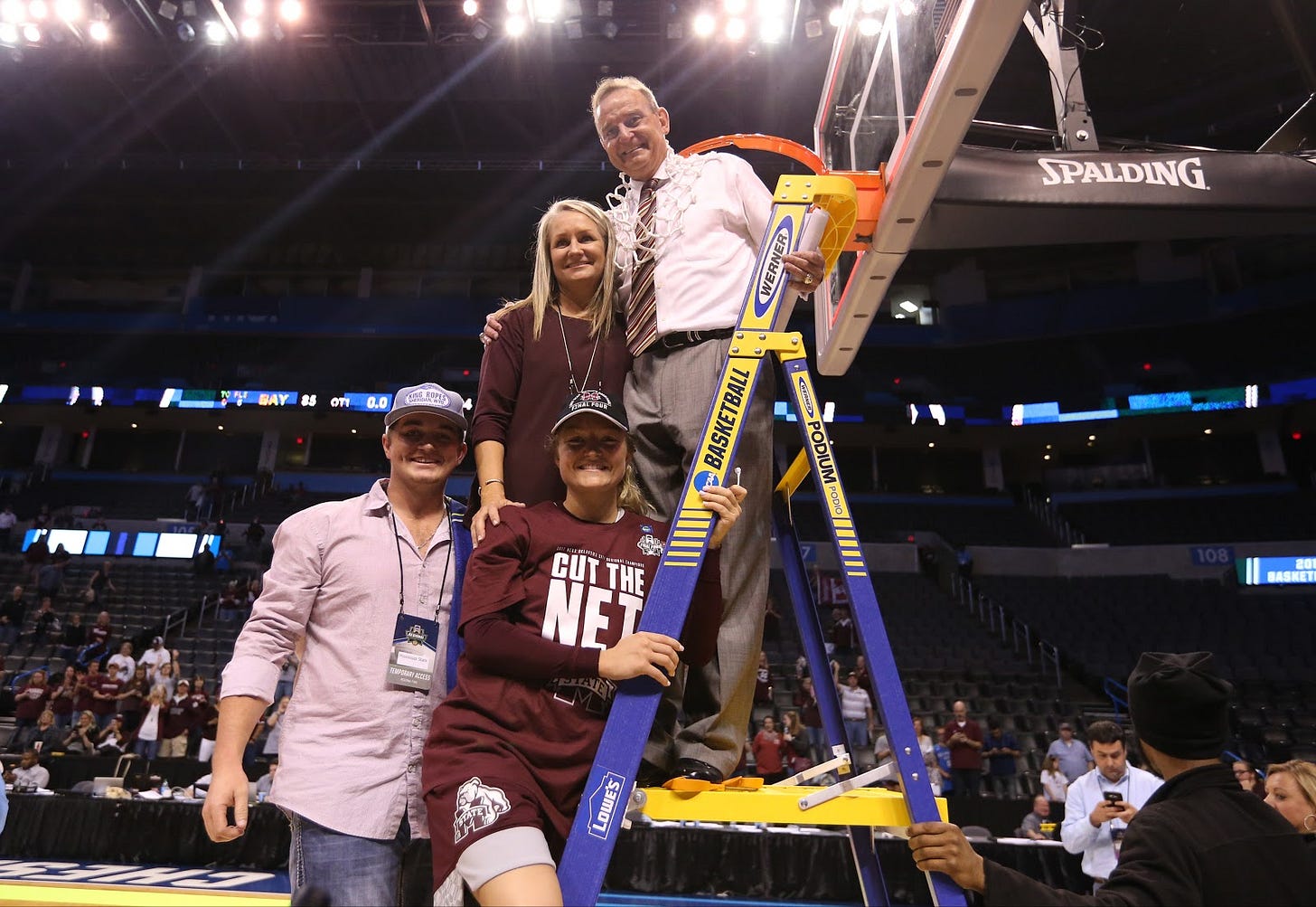 The Schaefer family celebrates a win in the Elite Eight on February 26, 2017. From top to bottom: Vic Schaefer, wife Holly, daughter Blair, and son Logan. Photo credit: Mississippi State Athletics.
But behind the scenes, Blair becoming a coach was far from a foregone conclusion. Vic certainly hoped it would happen, but early in Blair's college career, he thought the biological sciences major was destined to become a doctor or a veterinarian. Blair later decided she wanted to work in television, so she added a minor in communications and spent a summer interning with Entertainment Tonight.
During Blair's senior year, Vic tried to convince her that she would be a great coach. "She was such [an] involved and cerebral kid playing, and she communicated well on the floor," he explained. But Blair recalls telling him, "No, you're that person for us in our family. It's not gonna be me." Instead, she took a full-time job as a broadcaster with WCBI, a TV station in the Starkville, Mississippi, area. She also worked for the SEC Network and ESPN, including calling first- and second-round NCAA Tournament games in Syracuse, New York. "I was absolutely set on never coaching," Blair said.
Midway through her first college season as a broadcaster, though, Blair decided broadcasting wasn't the right fit for her. She felt stifled, unable to use what she saw on the court to help a player, coach, or team improve. Instead, her focus had to be on how she could improve as an individual, which didn't match the team-first mentality she'd grown up with in basketball. "When you put the headset on, that's where you stay," she said. "You don't get to go out on the floor, you don't get to help kids through situations, and you don't get to help teams win. And I like to win."
It didn't hurt that Blair's broadcast partners frequently told her that she would make a good coach because of her astute observations on air. So, sometime during SEC play, Blair called Vic. "I had to kind of put my pride aside," she said, "and tell him, 'Okay, I think you're right. I would really like to coach.' So he was thrilled."
Vic told Blair to finish out the season as a broadcaster and that they could pick up the conversation in April. By then, Blair was committed to changing roles and willing to move away from Starkville if necessary to start her coaching career. But the Bulldogs had an open position and, as Vic put it, "I was pretty selfish because I think she's really good." Mississippi State hired Blair as coordinator of women's basketball player development, joining fellow alums Ketara Chapel and Dominique Dillingham on the Bulldogs' staff.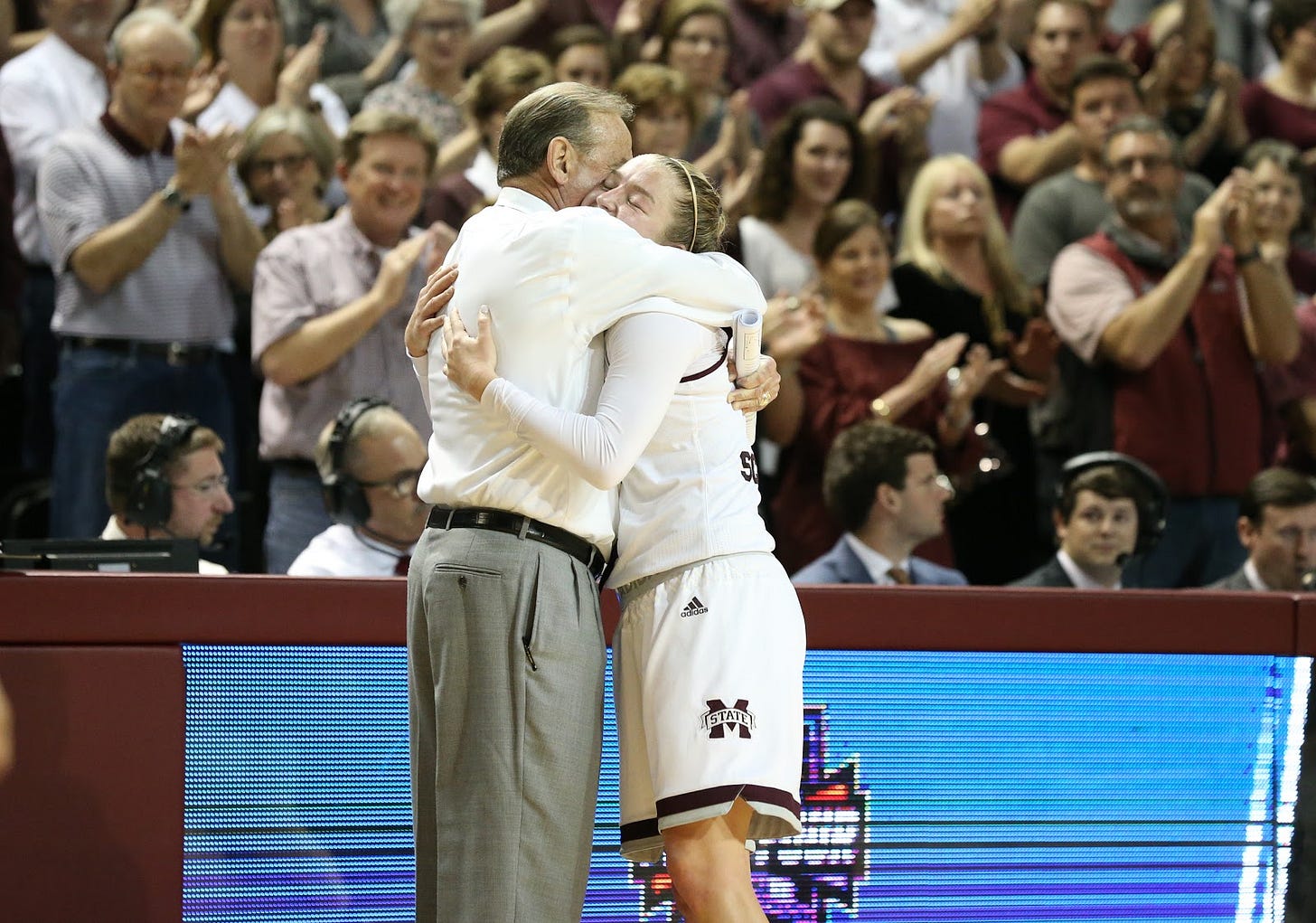 Vic and Blair Schaefer embrace at the end of a win over Oklahoma State in the NCAA Tournament on March 19, 2018. Photo credit: Mississippi State Athletics.
Mixing business and family can be tough for some, but the Schaefers have always been able to separate basketball time—whether as player and coach or coordinator and coach—from family time. Blair refers to Vic as "Dad" on the court, just as she did as a player, but, she said, "[when] I come to the office, I see him as … Coach Schaefer, not Dad. I call Dad later." Vic credits Blair for being "extremely professional," taking her work seriously, and holding him accountable. "What I love about [Ketara, Dominique,] and Blair," Vic said, "is that when we have a staff meeting, they sit there and they're brutally honest to me about where we are, what we're doing, [and] how we're doing it."
Blair's role may be best described as a jack-of-all-trades. She manages the team's academics, community service, and housing, and she also stands in for her dad at various speaking engagements and coordinates various events and fan requests. "It's a great role for a young coach to learn," Vic said, "… [and] it takes the right person because you're involved in so many things other than coaching."
The one thing Blair's role does not involve is on-court coaching. The NCAA has strict rules regarding the number of coaches who can provide on-court instruction, which took some getting used to for Blair last fall. "I was constantly talking back and forth with our compliance department," she said. "… You have a whole team that knows I was a part of two Final Four teams, and so when they come and ask me about what they should have done in certain situations and drills and stuff like that, it's hard because I can't tell them anything." One of the craziest restrictions she encountered was that she could keep score in a drill, but she couldn't announce the result to the players. Instead, she had to relay the information to an on-court coach, who could tell the players how they did. Blair acknowledged that not being able to help much on the court "hurts my soul," but she added, "I know there's an entry point for everything, and so what a blessing to have this as my first job [at a university]."
The internal tug-of-war Blair faced when she was not allowed to answer certain questions also confirmed for her that she was in the right profession. "As soon as we started practices, the girls wanted to constantly pick my brain … That was the first sign that I felt needed," she said. This season, five of the team's seven guards were freshmen or sophomores, so there were a lot of young players needing help with everything from navigating a longer season than in high school to understanding Vic's turns of phrase.
On the other end of the spectrum, fifth-year senior guard Jordan Danberry was one of only a few Bulldogs who had played with Blair two seasons ago. Blair said that her relationship with Danberry did have to adjust this season, but that it was similar to how relationships between players evolve each year as players' roles change. "It's been really rewarding for me to be able to still talk to her like we're on the same team, but just different roles," Blair said. The biggest difference for Blair is that, as she put it, "my team [is] now the staff," not the players.
With that new team, Blair has been able to see her dad's work in greater detail, which she said was one of the most rewarding things about the past year. She explained, "Things can be so crazy during games, [but] he still finds moments to be still in huddles and to gather himself and to think about, 'What is the best for the team? What's the next play to call? What's the best play to call?' … Watching him do that and make play calls, I think it's just so cool and rewarding because he is the best at what he does." This season, Vic led a young Mississippi State team to a 27-6 record and a second-place finish in the SEC, and Blair hopes to contribute to many more victories under her dad. She said she would like to work for him "however much longer he does this … and learn from him as long as I can."
Vic expects Blair to eventually land a position as an on-court coach—and to excel at it. "I think that's her plan and her goal," he said, "and … that's a great goal for her to have. … She has a great demeanor with our players; she understands what their frustrations and their ups and downs are and challenges are. … She's gonna be a great coach and I'm excited about her getting into this profession."
Currently, Vic and Blair are weathering an unprecedented spring in women's college basketball as the coronavirus forced the NCAA to cancel its postseason tournament. The Bulldogs' final game ended up being a loss to South Carolina in the SEC Tournament final on March 8. During this period of social distancing, Vic has been turkey hunting every day near his Starkville home. Blair is there, too, and has been trying to take advantage of the rare time off to be still and to refocus—though her to-do list likely became a mile long when Vic accepted the Texas job. For all that's up in the air regarding the coronavirus, the Schaefers' impending move, and the eventual return of sports, one thing hasn't changed: Vic and Blair Schaefer are in this together.
---
Thanks for reading the Her Hoop Stats Newsletter. If you like our work, be sure to check out our stats site, our podcast, and our social media accounts on Twitter, Facebook, and Instagram.