Mid-Major Player of the Year Watch List
15 Student-Athletes Named to HHS Mid-Major Player of the Year Mid-Season Watch List
Thanks for reading the Her Hoop Stats Newsletter. If you like our work, be sure to check out our stats site, our podcast, and our social media accounts on Twitter, Facebook, and Instagram.
Haven't subscribed to the Her Hoop Stats Newsletter yet?
---
Her Hoop Stats is proud to announce the 15 members of the first-annual Mid-Major Player of the Year Award mid-season watch list. The award recognizes the nation's best mid-major player in women's college basketball, the first such award in women's collegiate basketball.
To be eligible for the award and watch lists, players must compete in one of the 25 conferences deemed to be "mid-major". The following conferences are considered high-major for the purposes of this award, and thus ineligible: AAC, ACC, Big 12, Big East, Big Ten, Pac-12, and SEC. Players are selected based on their on-court production in the 2019-20 NCAA season.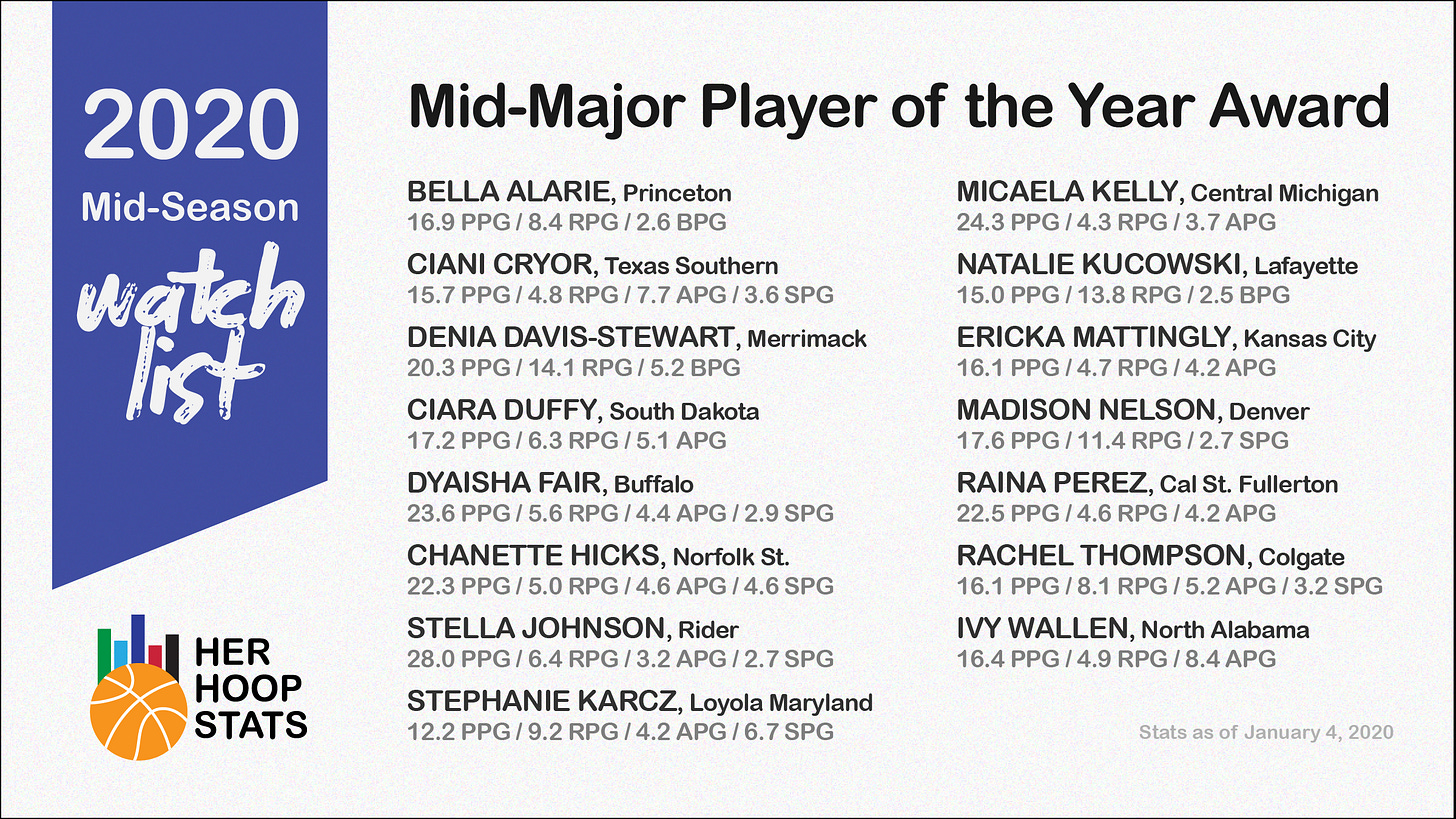 In late November we named 25 student-athletes to the early-season watch list, seven of whom were also named to this list. 11 conferences were represented, including the Patriot League who led with three honorees. The Ivy League and MAC each placed two players on the watch list. 11 seniors (1 graduate senior) were selected to the watch list, along with three juniors and one freshman. The 15 student-athletes are listed below, along with their stats through Jan. 4, ordered by school.
Dyaisha Fair, Buffalo, G, Fr.
23.6 PPG, 5.6 RPG, 4.4 APG, 2.9 SPG, 0.1 BPG
The lone underclassman on this watch list, Fair has been crucial for Buffalo with the absence of Summer Hemphill who remains out with a leg injury.
Raina Perez, Cal St. Fullerton, G, R-Jr.
22.5 PPG, 4.6 RPG, 4.2 APG, 1.7 SPG, 0.2 BPG
The redshirt junior guard can score in bunches, with eight 20-point games so far this season. Over a recent three-game stretch, Perez totaled 90 points on 35-of-48 shooting, averaging over 1.7 points per scoring attempt.
Micaela Kelly, Central Mich., G, Jr.
24.3 PPG, 4.3 RPG, 3.7 APG, 2 SPG, 0.3 BPG
The second-leading scorer in the nation, Kelly has been on a tear lately. Over the past five games, the junior is averaging 29.4 points per game thanks to a combined 22 made three-pointers.
Rachel Thompson, Colgate, G, Sr.
16.1 PPG, 8.1 RPG, 5.2 APG, 3.2 SPG, 0.2 BPG
Thompson has improved her scoring and rebounding compared to last season, but the most intriguing change for the senior guard is with her decision making. Thompson's assist-to-turnover ratio went from an OK 1.11 in 2018-19 to an impressive 2.39 this season.
Madison Nelson, Denver, F, Sr.
17.6 PPG, 11.4 RPG, 2.3 APG, 2.7 SPG, 1.9 BPG
Nelson has stepped up her game in almost every facet of the game this year, increasing her scoring, rebounding, assists, steals, and blocks per game.
---
You can support our work by subscribing to herhoopstats.com. For just $20 per year, you'll get access to in-depth, easy to access statistics for women's basketball. A subscription is perfect for coaches and players of all levels, SIDs, broadcasters, and fans.
---
Ericka Mattingly, Kansas City, G, Sr.
16.1 PPG, 4.7 RPG, 4.2 APG, 2.2 SPG, 0.8 BPG
Mattingly's reputation as an all-around player has grown in her second season since transferring from Butler Community College. The senior who models her game after Sabrina Ionescu is always a triple-double threat.
Natalie Kucowski, Lafayette, F, Jr.
15 PPG, 13.8 RPG, 1.6 APG, 0.5 SPG, 2.5 BPG
Kucowski has increased her rebounds and blocks per game this season, and her scoring has stayed even at 15.0 points per game. However, her scoring efficiency has drastically increased, jumping from 0.91 to 1.06
Stephanie Karcz, Loyola Maryland, G, Sr.
12.2 PPG, 9.2 RPG, 4.2 APG, 6.7 SPG, 0.3 BPG
Karcz is leading the NCAA in steals per game by more than 1.5, while also placing 63rd in rebounds and 106th in assists.
Denia Davis-Stewart, Merrimack, F, Sr.
20.3 PPG, 14.1 RPG, 0.5 APG, 0.8 SPG, 5.2 BPG
Davis-Stewart has made a massive leap in her senior season, becoming the leading rebounder and second-leading shot blocker. In Merrimack's first game in Division I, the forward recorded a triple-double with 31 points, 13 rebounds, and 12 blocks.
Chanette Hicks, Norfolk St., G, R-Sr.
22.3 PPG, 5 RPG, 4.6 APG, 4.6 SPG, 0.4 BPG
The redshirt senior guard has significantly increased her scoring output since redshirting the 2018-19 season, jumping more than 10 points per game from 2017-18. Hicks is also third in the NCAA in steals per game.
Ivy Wallen, North Ala., G, Sr.
16.4 PPG, 4.9 RPG, 8.4 APG, 1.1 SPG, 0.1 BPG
Wallen is dishing out more than 8.4 assists per game, trailing only Sabrina Ionescu. Combined with her scoring, Wallen accounts for more than 33 points per game for the Lions
Bella Alarie, Princeton, G/F, Sr.
16.9 PPG, 8.4 RPG, 2.1 APG, 0.8 SPG, 2.6 BPG
Alarie hasn't played at the same level as she did last season, but she has still been an efficient scorer and rebounder while battling injuries.
Stella Johnson, Rider, G, Sr.
28 PPG, 6.4 RPG, 3.2 APG, 2.7 SPG, 1 BPG
Johnson, the NCAA's leading scorer by nearly four points per game, has grown from a very good player to an elite player. Her scoring average is up nearly 10 points, and the senior guard has also upped her rebounding, steals, and blocks per game.
Ciara Duffy, South Dakota, G, Sr.
17.2 PPG, 6.3 RPG, 5.1 APG, 1.1 SPG, 0.2 BPG
Duffy has led the Yotes as they established themselves as one of the elite mid-major teams in the country this season.
Ciani Cryor, Texas Southern, G, Gr.
15.7 PPG, 4.8 RPG, 7.7 APG, 3.6 SPG, 0.2 BPG
Her teammate Niya Mitchell was named to our early-season watch list, but the Rutgers transfer's assist numbers set Cryor apart as an overall contributor.
---
Her Hoop Stats will announce the 10 semifinalists for the award on Monday, Feb. 3. From those 10 semifinalists, five finalists will be selected on Monday, March 9. Each of the five finalists will be considered for the award, with the winner being announced on Wednesday, April 1.
---
All statistics via herhoopstats.com and are up to date as of January 4, 2019.