Discover more from The Her Hoop Stats Newsletter
Unlocking better insight about women's basketball
Over 3,000 subscribers
"Ready to Rip and Roar": Five New Head Coaches on Their First 30 Days amid a Global Pandemic
Thanks for reading the Her Hoop Stats Newsletter. If you like our work, be sure to check out our stats site, our podcast, and our social media accounts on Twitter, Facebook, and Instagram. You can also buy Her Hoop Stats gear, such as laptop stickers, mugs, and shirts!
Haven't subscribed to the Her Hoop Stats Newsletter yet?
---
When new UNLV head coach Lindy La Rocque called me a few minutes after our scheduled time, she immediately apologized. "I'm not one to be late," she explained, "but I was in the process of buying a home, too, so got caught on a lender call."
La Rocque had an offer accepted on a house in late April, so she can add "first-time homeowner" to her resume alongside "first-time head coach." The Stanford alum and former assistant coach was announced as UNLV's new head coach in mid-March, just as the coronavirus was beginning to shut down states around the country.
Career coaches and management experts frequently talk about the importance of the first 30 days in a new job. With that in mind, I spoke to La Rocque and four other head coaches who have accepted new jobs this offseason about how they are trying to get off to a good start amid a pandemic that has temporarily halted sports.
The five coaches are based in states across the country and therefore have varying restrictions on their day-to-day movement and activities, but none of them are currently able to coach their teams on campus. When these coaches spoke with me, they were just two to six weeks into their new jobs, some at schools with losing records last season and others at schools with national championship aspirations:

However the next chapter in each coach's story goes, they will forever share the unique experience of being a new head coach this offseason. They are uprooting their lives to coach a different team in a different state, with the added twist that they cannot currently do what they do best: coach their players and mold the next generation of young women in person. In some ways, they are treating the pandemic like an unfamiliar opponent: accepting that there is uncertainty, preparing to the best of their ability, and believing in their team's—and the country's—ability to come out on top.
---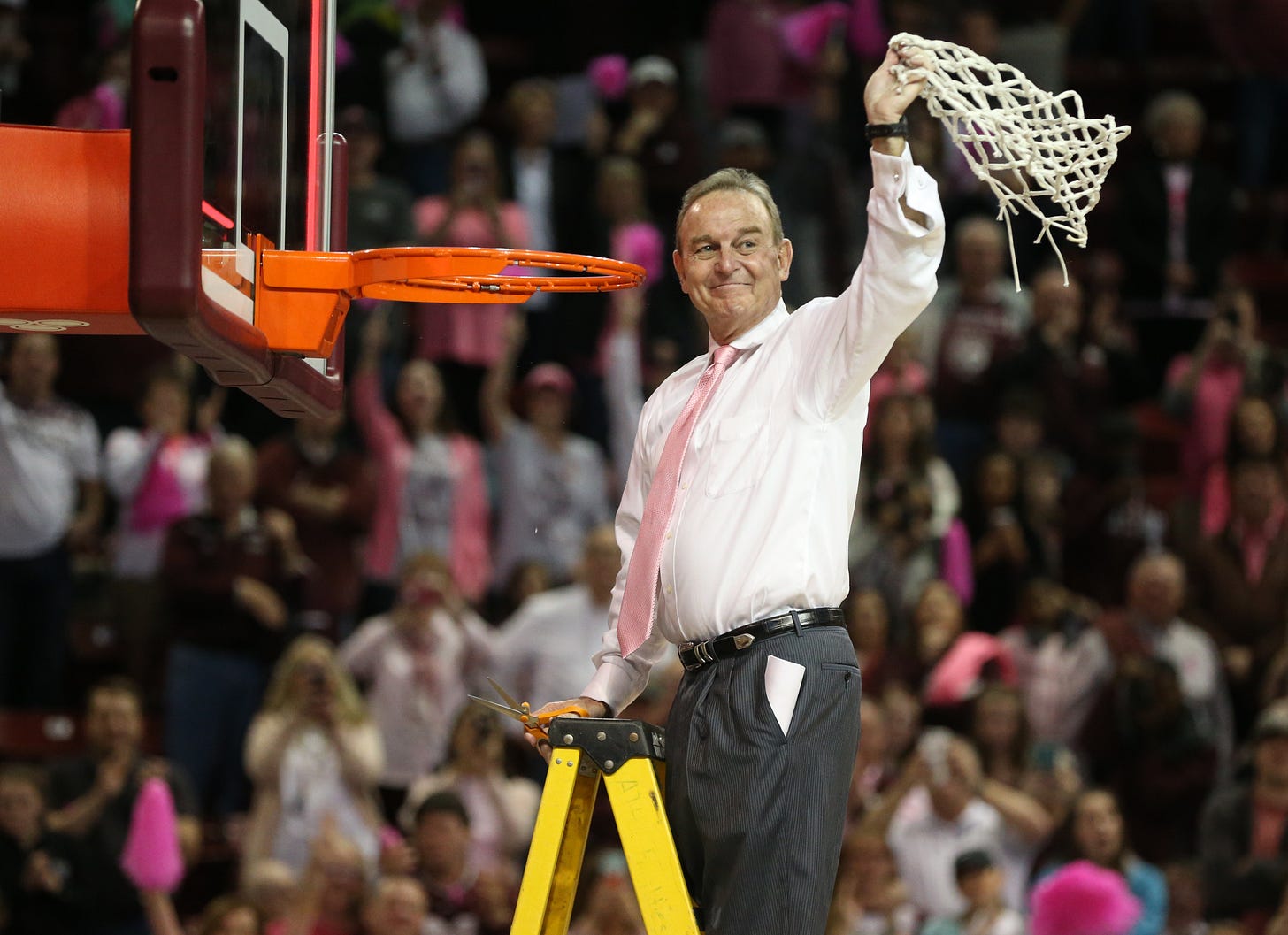 Texas hopes Vic Schaefer will be doing a lot more of this while wearing burnt orange. Photo credit: Mississippi State Athletics.
The entire process of hiring former Mississippi State head coach Vic Schaefer at Texas—arguably the highest-profile coaching change of the offseason—took just 48 hours. Texas got permission from Mississippi State to talk with Schaefer on a Friday, and two days later, Schaefer informed both universities and his Mississippi State players that he was headed to Texas.
Despite the pandemic, Schaefer still took a charter flight to meet with Texas athletics director Chris Del Conte and executive senior associate athletics director Chris Plonsky in person during the interview process. "They assured me the plane was disinfected," Schaefer said with a laugh. But he wasn't comfortable with spending the night out of town and doing "the whole nine yards" of a typical interview process, so the two sides condensed their in-person discussions to one day.
That was enough for Schaefer, who was born across the street from Texas's Frank Erwin Center at the former Brackenridge Hospital. He praised the work of former head coaches Jody Conradt and Karen Aston, saying that the Longhorns' historical success gives him "big shoes to fill." For now, Schaefer will have to fill them from afar, as he and his Mississippi State staff, who are all coming with him to Austin, remain in Starkville.
The coronavirus did not impact Schaefer's decision to accept the Texas job, but it has severely curtailed what he has been able to do in his first 30 days. "[We've] got a lot of limitations right now," Schaefer said, "but [at] the same time, you're still able to do certain things and … you've got to do them and constantly be active." Schaefer's introductory press conference was online, and he has been meeting with Longhorns players and recruits on Zoom and FaceTime, which he said was a big change for a staff that prizes face-to-face interaction. It is also very different from his first offseason at Mississippi State, when he had over a month to work with players in person after he was hired in March 2012.
The most difficult change brought on by the coronavirus was how Schaefer had to inform his Mississippi State players of his decision. "To have to make a phone call is just such an impersonal way to do things," Schaefer lamented. "… It's just the absolute worst way to have to tell your family that you're moving. And that's what I did. I had to tell my family—those are my kids, they're, that's my team. … It's the worst thing I've ever had to do probably in my life, other than bury my parents." NCAA tampering rules only added to Schaefer's anguish, as he knew that after he hung up the phone, he could have no further contact with any player on Mississippi State's roster.
However, the changes to the offseason routine have also given Schaefer some much-needed downtime. He called me on the heels of a three-day fishing trip in Louisiana, which is one of his favorite pastimes but something he only got to do once last summer. After the 2019 season ended in the Elite Eight, Schaefer coached the Bulldogs in the World University Games in Italy and Team USA in the Pan-American Games in Peru. "I had no offseason, no summer," Schaefer said. Now, with recruiting severely curtailed due to the pandemic, Schaefer is appreciating the chance to have dinner at home instead of perpetually trying to fit in one more recruiting visit. "It's amazing," Schaefer said. "… It's really allowed me to be around my family so much more [and] spend some great quality time with them."
Whenever schools and communities begin to loosen pandemic-related restrictions, Schaefer says he and his staff will be "ready to rip and roar." He has full confidence in his staff, which he called "the A-team" and "the best in the business," and he is excited about the potential he sees in the Longhorns program. "I don't think [the coronavirus] tempered my excitement or my enthusiasm or my staff's enthusiasm one bit," Schaefer said. "… I just think [we've] got to be able to have some flexibility in things right now."
---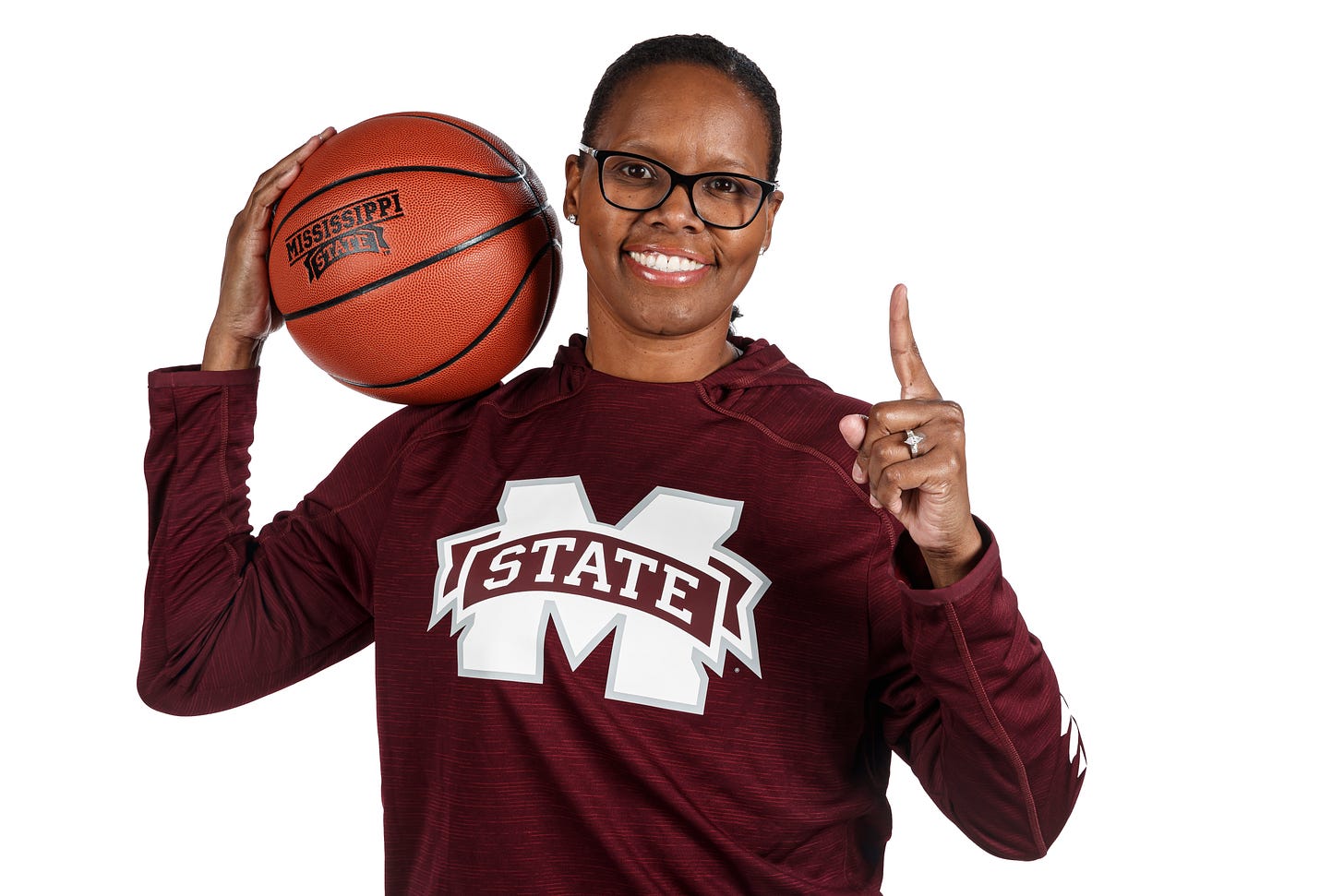 Mississippi State head coach Nikki McCray-Penson shows off her new team colors. Photo credit: Mississippi State Athletics.
For Schaefer's successor, Nikki McCray-Penson, it was also important to travel to Mississippi State during the interview process. "I am a very hands-on people person, direct contact type of person," the former Old Dominion coach said. "And [the coronavirus] made it very difficult just to make an informed decision." But when she arrived on campus, met with the search committee, and got to drive around, she found that Starkville had a similar feel to her hometown of Collierville, Tennessee, which had fewer than 15,000 residents when she was in high school.
At the same time, everything that McCray-Penson had built at Old Dominion made it tough to leave, especially after the coronavirus prematurely ended the 2019-20 season. She explained, "We've done something great and something really special here at Old Dominion: put life back into the program … When I took over this program, the goal was to put the program back into the national spotlight and make it very attractive and I thought we were, we definitely did that. And I think this year coming up … is going to be really special." Indeed, Old Dominion will return 11 players next season after posting a 24-6 record in 2019-20—but for McCray-Penson, the chance to take over a program with national name recognition and compete for championships was too much to pass up.
McCray-Penson accepted the Mississippi State job on April 11, and although she is currently looking for a house in Starkville, she will wait to choose one until she can visit again. In the meantime, she is working from home and trying to create a routine for the Bulldogs players. "There's not one day where I don't text our players," she said. She and her staff, many of whom came with her from Old Dominion, are working to establish three core values: trust, communication, and discipline. "Those are three staples that have made me who I am as a person," McCray-Penson said.
In particular, McCray-Penson sees communication as something that she and her staff can emphasize during this time when most players don't have access to a gym. She hopes that whenever the team can finally convene in person, the players and staff will feel "connected as a team" because of the communication and shared values that they are developing during their time apart. "It's all in how you approach it," she said. "I don't let my circumstances define my ability to be an effective communicator and to build relationships with these players."
One thing that McCray-Penson hasn't yet done is celebrate her new job. It's not because she's too busy; rather, it hasn't quite sunk in yet. She spends her days talking to players, recruits, and the media, "just what I would normally do." She added, "Right now we're not able to just be there [in Starkville] and to really feel like, okay, we're in the community. So once we're there, I think it'll really hit me."
As she waits for college sports to resume, McCray-Penson is mindful of the bigger picture. "People right now are without jobs and … people are just dying, and it puts things in perspective," she said. "… Everybody is affected in some way. … But at the end of the day still, things can still get done … and I was just really thankful that we were still able to get this process done and allow me to be the head coach here at Mississippi State."
---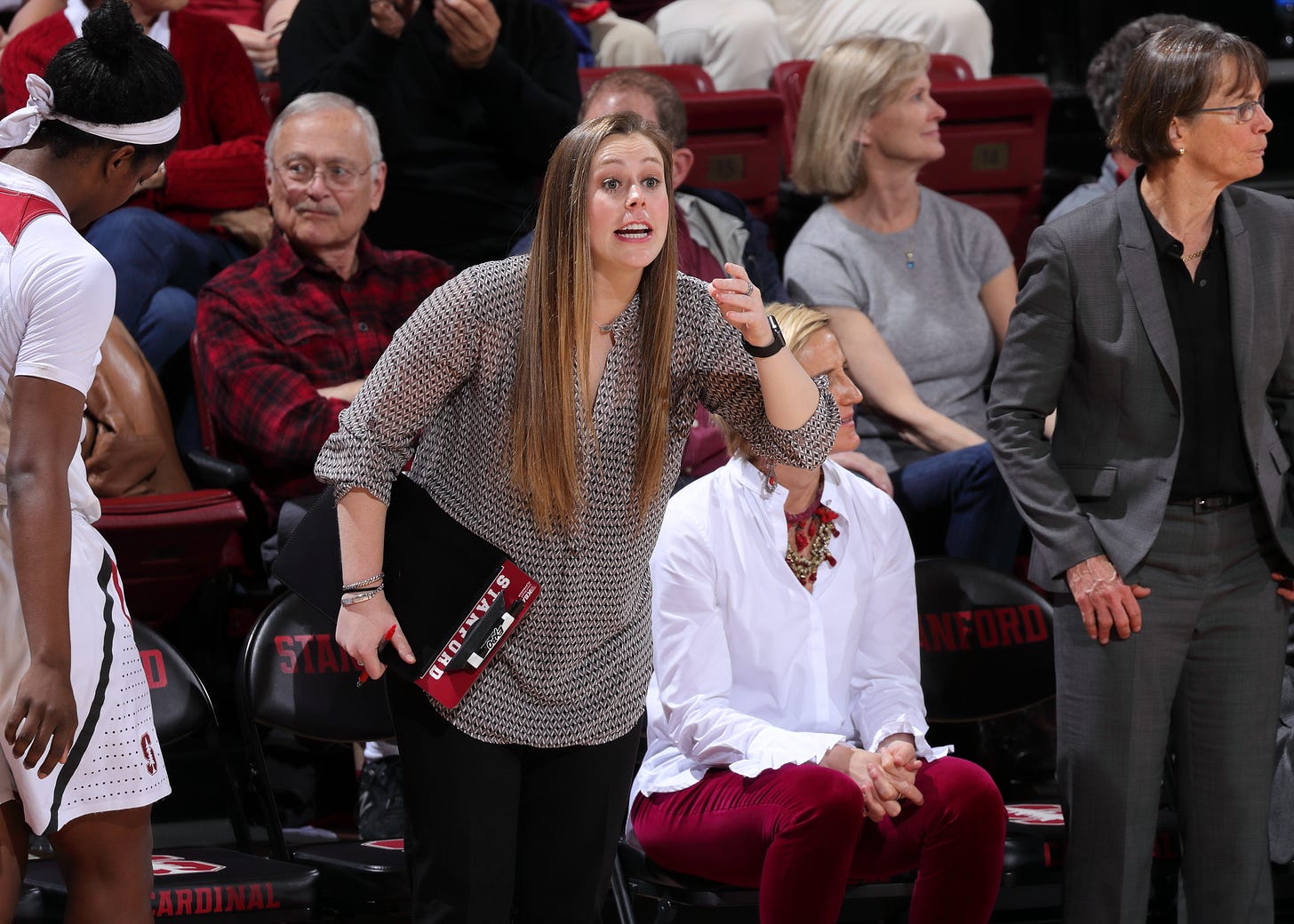 Then-Stanford assistant coach Lindy La Rocque gives direction on the sideline. Photo credit: Stanford Athletics.
For Lindy La Rocque, accepting the UNLV job meant returning home—literally. Not only is the university in her hometown of Las Vegas, but La Rocque also temporarily moved back in with her parents while she looked for a house of her own. "Had I gotten a job probably anywhere else in the country, I'd probably still be in California," she reflected. "… With everything going on, trying to stay safe, I don't know if I would have been able to get there if I didn't have a place to land." With the help of a few houseguests who had had to extend their stay due to increasing coronavirus-related restrictions, La Rocque packed up a moving pod and drove it to Las Vegas.
La Rocque was announced as UNLV's new head coach on March 18, one day before California's statewide shelter-in-place order was issued and two days before Nevada's was issued. She said that most of the country was still at work during her interview process, so the coronavirus didn't affect that process or factor into her decision. In addition, La Rocque hired her assistant coaches just before Nevada governor Steve Sisolak froze state hiring in mid-March. (However, it took until the end of April for those coaches to get through the HR process and be officially announced.)
The pandemic has had more of an impact for La Rocque since she accepted the job. She is working the long hours she had expected but spending her time differently. For example, the recruiting restrictions have allowed her to spend more time FaceTiming UNLV's returning players. FaceTime is also how she chose to say goodbye to the Stanford players. "I just think there's something really more sincere of, even if it's a video conference, seeing someone's face," she said. But that doesn't mean that she isn't weary of video calls. "I'm a little Zoomed out, to be honest," she admitted.
Besides having more time for the returning players, other silver linings for La Rocque of this unprecedented offseason include having a perpetually open kitchen and increased access to coaching mentors and friends. "I have a whole refrigerator of food … for lunch instead of just maybe whatever snacks I can scrounge up in the office," she pointed out with a chuckle. And with coaches at home instead of on the recruiting trail or at practice, La Rocque said it's been "the perfect time" to ask for advice. Along with the Stanford coaching staff, La Rocque has leaned on friends including Samford's Carley Kuhns and Davidson's Gayle Coats Fulks, both of whom are entering their second year as the head coach at their current school.
La Rocque has visualized the moment she gets to meet her players in person several times. "What's that gonna be like?" she wonders. "We [will] all really know each other; I mean, it could very well be three or four months from now … And so it's like kind of showing up for a blind date, almost … That'll be a whole new interesting component, I think, once we are finally able to get back together."
---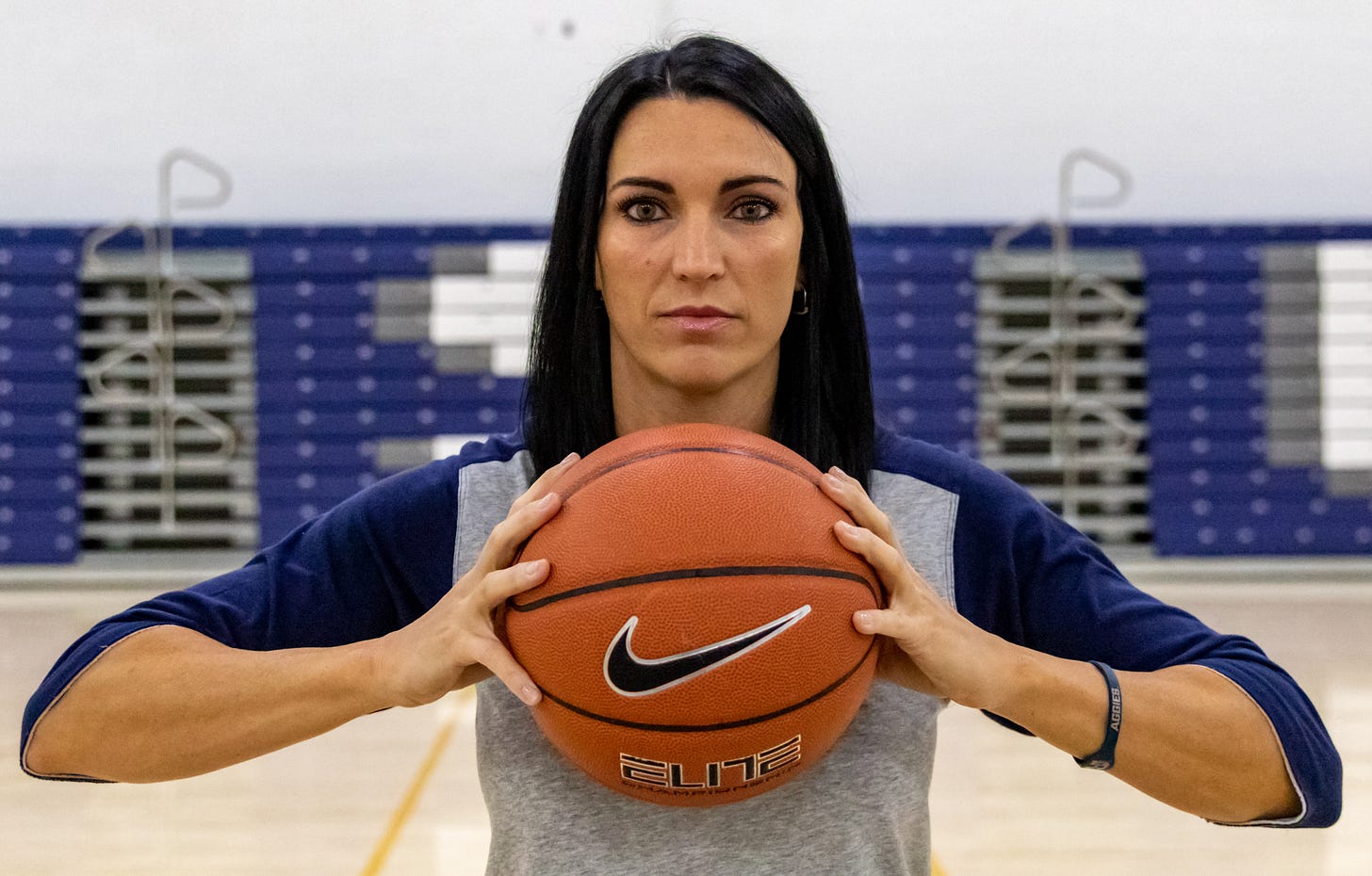 Kayla Ard is ready to go at Utah State. Photo credit: Wade Denniston, USU Athletics.
Utah State's Kayla Ard is also in the early days of her first permanent head coaching role, though, unlike La Rocque, she served as Denver University's interim head coach to finish the 2019-20 season. "This [pandemic] is probably going to be the biggest curveball I take in my career," Ard said, "… and it happened to be like day two [on] the job." Despite that, she exuded confidence and positivity, calling the Utah State job "a gold mine" and the perfect fit for her.
The pandemic had only a limited impact on Ard's interview process, though the USU administration did double-check that she was still comfortable with flying in. Since accepting the job, she has moved to Logan, Utah, and bought a house, but she is still working out how to get her furniture delivered. She is also able to work at her office on campus while practicing social distancing.
Unlike the other coaches I spoke with, Ard had been looking for a head coaching job for a few years, and she has hit the ground running. Just one day after USU announced her hiring, she got a commitment from graduate transfer Jessica Chatman, and she subsequently secured commitments from three junior college transfers. "I started at junior college, so I'm a big proponent of that," Ard explained. "We needed some maturity; we needed some people that have already proven at the college level that they can get it done." She said she has earned a reputation as a strong recruiter and has felt comfortable recruiting even during the pandemic using a mix of phone calls, video, and virtual campus tours.
Ard now has a full roster for next season and is excited about her team. She has already watched film on every returning player and talked with them individually about how they fit in her system. "All of us, we have something to prove," Ard said, referencing the coaching staff, the newcomers, and the returning players. "… I'm young, 36, and I—[Utah State] could have hired anybody they wanted and they chose me, so I really think I have something to prove."
The next step is for Ard to develop stronger relationships with her players, and she said that, while she considers herself "a players' coach," doing that virtually has been her biggest challenge during the pandemic. "I want them to get to know me off the court before they get to know me on the court," she said, "… so I'm trying to do things … [like] on a group text message to kind of send something silly or funny or something like that and let them get to see my personality a little bit."
Ard hopes she will be able to do that in person as soon as mid-June, when USU's second session of summer school is slated to begin. The state of Utah has already relaxed many restrictions, allowing restaurants and gyms to reopen and permitting gatherings of up to 20 people, but the university has not announced its plans beyond the first session of summer school, which will be online.
---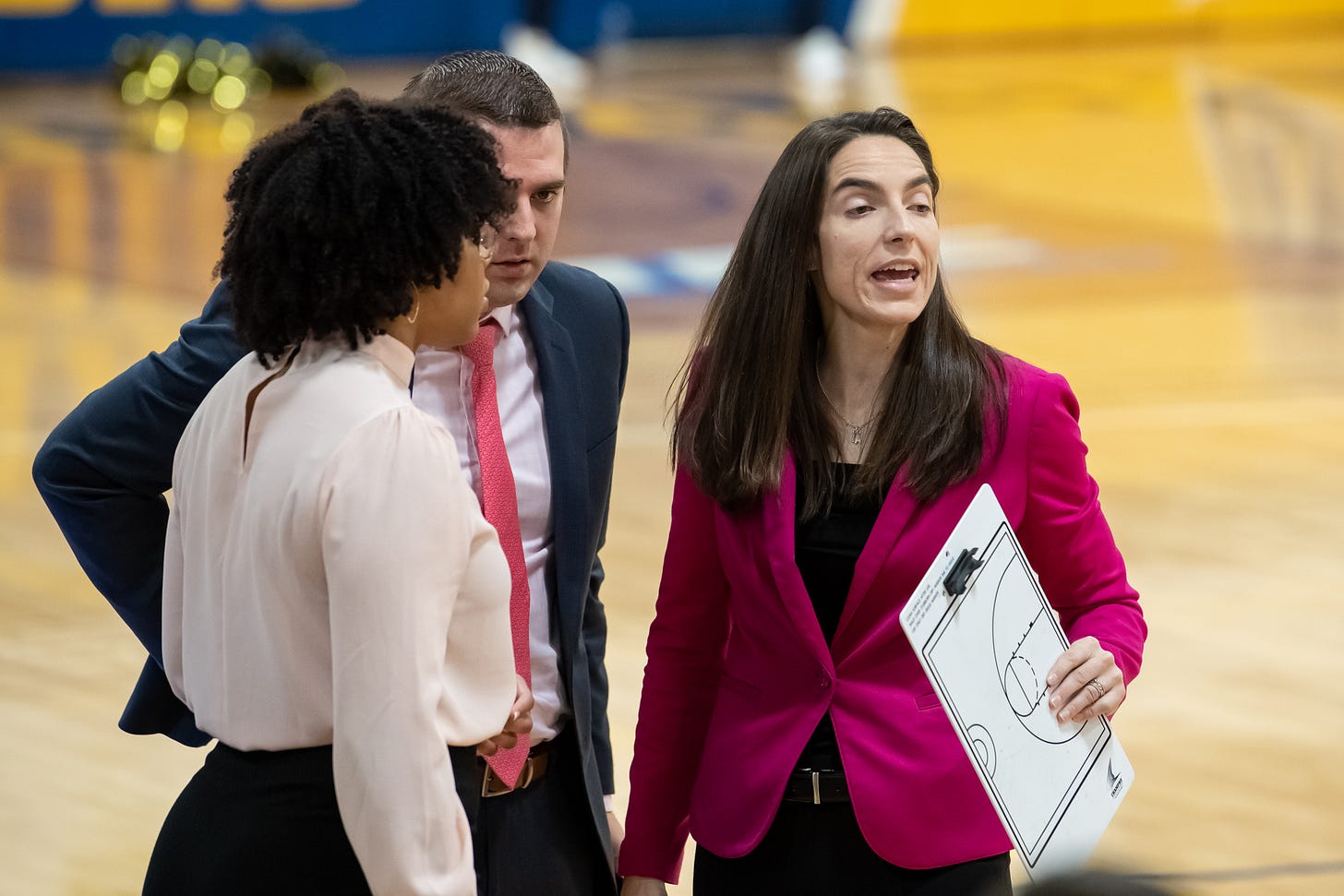 Then-Merrimack head coach Monique LeBlanc (right) confers with her assistants. Photo credit: Merrimack Athletics.
When Monique LeBlanc interviewed for the Brown head coaching job, the university had already closed. So instead of a full day of interviews and a campus tour, LeBlanc managed to impress over seven hours of consecutive Zoom meetings. "I was joking that I should have some Gatorade goos or gels … [to] just kind of suck that down real quick between calls."
One call wrapped up early, allowing LeBlanc to venture into the kitchen, but she was met with obstacles there, too, in the form of her two young children. "They were like attached to my leg," she recalled. "Trying to break free of them for my next Zoom was a challenge."
LeBlanc comes to Brown after leading the Merrimack College program for nine years, including during its transition from Division II to Division I last season. She wasn't looking to leave, but the "amazing and unique opportunity" to work in the Ivy League was too good to pass up from both an academic and an athletic standpoint. "Obviously, the fifth player in this year's [WNBA] draft came out of the Ivy League," LeBlanc said, referencing Princeton's Bella Alarie. "… The opportunity to coach that high level of basketball is really exciting."
LeBlanc said that she feels prepared for what's ahead at Brown, even during a pandemic, because of all she learned at Merrimack. "I think it'd be really tough to be a first-time head coach during this pandemic," she said, reflecting on how she felt "overwhelmed" in her early days as a head coach. LeBlanc doesn't feel overwhelmed now, even though she is on her own for the time being because of Brown's hiring freeze. She is prioritizing saying goodbye to the Merrimack players and getting to know the Brown players, and she also planned to reach out to Brown alumnae during the NCAA-mandated recruiting shutdown from May 4-10.
Recruiting has also taken up a lot of LeBlanc's time, mostly in the form of watching film and making phone calls. She is adjusting to recruiting players from all over the country rather than primarily recruiting in the New England area. And LeBlanc has been reading up on the Brown campus from afar, both to learn for herself where everything is and to be ready to answer recruits' questions. "I feel like I'm the ultimate multitasker," LeBlanc said, "… [but] this is even challenging to someone who considers themselves organized."
LeBlanc's organization and logistical skills have also been tested as she looks to buy a house. With Brown just 75 miles from Merrimack, LeBlanc and her wife have driven down to tour houses in person, but they have had to take turns touring houses with a mask and gloves on and entertaining their children, who are not comfortable wearing masks, outside. With relatively few houses on the market and LeBlanc working from home for the time being, though, they feel no rush to find something.
One of the things LeBlanc misses most about the pre-pandemic days is that players can no longer just drop in throughout the day and chat with her. Just as players may be missing even the hardest practices, LeBlanc thinks coaches are experiencing a renewed appreciation for their profession. "Every coach will tell you in a heartbeat how much they love being a coach," she said, "but … I think it's just really heightened and emphasized now."
---
All five coaches expressed two prevailing sentiments when asked whether they expect the upcoming basketball season to start on time: uncertainty and optimism. "That's the million-dollar question," Schaefer said. He pointed to questions about whether schools will have in-person summer school classes and whether football will be played in the fall, and he also highlighted the difficulties of cleaning charter airplanes, which can transport up to six teams in a single day. (He did not rule out regional scheduling, but even then, charter buses would have to be disinfected.) Even Ard, who hopes to have her players back next month, said she has "no idea" what the fall will look like, "but we're going to stay positive and keep our fingers crossed."
In response to the uncertainty, several coaches said their schools are planning for multiple scenarios. "You want to remain … very positive and optimistic, but there has to be a sense of reality and being prepared," La Rocque said. She has dealt with the uncertainty by being as transparent as possible with her players, recognizing that this is a particularly difficult time for them. "I was trying to think if I was their age, how would I be handling this?" she said. "To be separated from my friends, from my friend group, [attending] online school. … There's a lot of young people out there that are really struggling. And so [I'm] trying to help at least equip them with the information that is available … so they can try to think through different things."
Meanwhile, coaches are also adjusting to guidance from the NCAA that has been changing frequently regarding workouts and the amount of time coaches can spend with their teams. La Rocque said the only thing coaches can do is go with the flow. "There's no handbook for coaching in general, but there's also no handbook for how to coach during a pandemic, so … you just kind of have to take it day by day and do the very best that you can," she said.
Those are wise words, sounding like those of a veteran head coach rather than of someone in her first head coaching job. And if these five coaches can juggle a new team, the logistics of moving to a new city, and the uncertainty of a global pandemic, there is certainly hope for all of us as we ride out this unprecedented storm.
---
Thanks for reading the Her Hoop Stats Newsletter. If you like our work, be sure to check out our stats site, our podcast, and our social media accounts on Twitter, Facebook, and Instagram.