Tamika Catchings and Marianne Stanley Have Big Expectations for the Indiana Fever This Season
"You guys will really be impressed with the Indiana Fever," Catchings told the media on Thursday
Thanks for reading the Her Hoop Stats Newsletter. If you like our work, be sure to check out our stats site, our podcast, and our social media accounts on Twitter, Facebook, and Instagram. You can also buy Her Hoop Stats gear, such as laptop stickers, mugs, and shirts!
Haven't subscribed to the Her Hoop Stats Newsletter yet?
---
The Indiana Fever hosted a press conference on Thursday morning with head coach Marianne Stanley and general manager Tamika Catchings to discuss the upcoming WNBA season in Bradenton, Florida. Stanley and Catchings are bullish on the upcoming season and clearly expect big things from their team despite finishing ninth out of 12 teams with a 13-21 record in 2019. Here is what we learned about the logistics of this unprecedented season and the Fever roster, as well as a few sound bites from Stanley and Catchings.
Logistics of the single-site format
The Fever will head to Florida early next week with its full 12-player roster that was finalized last month. In contrast to other teams that have had players opt out for health, family, and/or social justice reasons, Stanley said that "every single one of [the Fever players] wanted to play." The Fever will also take its coaching staff, general manager, director of basketball operations, and trainer as well as one media staffer and one video coordinator.
The schedule has not been finalized, but Catchings expects it to be announced "very, very soon." Stanley is anticipating three games per week, which will require a lot from teams in terms of their preparation and scouting. Because of the shortened season, "if you can get off to a good start, that will help you," Stanley noted. "… I think you have to be on point, and that goes back to how hard you practice [and] how well your team blends early."
The details of the league's testing plan have also not been revealed yet. Catchings said she had just gotten a document about testing and expected the league to announce its contents shortly. She and her peers around the WNBA have been on daily calls with the league lately about the upcoming season.
The WNBA has also promised that there will be opportunities for players to work together on social justice issues during the condensed season. Catchings said that the organization will work on player-led initiatives both in Florida and in Indiana and that veteran Natalie Achonwa has been a leader for the Fever in that area.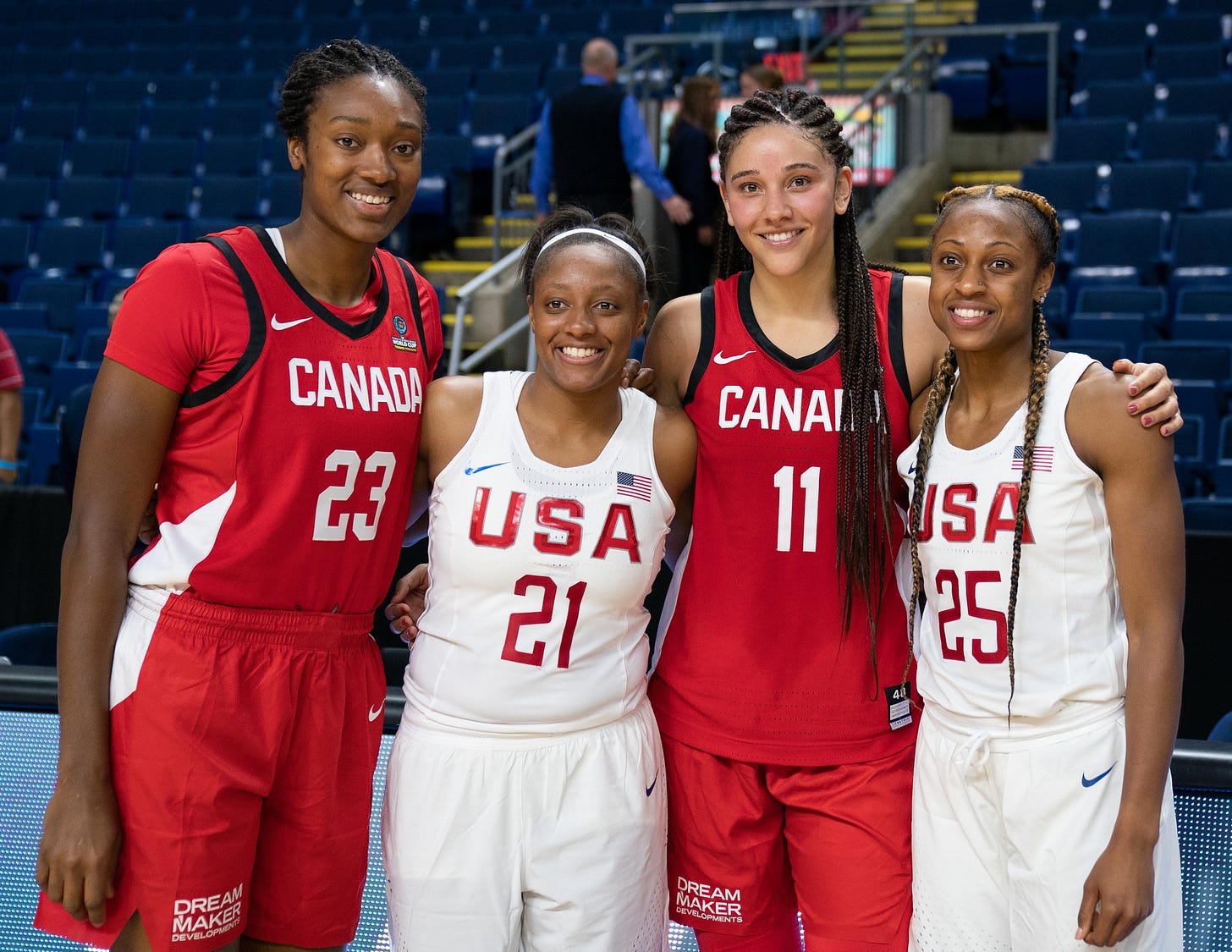 Indiana Fever players Kelsey Mitchell (21), Natalie Achonwa (11), and Tiffany Mitchell (25) pose with Kayla Alexander of the Minnesota Lynx (23) after all four players represented their respective countries in a FIBA World Cup exhibition basketball game on September 8, 2018. Photo credit: Chris Poss
About the roster
"We're a team that believes in us," Stanley said. She described her team as a competitive group of people and the perfect blend of experience and youth. Achonwa and Candice Dupree, who will play her 15th season in the league in 2020, will lead the team, and Erica Wheeler and Tiffany Mitchell will also provide some experience and leadership for the younger players and rookies.
Stanley went into detail about several of those young players, including:
Julie Allemand: Allemand is a 23-year-old point guard from Belgium who signed a multi-year contract with the Fever this offseason. Earlier this year, she averaged 10.0 points and 5.3 assists in the Olympic Qualifying Tournament as the Belgian national team secured an Olympic berth. "Any time you can get a player who starts for a team that's headed to the Olympics at a critical position, you love that," Stanley said. Stanley also described the rookie as having a high basketball IQ and being unafraid to push the pace.
Kathleen Doyle: The rookie point guard out of Iowa will be an "understudy" to Allemand and Wheeler, who averaged 10.1 points and 5.0 assists last season for the Fever. Stanley called Doyle a "more than capable" shooter and "as competitive a player as you're gonna find."
Victoria Vivians: After missing last season with a torn ACL, the Fever are expecting Vivians to play a lot of minutes on the wing and give the Fever a consistent perimeter scorer. "She's a terrific shooter … [and] a lot more versatile than you think," Stanley said.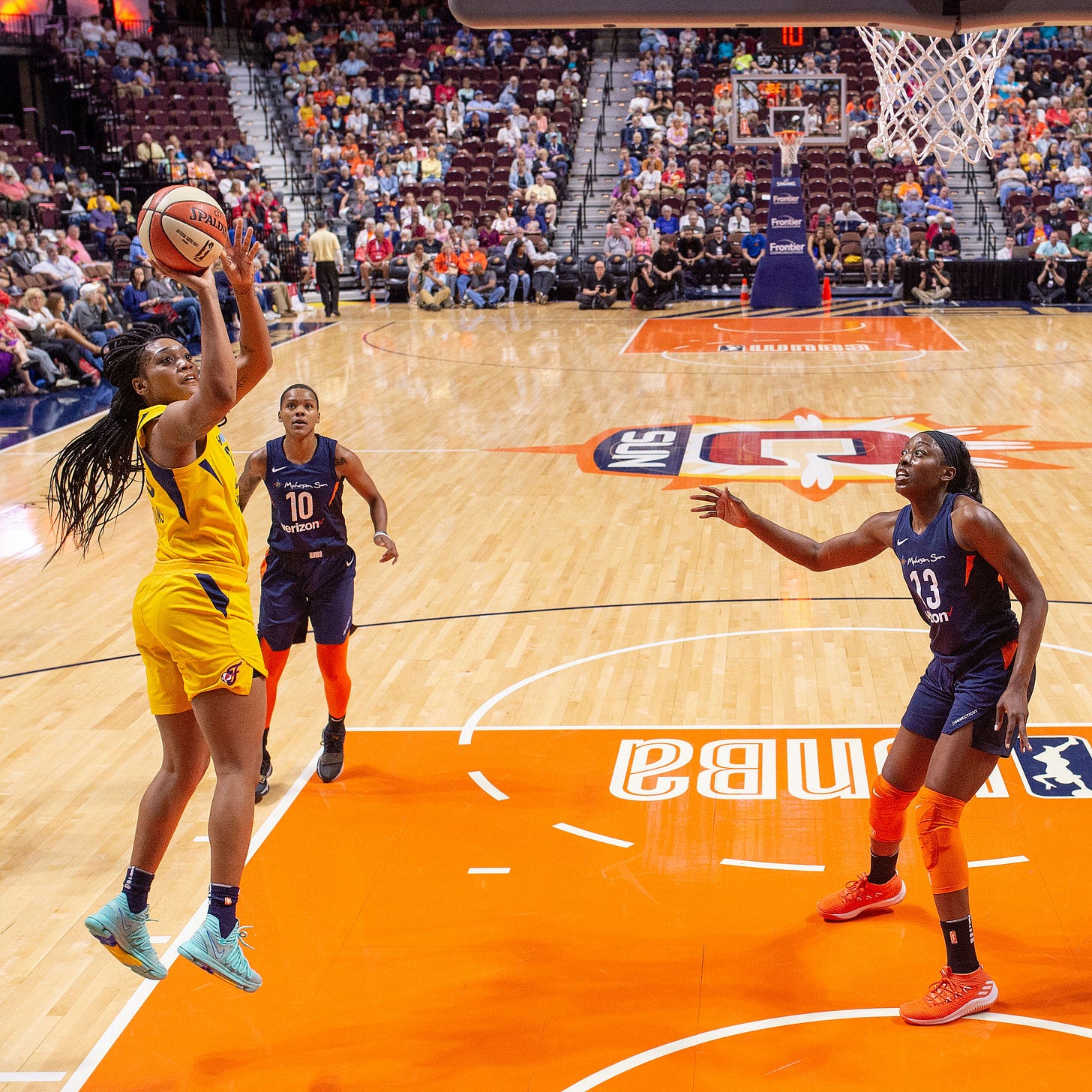 Indiana Fever guard Victoria Vivians (35) shoots in a game against the Connecticut Sun on June 27, 2018. Photo credit: Chris Poss
Kelsey Mitchell: Mitchell could play multiple guard positions for the Fever this year, but wherever she is on the court, Catchings and Stanley both expect her to have a big year. Last season, Mitchell averaged 13.6 points per game, but in half of the team's games, she shot worse than 35% from the field, and she finished with 9 points or fewer in 12 of 34 games. Stanley wants Mitchell to be a go-to scorer every time she's on the court in 2020. 
Teaira McCowan and Lauren Cox: McCowan, a 6-foot-7 center entering her sophomore season in the WNBA, will be counted on to produce for the Fever, but she will also have more help around her than she had as a rookie. Much of that help should come from Cox, a 6-foot-4 rookie out of Baylor. "One of the things that Lauren does really well is pass the basketball," Stanley said. "I'm counting on her to be a really good partner no matter who she plays with in the post, and I think that Teaira's game can be elevated by the presence of everybody out there, but in particular with Lauren."
Sound bites
Marianne Stanley on Kelsey Mitchell: "My conversations with Kelsey have been really, really good. Terrific kid. Just as an aside, she's had some things go on in her life recently, some losses, and she's just handled them magnificently. I mean, this kid is as strong internally with as good [an] internal compass of any young player that I've seen. … And I know that she's going to have a good year. You just can sense it. You just have this feeling that Kelsey is in a place right now where she's ready to do what she truly is capable of doing."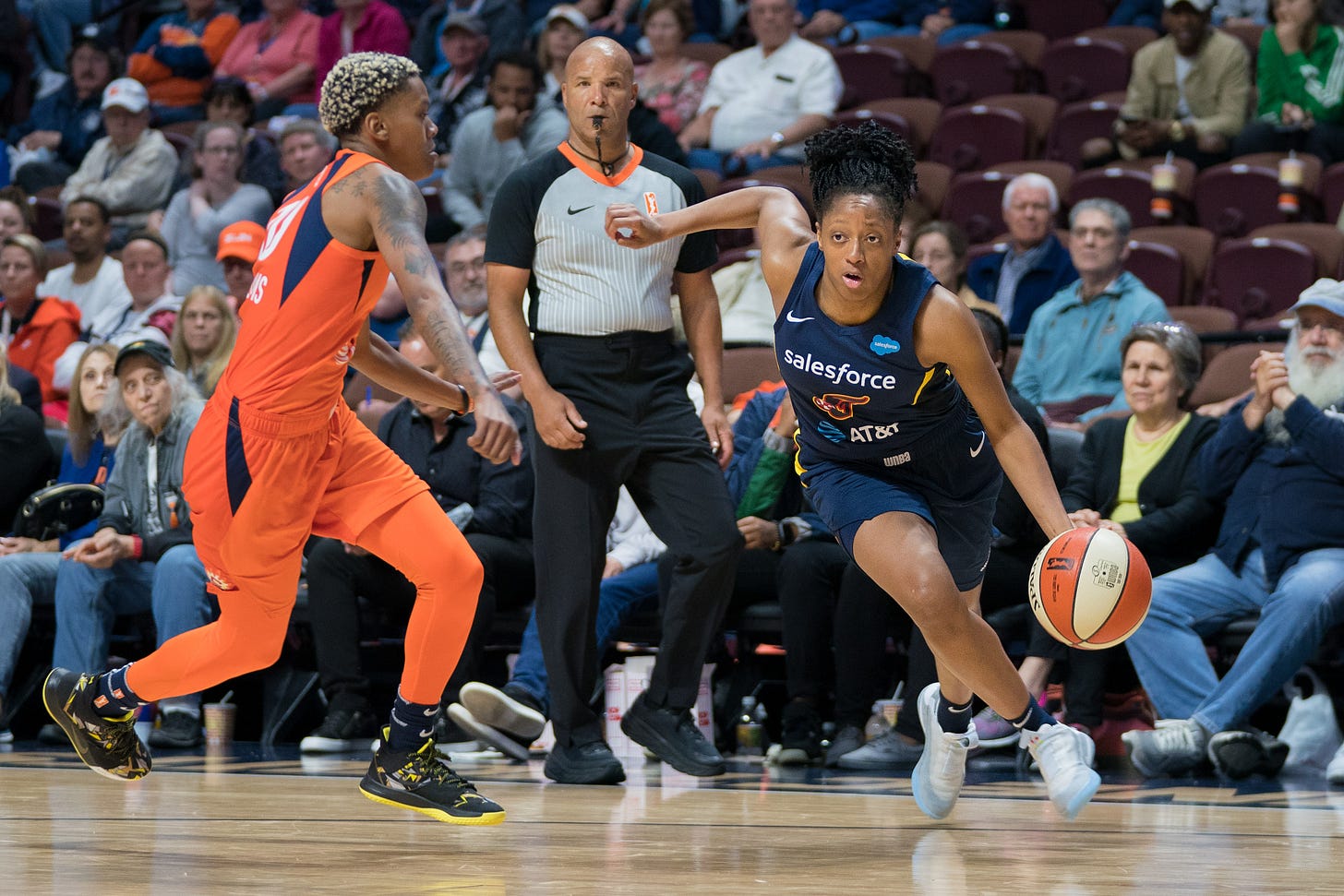 Indiana Fever guard Kelsey Mitchell (0) drives to the basket against the Connecticut Sun on May 28, 2019. Photo credit: Chris Poss
Marianne Stanley on social justice: "I think oftentimes the catalysts for change and the catalysts for society advancing are young people, and our young people are part of that. … They have a critical role, I think, in showing possibility: what kind of society, what kind of sports culture we can have that includes women, that includes making sure that women are represented in a way that's positive, that charts a course for the future of sports and for the future of women in not only in the game of basketball but just in society as a whole. It's a really important time in our history and in our country, and I'm thankful that we're gonna have this platform and this opportunity to present women's basketball at its best. … I think you're going to see some very powerful and important messaging and engagement from our players to the broader society and I don't think it could come at a better time than this."

Tamika Catchings on the Fever's outlook for this season: "One thing that we've consistently talked about is a championship-caliber mentality. We will have that. And we have literally since Marianne and [assistant coaches] Steve [Smith] and April [Schilling] have come on to staff. … I think that you guys will really be impressed with the Indiana Fever team that goes on to that court. We're going to be higher than number nine [their spot in ESPN's latest power rankings] for sure."
---
Thanks for reading the Her Hoop Stats Newsletter. If you like our work, be sure to check out our stats site, our podcast, and our social media accounts on Twitter, Facebook, and Instagram.