The adaptability of Ashten Prechtel
What one forward's sought-after skillset means for Stanford's present and future
Thanks for reading the Her Hoop Stats Newsletter. If you like our work, be sure to check out our stats site, our podcast, and our social media accounts on Twitter, Facebook, and Instagram.
Haven't subscribed to the Her Hoop Stats Newsletter yet?
---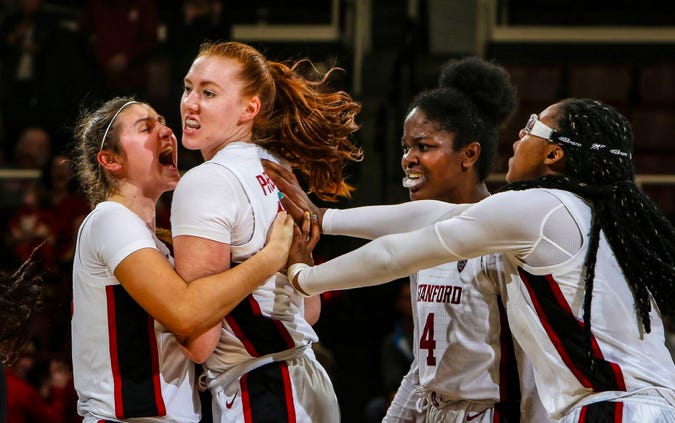 Every team in the country would love to have a stretch big. Not into 3-point shooting? Sorry, I don't believe you. 
Like all commodities, this specific skillset comes in varying degrees. Some are tried-and-true, lights-out shooters that dictate opposing game plans. Others are average-ish shooters. Even more face a steep climb to prove that teams need to actively guard them.
Ashten Prechtel exists somewhere between those first two camps. 
The freshman forward logged a season-high 30 minutes in Stanford's Jan. 19 win at Oregon State and tallied 10 points, 10 rebounds (five offensive) and three blocks, then averaged 23 minutes per game over the weekend in home wins over mid-tier Pac-12 foes Colorado and Utah. The Buffs almost pulled off the upset in regulation. Prechtel made a go-ahead 3-pointer late in the fourth quarter. Then with 1.6 seconds remaining, she added the bucket that sent the game to overtime. 
Stanford's frontcourt rotation hasn't been whole all season. Defensive anchor Maya Dodson (foot) hasn't logged a minute all season, and Haley Jones (knee) is out indefinitely. Throw phrases like 'great opportunity' out the window if both players continue to miss time. The №.6-ranked Cardinal need Prechtel to step up and produce right now. 
Here's more on how the Cardinal have tapped into Prechtel's alluring skillset and what they'll need even more of moving forward.
Stanford adopted the Princeton offense in recent years. Many scoring sequences begin with an entry to a player stationed near an elbow. The player in that spot, often one of Stanford's forwards, must navigate a flurry of action, ready to feed an open cutter or seamlessly flow into the next action.
Cycling through multiple options with pace and optimal spacing makes Stanford incredibly difficult to guard. Those multiple options call for quick decision-makers. Players must know what their teammates are doing, read the defense, deliver on-target passes or transition into the next thing to keep the pressure up on the defense.
Frontcourt players looming as face-up threats add a fun layer of unpredictability. Fellow freshman Fran Belibi will catch her defender eyeing the action unfolding around them with quick rip-and-go drives to the basket. Prechtel simply shoots right over the top.
Stanford's precision will occasionally yield some jarring results, namely in the form of open layups without much help in sight. Therein lies the problem. Where can help come from with four threats stationed around the arc?
Opposing centers can't clog up the lane. They won't find themselves in familiar positions guarding somebody stationed at a low block to capitalize on the lack of a defensive three seconds rule in the college game. Sending or shading with appropriate help only clarifies the kick-out reads. The Cardinal are in the driver's seat by then, finding an open 3-point shooter or uncorking another drive-and-kick sequence against a scrambled defense.
Prechtel really commands the attention of her defender with that catch and shoot ability. And at 6'5" with long arms, she'll still be a capable passer as defenders get into her body to take away the face-up jumper.
Stanford adds yet another layer of unpredictability when they station a big outside the arc while entering the ball to guard/wing DiJonai Carrington (hasn't played since Nov. 24 — knee) or Jones instead.
Prechtel is the team's leading frontcourt candidate to become a feared 3-point threat. As that defender executes help responsibilities or falls prey to help instincts, the Cardinal can punish you with 3-point shooting from their 5 spot.
Jones is a natural mismatch at either forward spot, bigger than most wings and skilled enough to attack bigs off the bounce. Simply seeing her get a catch in position to score with a spread floor will make opponents nervous.
That highly touted freshman duo gives Tara VanDerveer a myriad of options in arranging the team's chessboard. Opponents must prepare for these different looks. Stanford can take comfort in knowing they can throw different looks at teams just by having two players trade places. Jones will find cutters or attack quickly to score given the chance to work as a hub in and around the paint.
Prechtel is shooting 14-for-37 (37.8 percent) from distance through 20 games. Nadia Fingall, the regular starter at the 5, is 12-for-35. Staying big comes with obvious advantages against two-big frontcourts. Knowing either player can be trusted as a spot-up threat allows Stanford to retain its flexibility as they generate advantage situations for the likes of leading scorers Jones, Kiana Williams and Lexie Hull with a spread floor. 
The ultra-big Jones-Prechtel-Fingall frontcourt got some run in the Oregon State game. Prechtel and Fingall closed that contest together and can continue to anchor the Pac-12's second-best defensive rebounding team (the Cardinal have collected 72.0 percent of opponent misses to date).
This Jones-Prechtel pick and pop (with Fingall also on the floor, spotting up in the opposite corner) is a handful.
A critical eye will wonder how consistent the likes of Prechtel, Fingall, Alyssa Jerome and even Jones will be as 3-point threats in March. Those shots could be (daringly) seen as 'we'll live with those' looks for future tournament opponents. Prechtel and Fingall have looked quite comfortable taking them. Will one — or both — separate themselves to the point where opponents can't take that approach? That question will hang over the Cardinal for the rest of the regular season.
Good spacing already helps the rest of Stanford's roster tremendously. Lexie Hull has emerged as one of their more consistent scoring options from all three levels. Williams can dominate long stretches of a game with her dynamic pick-and-roll abilities. And don't forget the six, eight, maybe even 10 points per game the Cardinal can rack up collectively on backdoor cuts.
Introducing a shooting big that truly incites some fear in opposing defenses would have a compounding effect. Help will arrive late. Driving lanes will be a tad wider. The other four players on the floor will see bigger shooting windows.
How teams react to Prechtel's shooting ability and what she does with those opportunities will have a big say as Stanford aims for a 14th Final Four appearance and a third national championship. Her excellent fit with Jones and Lexie Hull (just a sophomore), among others, will position them to continue winning at the highest level for years to come. 
If you like this content, please support our work at Her Hoop Stats by subscribing for just $20 a year. Unless otherwise noted, all stats were compiled from Her Hoop Stats and were current as of January 29. Image via Stanford Athletics.
---
Thanks for reading the Her Hoop Stats Newsletter. If you like our work, be sure to check out our stats site, our podcast, and our social media accounts on Twitter, Facebook, and Instagram.