Discover more from The Her Hoop Stats Newsletter
Unlocking better insight about women's basketball
Over 3,000 subscribers
The Best Performances of the Last Five Seasons
Using economic theory to focus on 47 unparalleled performances since 2015-16
Thanks for reading the Her Hoop Stats Newsletter. If you like our work, be sure to check out our stats site, our podcast, and our accounts on Twitter, Facebook, and Instagram. You can also buy Her Hoop Stats gear, such as laptop stickers, mugs, and shirts!
Haven't subscribed to the Her Hoop Stats Newsletter yet?
---
This remarkable era of women's basketball has given us a number of amazing performances.  Games such as Shakyla Hill's quadruple-doubles or Rachel Banham's 60 points stand out, but what other games were truly exceptional?  Fortunately, Vilfredo Pareto developed a concept we can use to answer that question.
Pareto used his concept of "Pareto efficiency" in economics to compare combinations of resources like time or money. For our purposes, a Pareto game is a game in which no other player has recorded a better combination of the statistics we care about.  We can explore Pareto games for any number of statistics, but let's start with two: points and assists.
The graph below illustrates this principle when applied to points and assists. Each dot represents a combination of points and assists recorded in a single game. The red dots represent the Pareto frontier, which is made up of games that have not been surpassed.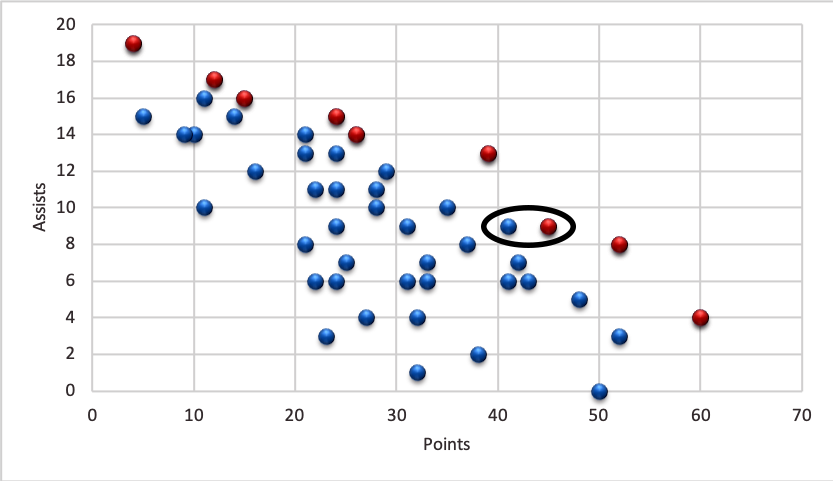 We have circled two games on this graph: one game in which Ke'Shunan James (blue) scored 41 points and recorded nine assists and another in which Amani Johnson (red) scored 45 points and also totaled nine assists. Johnson's game surpasses James' game because she scored more points and dished out just as many assists, makings Johnson's game part of the Pareto frontier.

Things get more complicated when you look at more than two stats because it is harder to visualize the frontier in three dimensions. For example, the Division I record for points in a game is 60 points, which means player A with 61 points, one rebound, and one assist today would be considered Pareto efficient.
Then if player B totals 61 points, no assists, and two rebounds tomorrow, that would also be a Pareto game because players A and B both recorded more points than the current record, player B had more rebounds than player A, and player A had more assists than player B.
A third player, C, with 61 points, one assist and two rebounds the next day would nullify the other two games because she has more rebounds than player A and more assists than player B.
Neil Paine and Andrea Jones-Rooy wrote about this concept in the NBA a few seasons ago for FiveThirtyEight.com, looking at every game in NBA history to find 125 Pareto efficient games as of 2018. Our database goes back to the 2015-16 season, and we found a total of 47 Pareto games compared to other games in that span.
We have broken the games into three categories (all-time performances, maxing out, and Sabrina Ionescu) and will highlight a few games from each category. A full list of Pareto games in NCAA women's basketball since 2015-16 can be found here.
All-Time Performances
These four games are not only Pareto efficient compared to all games since 2015-16. They are also all-time Pareto games in NCAA history.
Anna Strickland, Houston Baptist vs. Lamar, March 10, 2016
21 points, 8 assists, 31 rebounds
Since the NCAA began tracking assists in 1986, only two other players have recorded 31 or more rebounds in a game. SEMO's Lachelle Lyles grabbed 32 rebounds against Tennessee State in 2006 but only totaled 13 points.
Shakyla Hill, Grambling vs. Ark.-Pine Bluff, Feb. 2, 2019
21 points, 13 assists, 16 rebounds (and 10 steals!!!)
This game is impressive in more ways than one. In addition to being an all-time Pareto efficient game, it also marked the second quadruple-double in Hill's stat-stuffing career. Hill is the only player in NCAA history with multiple quadruple-doubles and has accounted for 40 percent of all such games.
Kristine Anigwe, California at Washington State, March 3, 2019
32 points, 1 assist, 30 rebounds
Only the second 30-30 game in the assist era, and the first such game in over 17 years, the game was also Anigwe's 30th consecutive double-double. That streak would end at 33 games, which is tied for the second-longest streak in NCAA history.
Rachel Banham, Minnesota at Northwestern, Feb. 7, 2016
60 points, 4 assists, 9 rebounds
Banham poured in a Division I record 60 points, tying Long Beach State forward Cindy Brown's 60-point, 13-rebound game against San Jose State in 1987. Thanks to the Long Beach State athletic communications office, we were able to confirm that Brown only totaled two assists in that game, making Banham's game an all-time Pareto game.
Maxing Out
In these performances, the players went all out in one stat.
Niya Johnson, Baylor vs. McNeese, Dec. 13, 2015
4 points, 19 assists, 10 rebounds
Johnson's 19 assists are the most by any player since 2002 and set a Baylor and Big 12 record. Johnson only turned the ball over one time in the game.
Mikayla Voigt, Northern Illinois vs. Western Illinois, Dec. 8, 2018
52 points, 3 assists, 11 rebounds
Voigt shot 11-of-15 from behind the arc in the game, setting NIU records for points and three-pointers. Her 52 points doubled her previous career-high of 26 points, and her 11 rebounds were also a career-high.
Kristine Anigwe, California vs. Sacramento State, Dec. 8, 2016
50 points, 0 assists, 14 rebounds
This performance is the only Pareto game in which the player didn't dish out an assist. Anigwe is one of five players with multiple Pareto games. The forward shot 19-of-23 from the field and added 12 free throws on 19 attempts.
Sabrina Ionescu
Just Sabrina being Sabrina.
Ionescu has an NCAA-record 26 triple-doubles in her career, so it is no surprise that she also leads the NCAA with six Pareto games in our database. No other player had more than two. We won't go into detail about each game, but we have listed all of Ionescu's Pareto games below.
March 24, 2019 vs. Indiana
29 points, 12 assists, 10 rebounds
Feb. 1, 2020 at Colorado
24 points, 13 assists, 10 rebounds
Dec. 17, 2017 at Ole Miss
21 points, 14 assists, 11 rebounds
Dec. 16, 2019 vs. UC Riverside
16 points, 12 assists, 18 rebounds
Dec. 2, 2018 vs. Long Beach State
12 points, 17 assists, 6 rebounds
Nov. 16, 2019 vs. Texas Southern
10 points, 14 assists, 13 rebounds
---
If you like this content, please support our work at Her Hoop Stats by subscribing for just $20 a year. All stats are from herhoopstats.com and the NCAA Record Books (pre-2015) unless otherwise noted, and are updated as of March 16, 2020.
Haven't subscribed to the Her Hoop Stats Newsletter yet?