Thanks for reading the Her Hoop Stats Newsletter. If you like our work, be sure to check out our stats site, our podcast, and our social media accounts on Twitter, Facebook, and Instagram. You can also buy Her Hoop Stats gear, such as laptop stickers, mugs, and shirts!
Haven't subscribed to the Her Hoop Stats Newsletter yet?
---
The Washington Mystics recently released a documentary, "Run It Back," that chronicles their path to the franchise's first WNBA championship in 2019. It begins with the hire of Mike Thibault in December 2012 and his adroit personnel decisions, including drafting Emma Meesseman and Natasha Cloud and acquiring Elena Delle Donne and Kristi Toliver. It then details the team's record-setting regular season, including Delle Donne's historic 50-40-90 shooting numbers, before diving into the team's postseason triumph.
The first episode of the documentary aired on May 16 as part of the Mystics' "virtual home opener," and the entire film is now available on Facebook and Monumental Sports Network. It is only an hour long and is worth watching in full, but if you're short on time, here are the top six quotes from the film—one for every postseason win en route to the trophy. (Quotes are presented in the order they appear in the film.)
The Mystics celebrate Emma Meesseman (center) being named WNBA Finals MVP. Photo credit: Chris Poss
Emma Meesseman, upon hearing the news that she had been drafted by Washington: "At first I thought [it] was Washington State because I was looking on the map."
Meesseman had not grown up watching the WNBA, and the Belgian teenager was asleep at home when her name was called. She found out she was headed to the Mystics the next morning, when she had several text messages sharing the news.
She was initially hesitant to go overseas and more than a little intimidated by the level of competition in the WNBA, she said, "but then I met Coach T and I just heard his voice and I was sure that he was gonna take care of me."
Elena Delle Donne: "If there isn't pressure on your team, you're probably not very good."
Delle Donne spoke about the pressure the Mystics faced during the 2019 season because they considered anything less than a championship to be a failure. There was also the pressure of entering the playoffs as the top-seeded team and the team that many reporters and fans were calling the best in league history. "It's tough," she said, "… but that's what we wanted, and that's what makes you better is when you're playing every day knowing the importance of coming away with the championship."
Elena Delle Donne (left), Kristi Toliver (center), and Natasha Cloud (right) speak at the Mystics' press conference after winning the 2019 WNBA championship. Photo credit: Chris Poss
Mike Thibault, referencing Delle Donne's play in the second half of the regular season while wearing a face mask to protect her broken nose: "It was almost like she had an extra layer of toughness added to her that she basically said, 'I can get through anything.' And she played like it. … We're gonna beg Elena to keep the mask on the rest of her career, probably."
In the regular season, half of Washington's eight losses came when Delle Donne played one minute or less. The documentary illuminated how critical Delle Donne was to the Mystics, even beyond her otherworldly statistics. In Game 2 of the Finals, when she exited early with a back injury, wing Aerial Powers admitted the Mystics were rattled. "We all just kind of looked at each other like, 'Oh, ****,'" Powers said. Delle Donne's return in Game 3, though at much less than 100%, boosted the Mystics to a crucial road win. She was the voice in seemingly every huddle shown in the documentary, and her teammates hung on her every word. Natasha Cloud is arguably the most vocal Mystic, and Kristi Toliver was the only one who had previously won a championship, but Delle Donne set the tone.
Ariel Atkins: "If I was the other team and I saw Emma Meesseman coming off the bench, I would be so upset. Like, that's not a sub!"
Meesseman became the first reserve in WNBA history to win Finals MVP in 2019, averaging 17.8 points, 4.6 rebounds, and 1.8 assists in the five-game series. Throughout the playoffs, she was unstoppable, scoring at least 20 points in six of nine games, and her checking in frequently shifted the momentum of a quarter or even an entire game. "I think Emma was the only one that didn't know she was winning the Finals MVP," associate head coach Eric Thibault said. When the award was announced, Meesseman was mobbed by her teammates. "You could see the reaction … It meant a lot for everybody else to just see her be recognized," Thibault said.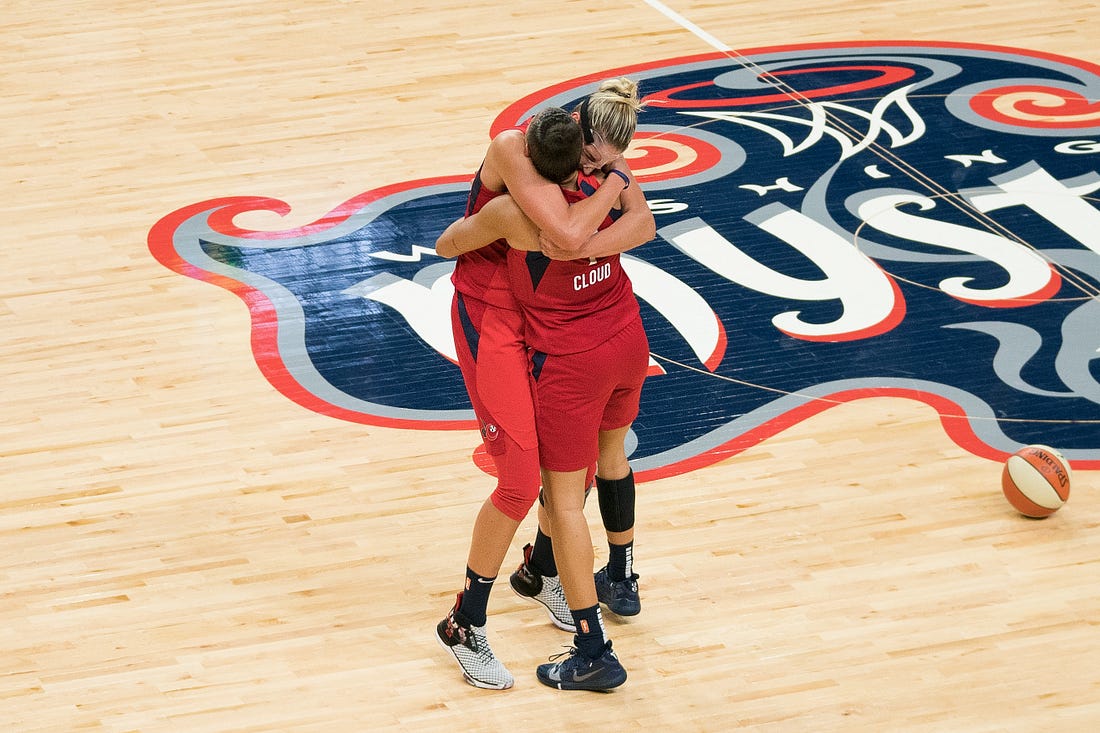 Elena Delle Donne (back) and Natasha Cloud (front) celebrate their first WNBA championship. Photo credit: Chris Poss
Natasha Cloud, regarding a social media video of her doing pushups after Las Vegas' Liz Cambage told the Mystics to "get in the weight room" during the WNBA semifinals: "For me, it was not only a sense of, 'Okay, we heard you,' but also firing my team up. I can make myself look like an ass, but I can also get you hype in the process."
Cloud also discussed her guarantee that Washington would win the decisive Game 5 of the WNBA Finals—a statement that fired up the Connecticut Sun just like Cambage's taunt had antagonized the Mystics. "I definitely put a little added pressure on us," she said. "… [But] I truly believed in my heart of hearts, like, we were meant to lose Game 4 so that we could win Game 5 at home, in front of our fans, our family."
Delle Donne, on the emotions before Game 5: "For some reason, our team just felt so sure. We were so confident in each other that we were going to get it done."
The Mystics had won Games 1 and 3 in large part because Atkins and Cloud, respectively, had stepped up. The bench, led by Meesseman and Powers, had also been excellent throughout the season. Delle Donne didn't explain why the team was so confident going into Game 5, but she may have unknowingly done so earlier in the documentary, when she said, "That was what was so great about this season is just knowing that every single person would just step up."
In Game 5, that held true: four players scored at least 18 points, led by Meesseman's 22, and another, Atkins, grabbed seven rebounds despite standing just 5-foot-8. The result was a championship—the one accomplishment Delle Donne said really mattered to her as a professional and the culmination of the Mystics' seven-year ascent under Mike Thibault.
---
Thanks for reading the Her Hoop Stats Newsletter. If you like our work, be sure to check out our stats site, our podcast, and our social media accounts on Twitter, Facebook, and Instagram.