Discover more from The Her Hoop Stats Newsletter
Unlocking better insight about women's basketball
Over 3,000 subscribers
The Most Unique Performances in WNBA History
Thanks for reading the Her Hoop Stats Newsletter. If you like our work, be sure to check out our stats site, our podcast, and our social media accounts on Twitter, Facebook, and Instagram. You can also buy Her Hoop Stats gear, such as laptop stickers, mugs, and shirts!
Haven't subscribed to the Her Hoop Stats Newsletter yet?
---
Throughout the 2020 regular season and postseason, we have seen some of the most impressive individual performances in WNBA history. Courtney Vandersloot had three games with 15 or more assists, including a WNBA-record 18 on August 31st. Alyssa Thomas was two assists short of an 18-rebound triple-double, and Sue Bird dished out 16 assists in Game 1 of the Finals to break the previous Finals record by five. With all the exceptional single-game totals, how can we identify which performances were at a level above the rest?
Back in March, we applied the centuries-old economic concept of Pareto efficiency to five seasons of NCAA Division I to answer this very question. Pareto efficiency is used to compare combinations of finite resources like money or goods. A Pareto efficient combination is one where all the alternatives require you to take less of one resource to gain more of another resource. For this piece, we will look at points, assists, and rebounds. We have outlined a brief example of how this works in practice, but you can refer to our piece on NCAA Pareto games for a more detailed explanation.

The chart above shows this concept in action. Liz Cambage's 53-2-10 game is currently the easiest Pareto game to pinpoint because 53 is the WNBA record for points in a game. Players have had more than two assists and 10 rebounds before, but nobody has ever done it with 53 or more points in a game. Next, let's introduce some hypothetical games. Let's say we see a trio of players breaking the WNBA scoring record with varying levels of assists and rebounds.
Player A does not stop Cambage's game from being Pareto efficient, because Liz still had more assists. Neither does Player B, because Cambage still had more rebounds. At this point, the first three entries on the chart would be Pareto games. However, Player C's 55-3-11 eliminates them all by means of having as many or more points, assists, and rebounds than Cambage, Player A, and Player B recorded.
Below is a list of all 39 Pareto games in WNBA history, ordered by points, then rebounds, then assists.
All 39 Pareto Efficient Games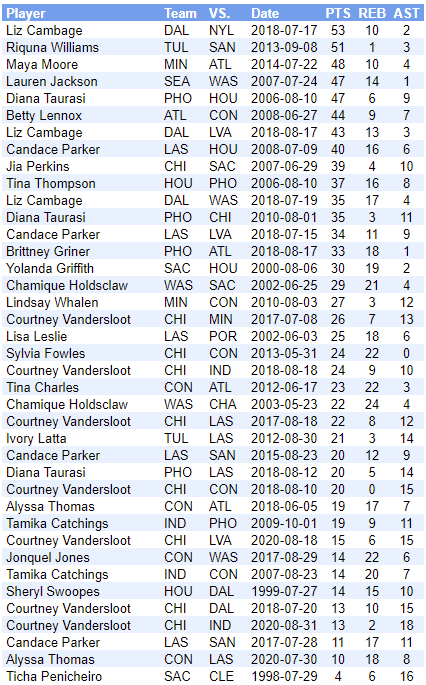 One notable game on the list is the August 10, 2006 meeting between Phoenix and Houston. Diana Taurasi, then in her third season, went shot-for-shot with established legend Tina Thompson in a WILD triple-overtime win for the Mercury.
Taurasi set a new record for points in a game with 47, in addition to nine assists and six rebounds, despite playing "only" 44 of 55 minutes after dealing with foul trouble. Thompson put up a herculean effort of her own, with 37 points, 16 rebounds, and eight assists in just over 51 minutes played. This game is the only time two players (opponents or teammates) have recorded Pareto games in the same game.
Only one player, Tamika Catchings, has ever recorded a Pareto game in the playoffs, and she did it twice! In game one of the 2007 Eastern Conference semis, Catchings totaled 14 points, 20 rebounds, and seven assists in a loss against Connecticut. Two years later, in game two of the 2009 WNBA Finals, Catchings finished just short of a triple-double with 19 points, 11 assists, and nine rebounds in a win over Phoenix.
As mentioned earlier, Cambage's 53-point outing makes the list by being the WNBA record for points in a game, but Cambage has two other Pareto games. In her first game after pouring in 53 points, Cambage dropped 35 points with 17 rebounds and four assists against the Mystics. This is the only case of back-to-back Pareto games in our list of 39. Cambage continued her unprecedented run with her third Pareto game just under a month later in a 43-13-3 game against her future team, the Aces.
In addition to Cambage's WNBA-record 53-point performance, two other WNBA records make the list by default. The most recent Pareto game added to the list was Vandersloot's record-breaking 18-assist outing, along with 13 points and two rebounds. This was Vandersloot's seventh-career Pareto game, which is tops all-time, leading Candace Parker who is in second place with four.
Like Cambage, Vandersloot racked up three Pareto games in one month, making her the only other player with three or more such games within a month of each other. Only two other players have even totaled three or more Pareto games in their career -- Parker (4) and Diana Taurasi (3).
Taurasi and Parker have recorded at least one Pareto game in the 2000s and the 2010s, and if either player can record a Pareto game next season they would become the only players with a Pareto game in three different decades.
Chamique Holdsclaw's record-breaking 24-rebound game in Washington's 2003 season opener also makes the list. Holdsclaw added 22 points in that game, making it even more likely that this game will remain on this list for the foreseeable future. The previous record-holder for rebounds in a game? That would be Holdsclaw and her 21-rebound game one year earlier, another Pareto efficient game in which she also dropped in 29 points and dished out four assists.
In terms of league-wide trends, there was an explosion of Pareto games in 2018, including a whopping nine between July 15 and August 18. It is expected that we would see recent seasons make up a larger share of all Pareto games because a Pareto game is more likely to be outdone the more that time passes, but this significant of a burst shows that individual performances hit a new level in 2018.
---
You may have noticed that Sue Bird's 16-assist game that was mentioned earlier in this piece didn't make the list. In the next installment, we will look at individual performances that didn't quite make the cut and the games that surpassed them. We will also look at Pareto games among playoff games only.
---
Thanks for reading the Her Hoop Stats Newsletter. If you like our work, be sure to check out our stats site, our podcast, and our social media accounts on Twitter, Facebook, and Instagram. All stats are compiled from Her Hoop Stats