The W Dozen, 2020 Week 5: A Week We Won't Forget
12 items on the variety of WNBA topics you've come to expect, and one extra on the events that had to lead every article this week
Thanks for reading the Her Hoop Stats Newsletter. If you like our work, be sure to check out our stats site, our podcast, and our social media accounts on Twitter, Facebook, and Instagram. You can also buy Her Hoop Stats gear, such as laptop stickers, mugs, and shirts!
Haven't subscribed to the Her Hoop Stats Newsletter yet?
---
0. Taking a Stand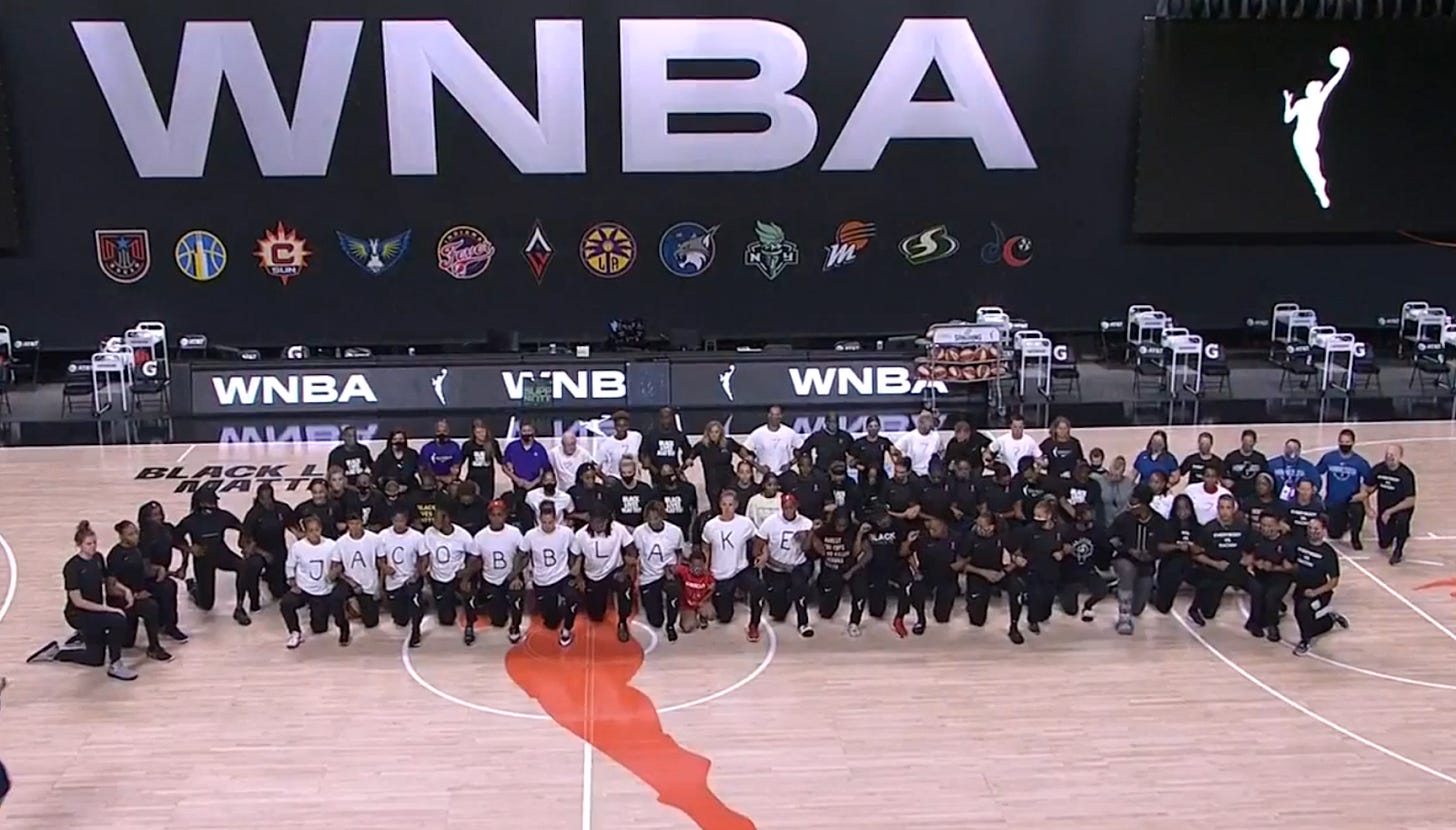 I didn't know which item to start this week's column with. Then on Thursday night it became glaringly obvious. I can't pretend to be able to speak with any authority on the lives and experiences of WNBA players. I'm not black, female, or even living in the United States. But I can still be proud of a group who are willing to stand up for what they believe in, and what is right.
The images on Thursday night showed unity, and reflected that while these women are in the public eye because they are basketball players, they're also much more than that. They're a collection of people who won't be silenced, who won't slide into the background, and who definitely won't just shut up and dribble.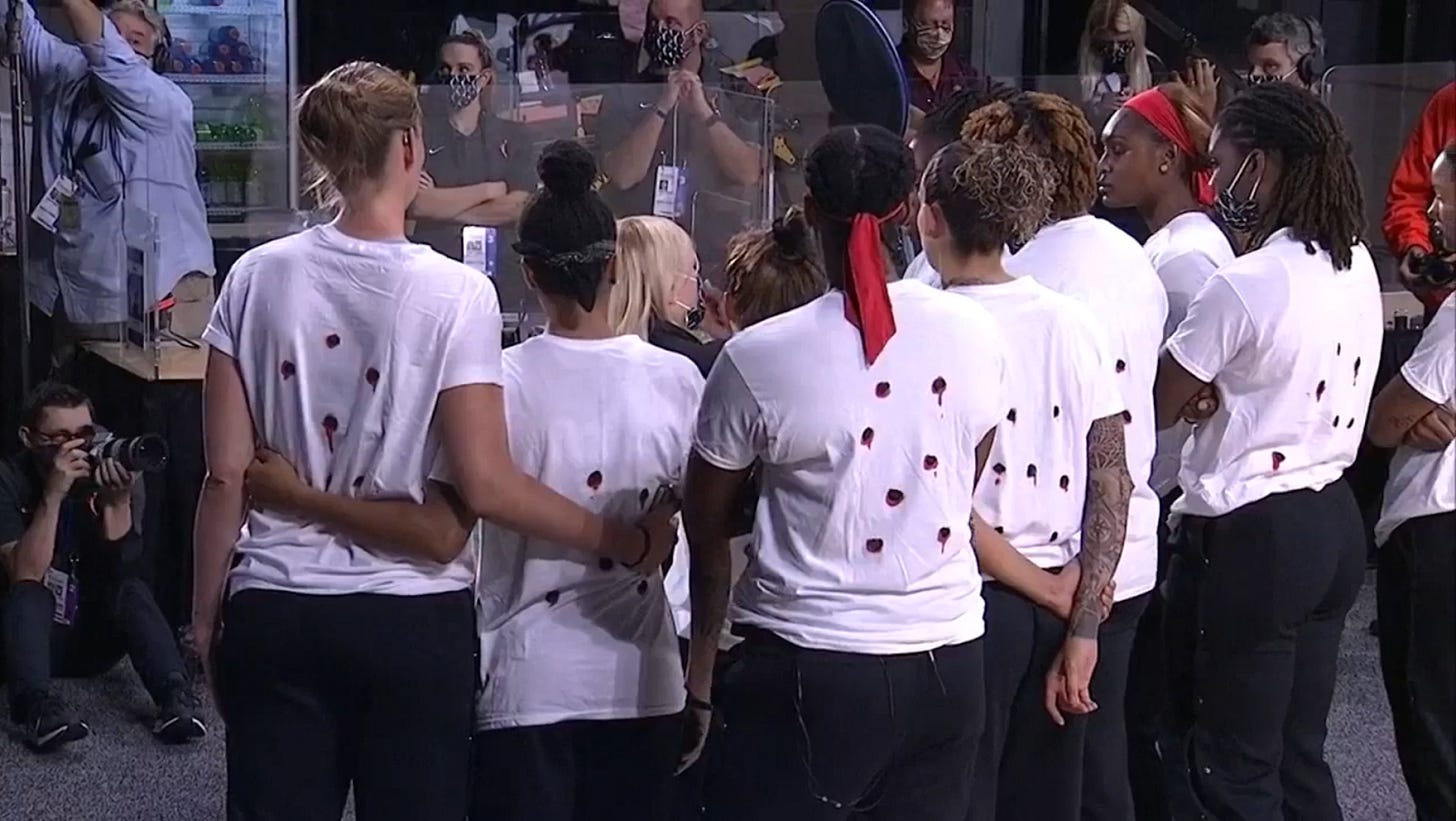 Bar a few updates, the rest of this column was written before Thursday night, and hence is in my usual style and tone. Now that the league has returned to playing basketball - even if they, and those covering it, are determined to keep more serious issues to the forefront - I hope you'll forgive anything that might feel light or dismissive. There are more important issues at hand, but you're here because you're interested in the basketball, so that's what I'm going to cover. When the games are over, we just all need to continue to listen.
1. Home Sweet, um, Home?
On the very first day of the 2020 WNBA season, I tweeted this:
As you can see from the vast swathe of retweets and likes, it didn't draw much attention. I honestly just thought it was going to be funny when by random chance, one team inevitably ended up with a much better 'home' record in the bubble than their 'away' record - when all the games are being played in exactly the same place. What's turned out to be interesting is the entire league is playing better at 'home'. At time of writing, home teams are 51-30, for a .630 winning percentage. For reference, home teams went 124-80 (.608) and 111-93 (.544) in the last two WNBA regular seasons, when they were actually sleeping in their own beds, playing in familiar surroundings and backed by genuine home crowds during home games. It's weird.
There are a few possible reasons that the designated home team might still have an edge. The league has made some efforts to make the games 'feel' like typical home games, via the music played before and during the action, the player introductions, etc. Home teams also get to choose their uniforms, for what that's worth. Scheduling may also help home teams slightly because games are being played at evening tip-off times based on the home team (to fit in with preferred timing for local TV stations). So a West Coast team like LA or Seattle is used to tipping off more than half their games at 10 p.m. ET (including nearly all their home games) while New York or Washington are attuned to 7 p.m. ET tips. But all of this feels like clutching at straws.
The other possibility is the one I was hinting at in that first tweet - that it's all just noise and there are enough things happening in the world at any given time that unlikely events occur fairly frequently. But as I keep saying to my HerHoopStats colleagues - how long can this go on until we have to accept that something is improving the chances of home teams? I'm informed by people who can do clever mathematics that the chances of the current records happening if every game was 50/50 is 1.3%. That's pretty damn low. At 10-4 it was amusing. At 26-13 it was curious. At 50-31 you almost start to wonder if home-court advantage in a Game 5 could be worth something in the playoffs.
2. 'Advanced' stats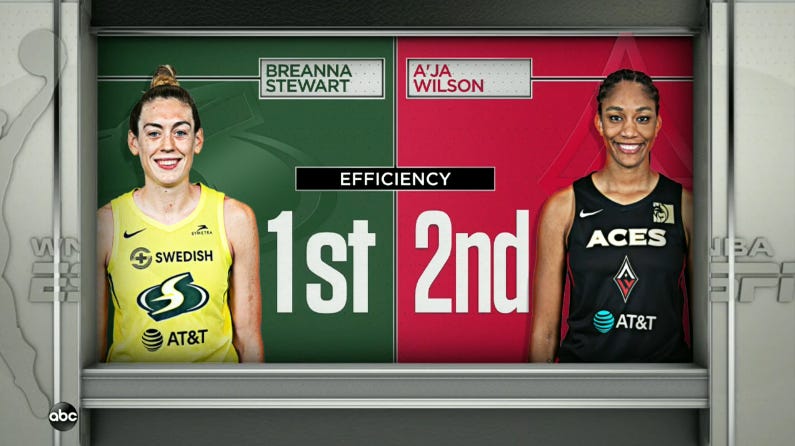 Well done ESPN for making minor strides into advanced stats. But let's not make those strides with a weak and poorly-named stat that only WNBA.com's stats pages use (and you even have to search pretty hard there). 'Efficiency' is apparently a specific measure, even though it's also just a general term that therefore leads to additional confusion. How about we take the next little leap all the way to PER, eFG%, or even Win Shares, eh?
3. Deadline Day Dealings
This item was initially about how the trade deadline was approaching (it passed on Friday night at 8 p.m. ET), and contained the sentence "I refuse to write a 'Grading the Trade' piece when someone makes a move to add a third-string center" - so excuse me for a moment while I act like a complete hypocrite.
The one deal that happened on deadline day - and the only one all season since teams entered the bubble - saw Chicago send 2021 second- and third-round draft picks plus the injured Jantel Lavender to Indiana for Stephanie Mavunga. The Fever gave up a post who was on the end of their rotation even when healthy, for a couple of late picks and a contract which actually saves them a little money. The way WNBA trades work, Lavender's entire $117,000 salary figure for 2020 moves to Indiana's cap sheet, even though most of the actual cash involved has already been paid to her by Chicago. Due to being under the salary floor, Indiana will have to pay out the difference between their total team salary and the team minimum of $1,088,100 at the end of the season, so Lavender's contract takes them slightly closer to that figure.
From Chicago's perspective, it's about depth. Injuries to Azurá Stevens and Diamond DeShields have left them thin lately, so adding Mavunga - who's been out for several weeks due to a facial injury but is expected back shortly - offers extra cover (and hopefully allows Gabby Williams to return to playing primarily on the perimeter). Mavunga's cheaper contract also opens up their 12th roster spot, if they can find anyone they want to fill it with. Lavender was in the final year of her contract, so would've been an unrestricted free agent at the end of the season anyway. Chicago could even make a move to bring her back in 2021, if they choose to.
4. Copycat League
Remember this play? You ought to, I only wrote about it last week:
Well all of three days later, in a tied game with 20 seconds left, Atlanta ran this. Look familiar?
It's not exactly the same, but after some initial set-up and misdirection, the primary ballhandler (Courtney Vandersloot first, Courtney Williams second) dribbles right into staggered screens from two of her teammates, with the first screener rolling towards the hoop. Here's where things break down for Atlanta. Glory Johnson pulls out of setting the second screen (possibly because the design was different and she was meant to be in the corner all along, or because she screwed it up). That doesn't give Williams the same space to drive into that Vandersloot had, and doesn't even allow the possibility that Candace Parker might've been crunched by the second screen like A'ja Wilson was.
Fortunately for Atlanta, Williams remains an elite mid-range jump-shooter and knows how to create her own shot whether the set is running to plan or not. She turns back inside, rises up, and nails the jumper. Not nearly as pretty as Chicago's version, but counts for two points just the same. Good coaches borrow from other coaches; great coaches steal from them outright.
5. Happy Accidents
These things happen all the time in sports. You're meandering along with a decent team that no one's particularly scared of, then someone gets hurt, forces you into a lineup change, and suddenly you discover the group that lets you take the crucial leap. The most recent and extreme NBA example was when David Lee got hurt in Golden State, pushing Draymond Green into the Warriors starting lineup - which led to a 67-15 record and a championship. In the WNBA in recent times, the clearest example was in Connecticut, where Alyssa Thomas had three solid but relatively unspectacular seasons playing primarily at small forward. A rash of injuries early in the 2017 season forced Curt Miller to shift her to the 4, and suddenly an All-Star talent was unleashed. While she's now learned to play with that same level of force and determination whatever position she's asked to fill, power forward has remained her primary spot ever since.
We've seen a few more examples this year in the bubble. Los Angeles started out with their three obvious starters - Chelsea Gray, Nneka Ogwumike and Candace Parker - joined in the starting lineup by Riquna Williams and Tierra Ruffin-Pratt. That made some sense, because Williams and Ruffin-Pratt were there last season, and in possession of the roles, plus they should've had some in-built chemistry with the others. After an uneven start to the season, Derek Fisher fiddled with the lineup by promoting Sydney Wiese over Williams, which worked by adding some stability to the starting group and an injection of offense to the bench. Then Ruffin-Pratt got hurt, Brittney Sykes stepped in, and the Sparks started flowing. It hasn't looked like a definitive solution in the way Connecticut quickly did with Thomas, but it proved to LA that they could succeed defensively without Ruffin-Pratt on the floor to guard the primary perimeter threat. Combined with Sykes's greater offensive arsenal, it's so far worked out well.
Similarly in Minnesota, answers were found almost by accident. Cheryl Reeve and the Lynx came into the season not entirely sure who was going to run their offense. They had enough guards and ballhandlers that they felt like they could work things out one way or another. They started the season with Lexie Brown and Shenise Johnson in the backcourt, with Johnson taking on most of the traditional point guard responsibilities. Then Brown missed a couple of games, pushing rookie Crystal Dangerfield into the starting lineup, and when Brown came back Johnson was hurt, giving more time for Dangerfield to cement herself. Fortunately for the rookie, none of the other options - Brown, Johnson or Rachel Banham - really want to play the point. They're all naturally more comfortable off the ball. So they all seem happy to let her take the controls. She's grabbed the chance with both hands, scoring effectively and efficiently, and moving the ball where it needs to go. Her turnovers are too high, as you'd expect with a rookie point guard, and Reeve may not yet be entirely convinced that she's discovered her point-guard-of-the-foreseeable-future, but for someone who went 16th in the draft it's been an impressive string of games. Given all the injuries elsewhere, she's probably the favourite for Rookie of the Year.
None of these moves were in the plans before the season began. Which is part of why we watch this stuff, isn't it? If everything went according to plan, what would be the fun in that?
6. After you. No, after you!
This was fun: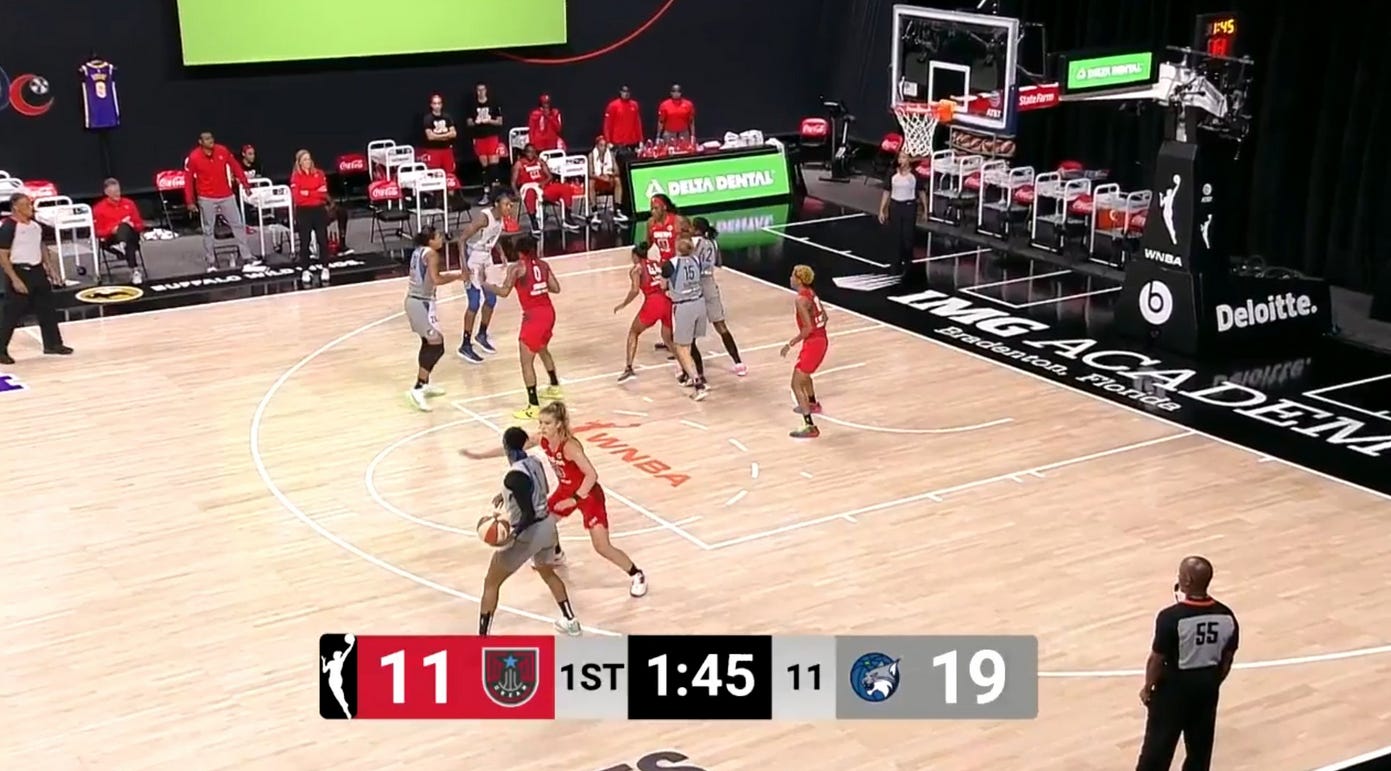 Moments later, Shenise Johnson peeled off to the opposite block, but for a few seconds there were four Minnesota Lynx players stood in a square, all setting screens for each other. Sometimes you can take 'Minnesota Nice' a little too far.
7. Don't mess with the bull...
Before I invite all the Candace Parker fans to rush in and hate me, let's look at something the Sparks run that I love: their off-kilter 'horns' sets. Plays run out of a horns formation are in virtually every playbook, typically starting with the point guard with the ball above the arc, the two posts at the elbows, and two wings spread out wide beyond the three-point line. But when you have unusual players, you can make atypical moves. Indiana used to invert the set by having Tamika Catchings - nominally their power forward - handle the ball in the point guard spot. LA, on the other hand, has lately been doing this:
They used this repeatedly last Sunday against Dallas - a standard horns formation, but with Parker out wide, and one of the wings (in this case Brittney Sykes) switching inside to play the traditional post role. In the first example, all Parker does is help stretch the floor by standing there, because the defense isn't going to leave her open. In the second, you can see her ducking in to post-up, even though the play breaks down (there are other instances where it worked more effectively). I enjoy these sets because it puts defenders in unfamiliar positions. It forces post defenders to try to play help defense from the corners, rather than the middle of the floor. It can create some unnatural switches in the middle when the posts are used as screeners or on entry passes. It just generally messes with people who've been seeing horns sets all their lives.
When you've got a 6-foot-4 post who shoots threes, handles the ball and initiates half your offense, you should be doing funky stuff.
8. Park that idea
Now for the bit where I'm less complimentary about Parker. You see, I've heard multiple broadcasters and writers mention her as a Defensive Player of the Year candidate this season, and if you're a reader of mine from days of yore you'll understand why that makes me flinch. I wrote about Parker's miserable defense many, many times back in the day, so I have a virtually reflexive "Nooooo!" reaction even to the basic suggestion.
To be fair, she's way, way better than she used to be. Years of growing up, being coached by the likes of Brian Agler and Derek Fisher, playing alongside Alana Beard and Nneka Ogwumike, and just not winning championships can do that to a person. She's far more focused and communicative than we used to see. However, things like this still happen:
In the first play, that's Parker standing there a few feet away while Marina Mabrey finishes at the hoop. In the second, that's Parker vaguely wafting at Mabrey while she drives past for the and-one finish (when Sydney Wiese hits her on the head, because she got no help in defending the drive). The first one's lazy, the second one is... because she's worried about a circus pass back out to Astou Ndour for a long-range two? Your guess is as good as mine.
The numbers don't really back Parker's case, either. She's leading the league in rebounds per game, which is nice (and is part of what's inspired the broadcasters to take notice) but isn't in and of itself a meaningful defensive stat. Her block and steal numbers are her best since 2017 but still lower than back in the early 2010s when she was playing awful defense but adding counting stats via gambling. On-off stats suggest the Sparks have been better defensively with her on the floor, but only marginally. Sykes and Ogwumike have better defensive ratings. So does Kristine Anigwe (in very limited minutes, admittedly) - one of the players who subs in for Parker at center.
So I'm not saying Parker is a bad defender anymore. This genuinely isn't another one of those "Look at how awful this is!" entries. I'm just saying DPotY may be going a little far.
9, 10 and 11. Lineup Minutiae
Just because Brian Agler and the Wings have been central to this section all season, let's start with them again. Marina Mabrey has played well enough that their perimeter trio appears to be cemented for the time being, but sadly Isabelle Harrison is done for the season due to injury which led to a change inside. Astou Ndour was brought in from the cold to start at center, after barely seeing the floor in Dallas's previous ten games. We're still seeing Bella Alarie and even Satou Sabally get minutes at the 5, but Ndour is starting. A cynical person might think that was to remind other teams that she was healthy and available before the trade deadline, but obviously I'm no cynic. [Author's note: Ndour was benched on Saturday and played zero minutes in the first post-deadline game]


Seattle has been one of the healthiest teams in the bubble, but Jordin Canada is back to filling in for Sue Bird as the starting point guard. Bird returned from a bone bruise in her left knee to play in four games (all wins) before sitting out again for multiple games due to the same injury. Canada is a better backup than many teams have but make no mistake, they miss Bird a lot. As well as being their leader and organizer, she stretches the floor in a way Canada doesn't even remotely achieve. They can carry on winning, and likely even grab a top-two seed without Bird, but they'll be desperate to have her fit and available for the playoffs.


Atlanta has continued to mix and match as best they can. Shekinna Stricklen and Betnijah Laney have repeatedly swung from shooting guard to power forward all year long (both would naturally be playing small forward). They asked Courtney Williams to officially take over the point guard spot in Chennedy Carter's absence, rather than playing Williams next to Blake Dietrick, so that they could get Monique Billings back on the floor in the post. None of it has really worked. 2018 WNBA Coach of the Year Nicki Collen's seat may be growing a little warm.


12. Clark's Corner
Back in June, just before teams had to cut their rosters down to opening day size limits and get below the cap, Minnesota made a small move. Jessica Shepard was ruled out for the season, and rather than retain one of their rookies the Lynx filled Shepard's spot with reserved player Bridget Carleton. At the time, it looked like they were adding a deep bench player who would be the most likely cut when Odyssey Sims returned from her pregnancy. Oh how things change.
While some injuries and opt-outs have helped her chances, Carleton has steadily forced her way into the picture for the Lynx. She makes smart decisions, she plays hard, they often use her to defend point guards so that the tiny Dangerfield/Brown backcourt doesn't get exploited as much as it might be, and she's hitting threes. She's been the definition of a player grabbing her opportunity with both hands when it happens to come along.
Look, they're even running plays for her in late-game situations:
This set is designed for her to inbound the ball, come off a couple of screens to get it back, and then attack Diana Taurasi and the inevitable Mercury switch in the pick-and-roll. She takes her time, makes the right play, and gets a layup for Damiris Dantas. But more than the play itself, it's the fact that Cheryl Reeve trusts her enough to put her in that position that's telling. 90 seconds left in a close game and the ball isn't in the hands of Collier or Sims or even Dangerfield. It's in the hands of a player who wasn't even under contract two days before rosters had to be cut down.
Play smart, play hard, hit threes. Eventually you'll find a role.
---
Thanks for reading the Her Hoop Stats Newsletter. If you like our work, be sure to check out our stats site, our podcast, and our social media accounts on Twitter, Facebook, and Instagram.