Discover more from The Her Hoop Stats Newsletter
Unlocking better insight about women's basketball
Over 3,000 subscribers
The WNBA Salary Cap and CBA Explained: Rookie Contracts Part One
Part one of a three-part series exploring rookie-scale contracts
Thanks for reading the Her Hoop Stats Newsletter. If you like our work, be sure to check out our stats site, our podcast, and our social media accounts on Twitter, Facebook, and Instagram. You can also buy Her Hoop Stats gear, such as laptop stickers, mugs, and shirts!
Haven't subscribed to the Her Hoop Stats Newsletter yet?
---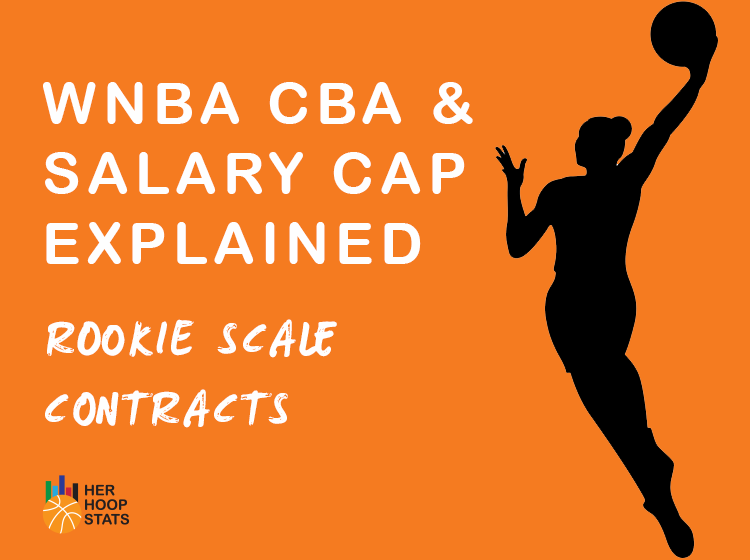 Today, we are introducing a new series at Her Hoop Stats: "WNBA Salary Cap and CBA Explained." As part of our mission to unlock better insight about the women's game, we'll be breaking down the rules outlined in the 350-page WNBA Collective Bargaining Agreement covering the 2020 through 2027 seasons in plain language. In a document that size, there is an incredible number of rules and nuances. As a result, each article will focus on a bite-size chunk of the CBA to make the concepts more, well, digestible. We'll also be collecting all of the explanations on the Her Hoop Stats website in a single reference FAQ document inspired by the great work by Larry Coon on the NBA's CBA.
Today's article is the first of a three-part deep dive into rookie contracts. In part one, we will go through the basics of rookie contracts: eligibility, contract terms, and the process of receiving a contract. Part two will review some unique situations that can arise with rookie contracts and how the league deals with those. Part three will look at what happens at the end of contracts — whether they are extended or simply expire.
Who qualifies for a rookie contract?
The CBA states that the rookie scale applies to any player who has not previously signed a contract to play in the WNBA. This includes players drafted out of college, like Sabrina Ionescu and Bella Alarie, players drafted after playing internationally, like Han Xu in 2019, as well as any players who go undrafted.
Keep in mind, this is not the conventional definition of "rookie" that fans typically think of: someone who is playing her first-ever regular-season game that year. That more conventional definition is used for awards and "years of service" to determine veteran status. In part two of our series, we'll dig into players such as Megan Gustafson, who was technically not on a rookie contract during her first season in the WNBA. When we're referring to rookies when discussing the CBA, though, we will use the CBA definition of players on their first contract. 
What are the terms of a rookie contract?
The base salaries, meaning salary without any bonuses, and lengths of a rookie contract are fully specified for each draft pick for every draft governed by this CBA, meaning there is no room for negotiation between the player and the team. The one exception is the length of contracts for undrafted rookies, which may be one or two years. The table below illustrates the terms for 2020 rookie contracts. The structure of rookie contracts for each year of the CBA follows the same framework with tiers of players, length, and team options.
Rookie base salaries are not guaranteed ("protected," in the language of the CBA), meaning that players are only paid for the portion of the season they are actually on the roster. The terms and base salaries for rookies signing contracts from 2020 to 2027 can be found at the end of this article.

Base salaries vary depending on how high each player was drafted, with the first four picks in the draft earning $68,000 in 2020. The base salary then decreases to $65,250 for the fifth through the eighth picks and $62,500 for the remaining first-round selections. All second-rounders will earn $59,750 in 2020, with third-round picks and undrafted rookies earning $57,000. In addition to the base salaries in the table above, players may earn performance bonuses for team success and individual awards. The Rookie of the Year receives a bonus of $5,150 in addition to a $1,500 bonus for being named to the All-WNBA Rookie Team.
Across all categories, players will receive a 2% increase in base salary between their first and second seasons. This is true for all future classes of rookies. At the same time, base salary for the same pick and years of experience increases by 3% year over year, meaning 2021's first overall pick will make 3% more in her first year than Sabrina Ionescu will make this season.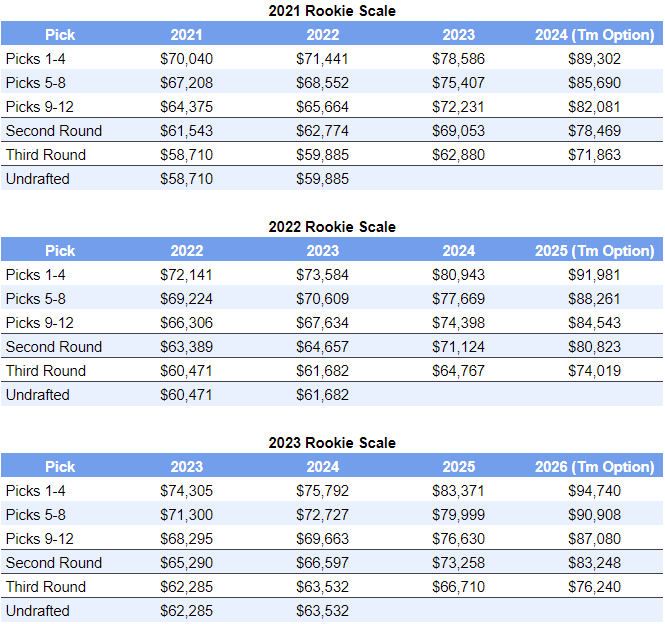 Since the new rookie class's base salary increases more than the old rookie class's salary does, this leads to an interesting situation. Ionescu will earn $69,360 in 2021 as a second-year player, less than the $70,040 each of the first four picks of the 2021 draft will receive in their rookie seasons. This oddity disappears in 2022 for 2020 draft picks: they will receive a 10% increase in salary while the 2021 draft picks only receive a 2% increase. However, the situation repeats itself for 2021's draft picks relative to 2022's draft picks and continues throughout the length of the agreement.
The CBA also distinguishes between drafted rookies and undrafted rookies in two main ways. First, all drafted players are given contracts that last three seasons, with a team option for a fourth year that comes with a significant boost in salary. Undrafted players are only given contracts for up to two years, with no team option. Second, drafted players are eligible for rookie scale extensions, while undrafted players are unable to receive contract extensions. Rookie-scale extensions and expiring contracts will be discussed in part three.
Also of note, the entry for "Picks 9-12" is flexible if the league expands down the road. That entry can be interpreted as all picks from No. 9 until the end of the first round in the event more teams are added.
What are the terms for players drafted before the new CBA?
Players who signed contracts under the previous CBA were governed by a rookie scale using the same contract structure but with base salaries lower than the current minimum salary. To remedy this, all players who would be below the league minimum have been bumped up to $57,000 if they have zero to two years of service, like 2019 No. 1 overall pick Jackie Young, or $68,000 if they have three or more years of service, like 2017 No. 1 overall pick Kelsey Plum.
Players who were already over the league minimum, like Diamond DeShields, did not receive any bump in their salary. This means DeShields, the 2018 No. 3 overall pick, will earn less money in 2020 ($58,978) than 2020 second-round draft picks who would earn $59,750 for playing an entire season.
How is the contract offered?
Teams are required to offer a rookie-scale contract to a draft pick to retain their rights in what is known as a "Required Tender." This required tender is a contract that is contingent on a physical exam.
Teams must make this tender within seven days of the draft, and if they do offer a contract within seven days then the player cannot negotiate with any other team. If the team doesn't offer the required tender in that time frame, then the player becomes an unrestricted free agent and may sign a rookie-scale contract with any team. This is incredibly rare, because retaining the exclusive rights to draft picks is valuable, and unprotected salaries mean there is no risk if the player doesn't make the team.
If the team does tender a contract and the player doesn't sign it, the team still retains exclusive negotiating rights with the player until at least the next draft. A few situations that could occur if a player does not sign the required tender will be discussed in parts two and three.
For undrafted players, they are unrestricted free agents that will sign rookie-scale contracts instead of veteran contracts. All this means is there are no restrictions like the one above where a player is bound to only one team if offered a contract. Undrafted free agents are free to negotiate with multiple teams any time after the draft has concluded.
How do fourth-year options work?
The fourth-year option, which is included for drafted rookies only, is a team option. This means that the team can decide whether to bring the player back for a fourth year at the salary specified in the rookie scale, even if the player would rather test free agency. Teams must make this decision and notify the player by May 15 following the player's second contract year. That is typically during the preseason of a player's third year in the league. Teammates Diamond DeShields and Gabby Williams both had their fourth-year options exercised on February 13, 2020.
If the team does not exercise its option, the player would become an unrestricted free agent after the conclusion of her third season. Unlike the first three years of the contract, the fourth year is fully protected. This means the player will earn her base salary in year four even if she is injured or cut if the team picks up the option.
Schedule of rookie-scale contracts
Below are the base salary tables for 2020-2027, all years governed by the current CBA. These are not guaranteed salaries except for the team option after it has been exercised. As a result, a player will only be compensated for the time she spends on the roster. If a player is cut before the season begins, like Beatrice Mompremier, she will not earn any of the money on her rookie contract. Likewise, if a player is waived midway through the season, she will only receive a fraction of her contract equal to how long she was on the roster.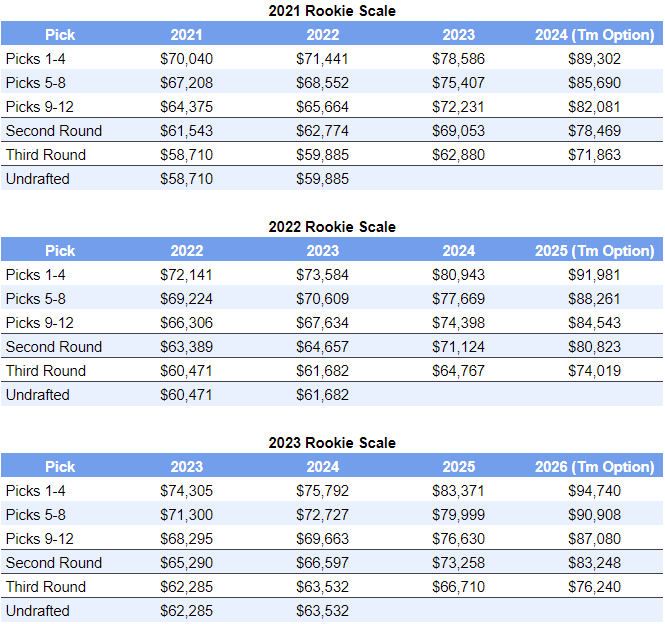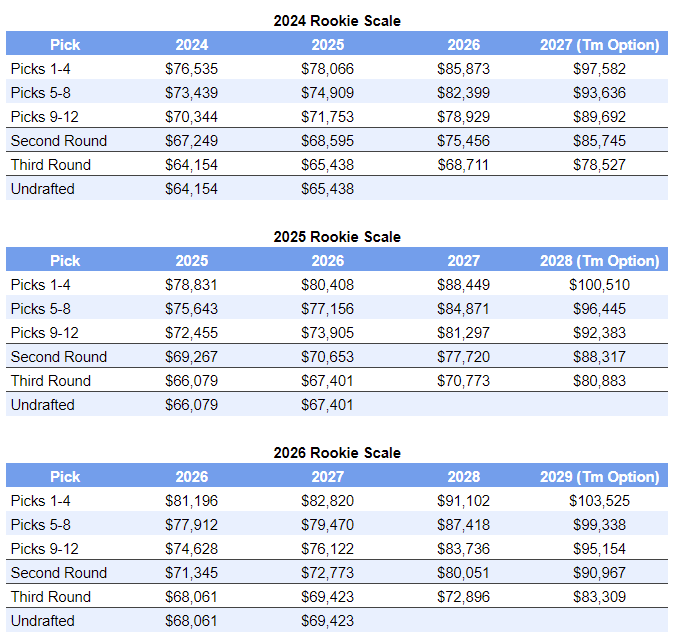 ---
Thanks for reading the Her Hoop Stats Newsletter. If you like our work, be sure to check out our stats site, our podcast, and our social media accounts on Twitter, Facebook, and Instagram.