Under Wes Moore, the NC State Wolfpack have gone from Triangle afterthought to top dog
Thanks for reading the Her Hoop Stats Newsletter. If you like our work, be sure to check out our stats site, our podcast, and our social media accounts on Twitter, Facebook, and Instagram.
Haven't subscribed to the Her Hoop Stats Newsletter yet?
---
On February 6, the Duke women's basketball team beat North Carolina, 71-61. In years past, that has been the marquee match-up among the state's "Triangle" teams: Duke, North Carolina, and NC State, which are all within 25 miles of one another in the state's Research Triangle Region.
However, in recent years, that match-up has felt increasingly like an undercard without NC State, which has asserted itself as the top women's basketball program in the area under head coach Wes Moore. The Wolfpack are 2-1 this season against Triangle foes—they split with North Carolina and beat Duke—and are the only ranked team of the trio.
NC State is 22-1 so far this season and currently sits at No. 4 in the AP Poll. Sophomore Elissa Cunane leads the team with 17.0 points and 10.5 rebounds per game, but the Wolfpack are extremely balanced. Aislinn Konig (11.1 points per game) and Kayla Jones (10.0) also average in double figures, and two other players average at least 8.7 points per game. As a team, their effective field goal percentage, which adjusts for the value of 3-pointers, is a blistering 51.7%, and they hold opponents to just 38.9%.
When the NCAA selection committee revealed its top 16 seeds on February 3, NC State slotted in as a No. 2 seed in the Greenville, South Carolina regional, which would mean that the Wolfpack would get to host up to two games in Raleigh and play up to two more without leaving the Carolinas. NC State has made the Sweet Sixteen in each of the past two seasons and is nearly a lock for its fourth straight NCAA Tournament berth this year. In contrast, Duke missed the tournament last season and UNC missed three straight from 2016-18.
The status quo looked very different on April 5, 2013, the day Moore was hired to take over NC State. The Wolfpack had recently missed their third NCAA Tournament in a row, while Duke had played in its fourth straight Elite Eight and UNC had advanced to the Sweet Sixteen. While Moore is not responsible for Duke and North Carolina's relative struggles since his arrival, his success at NC State has led to an unmistakable transfer of power in the Triangle in the past seven seasons.
The Triangle Before Moore
With Moore currently in his seventh season, it makes sense to use the seven seasons that preceded his hire for comparison. From the 2006-07 season through the 2012-13 season, NC State won just five games against Duke and North Carolina, an average of less than one win in 3.5 games per year. The Wolfpack earned two NCAA Tournament bids compared to a combined 13 for their Triangle rivals and, except for a three-week stretch in early 2007, never cracked the AP top 25.
After the 2012-13 season, which ended with an 0-4 record against Triangle teams and a WNIT bid, NC State fired then-head coach Kellie Harper and replaced her with Moore. In what would prove to be a prescient statement, NC State senior associate athletic director Michael Lipitz said of Moore, "He just wins, bottom line."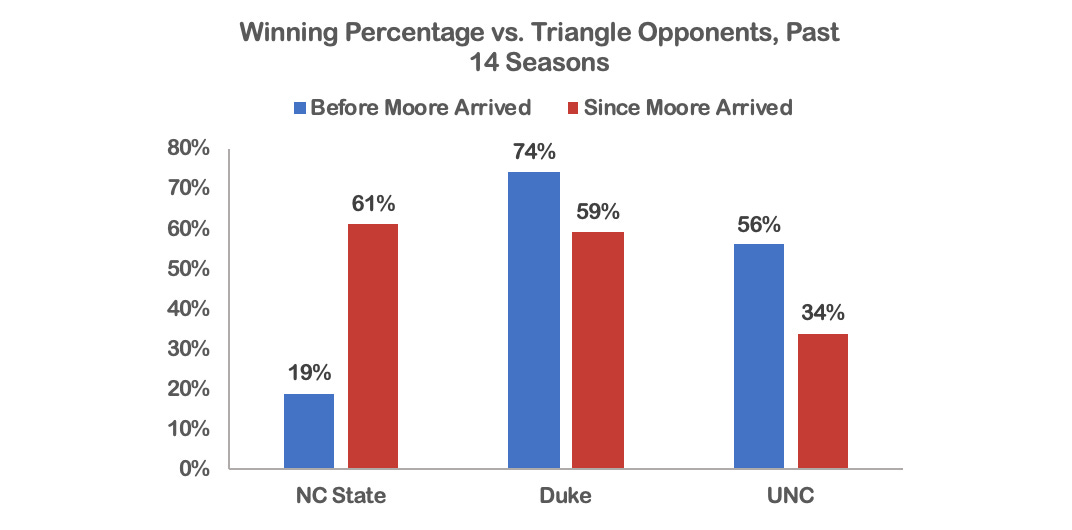 The Triangle Since Moore's Arrival
Moore's first few seasons offered some cause for optimism, but it took a few years for the Triangle's pecking order to shift. NC State appeared in the AP Poll for the last ten weeks of the 2013-14 season, peaking at No. 10 and finishing at No. 16, but the Wolfpack lost all three meetings with Duke and North Carolina. The following year, NC State got its first rivalry win under Moore, but, having lost 2014 WNBA Draft picks Markeisha Gatling and Kody Burke, the team was never ranked and missed the NCAA Tournament. And in 2015-16, NC State went 3-0 against the Triangle, but remarkably, all three Triangle teams saw their seasons end in the ACC Tournament.
In Moore's fourth season, 2016-17, the program built on that 3-0 record regionally and began to take off nationally. NC State has gone 8-4 since then against Triangle teams, including 2-0 in the postseason. The Wolfpack re-entered the AP Poll on January 9, 2017; since then, they have been ranked for 62 weeks and unranked for just 13. They have been in the top 10 for much of 2018-19 and 2019-20, peaking at their current ranking of No. 4. (Meanwhile, North Carolina hasn't been ranked since November 2015 and Duke hasn't been ranked since October 2018.)
Remarkably, Moore's success has largely come without WNBA talent. Aside from Gatling and Burke—players Moore inherited rather than recruited—Moore's only WNBA Draft pick was Kiara Leslie in 2019. Cunane and Konig have the potential to change that narrative, but so far, Duke has been the Triangle team churning out WNBA talent with six picks in the past seven seasons, including No. 4 pick Elizabeth Williams in 2015.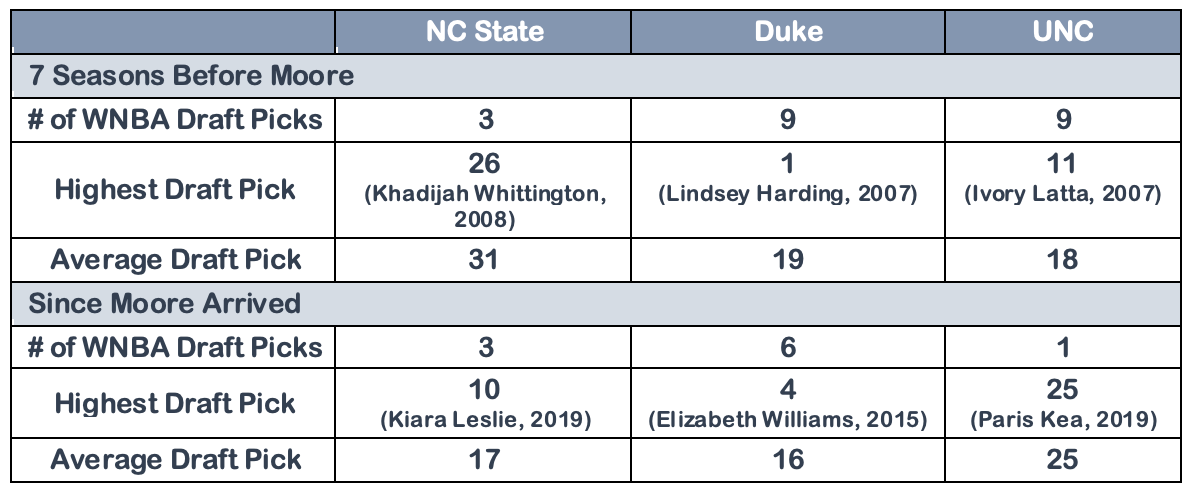 ---
Last May, NC State rewarded Moore with a six-year contract extension that will keep him in Raleigh through 2025. Boo Corrigan, the school's athletics director, said, "Wes continues to elevate our women's basketball program and this new contract reflects our commitment to what he is building." Moore added, "We've made so many significant strides. … I'm excited for the future of NC State women's basketball."
Given what Moore has achieved since his arrival in 2013, it's hard for women's basketball fans around the country not to be excited, too. That is, unless they are Duke or UNC fans, watching NC State gain a national profile in part by shaking up the balance of power in the Triangle.
---
Data on NC State's 2019-20 season are from Her Hoop Stats for games through February 11; data on historical AP rankings are from Across the Timeline; and data on the Triangle teams' head-to-head records and postseason outcomes were calculated by the author from the NC State, Duke, and North Carolina women's basketball websites.
Thanks for reading the Her Hoop Stats Newsletter. If you like our work, be sure to check out our stats site, our podcast, and our social media accounts on Twitter, Facebook, and Instagram.