Washington Mystics Assistant Coach Asjha Jones Is Sharing Her "Cheat Codes to the Game"
It took a lot of convincing, but Jones has been the perfect fit for the franchise that drafted her back in 2002
Thanks for reading the Her Hoop Stats Newsletter. If you like our work, be sure to check out our stats site, our podcast, and our social media accounts on Twitter, Facebook, and Instagram. You can also buy Her Hoop Stats gear, such as laptop stickers, mugs, and shirts!
Haven't subscribed to the Her Hoop Stats Newsletter yet?
---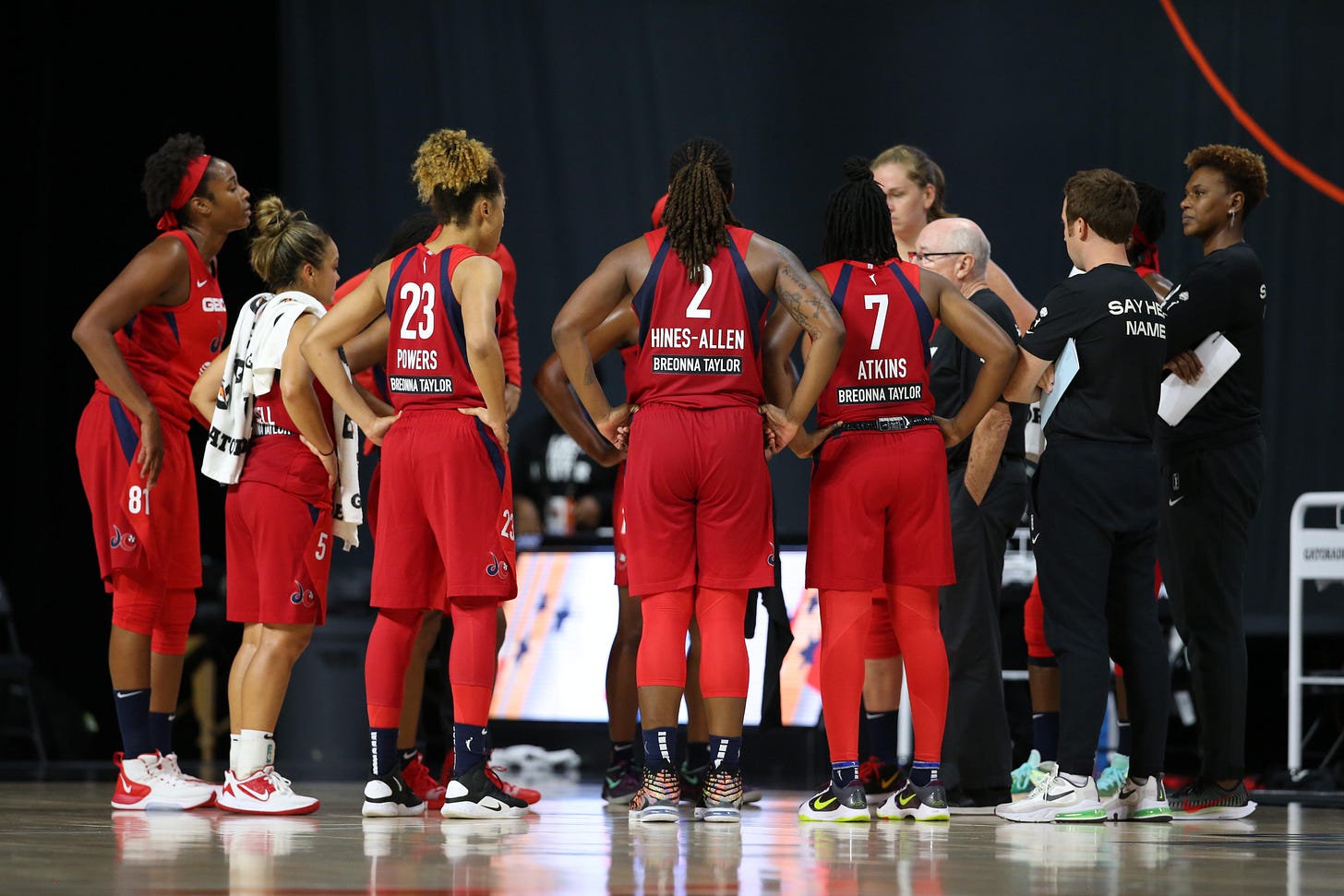 The Washington Mystics huddle during a game against the Indiana Fever on July 25, 2020. Assistant coach Asjha Jones is on the far right wearing all black. Photo by Stephen Gosling/NBAE via Getty Images
When the confetti fell and the Washington Mystics were crowned 2019 WNBA champions, it capped off a record-breaking season for the franchise and successfully avenged the team's loss in the 2018 Finals. The championship also put player development assistant Asjha Jones' name in the history books as the only person to have won a WNBA title as a coach and an NCAA title, a WNBA championship, and an Olympic gold medal as a player.
Jones first joined the Mystics as a player back in 2002, when the team drafted her with the No. 4 overall pick, and she played two seasons in Washington under head coach Marianne Stanley. She spent the next nine seasons in Connecticut playing for current Mystics head coach Mike Thibault—"basically I grew up with [him]," Jones said—before finishing her career on the Minnesota Lynx's 2015 championship team. In over 350 career games, she averaged 10.9 points, 4.8 rebounds, and 1.7 steals, making two All-Star Games and earning Second-Team All-WNBA honors in 2008. She also won Olympic gold with Team USA in 2012 and NCAA titles with UConn in 2000 and 2002.
During her playing career, Jones prided herself on being a leader for her teammates. "I took responsibility for everyone on the court," she told Her Hoop Stats. "Just making sure everyone was where they needed to be all the time and being the main communicator. So … I had to figure out different ways to think about things and make it simple for me and for them."
Despite being like a coach on the floor, Jones rebuffed Thibault's suggestions that she go into coaching. "I'm like, 'Yeah, you do all this work and then I'm watching my teammates not [even] read the scouting report. … What's the point?'" Instead, as her playing career wound down, she focused on building a shoe line, Takera, for hard-to-find sizes and learning the ins and outs of investing.
But on a Sunday night before the 2018 season, Jones was at Art Basel, an international art fair, in Miami when she got a call from Thibault. "Just listen, keep your mind open," he told her. He was creating a new position on his staff and wanted it to go to a former player, and she was his top choice. She could dabble in all aspects of coaching, from scouting to player development, and see what she liked.
"I gave in," Jones said, citing her relationship with her longtime coach as the reason why. "… I don't know if I would've actually tried that position with another coach. It's just because I knew him, his family, and that he would do right by me."
Although Jones had known how hard coaches work before she agreed to join Thibault's staff, that didn't make her transition any less taxing. "It's just a completely different hustle" from playing, she said. "… I'm watching [Thibault and Stanley, then an assistant coach with the Mystics] and they're just talking, talking, talking. They're full of energy and meanwhile, I felt like I had toothpicks in my eyes holding them open. I'm like, How are they doing this? I was supposed to be the young person here, and I'm exhausted."
Jones eventually adapted to the grind of coaching and has enjoyed it more with each passing year. "Now I'm all in," she said, despite her initial doubts. She was a player development assistant for two seasons and worked primarily with the team's post players, including 2019 WNBA MVP Elena Delle Donne and 2019 WNBA Finals MVP Emma Meesseman. Last December, Jones was promoted to assistant coach after Stanley left to become the head coach of the Indiana Fever. Jones said the work she does with players is similar in both positions; the biggest difference is that she now gets to be on the bench for every game.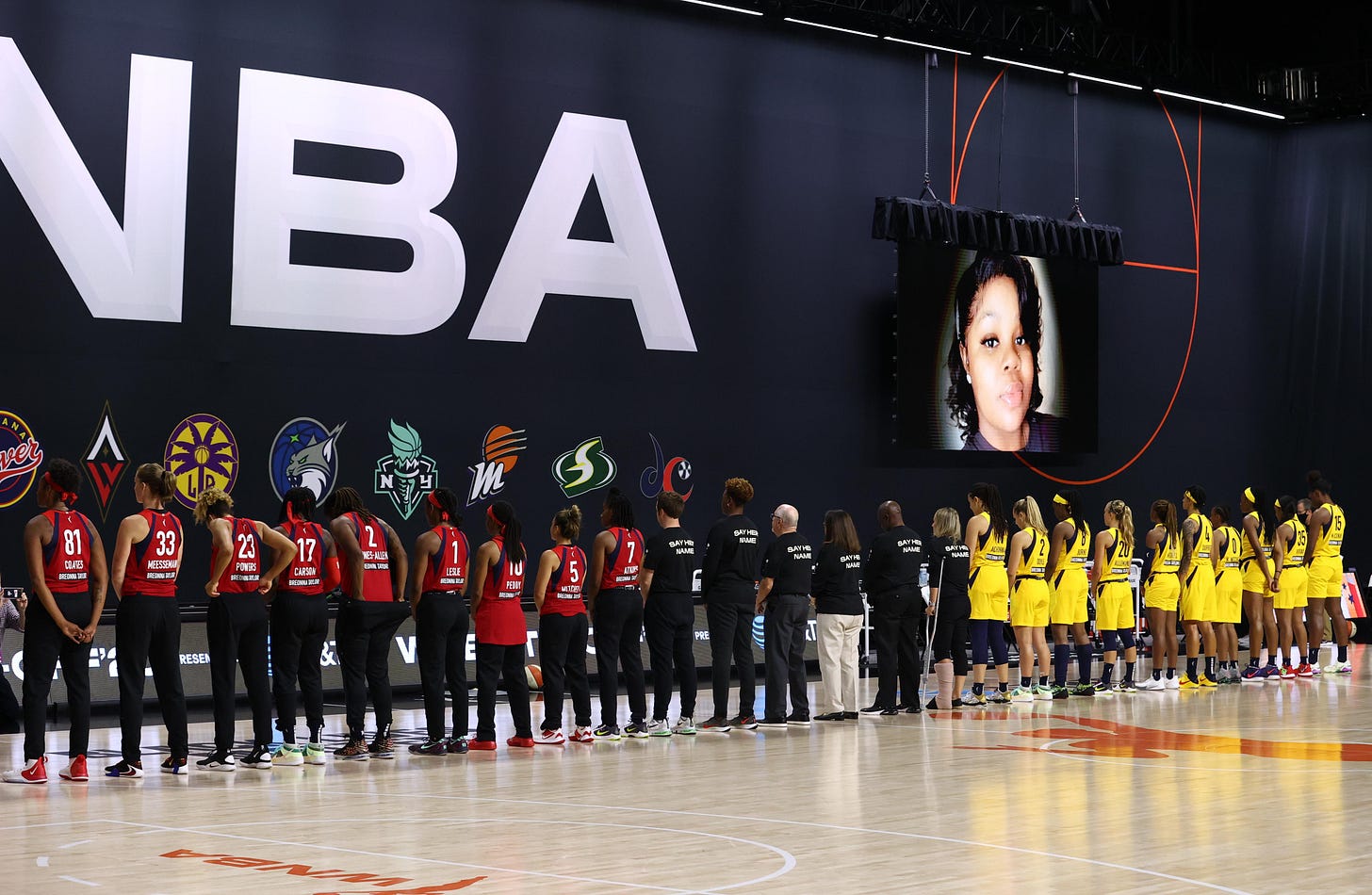 The Washington Mystics and Indiana Fever honor Breonna Taylor prior to a game on July 25, 2020. Asjha Jones is eleventh from left, or immediately to the right of the DC logo. Photo by Ned Dishman/NBAE via Getty Images
Whereas Stanley's biggest strengths as an assistant included her previous head coaching experience and her knowledge of Xs and Os, Jones said she brings "a player brain" to the sidelines. "I just want the players to understand that I've been in their shoes," Jones said. "… They all have their different styles, but if I can add a little bit more nuance … [to] what they're already doing, I think I'll be happy with that."
The players have clearly responded to Jones' coaching style and look up to her as a standout player. "Asjha's a legend!" Tianna Hawkins exclaimed at the team's preseason media day. She continued, "It's great to have someone, a champion, Olympian, to learn some little cheat codes to the game. … Her influence has been great for the bigs. We're starting to see carryover from the time that we have one-on-one with her into playing, so she's a great resource."
Thibault added that players have responded to Jones not just because of her resume as a player, but also because she can show them exactly what to do on the court. "I remember watching Asjha late in her career with the USA team guarding [6-foot-8] Liz Cambage in the world championships," he said. "And so here's somebody, when you're talking about guarding a big post player, she can demonstrate how to do it and they know that she's been through that."
Alaina Coates, one of the Mystics' newcomers who is still trying to establish herself in the league, explained how Jones' focus on the tiniest details has made her a better player. "The biggest thing I've learned from Asjha so far is to bend down low and come up off my toes," she said. "I don't know why I just relied on my height so much, but definitely in terms of jumping and being more explosive getting off the floor, she really had to break it down for me. And the progress has definitely shown." Coates added that Jones' approachable demeanor has made it easier for her to ask for advice rather than internalizing her mistakes.
Thibault hinted earlier this season that Jones might have to do more than think like a player. With the Mystics only bringing 10 players to Florida and facing occasional injuries, he told Jones and associate head coach Eric Thibault to get in shape for practice. Happily for Jones, that has been more talk than action so far this season—but she has been working out before practice just in case.
The Mystics' injuries and opt-outs have hit Jones' frontcourt corps particularly hard: Delle Donne, 2012 WNBA MVP Tina Charles, and defensive stalwart LaToya Sanders are not playing this season, and Hawkins missed three games with a back injury. Hawkins' injury left the Mystics with three post players: Coates, Meesseman, and Myisha Hines-Allen.
Coates is the first true center the Mystics have had since Krystal Thomas, whose best season in Washington was in 2017. Jones said that Coates has been "more than we even bargained for" when they signed her to replace Sanders and could be "the biggest surprise for us this year … [in] how much she helps us." Coates is averaging just 8.3 minutes per game through eight games, but the team is still learning how to play with her and space the floor around her. "She's an untapped resource," Jones said.
Meesseman and Hines-Allen, on the other hand, are multifaceted players who seem poised to join the guard rotation any minute. "If Emma could have it her way, she would be a point guard, I think," Jones said, "because she just likes to play the game. She wants to move around, she wants everybody to cut, she wants to pass. And we're like, 'Emma, please shoot more.'" And Hines-Allen, the breakout star of the WNBA's opening weekend, is one of the strongest players in the league and stands 6-foot-1, but Jones said her most important role for the Mystics this season will be facilitating the offense as a point forward.
Jones is all for her forwards developing their guard skills as long as they strike the right balance. Her advice is, "Don't forget where your bread is buttered. You gotta be able to get inside, too." So far, so good: through their first eight games, Hines-Allen has scored 65% of her points in the paint, just above Meesseman's 57%, and they are combining to average 29.8 points and 14.4 rebounds per game.
Meesseman and Jones were slated to be teammates in Russia during the final years of Jones' playing career, but an injury to Jones prevented them from playing together. Meesseman is seemingly making up for lost time by regularly working with Jones after practice, both this season and in 2019. "I love working with Asjha," Meesseman said. " … She's really passing [along] all her little tricks that she used as a veteran player, and she knows our life. She's been here. … And she's really gonna be a good coach."
For all her experience, though, there is one situation that is new to both Jones and her players: playing a season at a single site, nicknamed the "wubble," due to coronavirus concerns. Jones is choosing to see the positives in the unprecedented setup. "Players like to play; we don't like to practice," she said. "So all of a sudden, you're going to play three, four games a week—that's the fun part … And you don't have to travel. So … it's all how you look at it."
That positive mindset is only one reason why Jones was a standout player at every level, bringing an unmatched resume and a wealth of experience to the Mystics' staff. Her coaching career is just getting started, but by all accounts, it's been a perfect fit between Jones and the Mystics. To adapt a metaphor from Coates, as Jones navigates her third season on staff, she is loading up her coaching legs, preparing to explode off the ground and reach new heights.
---
Thanks for reading the Her Hoop Stats Newsletter. If you like our work, be sure to check out our stats site, our podcast, and our social media accounts on Twitter, Facebook, and Instagram.