What did WNBA players study in college?
Thanks for reading the Her Hoop Stats Newsletter. If you like our work, be sure to check out our stats site, our podcast, and our social media accounts on Twitter, Facebook, and Instagram. You can also buy Her Hoop Stats gear, such as laptop stickers, mugs, and shirts!
Haven't subscribed to the Her Hoop Stats Newsletter yet?
---
With the 2020 WNBA season in limbo, now is as great a time as ever for players to further their educations. Dallas' Megan Gustafson will be pursuing her MBA online at Iowa, and her Wings teammate Imani McGee-Stafford recently announced she would be stepping away from basketball for the next two seasons to pursue a law degree.
This sparked a number of questions: What are the most common majors for WNBA players? Which players might become broadcasters after their careers come to an end?
Of the 150 players listed on the WNBA's Players page, 133 had their major listed at a number of sources. Of the 17 players that are not included in the data, 10 played internationally and did not go to a U.S. college, and the remaining seven players did not have a major that could be located.
Incoming rookies were not included in this analysis. For players who entered the draft early and did not graduate, their intended major was used if available.
Players were grouped by category–social sciences, journalism/communications, business, law/politics/society, interdisciplinary, and physical sciences–and into standardized majors to account for the fact that schools have different names for the same major. For example, UConn offers "communication sciences" while most schools call that major "communications."
If a player had a double-major listed, that player was grouped with the major that was listed first. For example, Gustafson's major was listed as "finance/marketing," so she was grouped based on the finance major instead of marketing.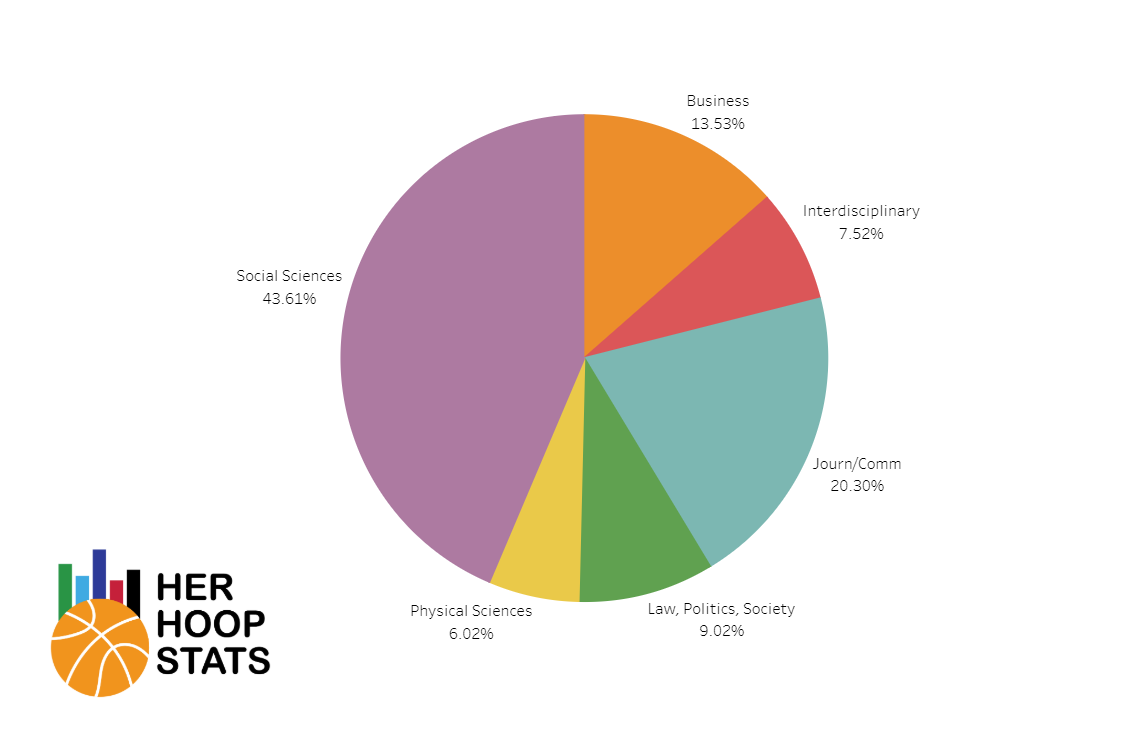 Here are the six categories of majors, ordered by their percentage of total players.
Social Sciences - 43.6%
Most common major: Sociology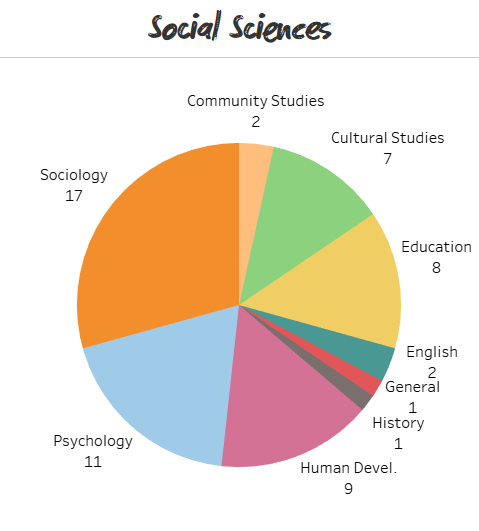 Social sciences was the largest category and contained several popular majors. Five of the eight most popular majors were in the social science category, led by sociology with 17 players (12.8%). A quartet of Minnesota Lynx players--Jessica Shepard, Karima Christmas-Kelly, Lexie Brown, and Rachel Banham--all studied sociology in college.
With 11 players (8.3%), psychology was the second-most common major in the social sciences category. Siblings Erica McCall and DeWanna Bonner both majored in psychology at Stanford and Auburn, respectively.
Human development (9 players, 6.8%), education (8 players, 6.0%), and cultural studies (7 players, 5.3%) rounded out the five heavy hitters in the social sciences category. UConn teammates Napheesa Collier and Katie Lou Samuelson both studied human development and family studies. Cultural Studies was one of the vaguer sub-categories, including many different majors like African-American studies and global studies.
Journalism/Communications - 20.3%
Most common major: Communications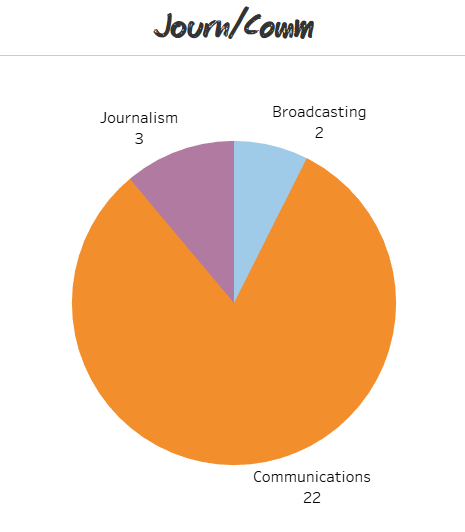 Unlike social sciences, this category was almost entirely made up of one major. Of the 28 players in this section, 22 (16.5% of all players) majored in communications, making it the largest major.
A handful of players pursued a broadcasting major, including Allisha Gray, who returned to South Carolina to finish her degree after her Rookie of the Year campaign in 2017. Gray had the opportunity to shadow the ESPN broadcast crew and analyst Debbie Antonelli at a Gamecocks game and has said she will begin her career as a broadcaster once her playing days are over.
Business - 13.5%
Most common major: Management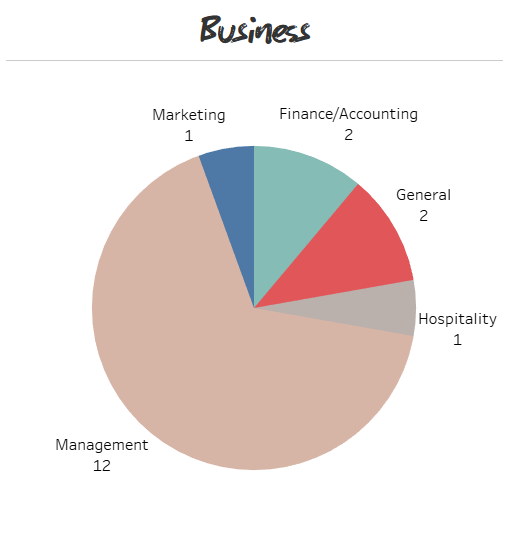 Players who studied business were the most difficult to break into majors because there is a lot of variation. Management, in particular, was combined with several other subjects. Retail, sports, consulting, and marketing all appeared with the marketing majors, and "administration" was grouped with management.
Despite ending up in law school McGee-Stafford actually majored in accounting while at Texas. McGee-Stafford was one of two players in the finance/accounting major, which tied with general business studies for the second-most common business major.
Law, Politics, and Society - 9.0%
Most common major: Criminal Justice
Of the 12 LPS majors, 10 (7.5% of all players) majored in criminal justice. One of those 10 players is Shavonte Zellous, who hopes to pursue a career in law enforcement after her playing career is over. The other two players–Betnijah Laney and Erica Wheeler–majored in labor studies.
Interdisciplinary - 7.5%
Most common major: General Studies and Sports, (tie)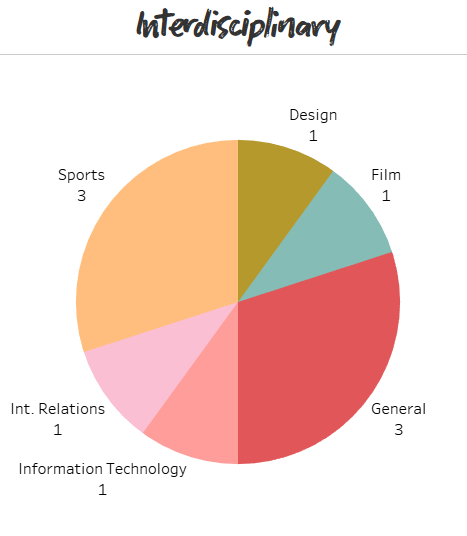 Interdisciplinary doesn't mean two majors, but rather the major spans more than one category. General studies is tied for the most common interdisciplinary major (3 players, 2.3%). Chiney Ogwumike studied international relations at Stanford and the Sparks forward is putting her experience to work as the Vice President of the WNBPA.
A trio of former Huskies all had individualized majors that allowed them to focus on subjects relevant to their interests, which (not surprisingly) centered around sports. Breanna Stewart's individualized major focused on sport in society, Kia Nurse majored in sports in media, and Moriah Jefferson majored in youth in sports.
Brianna Turner (graphic design) and Jewell Loyd (film, television, and theater) were classified as interdisciplinary because their majors toed the line between communications and cultural studies.
Physical Sciences - 6.0%
Most common major: Kinesiology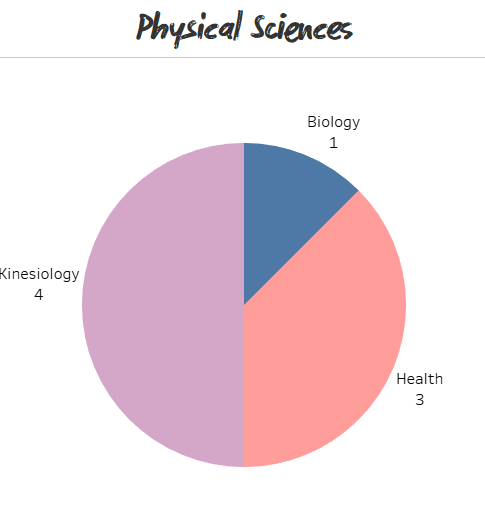 The physical sciences category is almost split in half between kinesiology and health majors, and there is a lot of overlap between the two. Atlanta's Alexis Jones majored in health, kinesiology, and leisure studies, which was classified as health because it was listed first.
The lone player in this category that wasn't a health or kinesiology major was Dallas' Karlie Samuelson who majored in human biology while at Stanford. Samuelson's older sister Bonnie also studied human biology while in Palo Alto and is now pursuing a degree in optometry.
Karlie instead turned her focus to coaching, graduating with a master's degree in coaching and athletic administration from Concordia University in Irvine in 2019.
---
For more information about all 133 players whose majors are known, head to this Tableau dashboard with interactive charts and tables.
If you like this content, please support our work at Her Hoop Stats by subscribing for just $20 a year. Majors were collected by the writer from WNBA bios, NCAA bios, and LinkedIn.