Where Are They Now? Kelley Hunt, UConn Basketball (1994-1998)
Kelley (Hunt) Gay reflects on the importance of knowing your role, being part of a team, and striving for the greater good
Thanks for reading the Her Hoop Stats Newsletter. If you like our work, be sure to check out our stats site, our podcast, and our social media accounts on Twitter, Facebook, and Instagram. You can also buy Her Hoop Stats gear, such as laptop stickers, mugs, and shirts!
Haven't subscribed to the Her Hoop Stats Newsletter yet?
---
When leading her team at OneAmerica, Kelley Gay thinks back to the mantra on the wall hung up in the UConn Huskies' locker room: "Play hard, play smart, have fun."
Today, she is a seasoned executive and the current vice president of enterprise marketing and communications at the financial services company. Twenty-six years ago, Gay (then Kelley Hunt) played a different role as a freshman on the UConn Huskies basketball team. 
Gay supported her team on the sidelines and did what she needed to do to make her teammates better as the Huskies went 35-0 en route to an NCAA National Championship in 1995 – the first in a long line of titles for the program.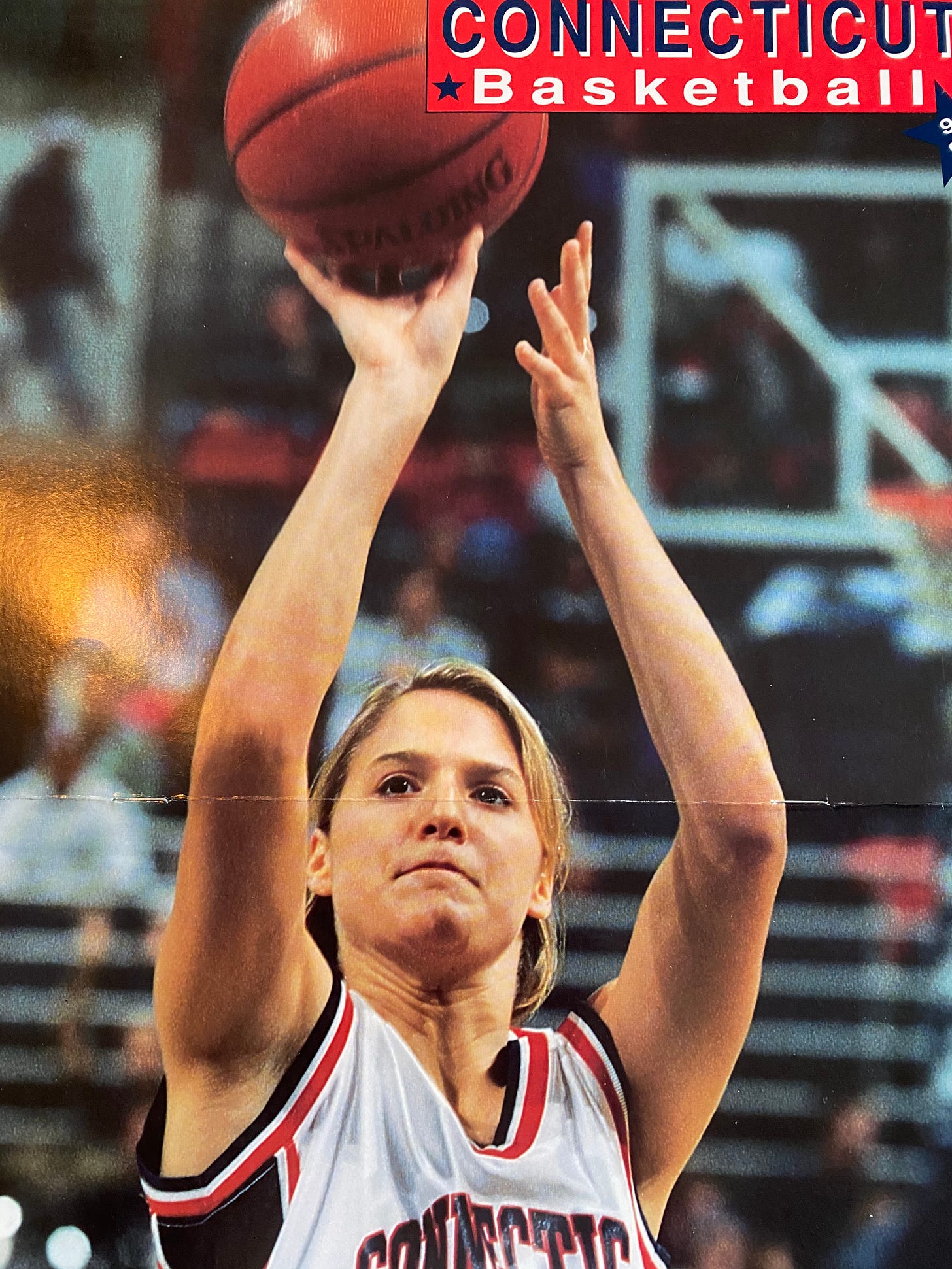 Photo courtesy of Kelley Gay
After playing in a supporting role throughout her four years with the program, Gay envisioned playing professionally after graduating in 1998. She even had a contract to play in Belgium. Instead, Gay became a communication specialist at Phoenix Life Insurance Company after her contract fell through. Making the transition from full-time student athlete to full-time employee at a corporation was difficult, but not one Gay regrets as she reflects back on her career. 
"Did I ever think I would be in financial services and insurance? Absolutely not. Do I love it? Yes, yes, yes," Gay said. "Marketing and communications is the path I was naturally inclined to go down, but it's really about the people. It's about being on a team. It's about building teams. It's about working with amazing people to bring ideas to life."
The lessons Gay learned in Storrs were invaluable to her professional growth as a corporate leader, giving her a playbook for success. 
"Athletics, regardless of what sport it is, gives you an ability to go from the playbook and add to it," she said. "Some days you're going to start and some days you're going to hand out water bottles. Today I sat on the bench at my job, but other days I have the ball [in] the final three seconds of the game and I'm shooting it and we're winning."
Big dreams
Kelley Gay grew up in a sports family. She developed a fiery competitive spirit playing sports alongside her twin sister and her father who once played in the NFL. She wasn't an immediate star when she picked up basketball, but she remembers when her motor switched from competing for fun to competing to win in grade school. 
In 1992, Gay sat behind the bench at a Stanford vs. UConn game. She was starstruck. Surrounded by thousands of fans and watching a nationally televised women's basketball game, she knew she wanted to be part of the action. 
"In my head I was like, 'Okay, who am I competing against in my head? Who am I competing against on the floor? And how much harder can I work today to be prepared for that moment?'" she said. 
That moment came quickly for Gay. Two years later, she was highly recruited after an award-winning, standout senior year, and eventually committed to join Geno Auriemma's UConn Huskies. Recruited alongside her was her high school rival Nykesha Sales, the reigning USA Today National Player of the Year in basketball. 
"I remember thinking, 'This is going to be the Kelly and Kesha Show ... We've traded jerseys and now we are going to be wearing the same jersey on the floor,'" she said. "We're going to be the freshmen who are going to take the university by storm."
On game days, the two wore the same color jerseys, but in practice, Sales wore a blue jersey with the starters and Gay wore a white one indicating her role as a bench player.
"When I got handed the white jersey, it was the first time where I realized this is about how I react to the environment," Gay said. "It's not necessarily always what I might want, or hope, or vision, or dream, but it is how I respond and react and how I show up. That will make the difference. So it was definitely a humbling experience."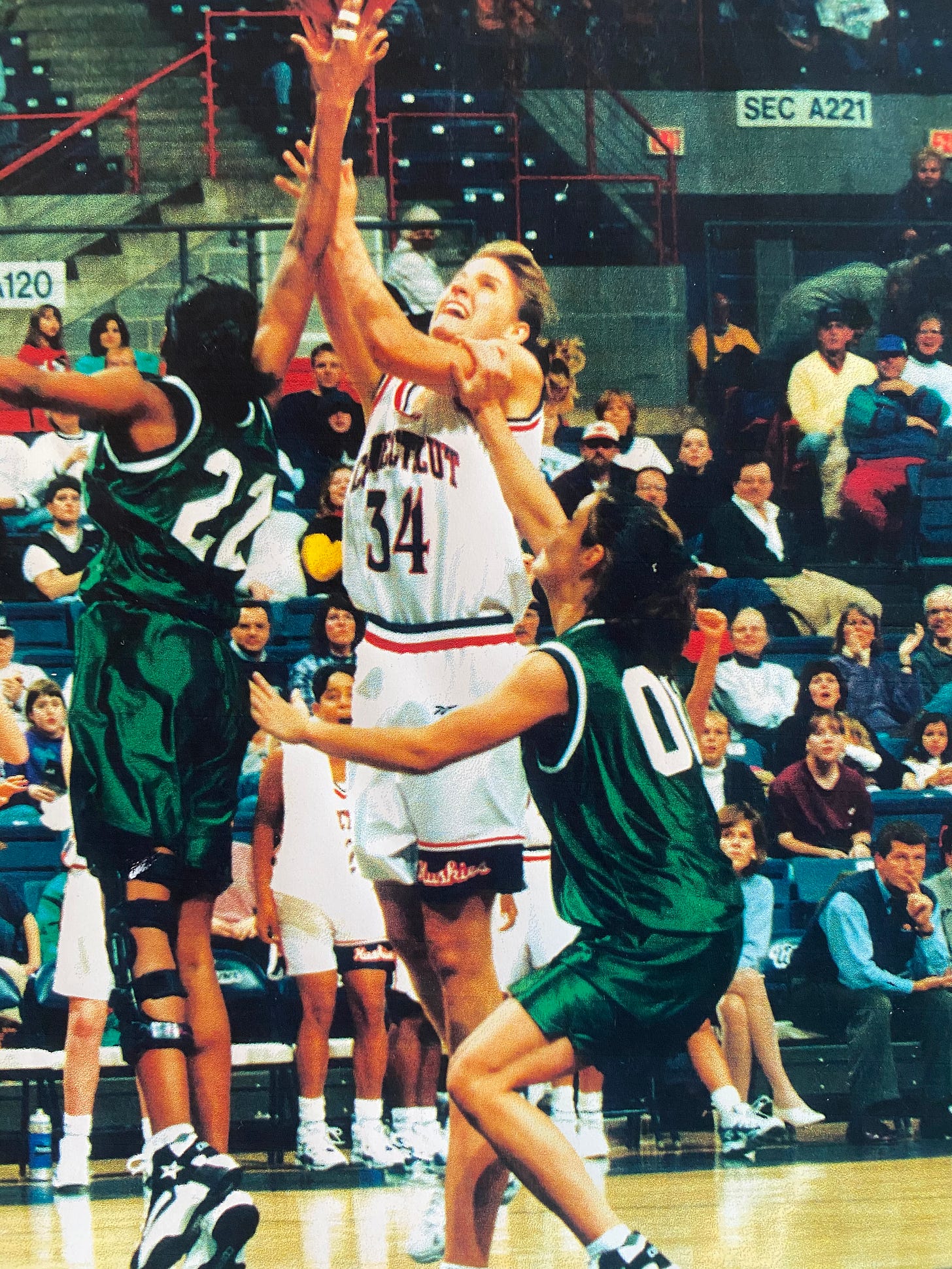 Photo courtesy of Kelley Gay
The CEO at OneAmerica told Gay many years ago that she needed to get over herself, which she now believes is one of the best pieces of advice she's ever received and sums up her experience at OneAmerica. 
Gay said she's continued to have those humbling moments in her life over and over again. 
Finding Her Role
A scorer in high school, Gay quickly realized that the UConn coaches didn't recruit her to shoot, and she had to put in the work to contribute in other areas. She admits she was a little startled at the beginning of her college career, but was eventually fine cutting her teeth in a white jersey.
During practices she found herself in a familiar position – guarding Nykesha Sales – but she also had to guard veteran standouts like Rebecca Lobo, Jamelle Elliot, and Kara Wolters. 
"My job was to play some crazy, crazy defense and make people better," she said. "Rebound, run the floor – I had to just do the often unnoticed dirty work that contributes to the overall success of the team."
The work the team put in paid off. The Huskies finished the regular season undefeated for the first time in program history, claimed a Big East championship, and defeated Pat Summitt's Tennessee Lady Vols in the NCAA championship. 
"Geno and the coaching staff did a remarkable job, as I look back on it, reminding us to never, ever, ever think ahead beyond what you can do right now to be better," she said. "It was about staying focused on the here and now. How are you showing up on the court being the best teammate you can be? How are you showing up in the weight room, lifting weights to have enough endurance for those games in March? What are you doing right now to make this team better?"
Gay saw her playing time increase in her sophomore year, and by her junior season, she felt she was ready to be a starter. But the blue jersey didn't come.
"I couldn't get over myself," Gay said. "So I needed to do that for myself and recognize that I play a role, and it may not always be the one that I want to play."
In 2017, the Indianapolis Business Journal recognized Gay as a Woman of Influence. As the vice president of corporate marketing at the time, she led seven business units at OneAmerica and saw great results. But like everything else, Gay attributes that success to the hard work and collective effort of the people she works alongside.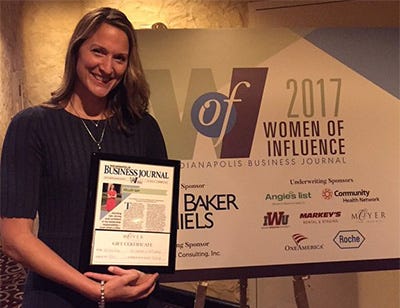 Kelley Gay after being named a Woman of Influence by Indianapolis Business Journal in 2017. (Photo credit:

OneAmerica

)
Throughout her nine years at OneAmerica, her team has grown drastically. The leadership at OneAmerica had the confidence in Gay to give her a bigger and broader team with more impact and responsibility in the company. 
"The goal is to make sure that everyone has a place, understands their role and how it contributes to the big picture, and [learns] how to work as a team to build something better and greater than they could do on their own," she said.
The greater impact has paid off in Gay's ability to support the growth of the organization and give them what they needed, often before they even realized what that was, according to Lou Ann Baker, public relations director at OneAmerica. 
"When you're a leader of any organization, you have to be leading the one of today while building the organization of tomorrow, and people are at the heart of that," Gay said. "You want to be sure people have their voice."
Finding confidence within
A case of mononucleosis the summer before Gay's junior year prevented her from physically preparing for the season. She turned her focus to mental toughness and building confidence in her own abilities. 
Although she didn't have the role she once envisioned for herself, she knew she had to evolve into a leader. She had to behave and act like the players who came before her. She had to demonstrate confidence.
Coach Auriemma, trying to get the best out of Gay, did what he could to get under her skin, saying his grandmother or three young children could play basketball better than she could.
"That was just the tip of the iceberg of the things you would be reminded of, and that you have so much more to go in order to be great," she said. "I tried to understand that commentary for what it was meant to do, which was to get more out of me, but not let it sink into me like I wasn't good enough."
By the time her her senior year rolled around, Gay was more confident in her abilities, and she had a role to bring the energy and play tough defense. She didn't try to do more than she was able or asked to do, and she became a player whom Auriemma trusted more than he had in the past. This was largely because Gay trusted and believed in herself; she saw her playing time jump from 164 total minutes as a junior to 519 total minutes as a senior, and she improved in every major statistical category.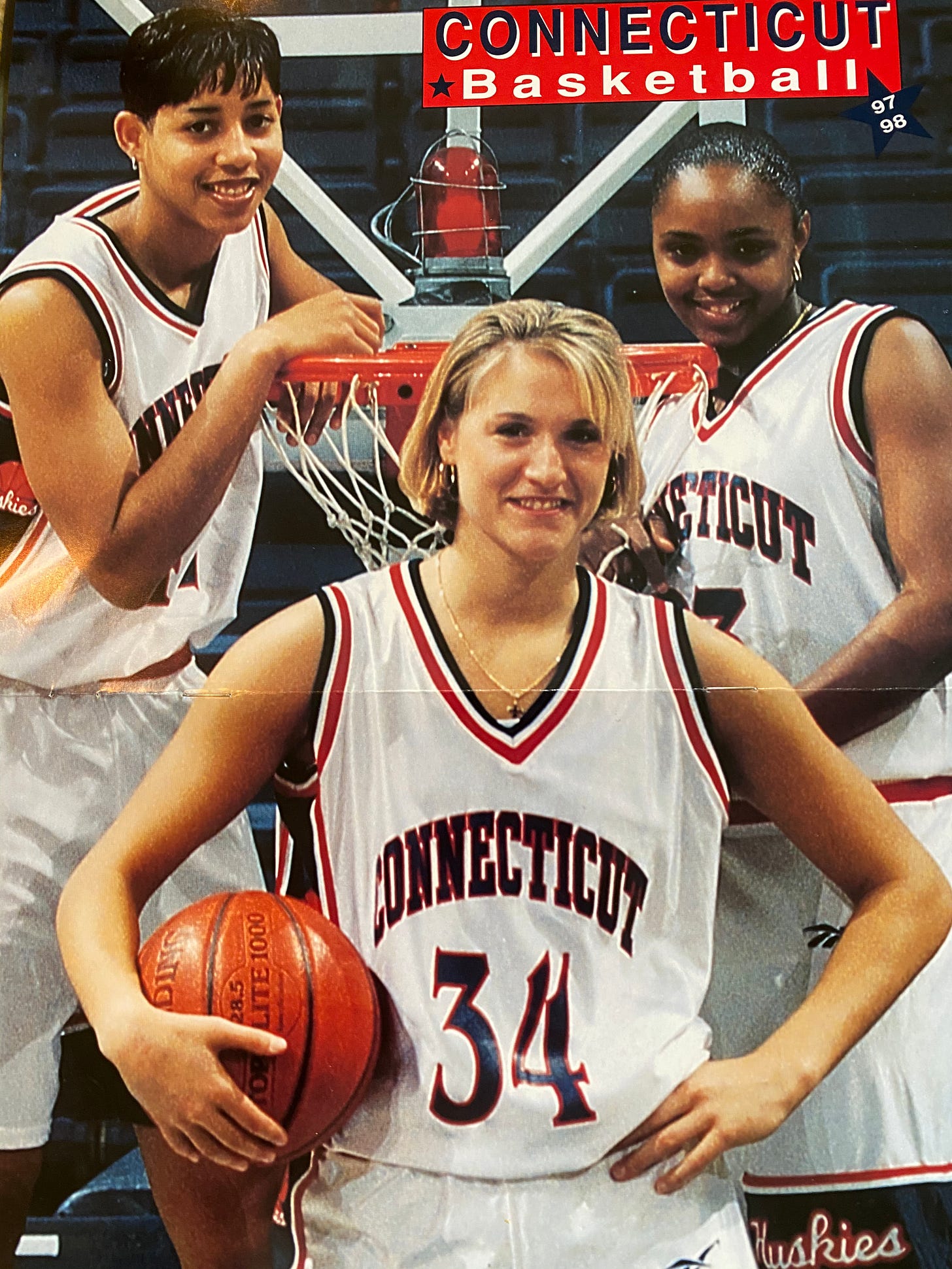 Kelley (center) poses with Nykesha Sales (left) and Rita Williams (right) during their senior year. Photo courtesy of Kelley Gay.
"[Auriemma] tested me a bunch of times, and how I responded was, 'I'll show you,'" she said. "'That's fine, you keep talking; I'll show you.' And that's the difference between what happened during my junior year and my senior year."
Hope for the game
After her playing career, Gay coached girls' basketball in her free time for twenty years before stepping down to watch her children play as they got older. She often thinks back to her time in Storrs and her struggle with self-confidence; she understands that many women struggle with it and wants young girls to know they don't have to wait for someone to tell them they're good enough. 
"They work hard and they work smart and they learn to believe they are good on their own versus having someone else tell them," Gay said.  "I know I struggled with it through the years as a professional, and people on my team [at OneAmerica] struggle with it ... I know that young women that are up and coming in high school and even younger struggle with, 'Am I good enough?' so that's been a real focus of mine."
Gay misses coaching, but as her children grow older, she doesn't want to miss a second, especially as they continue to grow in their basketball careers. 
Last year, she took her teenage daughter to a Notre Dame vs. UConn women's basketball game. In a packed arena, they sat behind the bench and she watched her daughter take in the scene. Her daughter was the same age Gay was all those years ago when she watched UConn play Stanford. 
"I'm sitting there with my daughter who's looking at my old coach, and she has the biggest eyes I've ever seen watching the game," Gay said. "That was a huge turning point for her. And she knew she had to put in the work."
Her daughter has her sights set on UConn, but Gay doesn't want to force her children's hand in anything.
"I want my kids to make their own choices, because playing basketball in college is commitment," she said. "You give up a lot, you sacrifice a lot, but gosh darn it, you gain more than what you can ever repay."
Gay's hope for women's basketball is for more parity. She wants to see players aspire to go to schools that aren't well-known powerhouses like her alma mater. She also hopes to see the public show more respect for women's sports, which starts with pay equity and continues with more diversity, inclusion, and acceptance for the women who play the game. 
"It's important for me, and for my daughter, and for all the girls I've coached who are her peers," she said. "It's about respect and how that shows up. It's in their voices being heard."
But diversity and inclusion shouldn't stop there, and having a team with a diverse range of experiences will put everyone in a better position to succeed — whether that be in sports or in business.
"Having people that are of different backgrounds in your work and professional worlds makes the outcomes we're looking to achieve that much more attainable and that much better," she said. "We all bring something magical to the equation, and we all need to be heard and respected for who we are and what we bring to the table."
---
Thanks for reading the Her Hoop Stats Newsletter. If you like our work, be sure to check out our stats site, our podcast, and our social media accounts on Twitter, Facebook, and Instagram.