Which Players' Roles Have Changed the Most This Season?
Thanks for reading the Her Hoop Stats Newsletter. If you like our work, be sure to check out our stats site, our podcast, and our social media accounts on Twitter, Facebook, and Instagram.
Haven't subscribed to the Her Hoop Stats Newsletter yet?
---
By Jenn Hatfield
One of the most exciting aspects of a new basketball season is anticipating which players might take on a bigger role. This may happen because a player is replacing a player from the season before or simply because she has improved enough to merit a bigger role.
On the flip side, players sometimes have to accept a smaller role. This does not always mean that the player experiences a huge decrease in minutes. For example, it could be that there is more depth on the team (from transfers, player development, and/or a strong recruiting class) and the offense is more balanced.
This edition of the Her Hoop Stats newsletter looks at which players' roles have changed the most from a season ago, as measured by usage rate. Usage rate represents the share of a team's plays when a given player is on the court that end with her taking a shot, shooting free throws, or turning the ball over. Effectively, usage rate measures how much of the offense relies on a given player. 
We can also look at points per scoring attempt, or PPSA, which measures how efficiently a player scores. Typically, when a player is asked to take more shots, her efficiency goes down because she has to be less selective about her shots and therefore takes some more difficult ones.
To help you understand whether a given usage rate or efficiency is relatively high or low, here are the distributions of usage rate and PPSA among Division I players this season for games through January 3: 

Players Whose Roles Have Increased
This analysis was limited to players who played in at least six games and averaged at least 10 minutes per game in both seasons. Those limits help ensure that their statistics are based on a decently large number of possessions. Of that group, 14 players' usage rates have increased by at least 10 percentage points this season: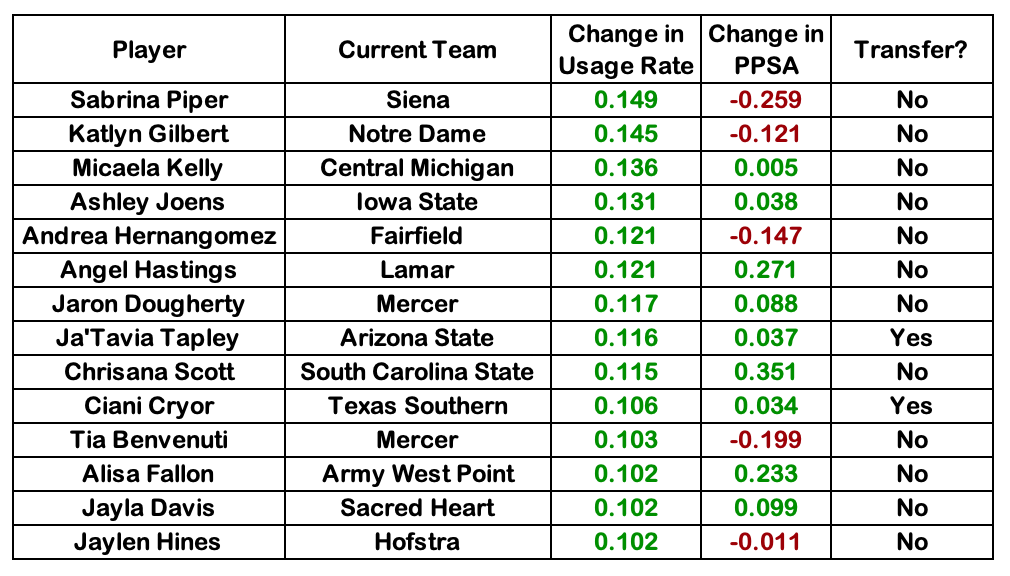 Of the players on this list, Siena senior Sabrina Piper has both the largest increase in usage rate (0.149, or 14.9 percentage points) and the highest usage rate this season (35.5%). That usage rate ranks among the top 10% of players nationally, but despite her efforts, Siena has struggled this season, starting 2-9 and 0-2 in the MAAC. Piper's shooting is also not very efficient; her PPSA has dropped from 1.01 last season to 0.75 this season as she has been asked to do more for her team. Katlyn Gilbert's season also tells a similar story, as she is carrying a bigger load but shooting less efficiently for a Notre Dame team that lost its entire starting lineup to the WNBA after last season.
Meanwhile, South Carolina State's Chrisana Scott and Lamar's Angel Hastings are the two players whose increased usage has come with the greatest increases in efficiency. Both players averaged 10 to 12 minutes per game last season and are playing about twice as many minutes this season, suggesting that they improved in the offseason and earned more minutes.
There are also players like Arizona State's Ja'Tavia Tapley (formerly at USC) and Texas Southern's Ciani Cryor (Rutgers) who gained larger roles after transferring to a new school. Both players have managed to maintain their above-average efficiency despite the increase in usage, with Tapley registering 1.05 PPSA and Cryor registering 0.99 PPSA this season.
Few players from power conference teams—which I defined as ACC, Big East, Big Ten, Big 12, Pac-12, SEC, and UConn—showed up on this list, so here are the power conference players who have increased their usage rate by at least eight points this season:
Kentucky's Rhyne Howard is the player on the list who had the highest usage rate last season (26.7%). Somehow, last season's SEC Freshman of the Year has taken her game up a notch, increasing her usage to 35.5% while barely reducing her efficiency. Through her first 14 games, she averaged a ridiculous 22.6 points, and she scored at least 26 against four of the five power-conference opponents in that stretch. (Note: Before this newsletter went out but after the analysis was complete, Howard scored 43 points against Alabama. Including that game in the analysis would make her statistics look even better.)
TCU's Lauren Heard is another player who evidently got in the gym last summer. Her minutes are virtually unchanged from a season ago (about 28 per game), but she has increased her usage rate to 29.8% and her PPSA to a very solid 1.06.
The most efficient player on this list, by far, is Marquette's Selena Lott, who is averaging an absurd 1.36 PPSA. But she is only using 19.5% of possessions while on the court, which is about average nationally and easily the lowest of the players on this list. Perhaps the Marquette coaching staff should call a few more sets for Lott in Big East play.
A few other players from top-25 programs just missed the cut, including Missouri State's Elle Ruffridge (who increased her usage rate by 0.074), UConn's Olivia Nelson-Ododa (0.074) and Megan Walker (0.072), Tennessee's Rae Burrell (0.062), Florida State's Kourtney Weber (0.054), and UCLA's Lindsey Corsaro (0.053).
Players Whose Roles Have Decreased
This analysis used the same games and minutes minimums as the previous analysis. Eight players have seen their usage decrease by at least nine percentage points this season:

The player in this group whose usage rate this season remains the highest is Aliyah Jeune, who transferred from Morehead State to USC. Last year, she had a usage rate north of 32%, while this year it is 23% at a power conference school. Ohio State's Braxtin Miller, a transfer from Oklahoma State, has seen a similar decline in her role after she transferred, but her Buckeyes team beat then-No. 2 Louisville in early December and could be headed for big things in Big Ten play.
It is also noteworthy that two of the three players with the largest decreases in usage this season have increased their efficiency. Of that trio, College of Charleston's Arynn Eady has the highest PPSA this season, 1.06, but her usage rate of 13.6% is below average. And Saint Peter's Briyanah Richardson has gone from a below-average 0.82 PPSA last season to an above-average 1.01 this season as her usage dropped from the 98th percentile to about average.
Looking only at the power conferences, here are the players whose usage rate has decreased the most this season:

The name that jumps off the page is Destiny Slocum, the point guard for Oregon State. She is a clear example of a player whose team added talent around her, as freshman post players Taylor Jones and Kennedy Brown are averaging a combined 22.2 points and 14.8 rebounds per game. Slocum is taking about 1.5 fewer shots per game and has increased her efficiency to an excellent 1.22. As a result, she is still averaging nearly 15 points per game for a team that didn't lose its first game until January 12.
Some well-known players who just missed the cut for these lists are Oregon's Minyon Moore and Baylor's Te'a Cooper, both of whom are transfers on top-ten teams; Oregon State's Aleah Goodman, who like Slocum has increased her efficiency with the additions of Jones and Brown; and mid-major stars Nancy Mulkey (Rice) and Bella Alarie (Princeton).
Newcomers to Watch
The lists above necessarily leave off freshmen and junior-college transfers, but several newcomers are making a big impact this season. Eleven have usage rates north of 30%, which puts them in the top 10 percent of players nationally. The shading on the chart below indicates what percentile the stat is in nationally: white represents the 50th to 67th percentiles, darker green indicates progressively better, and darker orange indicates progressively worse.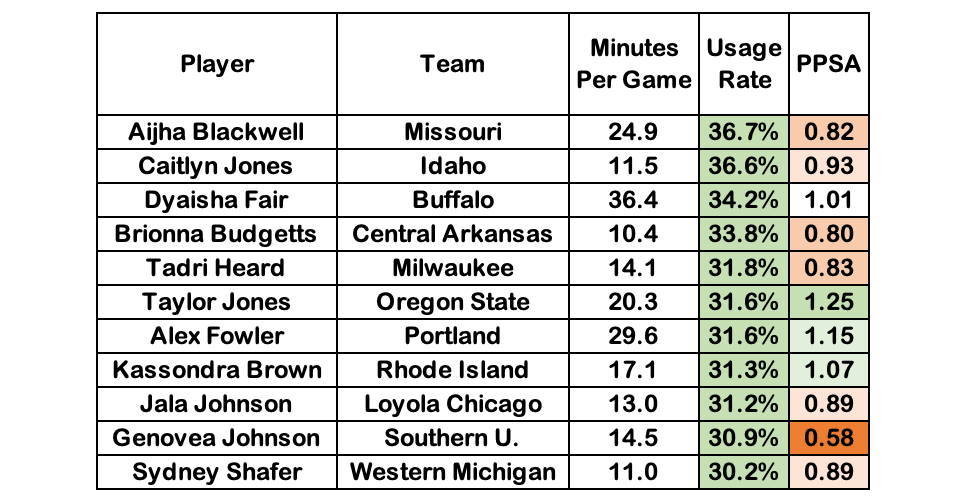 As might be expected, the newcomers who play the largest roles for their teams are generally not very efficient. Just four of the eleven on this list have above-average usage rates: Oregon State's Jones, Portland's Alex Fowler, Rhode Island's Kassondra Brown, and Buffalo's Dyaisha Fair. Looking only at power-conference newcomers, it's more of a mixed bag: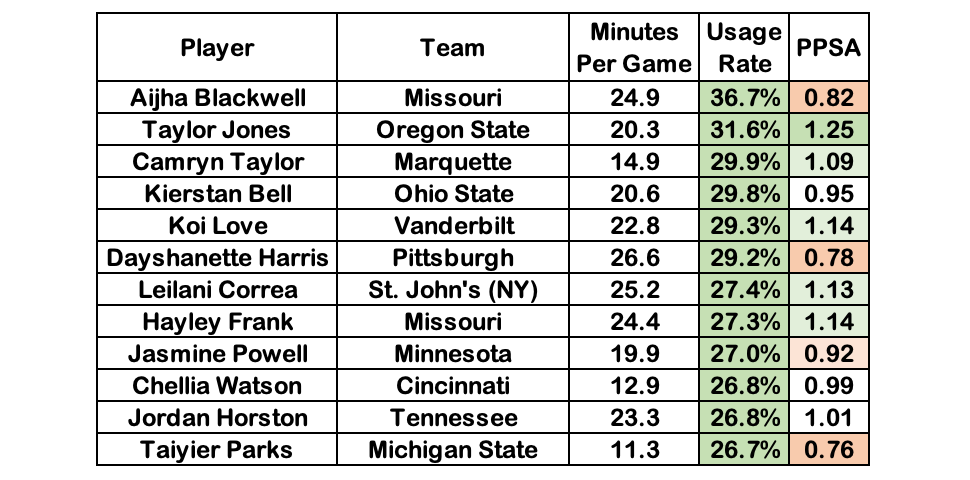 This list includes two players who espnW ranked as top-10 prospects, No. 2 Jordan Horston (Tennessee) and No. 8 Kierstan Bell (Ohio State). Remarkably, it also includes two freshmen on the same team, Missouri's Aijha Blackwell and Hayley Frank. Blackwell and Frank are the second- and third-leading scorers, respectively, for a Tigers team that lost four of its top five scorers after 2018-19, including current Phoenix Mercury guard Sophie Cunningham.
---
As teams begin conference play, players' roles will continue to evolve. Some coaches might trim their rotations, sending some players to the bench. Other players might take their games up a level from non-conference play. You can check players' and teams' stats any time on Her Hoop Stats—in particular, you might want to keep an eye on our usage rate and PPSA leaderboards.
---
This article was inspired by similar work by Hoop Vision's Jordan Sperber. If you enjoyed it, don't miss Jordan's analysis of the biggest changes in players' usage rate in men's college basketball.
All statistics are courtesy of Her Hoop Stats. 2019-20 statistics represent games through January 1, 2020, unless otherwise noted. If you like this content, please support our work by subscribing for just $20 a year.
Haven't subscribed to the Her Hoop Stats Newsletter yet?
If you liked this post from The Her Hoop Stats Newsletter, why not share it?