Discover more from The Her Hoop Stats Newsletter
Unlocking better insight about women's basketball
Over 3,000 subscribers
WNBA CBA and Salary Cap Explained: Protections, Proration & Payment
What is base salary protection? How are salaries prorated? When do players get paid?
Thanks for reading the Her Hoop Stats Newsletter. If you like our work, be sure to check out our stats site, our podcast, and our social media accounts on Twitter, Facebook, and Instagram. You can also buy Her Hoop Stats gear, such as laptop stickers, mugs, and shirts!
Haven't subscribed to the Her Hoop Stats Newsletter yet?
---
Welcome back to our WNBA CBA and Salary Cap Explained series. As part of our mission to unlock better insight about the women's game, we're breaking down the rules outlined in the 350-page WNBA Collective Bargaining Agreement (CBA), covering the 2020 through 2027 seasons, in plain language. Each article will focus on a bite-size chunk of the CBA to make the concepts more digestible. We are also compiling all of this information on the Her Hoop Stats website in a single FAQ document.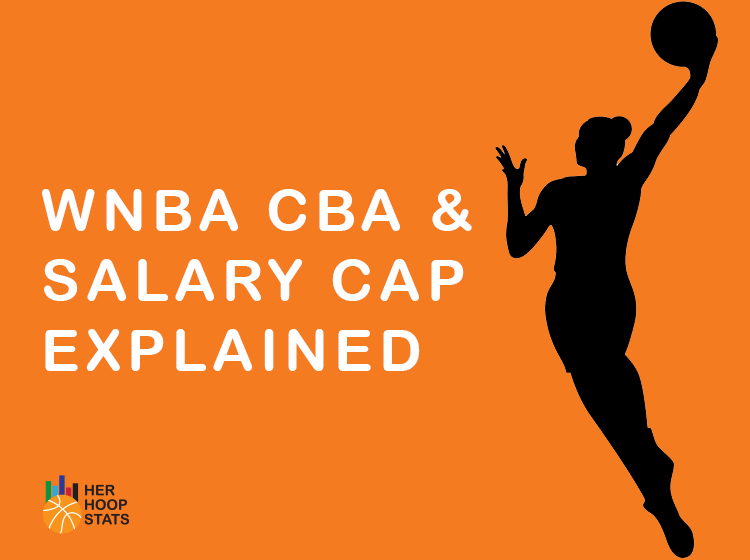 ---
Missed our previous installments? Here are all the topics we have covered so far…
---
This is the second article looking at base salary. In part one, we looked at maximum and minimum base salaries. In this installment, we will look at base salary protections, prorated salaries, and payment schedules.
Base Salary Protection
What is base salary protection?
Base salary protection is an agreement between a player and their team that allows a player to still receive their base salary in the event of lack of skill, injury, or illness. While protection is the term used in the CBA, it is commonly referred to as guaranteeing a salary. All or part of a player's salary can be protected, and payment is conditioned on not engaging in prohibited activities that will be outlined below. Contracts can include any combination of the types of protection permitted by the CBA, which are detailed below.
Teams can choose to protect certain years and not others, like for Seattle's Morgan Tuck, who has a fully protected salary in 2020 but no protection in 2021. While partial salary protection is allowed for a season, it is very rare. Teams are limited to giving a maximum of six players some form of salary protection, so to burn one of those six protections on 50% of a player's salary is not always the most efficient decision. 
Three of the 12 WNBA teams have reached their maximum number of protected players, and an additional six teams have used five of their six protected contracts. On the other hand, the New York Liberty have just two players on their roster with salary protection: Layshia Clarendon and Amanda Zahui B.
It should be noted that protected salaries only come into play when a player's contract is terminated due to lack of skill, injury, or illness. If a team instead wants to keep the player, the team can suspend the player without pay if the injury occurs before the season begins or keep the player on the active roster and continue to pay them. In 2015, Connecticut kept Chiney Ogwumike on its active roster all season after microfracture surgery on her knee, which allowed her to still earn her base salary.
What type of protections do salaries have?
There are four types of protections specified in the CBA: 
Lack of skill

Basketball-related injury 

In-season injury or illness

Injury or illness.
A player and their team can choose any combination of those protections, but all four are included for most protected salaries. If the team seeks to take out insurance for the player — which would allow the team to recoup some costs in the event they need to pay a player who isn't even playing — the player needs to cooperate by filing the required forms and receiving any physical exams that are needed. Teams are not allowed to insure against a lack of skill.
Lack of skill protection
Lack of skill pertains to players who do not perform well enough to remain on the team. If a player with an unprotected base salary were cut, they would not earn any money for the remainder of the regular season, but a player with a protected contract would still receive either all or part of their remaining salary. As long as a player's level of play is not faltering due to certain off-the-court activities, including the use of prohibited substances or committing a felony, the player is owed the protected portion of their salary if they are cut because of their performance.
Protection against injuries or illnesses
Players may also have their salaries protected for injuries or illnesses that occur on or off the court. Teams can choose to include injury protection in someone's contract, but exclude certain reinjuries or limit the amount a player can get paid if they are reinjured. This means a team who is negotiating with someone with a history of ACL tears could make a deal with the player to not pay them their protected salary (or a fraction of it) if the player once again injures their ACL.
There are also additional requirements for non-basketball related injuries, mostly limiting which activities are deemed too dangerous for players to take part in without written consent from the team. For example, players generally do not get paid if they are injured from risky activities such as sky-diving or bungee-jumping, even if their contracts are protected from injury or illness. Activities like soccer or baseball are also deemed to be an excessive risk—yet softball is explicitly listed as an acceptable activity.
For off-season injury or illnesses, any injuries that occur as a result of off-season playing obligations do not count as protected injuries. This includes injuries that occur while playing for national teams and international professional teams.
Would a player's salary be protected if they were injured in a protest?
One other prohibited activity listed in the CBA is participation in "riots" or "insurrections." No players were injured in the recent demonstrations across the country (and the globe). The league would have been forced to make a decision about whether those demonstrations qualify as "riots" or "insurrections" if a player had sustained injuries similar to those that peaceful protesters have experienced over the past few months. However, it seems unlikely the league would determine peaceful protest and civil disobedience to be an "insurrection."
What contracts cannot be protected?
Below is a list of all types of contracts that cannot be protected:
Qualifying offers (excluding core qualifying offers)

Rookie-scale contracts

Rest-of-season contracts

Replacement contracts

Training camp contracts
What contracts can be protected?
All other types of contracts may have base salary protection, but it must be negotiated.
The only contracts that must have base salary protection are fourth-year option seasons on rookie contracts and signed core qualifying offers. A player who has been cored could then negotiate a contract with their team that is not protected, but the one-year qualifying offer must contain salary protection if it is accepted. While all other types of qualifying offers can't have base salary protection, players who have received qualifying offers can still negotiate for a contract that includes protections.
Prorating Salaries
How are salaries prorated?
Players typically sign contracts in terms of an annual salary, which is the base salary of a contract that lasts the entirety of the regular season. Annual salaries are prorated if players join a team midseason or leave a team midseason. In either case, players will earn a fraction of the annual salary to account for the part of the season before or after their contract is in place.
The CBA specifies that the proration is based on the number of days of the regular season, not the number of games, that the player was under contract. For example, if a player is under contract for 30 of the 107 days in a hypothetical regular season, they are entitled to 28% of their base salary. That is true regardless of whether the team played 26% of its games (9 out of 34), 29% of its games (10 out of 34), or some other number. If the player has a fully protected salary, this is not an issue because they will earn the same amount regardless of when in the season they are released.
Why aren't contracts being prorated for a shorter 2020 season?
Essentially, the CBA says that salaries can only be prorated to adjust for players and teams who play less than a full regular season. The CBA also states that the league has the ability to increase or decrease the number of games in a full regular season. So, by making the season only 22 games long, the league has deemed 22 games to be the full regular season length for 2020.
Had the WNBA included a force majeure clause allowing the league to override the CBA in extreme circumstances, there would have been a pathway for the league to prorate salaries. Without that clause, the players are entitled to their full salary for the regular season and under no obligation to accept less.
When do players get paid?
During a normal season, players are paid one-eighth of their base salary twice per month. The CBA specifies that the payments begin on or around June 1 and continue until approximately September 15. Despite the delay of the 2020 WNBA season until late July, players still received their first paycheck on June 1.
In years with an Olympic hiatus, the expanded schedule for games translates to an expanded schedule for payments. Players receive one-ninth of their base salary twice per month because of the extended regular season. The payments begin on or around June 1 and continue until approximately September 30.
---
This series is about learning, so we want to hear from you! If you would like a clarification for any rule, suggestions for future CBA Explained topics, or any other questions, please feel free to let us know in the comments or tweet at us @herhoopstats.
---
Thanks for reading the Her Hoop Stats Newsletter. If you like our work, be sure to check out our stats site, our podcast, and our social media accounts on Twitter, Facebook, and Instagram.