WNBA Fantasy Basketball Primer
Basic tips and value picks as the preseason comes to an end
Thanks for reading the Her Hoop Stats Newsletter. If you like our work, be sure to check out our stats site, our podcast, and our social media accounts on Twitter, YouTube, Facebook, and Instagram. You can also buy Her Hoop Stats gear, such as laptop stickers, mugs, and shirts!
Haven't subscribed to the Her Hoop Stats Newsletter yet?
---
ESPN rankings are valid as of 5/2/2022 and are based on total points projection for the season
The Basics
While WNBA fantasy leagues have existed for many years, 2022 marks the first season in which ESPN will offer a women's basketball product. Fantasy basketball is a great way for casual and dedicated fans alike to learn more about their favorite players by tracking their statistical output on a game-by-game basis. More importantly, it allows you to compete against your friends every week with the ultimate goal of winning a fantasy championship. A new feature was just released on the Her Hoop Stats website this morning that tracks fantasy stats from ESPN, FanDuel, and DraftKings that will help get you one step closer to a title. 
🚨NEW FEATURE ALERT🚨 We've added Fantasy and Daily Fantasy stats to
herhoopstats.com
- ESPN, FanDuel, & DraftKings - Includes ranks and %iles - On player pages & team roster tables - Our reSEARCH tools now support searching for fantasy stats! Here's
@_ajawilson22
: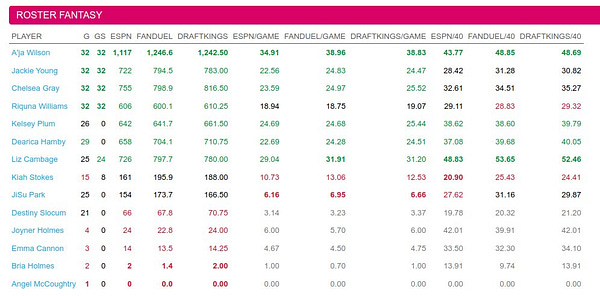 Being part of a fantasy league is equivalent to being the general manager of a team. You draft a lineup of players who score points throughout the season while actively trying to improve your roster through free agency and trading. 
A standard league has 10 players per team: two guards, three forwards/centers, one utility spot (any position), three bench players, and an injured reserve spot for players sidelined for a substantial period of time. With fewer than 144 players in the W, most fantasy teams will be comprised of real-life starters and bench players, so it is important to have superstars but also depth like any good basketball team. 
So you should just draft all of the "best" players, right? Not so fast. The standard scoring system rewards one point per point, assist, or rebound, two points for a steal or block, and an additional point for a made three-pointer. This means that high-volume players are more valuable than more efficient, lower-volume shooters. More in-game minutes give you more chances to accumulate stats and thus a larger fantasy point output. 
Last season, Tina Charles had the highest fantasy point per game average at 40.4 but finished fourth in total points behind Breanna Stewart, Brittney Griner, and A'ja Wilson as a result of  missing a handful of games. When it comes to fantasy, availability is a major factor. So, as you prepare for your draft, keep in mind players that are coming off injuries and may need some extra rest. 
Correctly predicting how every player will do throughout an entire season is impossible, but ESPN and other sites have to make an estimate in order to rank each player's potential. This is where opinionated WNBA fans like me get to disagree and hopefully find value when drafting our fantasy teams. There are a select few athletes who I think are too high and too low in the current ESPN rankings, and I'll break down why to help you draft a winning team. 
Potential Busts
It is rare to see a WNBA veteran make as dramatic of a playing style change as Tina Charles made last season. The eight-time All-Star updated her tool bag to become a consistent three-point threat for the first time in her career while still displaying a dominant interior game. Charles led the league in scoring (23.4 ppg) and carried a depleted Washington Mystics team to within a tiebreak of a playoff spot. Being an MVP candidate nine years after winning the award is a feat few players have accomplished. 
That being said, Charles is in an incompatible situation this year. Signing with Phoenix in the offseason means playing alongside Skylar Diggins-Smith and Diana Taurasi, which will provide very different opportunities for Charles. Also, another year of wear and tear on her body will certainly limit her minutes below the 33.3 per game average from last year. Her rebounding proficiency should still warrant a first round selection in most leagues; however, Charles being the number one ranked player by ESPN is a stretch given her new location. Taking Stewart or Wilson would be a safer bet if you have the top selection in your draft. 
Someone has to score points for the Atlanta Dream; ESPN and I just disagree on who that might be. Another player with a change of scenery, Erica Wheeler came to Atlanta as part of the Chennedy Carter trade. Wheeler spent one season in Los Angeles, her first as a starter, and put up average shooting and advanced offensive metrics across the board. She did rack up almost five assists per game which ranked ninth in the entire league. Her new opportunity in Atlanta is intriguing for fantasy purposes because it is the count statistics that matter more than efficiency, which is why ESPN has her ranked as the 16th best player available.
I anticipate Wheeler starting out the year with that level of value, but as Rhyne Howard and Aari McDonald continue to develop, her scoring opportunities will dwindle as the season progresses. Getting Wheeler as your second-best player is not a great long-term strategy (unless you plan on trading her away after a few good games), but she is well worth a mid-round selection, especially if Howard struggles out of the gate. 
Allisha Gray is the epitome of a very valuable, not great fantasy player. Her defensive contributions do not always show up on the box score, and with Satou Sabally and Marina Mabrey poised to continue their offensive improvement, Gray may see fewer shots in 2022. 
Ranked 35th by ESPN, the fifth-year guard is closer to 50th in my mind factoring in Arike Ogunbowale's shot volume and the addition of Teaira McCowan. Gray promises to be a consistent force all season, but a step back in her offensive output makes me hesitant to draft her over similarly ranked players (Brionna Jones (36), Kelsey Plum (37) or Allie Quigley (38)). 
Diamonds in the Rough
There are a lot of players with the potential to break out this year from a fantasy perspective, many of whom can be drafted at a great value. 
I have tried hard to convince myself that it is not just wishful thinking, but I truly believe this will be the year that Sabrina Ionescu lives up to the hype. Her 2021 campaign was marred by an unhealed ankle injury, but I don't even think her efficiency will have to increase drastically to still be a great fantasy asset. 
With the addition of Stefanie Dolson to a talented frontcourt of Natasha Howard and Betnijah Laney, Ionescu can focus on facilitating the ball while she regains her shooting prowess. The Liberty's offense will run through their third-year point guard, and while a 14th place ranking to begin the season is admirable, I would not be surprised if she is comfortably in the top 5-8 players this season. 
The Connecticut Sun has a problem on its hands: too much individual offensive talent. When Alyssa Thomas came back at the end of last season, there was something off between her, DeWanna Bonner, and MVP Jonquel Jones. The offense did not run smoothly since all three players have such unique scoring abilities. With a full offseason of preparation; however, I am certain Curt Miller has worked out a game plan that maximizes their potential. 
This means that getting Alyssa Thomas at pick 43 (ESPN's current fantasy ranking) would be an absolute steal. Her last full season in the WNBA and most recent European run have solidified Thomas as one of the best interior players in the game. Barring any injuries or a potential Jonquel Jones takeover, Thomas should be in the All-Star conversation once again. 
The last sleeper pick I am keeping my eye on as training camp comes to a close is Gabby Williams. While success in Europe does not directly correlate with WNBA success, the new Seattle Storm forward recently led Sopron Basket to a EuroLeague championship, earning Final Four MVP honors in the process. 
Williams' stock is publicly increasing, so she may not even qualify as a sleeper. A fresh start with a new team will allow her to shine, albeit in a crowded frontcourt with Seattle. Ranked 57th by ESPN, her ceiling is much higher, but her floor of a small volume rotational player is a valid concern.
Conclusion
It is important to remember that the draft is not everything when it comes to fantasy basketball. Picking up free agents throughout the season and making trades is just as pivotal to success. With the season starting on Friday, it is not too late to start a league and get your fantasy basketball journey underway. 
---
Thanks for reading the Her Hoop Stats Newsletter. If you like our work, be sure to check out our stats site, our podcast, and our social media accounts on Twitter, YouTube, Facebook, and Instagram.