Discover more from The Her Hoop Stats Newsletter
Unlocking better insight about women's basketball
Over 3,000 subscribers
2020 Reflections and 2021 Forecasts: Washington Mystics
What is the Mystics' salary cap situation and what might the team look like next year?
Thanks for reading the Her Hoop Stats Newsletter. If you like our work, be sure to check out our stats site, our podcast, and our social media accounts on Twitter, Facebook, and Instagram. You can also buy Her Hoop Stats gear, such as laptop stickers, mugs, and shirts!
Haven't subscribed to the Her Hoop Stats Newsletter yet?
---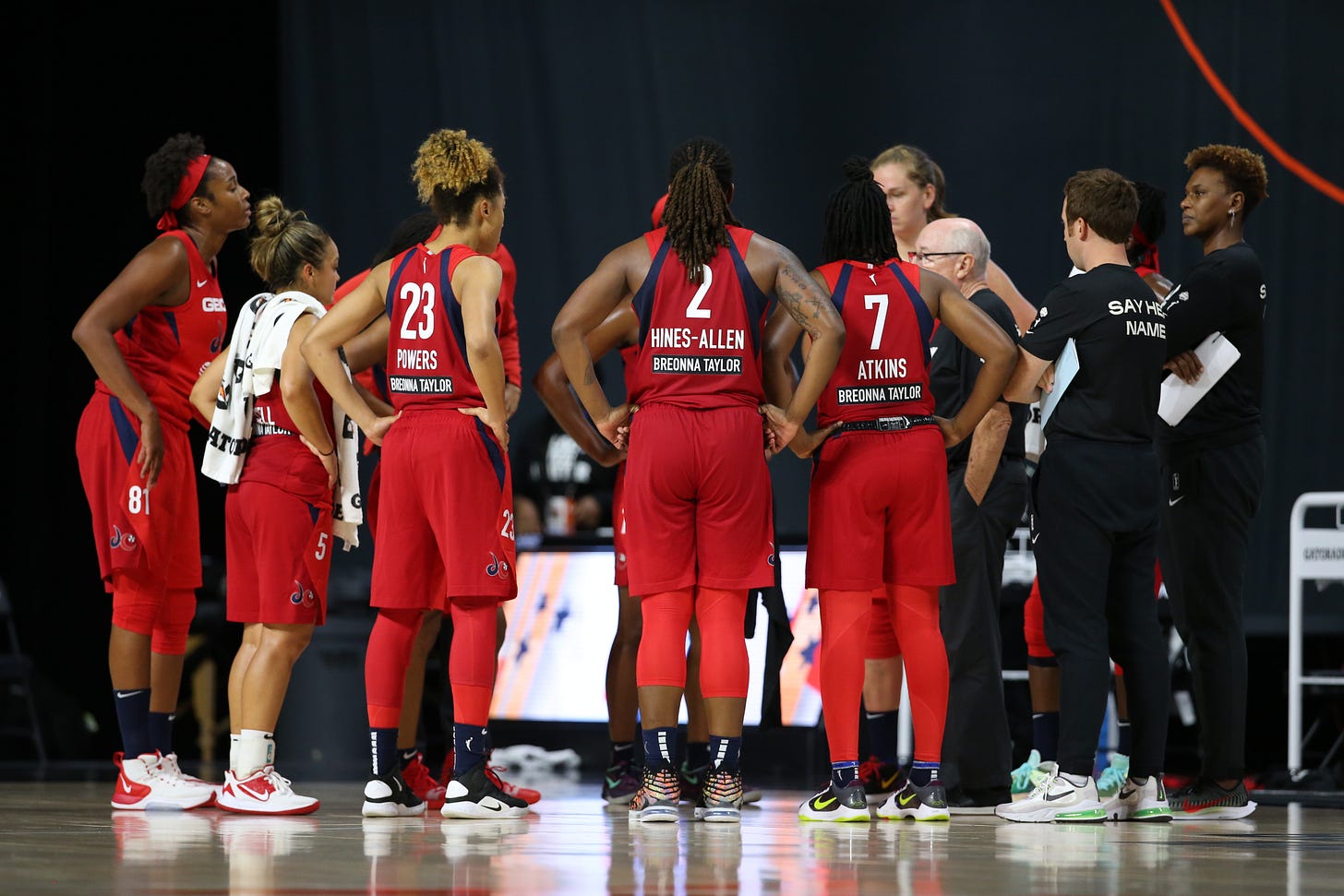 The Washington Mystics huddle up during a game against the Indiana Fever on July 25, 2020 at Feld Entertainment Center in Palmetto, Florida. (Photo by Stephen Gosling/NBAE via Getty Images)
Now that the Seattle Storm have won the 2020 WNBA championship over the Las Vegas Aces, it's time for the next installment of our series reflecting on the 2020 season for each WNBA team and looking ahead to 2021. Here is our analysis of the Washington Mystics.
By the Numbers
2020 Synopsis
The Mystics entered the summer with a roster that looked like a good bet to repeat its 2019 championship. Four starters were returning—including 2019 WNBA MVP Elena Delle Donne and point guard Natasha Cloud—plus 2019 WNBA Finals MVP Emma Meesseman, who came off the bench for most of the season. Head coach and general manager Mike Thibault had also added former WNBA MVP Tina Charles and veteran point guard Leilani Mitchell in the offseason.
However, before the team flew to the WNBA bubble in Bradenton, Florida, Charles was medically excused due to COVID-19 concerns, the team revealed that Delle Donne was still recovering from a back injury suffered in last year's Finals, and Cloud and LaToya Sanders also opted out. The uncertainty that comes with all of that turnover was reflected in our preseason Power Rankings, which had the Mystics ranked seventh.
The Mystics got off to a 3-0 start, including wins over Seattle and 2019 Finals opponent Connecticut. However, they promptly lost 12 of their next 13 games, and second-leading scorer Aerial Powers (16.3 points, 4.8 rebounds, and 2.5 assists per game) suffered a season-ending hamstring injury in the third game of that losing streak on Aug. 7. Soon after that, Thibault decided to prioritize young players' development with an eye toward 2021, even if it cost the team a win or two this season.
But Mitchell, Ariel Atkins, and Myisha Hines-Allen stepped up to give the Mystics a little bit of the best of both worlds. They helped the Mystics finish 5-1 and climb from 11th place to eighth in just ten days, which gave them the final spot in the WNBA playoffs. Mitchell had 20 points and 12 assists to help the Mystics snap their losing streak; Atkins led the team on the court and off; and Hines-Allen earned a spot on the Second Team All-WNBA after averaging 17.0 points, 8.9 rebounds, 2.6 assists, and 1.5 steals per game.
The Mystics lost in the first round of the playoffs to the Phoenix Mercury, but the experience that players such as Hines-Allen and Atkins got as go-to players should benefit the Mystics in 2021.
Salary Cap Situation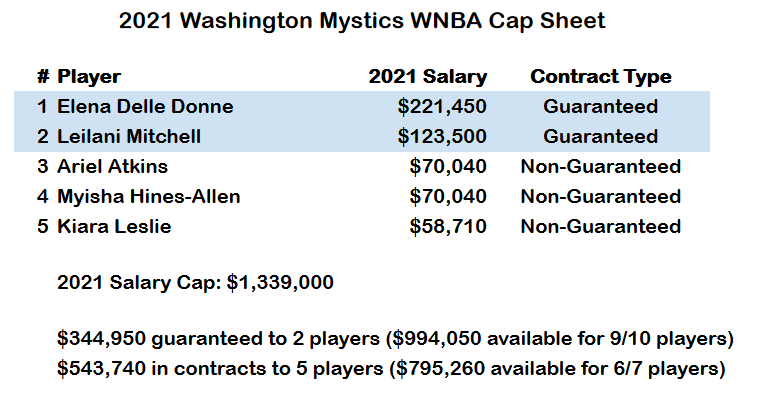 Unrestricted Free Agents
Free to sign with any team
Restricted Free Agents
Current team can match contract signed with another team
None
Reserved and "Suspended-Contract Expired" Players
Can only negotiate with the Mystics
2021 Draft Picks
None
2021 Roster and Cap Summary
The Mystics and Mike Thibault face one of the most complicated cap situations in the league. The five players under contract are all likely to be on the team in 2021 (or if Leslie is beaten out, it would likely be by someone on the same minimum salary). That leaves $795,260 for six or seven spots. Thibault has received assurances from Tina Charles that she wants to stay in Washington, and the Mystics are unsurprisingly also keen to re-sign her given the haul they traded to acquire her. That's likely to take a maximum or near-maximum contract.
The Mystics also want to retain Emma Meesseman, although she may skip the WNBA in 2021 with both a Women's EuroBasket and an Olympic Games on her schedule with the Belgium national team. Then there's Aerial Powers, who only played six games in 2020 but is "a big priority" for Thibault in free agency. She has performed well enough since Washington traded for her in 2018 that someone could offer her max money. The Mystics could core either Meesseman or Powers to make sure they can't leave (Charles has reached the limit of core seasons, so it can't be used on her), but coring comes with a one-year guaranteed supermax offer, which would cut further into the team's cap space.
The Mystics also have Natasha Cloud and LaToya Sanders, both key pieces of their 2019 championship squad, to worry about. Under WNBA rules, neither of them can negotiate with anyone else, but for two well-established veterans the Mystics will want to treat them well regardless. However, even at around $150,000 each, they could be tricky to fit in.
If Meesseman skips 2021, the Mystics might be able to fit Charles, Powers, Cloud, Sanders, and two minimum salaries into that $795,260. The four vets would have to average about $170,000 each (the max is $190,550, the supermax is $221,450). That's not completely implausible. If Meesseman wants to play as well, though, it becomes virtually impossible to pay all five what they're worth. Any long-term deals also have to bear in mind that Ariel Atkins and Myisha Hines-Allen only have one year left on their deals and will be expecting significant raises a year later. Good luck, Mike.
Looking to 2021
"Our championship window is open, provided we have everybody," Thibault said on Aug. 15, midway through a season in which he clearly did not have everybody. "And so next year when we have our whole group, I hope we're one of the best teams, if not the best team, in the league going into the season."
A lot will depend on how Thibault handles free agency, but he has stated that he hopes to have a 2021 roster that is similar to what the 2020 roster looked like before players opted out. If he can pull that off, Washington should indeed be one of the favorites to win a WNBA championship in 2021.
However the contracts shake out, Thibault will likely have an abundance of frontcourt talent with Delle Donne, Hines-Allen, Charles, Meesseman, Sanders, and/or Tianna Hawkins. As a result, Thibault may play more of the three-forward lineups that were so effective for the Mystics late in the 2019 season, and no player is likely to play the kind of heavy minutes that Meesseman, Hines-Allen, and others shouldered this season.
On the perimeter, the Mystics will also be talented with Cloud, Mitchell, Atkins, Powers, and/or Leslie. Two of those players (Cloud and Atkins) have combined for four All-Defensive Team selections in the past three seasons, and a third (Leslie) was frequently tasked with guarding the opponent's best perimeter player as a rookie this season. The team's defense will therefore likely improve from this year's 101.4 defensive rating, which ranked eighth in the league, and the offense should look more like 2019's all-time great offense than the 2020 version, which ranked ninth in the league.
---
Want to read about another team? Here are our previously published breakdowns:
---
Thanks for reading the Her Hoop Stats Newsletter. If you like our work, be sure to check out our stats site, our podcast, and our social media accounts on Twitter, Facebook, and Instagram. All stats are compiled from Her Hoop Stats, and more information on WNBA free agency can be found here.