Duke's Vanessa de Jesus Ready to "Show Up for My People"
The former Sierra Canyon star and Duke freshman is the first Asian American to rep the Blue Devils women's basketball team
Thanks for reading the Her Hoop Stats Newsletter. If you like our work, be sure to check out our stats site, our podcast, and our social media accounts on Twitter, Facebook, and Instagram. You can also buy Her Hoop Stats gear, such as laptop stickers, mugs, and shirts!
Haven't subscribed to the Her Hoop Stats Newsletter yet?
---
Vanessa de Jesus was never one for individual sports. She tried gymnastics and tennis when she was younger, but nothing really stuck like basketball.
The California native grew up around basketball – she first picked up a ball when she was two years old. Her family loved it. Her dad showed her the game and would tell her stories about playing pickup games in the park back home. Her aunt and her cousin played basketball in high school and college.
Now, de Jesus is a pre-med student at Duke University and is preparing to take on the challenge of one of basketball's most recognizable teams: the Duke Blue Devils. She's the first Asian player to join the storied program, and she said she hopes her play at Cameron Indoor Stadium will lead to more representation of Asian female basketball players everywhere.
"I'm so grateful. I know it's a huge thing for me being here, and I'm really excited to take this opportunity and show what I got and just show up for my country and show up for my people," she said. "As time has progressed, I feel like as an Asian player and Asian players throughout the world, you know, we're getting better. And I think there's an opportunity to show them that we can compete and that we're here and we're gonna keep getting better and pushing the boundaries."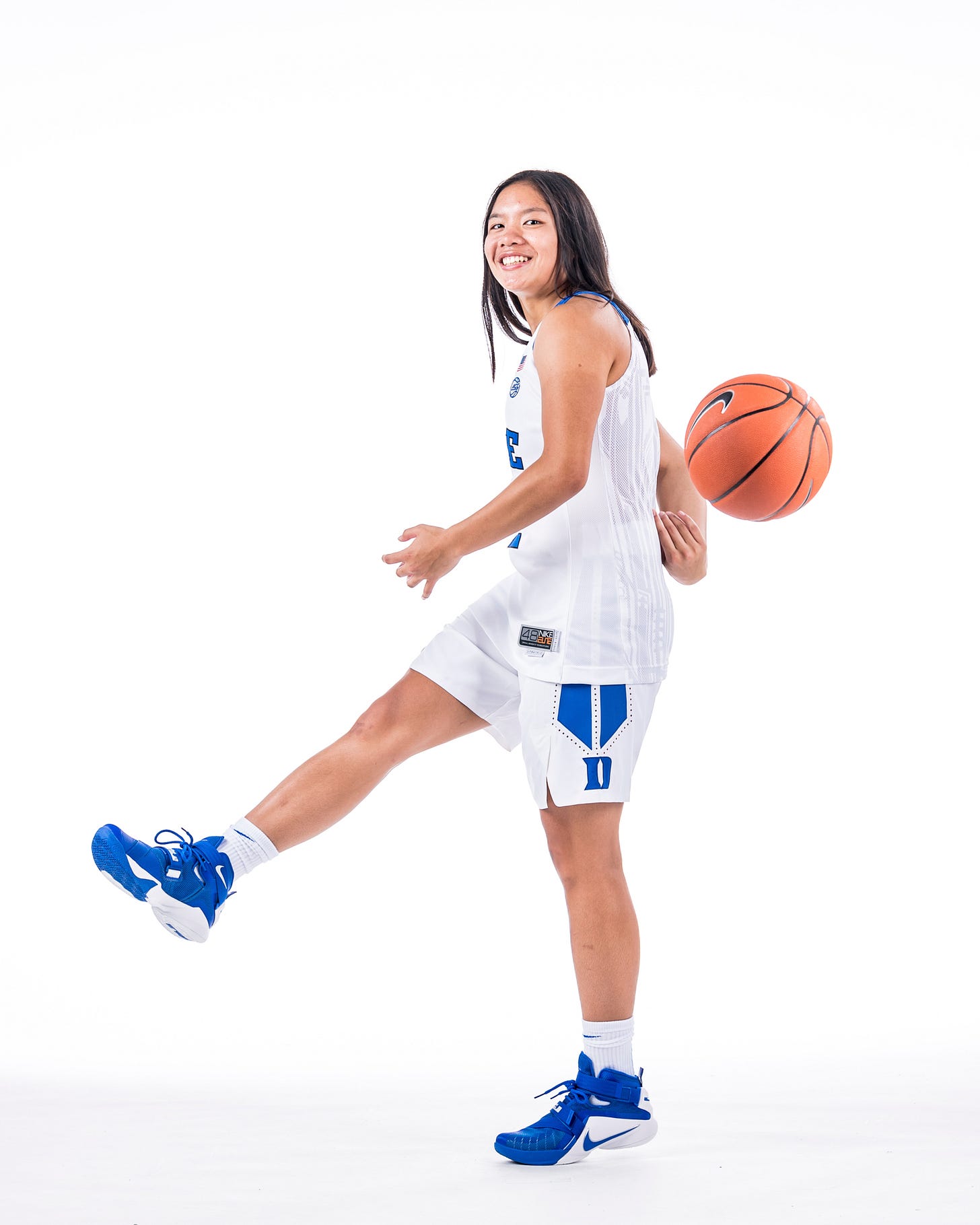 Photo credit: Duke Athletics
Both of de Jesus' parents are from the Philippines, where basketball is a huge part of the culture. She saw how prevalent the sport was when she visited the Philippines in elementary school.
"Especially in Manila, we'd walk around through the towns and the city, I'd always see jerseys hanging around everywhere," she said. "My family members are always watching basketball games and they had basketballs, even though they didn't have a court. They would just be dribbling outside and playing together, passing it around. I definitely realized how big it was even at a young age and maybe that also influenced me. Just seeing that they love basketball, too, and I love it and that helped me love it even more."
Basketball is a source of pride and community in the Philippines, which de Jesus has felt wholeheartedly. Growing up near both her mom and her dad's family in California, she was able to play ball with her family, and they could watch her play. Watching basketball games together was important, too, whether it was college, NBA, or the WNBA.
"In the Philippines, they love basketball, period. Anything basketball, they love it. They enjoy watching, they enjoy playing. It's like such a huge thing," she said. "I think basketball … adds to the community of the Philippines because it brings people together … it's more than just a game, but it's a way for us to bond and compete and enjoy as a family."
The close-knit basketball-loving Filipino community that de Jesus grew up around extended beyond her own family. Growing up in the Los Angeles area, it was common for de Jesus to play against other Asian and Filipino players at school and in AAU as they traveled across California for tournaments. There are nearly 1.5 million Asian-Americans in the Greater Los Angeles area alone, and more than 40 percent of the Filipino-American population resides in California.
There was even an Asian League that several of her friends joined, although she did not. The diverse players on her basketball team at Sierra Canyon School, where she played from sophomore to senior year, would shock other schools at national competitions and games, according to Sierra Canyon head coach Alicia Komaki, who is Japanese.
"When we play nationally, people look at us and you can tell like they look at us, and they go, 'this team is ranked nationally?' because we have this tiny little Thai girl we have, you know, Black, white, Asian, mixed kids, Hispanic kids … and then I'm a little Asian coach, so we really got all of it," Komaki said. "It's great because they don't take us seriously and they look pretty confused, and then we (end up being) pretty decent basketball players."
Komaki said de Jesus will represent Asian-Americans, Pacific Islanders, and Filipinos well at the next level. She's proven her skill level in high school, which is why she was so highly regarded and heavily recruited. Komaki said she hopes people will see that skill now that she's playing on one of college hoops' biggest stages.
"People think that Asian players are too small, or all they can do is this or that, or whatever the stigma might be," Komaki said. "And so hopefully, Vanessa can kind of raise that ceiling for people and make them see that she can be a pretty darn good basketball player too."
During a stellar high school career at Sierra Canyon, de Jesus proved her skill. She won two league titles and the 2019 state championship, averaged 15.0 points, 5.0 rebounds, 3.8 assists, and 2.0 steals per game her senior year, and was ranked the 37th overall player in the 2020 class by espnW HoopGurlz, along with several other individual accolades.
Komaki saw de Jesus' game improve immensely throughout her time at Sierra Canyon. She believes some of de Jesus' best traits aren't her technical skills, but her ability to lead and her calm presence.
"She's a very quiet leader. So she's going to work hard, she's going to show up early, she's going to leave late, she's going to do all the things that are right and lead by example," Komaki said. "She's not a highly emotional player, which is one of the best things about her for some people … We're up by 20, we're down by 20, we're playing for a state championship, we're playing for a game that doesn't matter at all, she's just cool as a cat all the time. … she is just so, so calm."
"She's not the type who needs to go prove herself. She's about the team, which is what makes her very unique and special," Komaki said.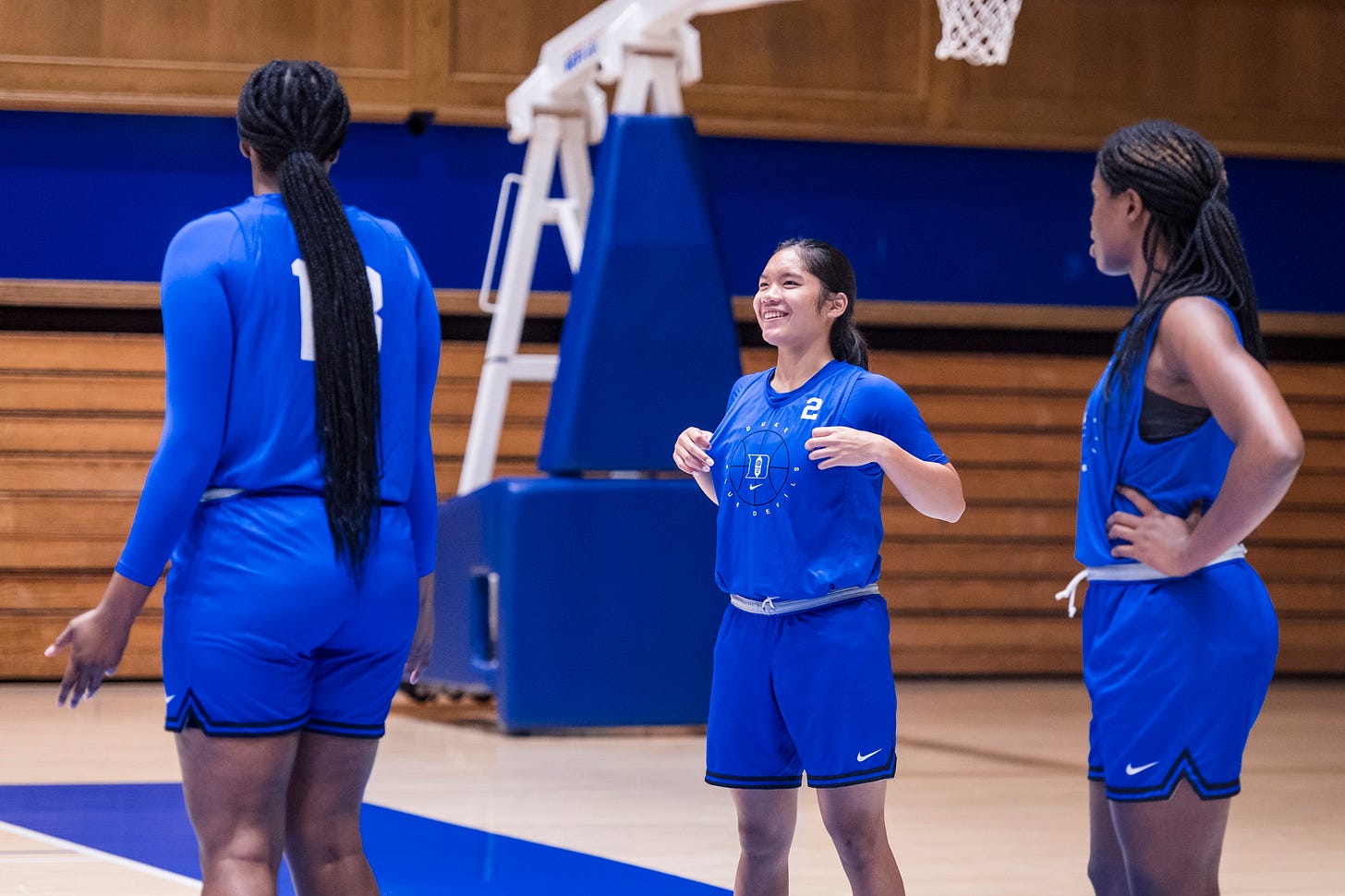 Photo credit: Duke Athletics
Of course, Komaki knows the kind of athletic talent that de Jesus brings to the court, too. Her ability to compete as a true point guard and a scoring point guard is just one of the things that Duke fans have to look forward to with de Jesus in the program. She said the Cameron faithful will be in for their share of "oohs and ahhs" when they see her play.
"I'm curious how Duke's going to use her —If they're going to have her be a true point guard and so we'll see her assist numbers rack up, or if they'll have her take a couple shots here and there and we'll see her scoring capabilities. So I'm excited and Duke fans should definitely be excited for the player that they got," Komaki said.
It's been an odd time to be a freshman college athlete, but de Jesus is taking it in stride. Instead of preparing with the team over the summer, the guard spent time working on her fundamentals at home under her old trainer — her dad — and practicing wherever she could dribble a basketball.
She met and conditioned with her new teammates via Zoom over the summer, and she's now on campus balancing the rigorous coursework of a pre-med student, like studying for her chemistry and neurology classes, with preparation for her role on a new team.
"This year is really just to learn. It's a weird kind of year coming in with COVID, first off, and then being a freshman. So I'm just taking this opportunity to learn everything I can from my coaches and my teammates so next year I'll be even more prepared and just progressing my growth from there," she said.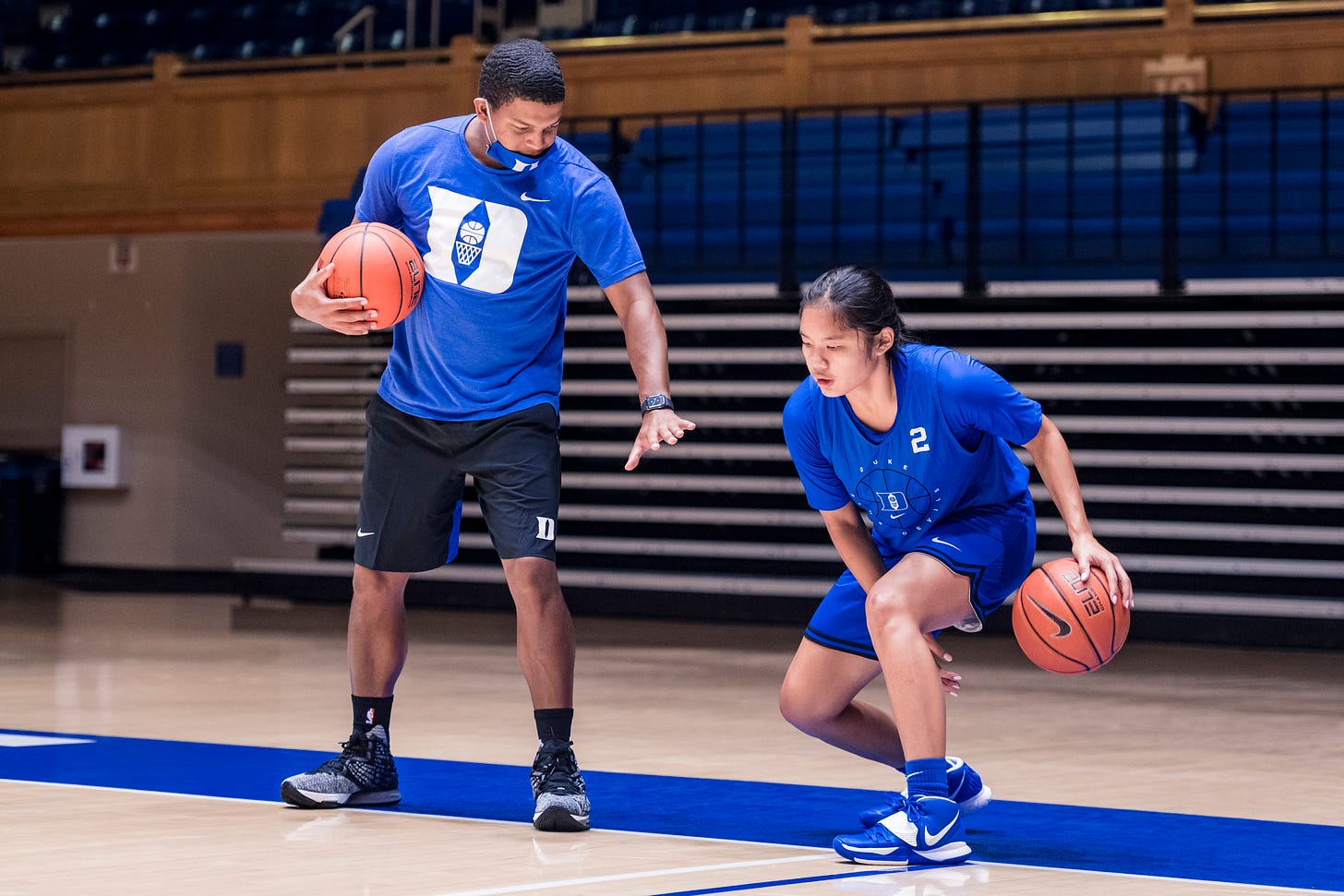 Photo credit: Duke Athletics
The Blue Devils' new point guard is happy to learn from one of the best. First-year Duke coach Kara Lawson is a former WNBA Champion point guard and Olympic gold medalist. She's also been a broadcaster and served as head coach of USA Basketball's 3x3 women's team and assistant coach for the NBA's Boston Celtics.
In Lawson's first season at the helm in Durham, she's prioritized communication and building strong relationships with her players. She's also made sure that her lessons apply off the court. The first lesson she imparted was the importance of communication and competing, de Jesus recalled.
"Competing is a huge thing as a basketball player and as a person. You just need to compete in whatever you do in life because that's the only way you can succeed and get better," de Jesus said. "That's definitely something (Coach) emphasizes for us as a team because with everybody being new and we don't really know what's going to happen, we really just need to push each other right now to just get better."
The 5'8 guard constantly watches basketball and said her intelligence is one of her greatest strengths on the court. As a point guard, she's developed a better understanding of the game and can sometimes see plays before they happen. She's a good shooter, too, but she's always working to improve her jump shot. This year, de Jesus wants to focus on becoming a better defender, which she said Duke coaches have already helped her with.
"Coach Kara and all the coaches have given us little tips on just how to guard people and use your advantage on them, whatever it is. It's definitely something I want to improve on because being the best overall is what I want to become," she said.
Even though de Jesus's family is on the other side of the country, she's looking forward to playing for her new basketball family in Durham and getting to know the "Cameron Crazies."
"Family is most important to me, and I think here at Duke we have that so far … With my teammates and the coaches being new, I think this is a chance for us to grow together and grow this program for us," she said. "Moving away from (my family) was a tough decision … but I wanted to experience life myself and just grow as an individual, but I definitely appreciate my family a lot. I know I'm doing this for them and for everybody else."
---
Thanks for reading the Her Hoop Stats Newsletter. If you like our work, be sure to check out our stats site, our podcast, and our social media accounts on Twitter, Facebook, and Instagram. All stats are compiled from Her Hoop Stats, and more information on WNBA free agency can be found here.