Updated 2020 WNBA Rosters and Salary Sheets
How teams finalized their rosters for 'Opening Day'
Thanks for reading the Her Hoop Stats Newsletter. If you like our work, be sure to check out our stats site, our podcast, and our social media accounts on Twitter, Facebook, and Instagram. You can also buy Her Hoop Stats gear, such as laptop stickers, mugs, and shirts!
Haven't subscribed to the Her Hoop Stats Newsletter yet?
---
Plans for what a 2020 WNBA season could look like are still being discussed. However, the WNBA's Standard Player Contract states that salaries shall begin being paid "on or about June 1". In order to hold to that without being obligated to pay significantly more players than usual, the league mandated that teams had to cut their rosters down below the salary cap by May 26, and to the standard 11 or 12 players. Without a training camp to assess players, this left 2020 draftees without a chance to impress and inevitably many were waived without ever seeing the inside of their team's facility. The league will also be without many international players in 2020, after several either decided to skip the WNBA due to current global conditions, or mutually agreed with their teams to stay away until next year.
Below we present the rosters that teams are now left with after their cuts, and how those contracts combine in relation to the 2020 WNBA Team Salary Cap of $1,300,000. In a normal year these would be 'opening day rosters', but moves are still technically possible before we see any basketball as long as teams stay under the cap. The numbers reported are the full salaries for a standard season, although players may ultimately receive a pro-rated portion of those figures in the case of a shortened regular season format.
Other important basic information on the rules:
Rosters must have either 11 or 12 players.    

The WNBA has essentially two kinds of suspension. 'Full season' means the player does not get paid, her salary comes off the cap, and she cannot play in the WNBA at any point that year. 'Temporary suspension' also means the player doesn't get paid while suspended, but her salary figure continues to count on the cap. The benefit there is that it opens up a roster spot, and the player can be activated once she's available. Because none of the players had done anything to warrant suspension, 'temporary' wasn't an option in all but a couple of special cases this year. The vast majority of the suspensions in recent weeks were of the 'full season' variety, and agreed upon by the players and teams involved.


Eastern Conference
Atlanta Dream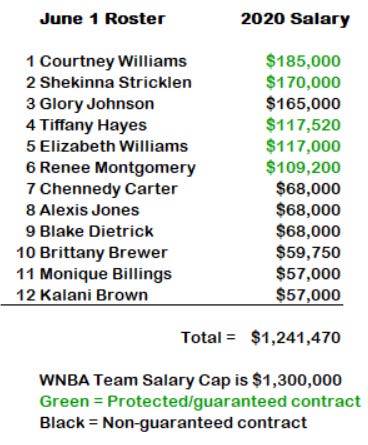 PG: Renee Montgomery/Chennedy Carter/Alexis Jones
SG: Courtney Williams/Blake Dietrick
SF: Tiffany Hayes/Shekinna Stricklen
PF: Glory Johnson/Monique Billings
C: Elizabeth Williams/Kalani Brown/Brittany Brewer
Mikayla Pivec and Maite Cazorla both agreed to full-season suspensions, while Kobi Thornton never even signed her rookie-scale contract. Elina Babkina and Alaina Coates were waived, meaning both rookie post Brittany Brewer and backup guard Blake Dietrick somewhat surprisingly managed to stick.
Chicago Sky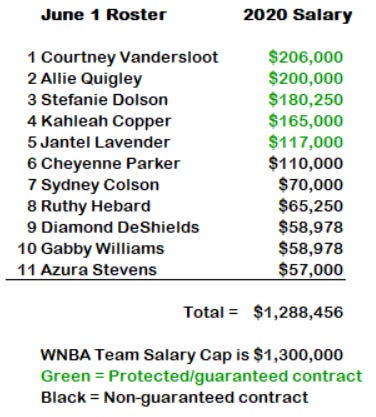 PG: Courtney Vandersloot/Sydney Colson
SG: Allie Quigley/Kahleah Copper
SF: Diamond DeShields/Gabby Williams
PF: Azura Stevens/Cheyenne Parker
C: Stefanie Dolson/Jantel Lavender/Ruthy Hebard
The 11 players that always looked completely inevitable in Chicago are exactly who made the roster. 2020 draftee Kiah Gillespie agreed to a full-season suspension, while Japreece Dean and Alexis Prince were waived. In a normal year the Sky's remaining cap space would allow them to sign a 12th player with around seven games to go in a 36-game regular season, but exactly when that date would be considered to be this year is obviously significantly more complicated.
Connecticut Sun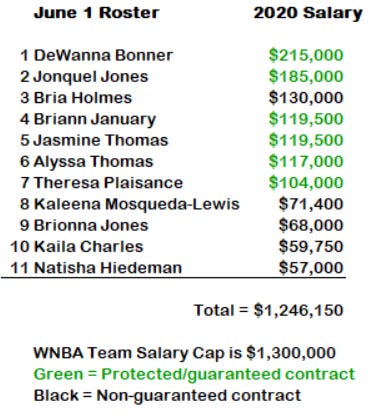 PG: Jasmine Thomas/Natisha Hiedeman
SG: Briann January/Bria Holmes
SF: DeWanna Bonner/Kaleena Mosqueda-Lewis/Kaila Charles
PF: Alyssa Thomas/Brionna Jones
C: Jonquel Jones/Theresa Plaisance
Barring a surprise cut there was only ever one spot up for grabs on this roster, and the Sun decided to give it to rookie second-rounder Kaila Charles. That meant Valériane Ayayi, Megan Huff, Jacki Gemelos, Jazmon Gwathmey and Juicy Landrum were all waived. As with Chicago, the Sun have the cap space to add a 12th player at some point, but not from the start of regular season payments on June 1.
Indiana Fever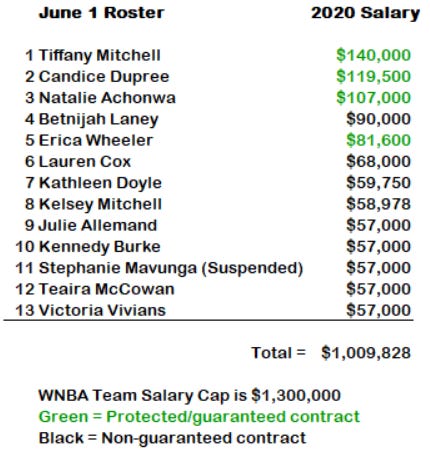 PG: Erica Wheeler/Julie Allemand/Kathleen Doyle
SG: Kelsey Mitchell/Tiffany Mitchell
SF: Victoria Vivians/Betnijah Laney/Kennedy Burke
PF: Candice Dupree/Lauren Cox(/Stephanie Mavunga)
C: Teaira McCowan/Natalie Achonwa
No huge surprises here, but one complication. Hungarian center Bernadett Hatar was suspended for the year, while Paris Kea, Erica McCall, Jessica January and Kamiah Smalls were all waived. Due to an injury that the league presumably feels she may return from in time to play this season, the Fever were allowed to temporarily suspend Stephanie Mavunga and therefore carry her as a 13th player. They'd have to release one of the current 12 if they wanted to activate her.
New York Liberty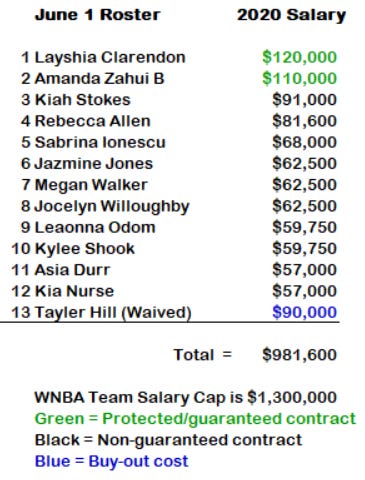 PG: Sabrina Ionescu/Layshia Clarendon
SG: Asia Durr/Jazmine Jones
SF: Kia Nurse/Megan Walker/Rebecca Allen
PF: Amanda Zahui B/Jocelyn Willoughby/Leaonna Odom
C: Kiah Stokes/Kylee Shook
Cutting down the roster always looked like it might be toughest for the Liberty, who are in the midst of a youth movement and have significantly more than 12 players they want to assess as potential pieces of their future. Tayler Hill was waived and bought out (she accepted $90,000 of her $117,000 salary), while Reshanda Gray was also released. Three international players - Stephanie Talbot, Han Xu and Marine Johannès - agreed to stay home in 2020, allowing the Liberty to retain all six of their 2020 rookies.
Washington Mystics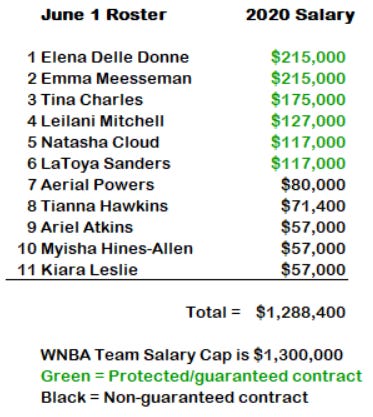 PG: Natasha Cloud/Leilani Mitchell
SG: Ariel Atkins/Aerial Powers
SF: Elena Delle Donne/Kiara Leslie
PF: Tina Charles/Emma Meesseman/Tianna Hawkins
C: LaToya Sanders/Myisha Hines-Allen
As in Chicago, the 11 who would make the roster here seemed evident from the start, and there were no surprises. Rookies Jaylyn Agnew and Sug Sutton were waived, while Korean guard Lee-Seul Kang was suspended for the year.

Western Conference
Dallas Wings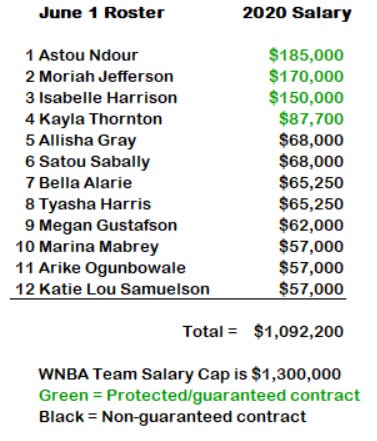 PG: Moriah Jefferson/Tyasha Harris/Marina Mabrey
SG: Arike Ogunbowale/Allisha Gray
SF: Kayla Thornton/Katie Lou Samuelson
PF: Satou Sabally/Bella Alarie
C: Astou Ndour/Isabelle Harrison/Megan Gustafson
Once Morgan Bertsch was waived a few days before the deadline, it looked like two from four for the final roster spots in Dallas. They ultimately moved on from their two Great Britain national team members, waiving Karlie Samuelson and trading Kristine Anigwe to Los Angeles for the return of their own 2021 second-round pick. That allowed Marina Mabrey and Megan Gustafson to hold on to those final spots.
Las Vegas Aces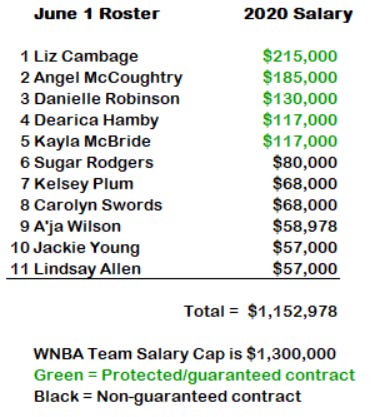 PG: Kelsey Plum/Danielle Robinson/Lindsay Allen
SG: Kayla McBride/Sugar Rodgers
SF: Angel McCoughtry/Jackie Young
PF: A'ja Wilson/Dearica Hamby
C: Liz Cambage/Carolyn Swords
The Aces are the only team in the league with an 11-player roster purely by choice. They have plenty of cap space to add a 12th, but there's no rule that says they have to and at this point they've decided against it. They waived Raisa Musina, Avery Warley-Talbert and rookie Lauren Manis, while backup center JiSu Park will be staying home in Korea in 2020. They then signed backup post Carolyn Swords as their 11th player, who had previously retired and joined their front office as a marketing specialist.
Los Angeles Sparks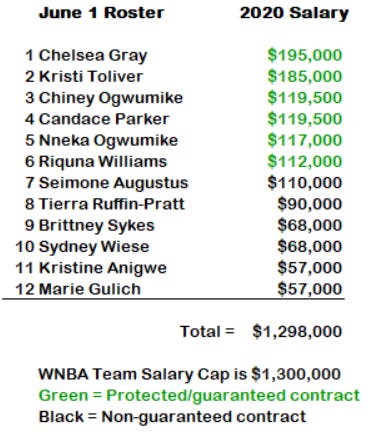 PG: Chelsea Gray/Sydney Wiese
SG: Kristi Toliver/Riquna Williams/Brittney Sykes
SF: Tierra Ruffin-Pratt/Seimone Augustus
PF: Candace Parker/Chiney Ogwumike/Kristine Anigwe
C: Nneka Ogwumike/Marie Gulich
Most of the roster was pretty obvious in Los Angeles. Rookies Beatrice Mompremier and Tynice Martin were waived, but with Russian center Maria Vadeeva deciding to stay overseas the Sparks traded a second-round pick back to Dallas for Kristine Anigwe to add post depth. As explained in a previous article, Mompremier couldn't just take that spot due to the slightly higher salary required for a 2020 second-round pick compared to the minimum salaries of Gulich, Anigwe and Vadeeva. Although, having cleared waivers, Mompremier could now be signed by anyone - including the Sparks - for the standard minimum of $57,000.
Minnesota Lynx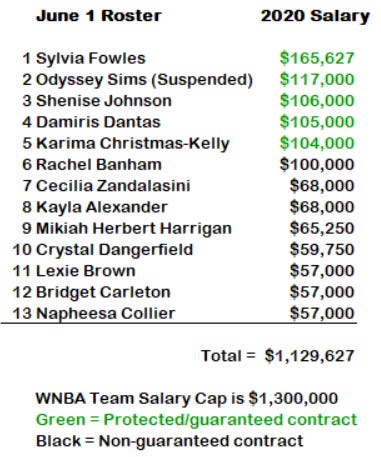 PG: (Odyssey Sims/)Lexie Brown/Crystal Dangerfield
SG: Cecilia Zandalasini/Rachel Banham/Shenise Johnson
SF: Napheesa Collier/Karima Christmas-Kelly/Bridget Carleton
PF: Damiris Dantas/Mikiah Herbert Harrigan
C: Sylvia Fowles/Kayla Alexander
The Lynx made their expected cuts when Linnae Harper and Erica Ogwumike were waived but then made an additional move by suspending Jessica Shepard for the year due to injury. That opened up space to sign Bridget Carleton and add her to the roster. They currently have 13 players on their cap because Odyssey Sims is recovering from giving birth and is essentially temporarily suspended. She does, however, receive full salary and benefits under the new CBA's Pregnancy Disability Benefit section. As with Mavunga in Indiana, one of the current 12 would have to be released if the Lynx wish to add Sims to the active roster.
Phoenix Mercury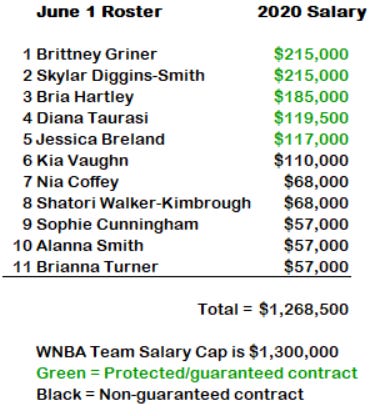 PG: Skylar Diggins-Smith/Bria Hartley
SG: Diana Taurasi/Shatori Walker-Kimbrough
SF: Nia Coffey/Sophie Cunningham
PF: Jessica Breland/Brianna Turner/Alanna Smith
C: Brittney Griner/Kia Vaughn
The Mercury had essentially one spot to make a decision on, and that went to second-year wing Sophie Cunningham. Rookies Te'a Cooper and Stella Johnson were waived, as were international signees Olivia Époupa and Sara Blicavs. Due to their high-priced offseason additions and the salary cap, Phoenix was always going to start with an 11-player roster.
Seattle Storm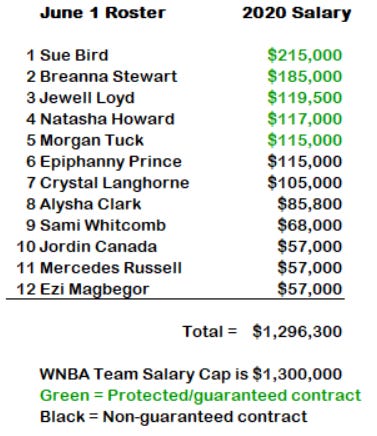 PG: Sue Bird/Jordin Canada
SG: Jewell Loyd/Sami Whitcomb/Epiphanny Prince
SF: Alysha Clark/Morgan Tuck
PF: Breanna Stewart/Crystal Langhorne
C: Natasha Howard/Mercedes Russell/Ezi Magbegor
Once it was known that 2020 first-round pick Kitija Laksa would be staying overseas this year, Seattle's final 12 became virtually a fait accompli. Laksa was suspended while fellow rookies Joyner Holmes and Haley Gorecki were waived, leaving the expected 12.
---
Thanks for reading the Her Hoop Stats Newsletter. If you like our work, be sure to check out our stats site, our podcast, and our social media accounts on Twitter, Facebook, and Instagram.