Discover more from The Her Hoop Stats Newsletter
Unlocking better insight about women's basketball
Over 3,000 subscribers
WNBA Post-Draft Roster Projections and Salary Cap Situations: Western Conference
Updated information and analysis after the 2020 Draft, Part Two
Thanks for reading the Her Hoop Stats Newsletter. If you like our work, be sure to check out our stats site, our podcast, and our social media accounts on Twitter, Facebook, and Instagram. You can also buy Her Hoop Stats gear, such as laptop stickers, mugs, and shirts!
Haven't subscribed to the Her Hoop Stats Newsletter yet?
---
Earlier this week we detailed the roster situations of the WNBA's Eastern Conference teams following the 2020 Draft and recent moves. We also offered possible opening day rosters if the season were to take place under relatively normal conditions. A few cuts have taken place since that piece was published (Indiana cut Paris Kea and Erica McCall, New York waived Brittany Boyd), but nothing earth-shattering. The biggest news in recent days is discussed below in the Las Vegas section. Let's break down each of the Western Conference rosters.
Dallas Wings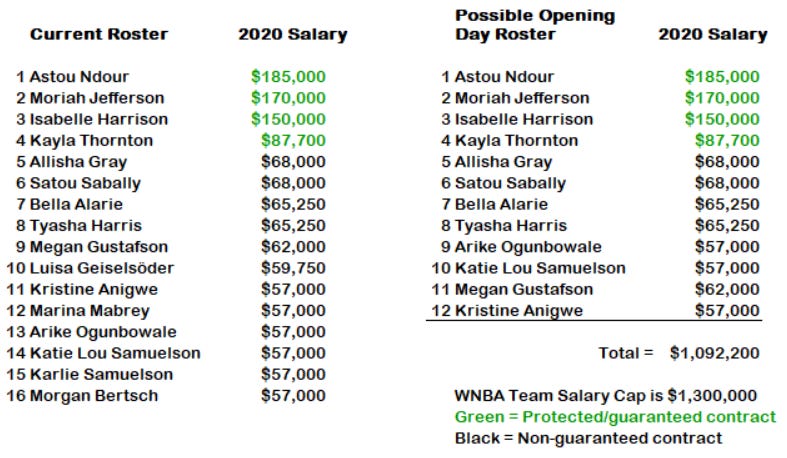 PG: Moriah Jefferson/Tyasha Harris
SG: Arike Ogunbowale/Allisha Gray
SF: Kayla Thornton/Satou Sabally/Katie Lou Samuelson
PF: Isabelle Harrison/Bella Alarie
C: Astou Ndour
...plus pick your two favorites from the remaining roster options above. Gustafson and Anigwe probably lead the way due to the need for posts.
In the last version of this article, Dallas had 15 players under contract and five picks in the top-15 of the draft to add on top. While many of the players were fringe WNBA talents, that was going to result in a lot of wasted assets when they had to start cutting the roster down to 12. They managed to clean up some of those issues by being tangentially involved in the Tina Charles trade, moving Tayler Hill's guaranteed contract elsewhere and turning the #9 and #15 picks in this year's draft into Washington's 2021 first-rounder and New York's 2021 second-rounder. Their three remaining 2020 first-round picks turned into Satou Sabally, Bella Alarie, and Tyasha Harris, all of whom you'd expect to make the team and see some playing time. They continued to pare down their roster last night by cutting Kaela Davis and had already placed Imani McGee-Stafford on the team's suspended list after she decided to head to law school rather than stick with the WNBA.
The final couple of roster spots look wide open, albeit with at least one of them needing to go to a post. Anyone in their training camp would think they have a chance to stick.
Las Vegas Aces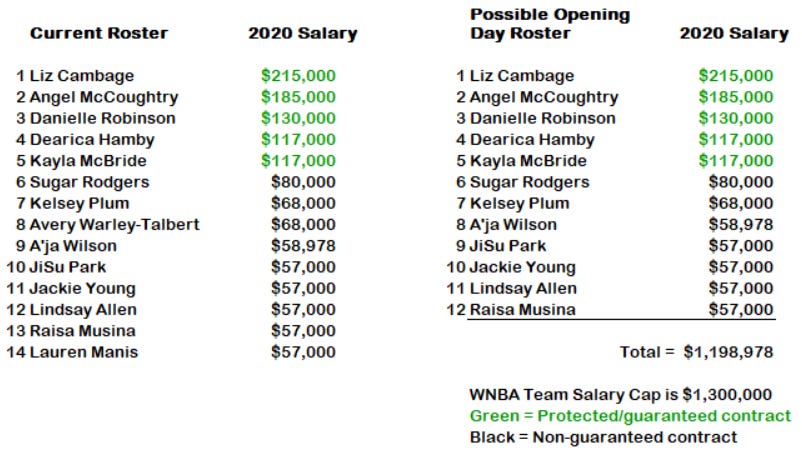 PG: Kelsey Plum/Danielle Robinson/Lindsay Allen
SG: Kayla McBride/Sugar Rodgers
SF: Angel McCoughtry/Jackie Young
PF: A'ja Wilson/Dearica Hamby/Raisa Musina
C: Liz Cambage/JiSu Park
...with Warley-Talbert a safe fallback option in the post if one of the international players doesn't arrive.
Las Vegas's biggest question mark was answered this week when Liz Cambage finally signed a deal for the 2020 WNBA season. Cambage signed for her current possible max of $185,000, but with a $30,000 'time-off bonus' that takes her up to the same $215,000 figure as the 'super-max' contracts that more experienced players have signed this offseason. There will now be a clause in her contract that specifies how many days she's allowed to be on the roster of a non-WNBA team during the 2020-21 offseason (it's a maximum of 90) in order to receive the bonus.
Even after signing Cambage, the Aces still have over $100,000 remaining in cap space, should a worthwhile move present itself.
Los Angeles Sparks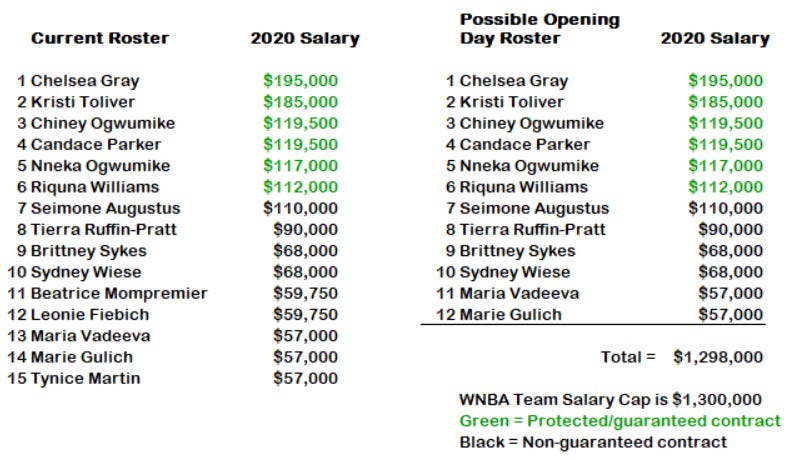 PG: Chelsea Gray/Sydney Wiese
SG: Kristi Toliver/Riquna Williams
SF: Tierra Ruffin-Pratt/Seimone Augustus/Brittney Sykes
PF: Candace Parker/Chiney Ogwumike
C: Nneka Ogwumike/Maria Vadeeva/Marie Gulich
...with it being a very difficult path for any of their rookies to make the roster.
This one is a little complicated. On top of her maximum salary of $185,000, the Sparks gave Chelsea Gray a $10,000 'time off bonus' that takes her total hit against their cap to $195,000. Between that and the deal they gave Seimone Augustus when she became available, LA's anticipated 12-player veteran roster falls just $2,000 below the team salary cap line.
That gap being so small is particularly important because it affects the rookies they took in last week's draft. Under the new CBA, second-round picks this year make $59,750 in their first season (if they make the team) - which is $2,750 more than the base minimum that existing players like Maria Vadeeva and Marie Gulich are scheduled to make. The WNBA raised players to their applicable minimum salary under the new CBA but didn't adjust rookie-scale contracts any further than that, so players like Collier, Ogunbowale, DeShields, and Wilson will all be making less in 2020 than any second-round rookies who make a team.
So Beatrice Mompremier, who the Sparks may have been surprised to find still available at the #20 pick last week, can't simply win the battle with Gulich for the 12th roster spot. Mompremier wouldn't fit under the cap with the other 11 expected to make it. The only way she makes the team for opening day is if they move or cut one of their more expensive non-guaranteed players (Augustus, Ruffin-Pratt, Sykes, or Wiese), or if both Vadeeva and Gulich are cut/absent and the Sparks start the season with 11 players.
Minnesota Lynx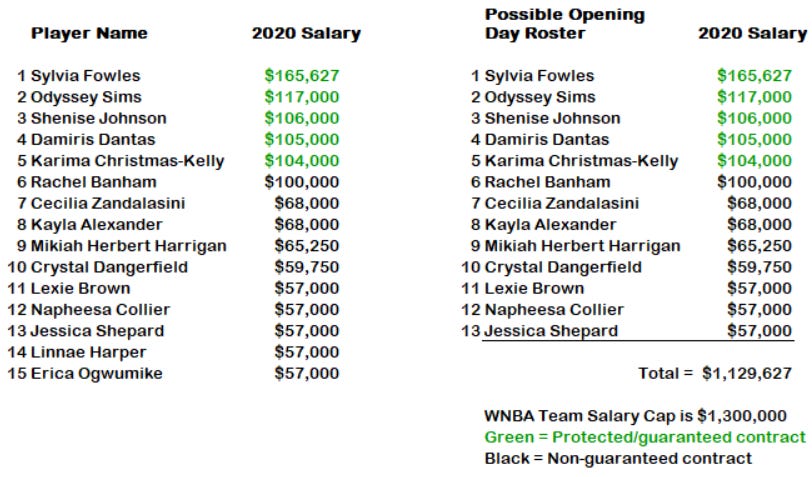 PG: (Odyssey Sims)/Lexie Brown/Crystal Dangerfield
SG: Cecilia Zandalasini/Rachel Banham/Shenise Johnson
SF: Napheesa Collier/Karima Christmas-Kelly
PF: Damiris Dantas/Mikiah Herbert Harrigan/Jessica Shepard
C: Sylvia Fowles/Kayla Alexander
...with Ogwumike trying to make a quick impression in training camp to beat out anyone above.
As in March, there are 13 names listed on the potential roster in the expectation of Odyssey Sims being temporarily on the suspended list while she recovers from her pregnancy, although obviously the later the season takes place the more time she'll already have had to recover. One of the other 12 would have to be cut once Sims is ready to return. The salary figure for Sylvia Fowles listed above is different from the March piece because the Lynx used some of their voluminous cap space to give Sylvia Fowles a $50,000 time-off bonus, topping up a salary that now looks a little low for their star player compared to veterans signed elsewhere under the new CBA.
With over $170,000 in cap space left in the roster scenario above, the Lynx still have enough room to cut Shenise Johnson or Karima Christmas-Kelly and open the season with other players on the roster if they choose to. They even have the space to pay out their deals in full if they couldn't negotiate a lower buy-out figure. Given the checkered injury history of both those players, that scenario's not beyond the realm of possibility.
Phoenix Mercury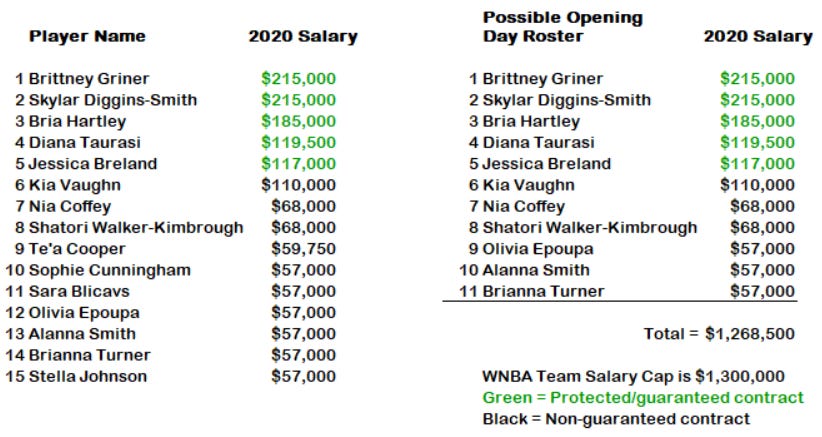 PG: Skylar Diggins-Smith
SG: Bria Hartley/Shatori Walker-Kimbrough
SF: Diana Taurasi/Nia Coffey
PF: Jessica Breland/Brianna Turner/Alanna Smith
C: Brittney Griner/Kia Vaughn
...and everyone else listed on the roster above fighting over one remaining spot.
As detailed in March, the Mercury don't have the cap space to start the season with 12 players unless Kia Vaughn is cut - which seems unlikely. That space shrunk a little more on draft night when they swapped the #10 pick who would have made $62,500 for Shatori Walker-Kimbrough, who's under contract for $68,000. The final spot on the roster looks available for someone to claim, and even the likes of Coffey and Smith may not be entirely secure.
Seattle Storm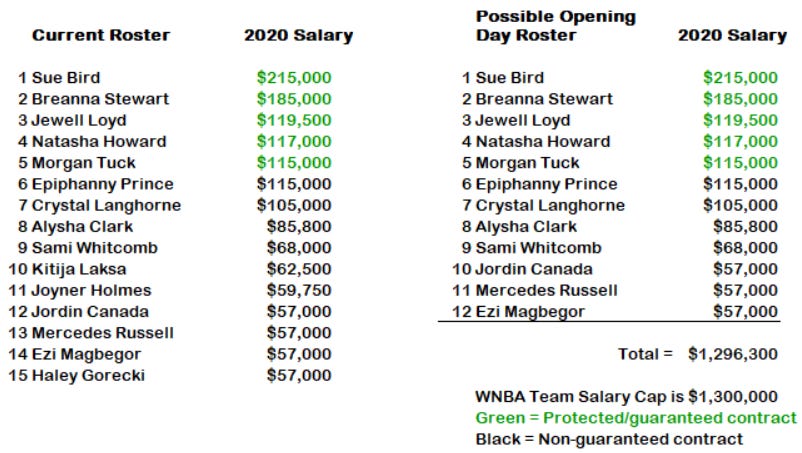 PG: Sue Bird/Jordin Canada
SG: Jewell Loyd/Sami Whitcomb/Epiphanny Prince
SF: Alysha Clark/Morgan Tuck
PF: Breanna Stewart/Crystal Langhorne/Ezi Magbegor
C: Natasha Howard/Mercedes Russell
...and good luck to any of the rookies trying to displace someone from that group.
The Storm cleaned up their potentially messy roster situation by drafting a player they have no intention of seeing until at least 2021. The #11 pick was going to struggle to fit onto the team, both due to the players she'd have had to beat out and a complicated cap situation. So they took Latvian wing Kitija Laksa higher than many expected, in part because they knew she was willing to stay away until next year. That leaves the 12 players listed above as the near-certain roster in a normal year. Of course, the world is currently anything but normal, and with two Australians on the expected roster the chances for their later draft picks to hang around might be higher than in a typical season if travel restrictions play a part.
---
Thanks for reading the Her Hoop Stats Newsletter. If you like our work, be sure to check out our stats site, our podcast, and our social media accounts on Twitter, Facebook, and Instagram. You can also buy Her Hoop Stats gear, such as laptop stickers, mugs, and shirts!