Discover more from The Her Hoop Stats Newsletter
Unlocking better insight about women's basketball
Over 3,000 subscribers
Where Are They Now? Sam Quigley, DePaul Basketball (2006-11)
Now going by Sam Quigley Smith, she is flourishing as a head coach close to home
Thanks for reading the Her Hoop Stats Newsletter. If you like our work, be sure to check out our stats site, our podcast, and our social media accounts on Twitter, Facebook, and Instagram. You can also buy Her Hoop Stats gear, such as laptop stickers, mugs, and shirts!
Haven't subscribed to the Her Hoop Stats Newsletter yet?
---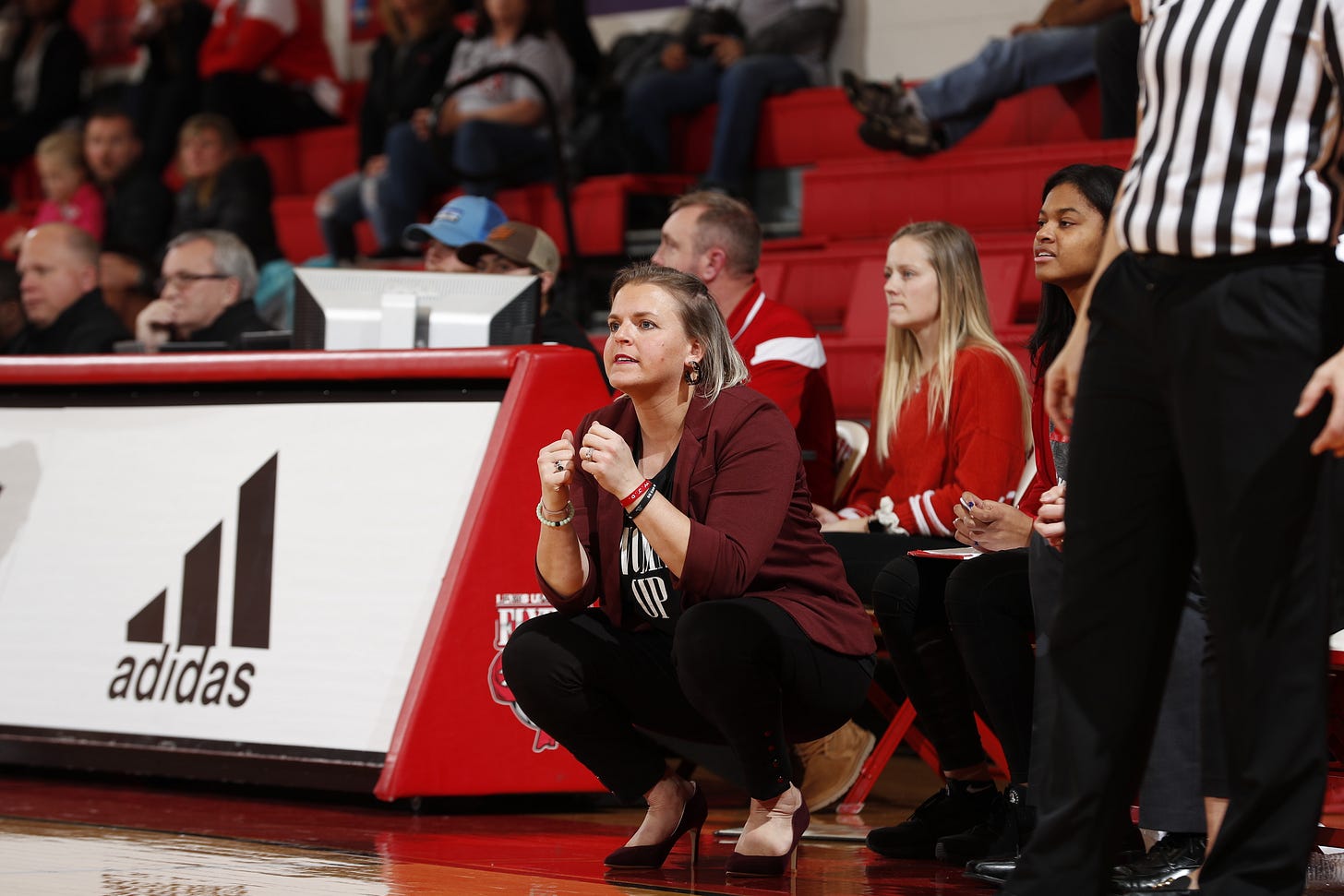 Lewis University head coach Sam Quigley Smith watches the action during a game. Photo credit: Steve Woltmann
When Sam Quigley finished her career at DePaul in 2011, she had two plans: to play basketball overseas in Hungary and to buy a Mini Cooper. Neither of those plans lasted long.
Quigley, a native of Joliet, Illinois, spent about six weeks in Hungary before deciding to return home. "It was a good experience, but it wasn't for me. I'm kind of a homebody," she told Her Hoop Stats. So Quigley retired and began a coaching career that has since seen her rack up 171 wins in eight seasons as a head coach. 
The Mini Cooper stuck around for four years, until Quigley's—now Quigley Smith's—growing family meant it no longer made sense to keep the car. She now has four children, all under the age of seven. "I went from a Mini Cooper to a minivan real quick," she chuckled.
"Little Quigley" had a storied playing career of her own
Almost as far back as she can remember, Sam played sports with her older sister Allie, who now plays in the WNBA for the Chicago Sky. They played basketball, softball, and volleyball growing up, and with two brothers who were also athletes, it made the logistics a lot easier if Sam and Allie, just eighteen months apart in age, were on the same team. In the summers, they attended basketball camps at nearby Lewis University, where their uncle Brian Michalak was the head women's basketball coach for nine seasons.
Sam and Allie didn't always get along off the court, but on the court, their games meshed perfectly, Sam the passer and Allie the scorer. Allie scored nearly 2,400 points in her high school career and made the Chicago Tribune's five-player All-State team as a senior in 2004, while Sam scored over 1,900 career points and was the Chicago Sun-Times Female Athlete of the Year in 2006.
"I just remember launching balls down the court in high school and she would make a ridiculous catch," Sam said. "… To always have someone that you knew was as competitive as you were [and] wanted to win as much as you did … was a really fun dynamic."
Sam, who is by nature the louder of the two siblings, was also protective of her older sister on the court. Allie often faced a lot of defensive attention, and she did not always get the calls from the officials that Sam thought she deserved. "I'm the point guard, so I'm screaming at the referees," Sam told ESPN in 2011. "They were probably like, 'Little Quigley, shut up.'"
(Even now, Sam is adamant on this point. When I referenced the ESPN article and conceded that fouling is perhaps the only effective way to guard Allie, so she may well have been getting fouled on every possession, Sam quickly replied, "Oh, she definitely was. Definitely.")
Despite her love of sports, Sam didn't think much about coaching until she was in college. Instead, she had her sights set on becoming a vet. "I had so many dogs. I was that crazy girl that was like chasing stray cats," she said. That "caring mentality" evolved over the years: it led her to start the nursing program at DePaul before switching to education, and it is now a pillar of her coaching style.
Sam never thought about her college decision as following Allie to DePaul—in part because Sam was sold on the school first. Sam tagged along on all of Allie's college visits, and upon leaving DePaul, Sam exclaimed, "This is it!"
"[Allie] was looking at me like, 'This isn't your decision; this is my decision,'" Sam recalled. But Allie eventually chose DePaul, too, and seeing Allie flourish close to home only solidified Sam's conviction. "Nothing beats getting pizza with your family after a game," Sam said. "… [DePaul] just felt like home."
Unfortunately, Sam and Allie got to play only one season together in college, Sam's freshman year, before a torn ACL sidelined Sam for her entire sophomore season. But she recovered well enough to leave DePaul in 2011 ranked 20th in program history in scoring and third in assists—and the time on the sidelines gave her the opportunity to see what coaching was like.
"I was part of the coaching staff; I was in the coaches' meetings," Sam explained. "I think that was the year I really figured out, 'Okay, this is my calling.'"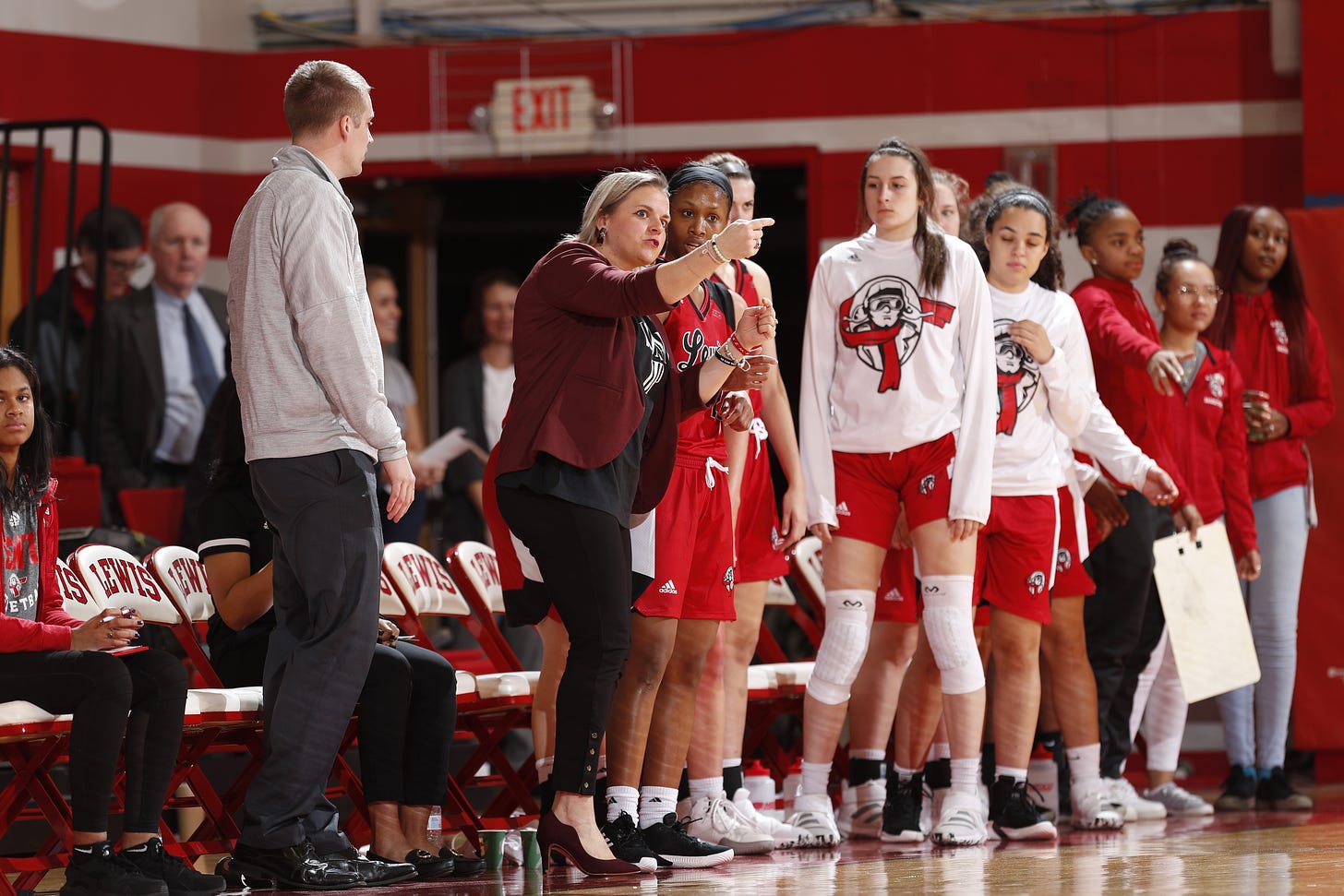 Sam points something out to one of her players at Lewis University. Photo credit: Steve Woltmann
Sam found her footing as a coach almost literally in her own backyard
After her brief foray into professional basketball, Sam originally thought she would become a high school coach, mostly for practical reasons. "Normally the route [into college coaching] is you become a grad assistant or you become a video coordinator, then you work your way up … and I remember thinking, 'I don't really want to do that. I want to coach right now.'" She had graduated with a teaching degree, so the high school level was a natural fit.
But fate had other plans in the form of the University of St. Francis, an NAIA school that counts Sam's mother, late father, stepfather, and younger brother as alumni and is down the street from her childhood home. The school hired Michalak as its interim head coach in October 2011, and Sam joined him as an assistant before succeeding him as the permanent head coach in May 2012.
Sam rewarded athletic director Dave Laketa for believing in a relatively inexperienced young coach by amassing the most wins in St. Francis history, 101 in five seasons. She led the 2016-17 team to an undefeated regular season, a No. 1 ranking, and an NAIA Final Four, completing a turnaround from a 10-22 season the year before Michalak took over. "It was so cool to be [at St. Francis] at the beginning stages with my uncle and then build it into something really, really special," Sam reflected.
She also had the unique experience of coaching on a home court named for her father, Pat, who died of cancer when Sam and Allie were in grade school.
"I think that's amazing. It speaks volumes about someone who was on this earth for 33 years," Sam said. "… I'm 32, about to be 33—my name is not going on any courts right now. … I've talked to people who have said, 'Your dad, he was a teacher, he was a coach, he saved my life,' and I'm like, to hear that about your dad or about a family member, that's what you want to be. That's what all of us want to be, I think."
In 2017, Sam moved up a division but just six miles north when she accepted the head coaching position at Division II Lewis University in Romeoville, Illinois. She had immediate success, extending the Flyers' active streak of making the NCAA Tournament to eight seasons and averaging 23.3 wins per year in her first three seasons.
Looking back on her career to date, Sam said it took time to develop her own coaching style. "Initially, I was more of a yeller, maybe, or a zero-tolerance coach," she said. But she eventually realized that it was more important to connect with every student-athlete than to have the exact same rules for each player. She explained, "Every year, you kind of analyze the players that you have and what they need. In some years, you might have players that need more [support], and then other years you might have players that need a little more motivation and competitiveness and grind."
Just as her communication with players has evolved over the years, Sam has changed her strategy for communicating with officials since her playing days. "I definitely have a little more TLC now," she said. "I try to … talk to them and have these friendly conversations so maybe they'll give us some calls on the other end. But when I was a player, I was probably a little more adamant."
At St. Francis and then at Lewis, Sam seems to have found two great fits for her, places where she can do her best work on the court and remain close to her family—including Allie and Allie's wife Courtney Vandersloot, who also plays for the Chicago Sky. Rather than racing to coach at the Division I level, Sam appreciates the small-college atmosphere and the breaks in the basketball schedule at the NAIA and Division II levels that allow players to, in her words, "recharge their batteries … go home, be a regular person, a regular student, go on a vacation."
"It's a really special place," Sam said of Lewis. "I think a lot of these smaller schools are."
Sam and Allie are still a team
Despite both of their demanding careers and frequent travel, Sam and Allie remain close—and even now, their roles complement each other in certain ways, much like they did on the court. Sam uses the Sky as a teaching tool for her players at Lewis from time to time, whether it's borrowing one of Allie's ball-handling workouts or showing players film of how Vandersloot uses ball screens. And during the WNBA season, Sam watches every one of Allie's games—and sometimes gives her older sister a bit of coaching.
"I'll ask her, 'Be honest with me: what do you think I need to do?'" Allie told Her Hoop Stats. "And she's always there for me … She's been watching me for 30-something years, so she knows what I'm good at, when I look like myself, and when I don't, so I really trust her opinion."
Allie's career arc has run the gamut of experiences, as she got cut from the WNBA multiple times before breaking through and becoming the WNBA's Sixth Woman of the Year in both 2014 and 2015. In 2017, she reached even bigger heights with her first of three straight All-Star appearances, and she won back-to-back Three-Point Contests at the All-Star Game in 2017 and 2018. This season, Allie became the all-time leading scorer in Chicago Sky history.
Sam said that Allie "never needed" the validation of becoming an All-Star, but for Sam and the rest of the family, that honor was extremely meaningful. "We were always like, 'She's not getting the validation she deserves. … She [just] needs an opportunity,'" Sam said. "… Watching her at the All-Star Game was like, 'Oh my gosh.' I would have tears in my eyes because all this hard work for her has finally paid off. It's the epitome of a success story that you get cut and you get cut and you get cut and you get cut again, and you just keep grinding."
Sam also enjoyed watching Allie participate in the NBA HORSE Challenge, which was one of the first live events after the coronavirus pandemic shut down American sports in March. Allie defeated NBA All-Star Chris Paul in the first round but lost in the semifinals to Zach LaVine, who openly avoided trying to match her shooting ability and relied instead on acrobatic layups. One of Allie's most lethal trick shots in the competition was a seated shot—but that may not run in the family.
Asked what trick shots she has up her sleeve, Sam had to think for a minute. "Not on the floor like that," she said. "… Probably something with banks. I'm all about using the backboard." She added that using the backboard is a refrain Allie has heard before: "[Allie will] be in games and she'll have the perfect angle … and I'm like, 'Why didn't you use the backboard?' It's like an old-school mentality."
Allie also tries to watch as many of Sam's games as she can, but because she plays in Russia in the winters, the time difference can be brutal. She said she knew Sam would be a good coach "almost our whole life," before the former aspiring veterinarian had thought about it herself. "As a player, she's always been the more outgoing personality and not afraid to be the leader," Allie said. … [Sam was] the one to do the encouraging but also the one that had to get into you and tell you what you need to hear. She's always kind of had it, so you knew it was coming."
For Allie, what distinguishes Sam as a coach is simple: her enthusiasm and care for her players. "She really cares about them … [both] on the court and being more than just basketball players, being great in the classroom. Her passion for the game is the thing that I admire the most about her."
"I want to coach until I can't walk anymore"
Basketball programs around the country are in limbo right now due to the COVID-19 pandemic, waiting to hear when they can start their 2020-21 seasons. At Lewis, some classes are in-person and others are online, and as of early September, the basketball team was on campus but not holding workouts yet. Sam is choosing to see the upside: she is confident that her team will get to play against conference opponents, and she believes that having to develop new recruiting strategies during the pandemic has made her better at that part of the job.
Sam's "super competitive" side is raring to get started, though she doesn't want to think too far ahead. Even before all the uncertainty that COVID-19 has brought, Sam found more purpose in trying to "win this moment" than in thinking about the long term. Of her career goals, Sam said simply:
"I want to coach until I can't walk anymore. I see all these coaches like Muffet [McGraw] and Geno [Auriemma] and Doug [Bruno] and Pat [Summitt]—to be coaching that long and to love what I do that long, I think that's my biggest aspiration."
Off the court, though, there is one very specific item on her bucket list: "You better believe I'm gonna have a Mini Cooper at some point in my life again."
---
Correction (9/16/20): We have updated this story to reflect that Pat Quigley Court is located at the University of St. Francis, not Lewis University.
---
"Where Are They Now?" is a series by the Her Hoop Stats team that spotlights former women's basketball players, their athletic careers, and what they have gone on to do since retiring from playing. Players previously featured in this series: Kelley Hunt (UConn), Suzie Miller (Harvard), Tonya Burns-Cohrs (Iowa State).
---
Thanks for reading the Her Hoop Stats Newsletter. If you like our work, be sure to check out our stats site, our podcast, and our social media accounts on Twitter, Facebook, and Instagram.