Discover more from The Her Hoop Stats Newsletter
Unlocking better insight about women's basketball
Over 3,000 subscribers
Which 2021 Free Agents' Performance in the Wubble Could Earn Them a Big Payday?
Revisiting our analysis of free agents' Win Shares and salaries, looking ahead to 2021
Thanks for reading the Her Hoop Stats Newsletter. If you like our work, be sure to check out our stats site, our podcast, and our social media accounts on Twitter, Facebook, and Instagram. You can also buy Her Hoop Stats gear, such as laptop stickers, mugs, and shirts!
Haven't subscribed to the Her Hoop Stats Newsletter yet?
---
Earlier this summer, we took a look at the new CBA and what the WNBA paid for free agents in the 2020 season. Based on our analysis, free agents earned approximately $20,000 in additional salary per additional Win Share (based on 2019 performance).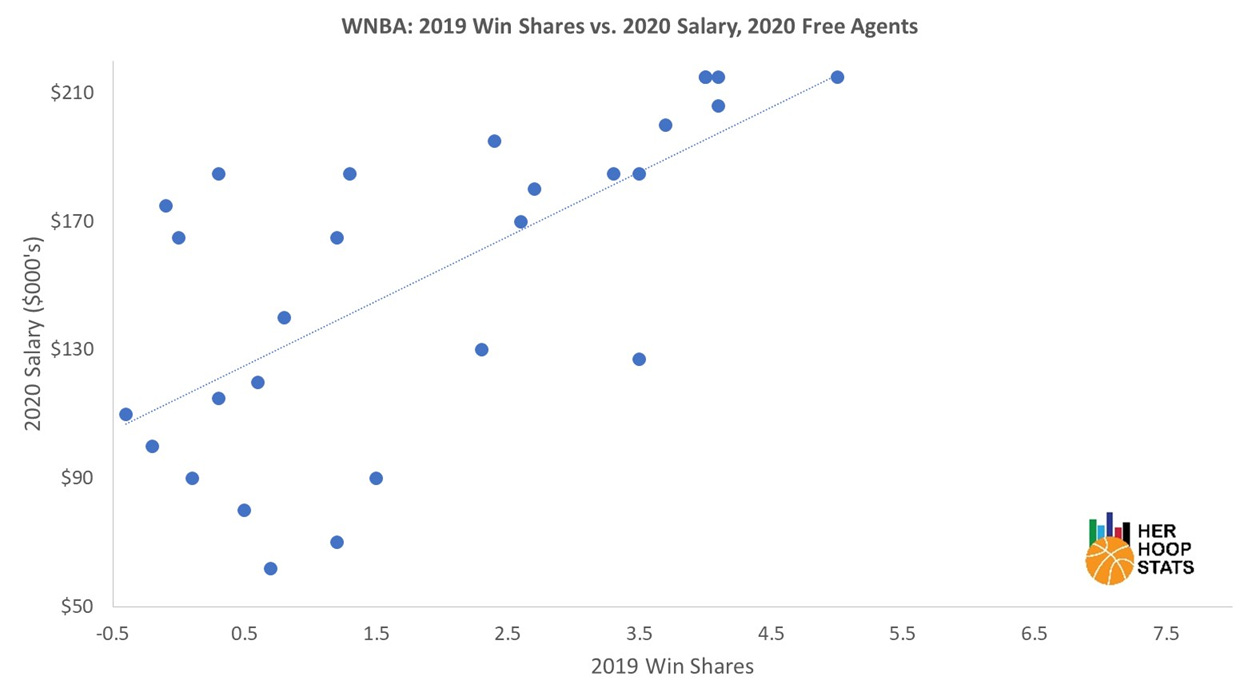 Now that the 2020 regular season has come to a close, we revisited this analysis to determine the value of free agents in 2021 based on their performance in the wubble. To estimate players' value based on 2020 statistics using the same formula as our original analysis, Win Shares were adjusted to compensate for the shortened season. Given that the 2019 season included 34 regular season games, compared to just 22 games in the 2020 season, players' actual Win Shares were multiplied by a factor of 1.55 to better approximate value on an equivalent basis.
As shown in the above graph from our 2019 season analysis, it's worth noting that there is a lot of variability, especially on the lower end of the contract value vs. Win Shares spectrum. Win Shares is just one metric of performance, and while it is one of the better stats in capturing value on the floor, it is not perfect. Team management will certainly take many factors into account, which will (and should) result in salaries that vary from this analysis. Still, Win Shares allow for a consistent assessment of each player and for us to highlight some players that may be headed for a big raise in 2021.
Four unrestricted free agents stand out in this analysis with projected salaries near or above the 2021 supermax contract amount of $221,450 based on their performance in Bradenton: Alysha Clark (Seattle), Candace Parker (Los Angeles), Alyssa Thomas (Connecticut) and Diana Taurasi (Phoenix).  All four have five or more years of service so they are eligible for a supermax contract should they re-sign. 
Parker, Thomas and Taurasi aren't big surprises as names in the discussion for supermax contracts, but Clark is perhaps a less expected addition to this list. She headlines our list of players whose performance in the WNBA bubble may have earned them a big payday during free agency this offseason:
Alysha Clark
Alysha Clark, who was a unanimous selection to this year's All-Defensive first-team and an essential part of Seattle's run to another WNBA title, leads the entire list of free agents with 3.70 Win Shares in 2020 (equivalent of 5.73 Win Shares in a 34 game season), for a projected value of $221,914. Signing a supermax, or even a standard max contract of $190,550, would be a big payday for Clark whose salary was just $85,800 this season.
Brionna Jones
Clark isn't the only player whose performance in the wubble could lead to a big pay increase in free agency. Brionna Jones, who stepped into the opportunity to be Connecticut's starting center in the absence of Jonquel Jones this season, checks in at fifth in Win Shares for 2021 free agents. Her projected value sits just shy of $195,000, which is above the 2021 standard max contract amount of $190,550. Jones' salary on the Sun roster was just $68,000 in 2020, in the final year of her rookie-scale deal. Connecticut may not have the cap space to keep her, but some high offers and maybe even a standard max contract could be on the table elsewhere for Jones this offseason. 
Betnijah Laney
Betnijah Laney (Atlanta) is another player who took advantage of the opportunity she was presented with this season, and could land a big payday as a result. The 2020 Most Improved Player was on Indiana's roster with a non-guaranteed salary of $90,000 on June 1st before being waived and picked up by Atlanta as a free agent. She went on to average 17.2 points, 4.9 boards and 4.0 assists per game and tallied a total of 2.10 Win Shares for the Dream - a number which translates to a value of $174,025. Laney's season was unquestionably a great performance, but where her new contract falls will ultimately depend on whether teams think she can replicate her 2020 production going forward or whether they view it as an exceptional season that will be hard to replicate.
Kayla McBride
Kayla McBride ranks the highest among Las Vegas' 2021 free agents in Win Shares this season, with her estimated value falling just shy of a standard max contract. This raises some questions as to how Vegas will proceed through this free agency period and the coming seasons. Liz Cambage (who signed a standard max contract for 2020, with a potential for a $30,000 time off bonus that will also hit Vegas' cap amount) and Danielle Robinson (whose 2020 salary was higher than McBride's) are both also 2021 free agents, and Vegas will also need to consider future deals for their top draft picks including 2020 MVP A'ja Wilson. There's no question that McBride should sign a big deal this offseason, but it'll be interesting to see whether it's with Vegas or elsewhere.
Where do 2021's other top free agents fall in projected salary based on their performance this season? Here's the full list of 2021 unrestricted and restricted free agents who played at least 80 minutes this season, their 2020 Win Shares and projected salaries based on their performance in the wubble: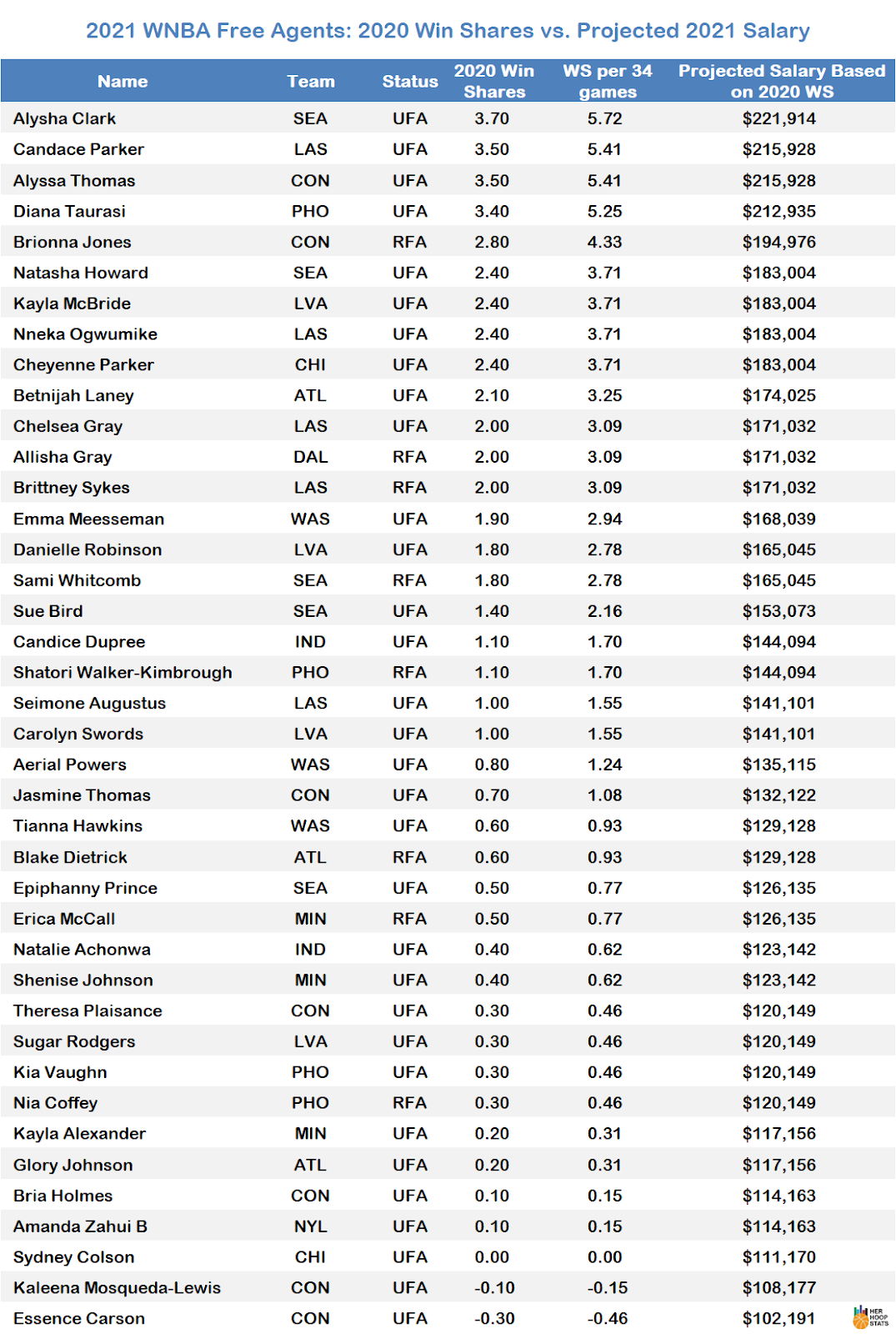 ---
Thanks for reading the Her Hoop Stats Newsletter. If you like our work, be sure to check out our stats site, our podcast, and our social media accounts on Twitter, Facebook, and Instagram. All stats are compiled from Her Hoop Stats, and more information on WNBA free agency can be found here.