WNBA Post-Draft Roster Projections and Salary Cap Situations: Eastern Conference
Updated information and analysis after the 2020 Draft
Thanks for reading the Her Hoop Stats Newsletter. If you like our work, be sure to check out our stats site, our podcast, and our social media accounts on Twitter, Facebook, and Instagram. You can also buy Her Hoop Stats gear, such as laptop stickers, mugs, and shirts!
Haven't subscribed to the Her Hoop Stats Newsletter yet?
---
Like almost every sports league around the world, the WNBA is currently in COVID-19-enforced limbo. Right now we don't know whether the 2020 season will take place at all, and if it does whether the format will be anything like the standard structure. But while the league and commissioner Cathy Engelbert emphasize that they are keeping their options open, there's value in continuing to analyze roster moves and team situations within the regular framework. 
The WNBA Draft went ahead as scheduled last week - albeit with everyone involved at safe distances from each other - and New York finally resolved the Tina Charles situation by trading her to Washington. Presented below are the current roster situations following the draft and the various moves made during and around it. Short explanations of the decisions each team still has to make are also included, along with projections for what the opening day roster might look like. All come with the obvious caveat that the world is in flux - and that international players currently abroad might struggle to return to the US due to travel restrictions or just personal choice, even if the season moves forward.
First up this time, the Eastern Conference. The West will follow later this week.
Atlanta Dream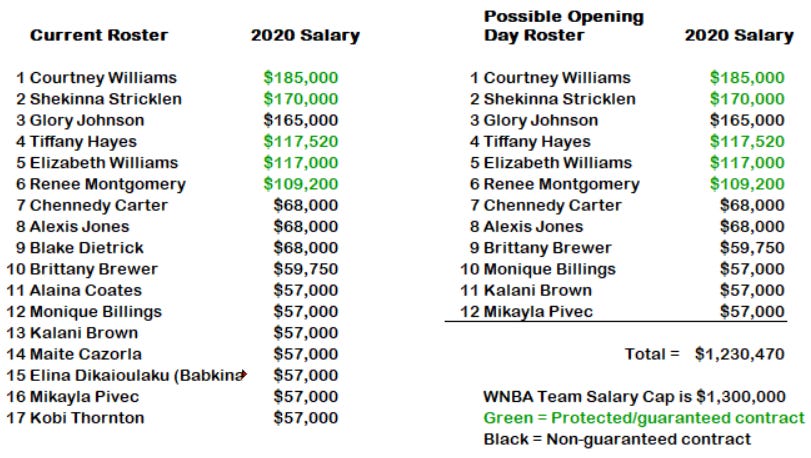 PG: Chennedy Carter/Renee Montgomery
SG: Tiffany Hayes
SF: Courtney Williams/Shekinna Stricklen
PF: Glory Johnson/Monique Billings
C: Elizabeth Williams/Kalani Brown
...plus three spots that are wide open to whoever grabs them from the remaining training camp attendees.
Little has changed here besides putting names to the Dream's draft picks. On a team that was bad last year and has been heavily rebuilt in the offseason, the final few roster spots are wide open to whoever shows up and impresses in camp. Jones, Brewer and Pivec are pencilled in for calculation purposes in the salary graphic above, but the empty spaces in the potential depth chart is a more realistic representation of the situation. The end of their bench is up in the air.
Chicago Sky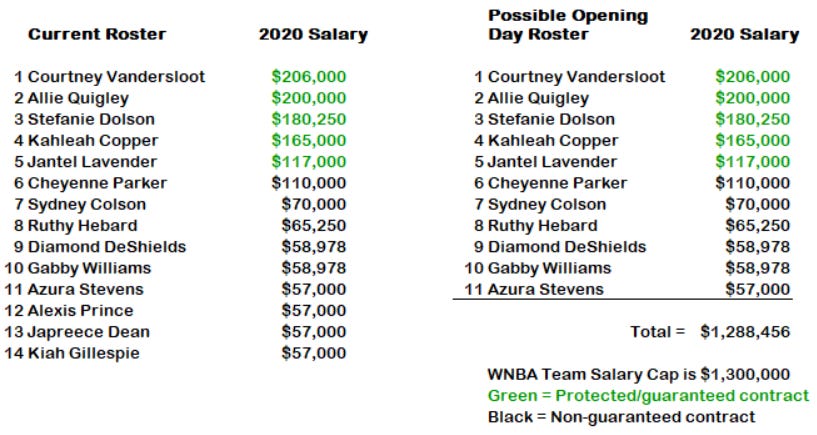 PG: Courtney Vandersloot/Sydney Colson
SG: Allie Quigley/Gabby Williams
SF: Diamond DeShields/Kahleah Copper
PF: Azura Stevens/Cheyenne Parker
C: Stefanie Dolson/Jantel Lavender/Ruthy Hebard
...and that's them set. It's hard to see anyone breaking into that group.
As stated in the previous article, this roster was essentially set up to add the #8 pick in the draft as their final piece. That pick became Hebard, and it's difficult to see who anyone else would beat out. Colson could perhaps be vulnerable, but only if another point guard option impresses more than her. They'd start the season with 11 players due to their cap situation, even if Colson was replaced by a minimum salary.
Connecticut Sun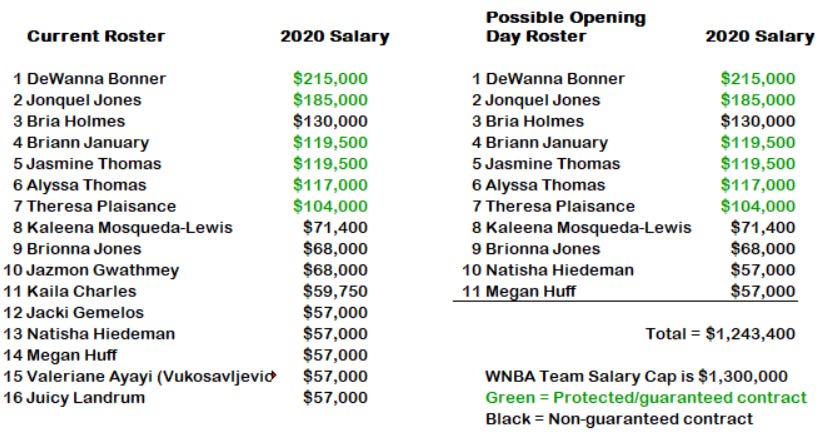 PG: Jasmine Thomas/Natisha Hiedeman
SG: Briann January/Bria Holmes
SF: DeWanna Bonner/Kaleena Mosqueda-Lewis
PF: Alyssa Thomas
C: Jonquel Jones/Brionna Jones/Theresa Plaisance
...plus one from their collection of rookies and camp invites.
The Sun are still going to be stuck opening the season with 11 players, unless one of Mosqueda-Lewis, Holmes or Brionna Jones is unexpectedly cut. Megan Huff is included in the graphic above almost purely for calculation purposes - that 11th spot is wide open. As explained in the previous version of this article, they'll also be able to add a 12th player shortly after the season starts - it just wouldn't be possible for opening day.
Indiana Fever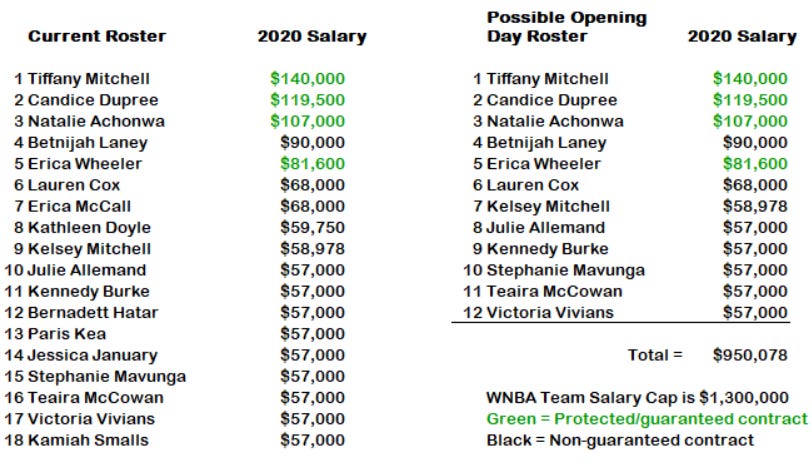 PG: Erica Wheeler/Julie Allemand
SG: Kelsey Mitchell/Tiffany Mitchell
SF: Victoria Vivians/Betnijah Laney
PF: Candice Dupree/Lauren Cox
C: Teaira McCowan/Natalie Achonwa
...plus a couple of very open spots to be fought over.
The Fever are another team with at least a couple of spots on the end of their roster that could go to virtually anyone in their training camp (or to someone they pick up afterwards off waivers). They also continue to have so much cap space that they could take on anyone if the right deal presented itself.
New York Liberty
PG: Sabrina Ionescu/Layshia Clarendon
SG: Asia Durr/Marine Johannes
SF: Kia Nurse/Rebecca Allen/Jocelyn Willoughby
PF: Amanda Zahui B/Megan Walker
C: Kiah Stokes
...plus two spots left for their overload of rookies and non-guaranteed vets to battle over.
With Charles gone and six of the top-15 picks from the 2020 draft now on their roster, the only real complication for New York is trying to work out who they'll keep. As you can see above they have acres of cap space, more than enough to cut Tayler Hill and pay out her guaranteed salary if they don't want her taking up a roster spot that could go to one of their many youngsters. But even in that scenario they'd be forced to make a lot of cuts. This is one team where the choices would be made simpler if a few of their foreign players stayed home for the 2020 season. However, in some ways that would just be pushing the same decisions a year into the future.
Washington Mystics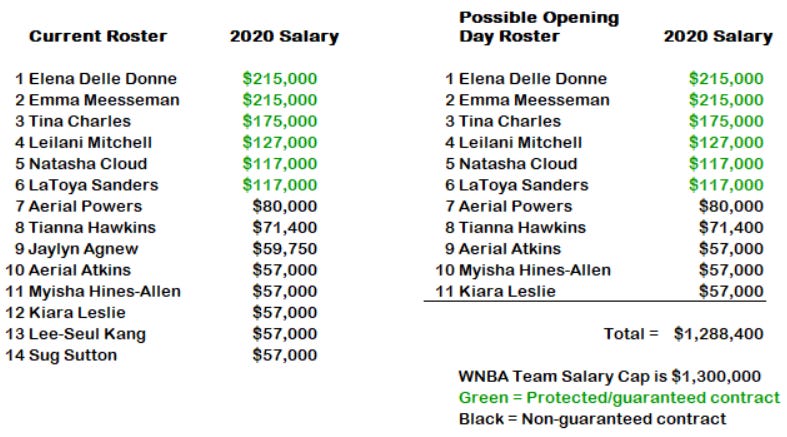 PG: Natasha Cloud/Leilani Mitchell
SG: Ariel Atkins/Aerial Powers
SF: Elena Delle Donne/Kiara Leslie
PF: Tina Charles/Emma Meesseman/Tianna Hawkins
C: LaToya Sanders/Myisha Hines-Allen
...and that's likely it for opening day. Other training camp participants are longshots.
The Mystics simplified their situation even further with the Tina Charles deal. She signed for $175,000 as part of the trade, and adding that contract while removing only Walker-Kimbrough's $68,000 means that they'll now go into the season with an 11-player roster. Considering they didn't pick in the draft until #24 and their only training camp signing was a Korean who's never played in the WNBA before, the 11 will more than likely be the group listed above.
Part Two of this piece, covering the Western Conference teams, will be published later this week.
---
Thanks for reading the Her Hoop Stats Newsletter. If you like our work, be sure to check out our stats site, our podcast, and our social media accounts on Twitter, Facebook, and Instagram. You can also buy Her Hoop Stats gear, such as laptop stickers, mugs, and shirts!