Discover more from The Her Hoop Stats Newsletter
Unlocking better insight about women's basketball
Over 3,000 subscribers
2020 WNBA Roster and Salary Cap Breakdowns: Eastern Conference
Thanks for reading the Her Hoop Stats Newsletter. If you like our work, be sure to check out our stats site, our podcast, and our social media accounts on Twitter, Facebook, and Instagram. You can also buy Her Hoop Stats gear, such as laptop stickers, mugs, and shirts!
Haven't subscribed to the Her Hoop Stats Newsletter yet?
---
February was a wild month in the WNBA. Now, March has been a wild month across the globe. There's still tremendous uncertainty about the 2020 WNBA season and whether the league will be able to stick to the planned calendar.  Most notably, we're not certain when the draft will be held and if the season will open on May 15th. We'll also need to monitor the financial impact of the COVID-19 events on the league. Since the salary cap is currently specified in dollar figures in the Collective Bargaining Agreement rather than a percentage of revenue through 2027, the league and the Players' Association may need to have some tough conversations if revenue falls significantly short of expectations in a recession - or if a season is canceled.
What is known is that it was an offseason of tremendous change in the WNBA. On Monday we analyzed the roster and salary cap situations of the Western Conference teams. Today, we break down the Eastern Conference.    
Atlanta Dream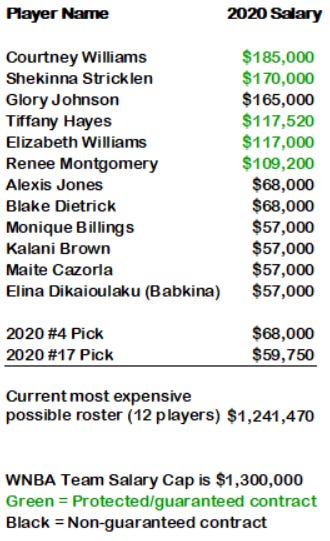 Depth Chart
PG: Renee Montgomery/Maite Cazorla/Elina Babkina
SG: Courtney Williams/Alexis Jones
SF: Tiffany Hayes/Shekinna Stricklen
PF: Glory Johnson/Monique Billings
C: Elizabeth Williams/Kalani Brown
...plus the #4 pick.
Despite their entries into free agency and the trade market this offseason, Atlanta are still in a relatively comfortable salary cap position. They can go into the season with 12 players without any issues, and the only current questions are which of the various backup point guard options they might want to keep. They'll obviously be hoping the #4 pick bolsters their roster, and the #17 looks like she could have a chance to make the team by beating out one of the non-guaranteed backups listed on the roster above.
Chicago Sky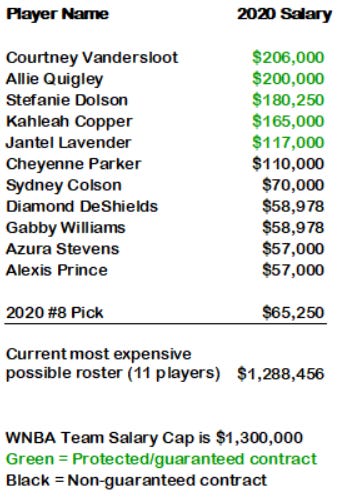 Depth Chart
PG: Courtney Vandersloot/Sydney Colson
SG: Allie Quigley/Gabby Williams
SF: Diamond DeShields/Kahleah Copper
PF: Azurá Stevens/Cheyenne Parker
C: Stefanie Dolson/Jantel Lavender
...plus the #8 pick.
With so many free agents of various descriptions this offseason - and more to come next year - Chicago were one of the teams forced into some tough decisions by the new Collective Bargaining Agreement's salary structure. As the graphic above illustrates, they're going to be pretty close to the cap while carrying only 11 players into the season. The roster looks essentially complete at this point, assuming the #8 pick makes the team as the 11th player. Training camp signing Alexis Prince is going to have to beat out either that draft pick or someone like Colson or Williams to make the team.
Teams like this are where the common suggestion that there are 144 jobs in the WNBA becomes something of a fallacy. The CBA continues to give teams the option to carry either 11 or 12 players on their roster, and whenever teams have to choose between paying their top players or keeping room for an extra backup they invariably spend the money on the primary rotation. This year it looks like the season will start with 141, but that may well drop in future years as more players sign expensive contracts under the new CBA. Chicago may eventually add a 12th player this year, but barring hardship exceptions due to absences or injuries it probably won't be until the final few weeks of the season.
Connecticut Sun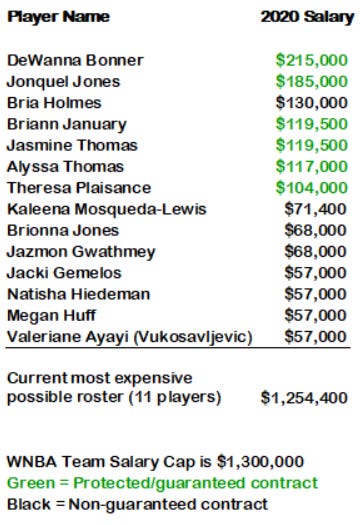 Depth Chart
PG: Jasmine Thomas/Natisha Hiedeman
SG: Briann January/Bria Holmes
SF: DeWanna Bonner/Kaleena Mosqueda-Lewis
PF: Alyssa Thomas
C: Jonquel Jones/Brionna Jones/Theresa Plaisance
...plus one from the various options above.
Connecticut has painted themselves into a corner that's somewhat similar to Seattle's situation detailed earlier this week. If you add up all six guaranteed salaries, plus Holmes, Mosqueda-Lewis and Brionna Jones, you arrive at a total of $1,129,400 for nine players. Subtract that total from the team salary cap of $1.3 million and you arrive at $170,600 in cap space - which is a comical $400 short of being enough to fit in three $57,000 minimum salaries.
So unless they find a way to shed Theresa Plaisance's salary, which looks unlikely, or one of those non-guaranteed backups doesn't make the team, the Sun will go into opening day with 11 players - but potentially have the room to add a 12th after less than a week of play. Don't be surprised if they waive someone on the final day of training camp, only to pick that same player back up again a little while later.
Indiana Fever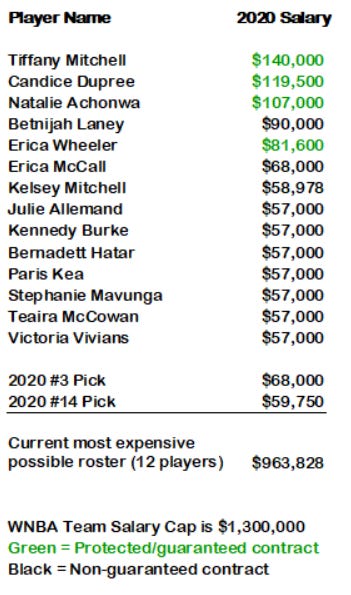 Depth Chart
PG: Erica Wheeler/Julie Allemand
SG: Kelsey Mitchell/Tiffany Mitchell
SF: Victoria Vivians/Betnijah Laney/Kennedy Burke
PF: Candice Dupree
C: Teaira McCowan/Natalie Achonwa
...plus the #3 pick, and one more player.
Indiana has a faintly ridiculous amount of cap room. With a roster that was already young and cheap, and Tiffany Mitchell the only offseason signing above the old CBA's maximum salary, they're the one team that looks almost certain to head into the season with an expected team salary under the team minimum of $1,088,100. The concept of there being a team minimum often leads to confusion, but it doesn't mean that the Fever will be signing someone to a ridiculous figure or making a strange trade in order to climb up to that minimum figure. If a team is under the minimum at the end of the season, they simply pay the shortfall to the players on their roster, so the current group receive a small bonus. It's not something that it is necessary to 'fix'.
However, all that cap space could still be useful. It obviously leaves room to be opportunistic in trades, but they'll also be one of the first phone calls if another team is desperate to shed salary. For example, if Connecticut wanted to extract themselves from the situation discussed in their section above, Indiana could take on Theresa Plaisance's guaranteed salary if they were offered a nice enough draft pick as part of the package. They could then even just waive Plaisance and swallow her salary if they didn't want to keep her. Trades like that are very unusual in this league even though they're common in the NBA.  It's certainly a possibility this season.
New York Liberty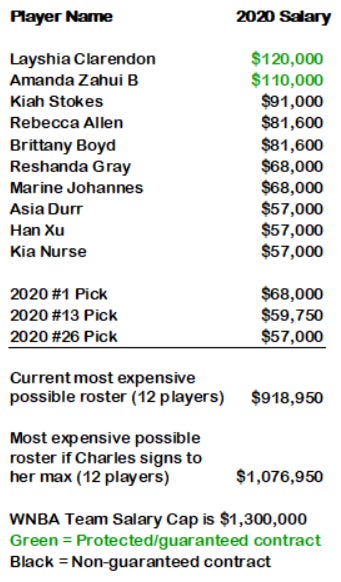 Depth Chart
PG: Layshia Clarendon/Brittany Boyd
SG: Asia Durr/Marine Johannes
SF: Kia Nurse/Rebecca Allen
PF: Amanda Zahui B/Reshanda Gray
C: Kiah Stokes/Han Xu
...plus the #1 pick, and hopefully Tina Charles.
As the graphic above suggests, New York is currently even further under the salary cap than Indiana, but that's primarily because of one major issue - Tina Charles. The Liberty's long-time star would've been an unrestricted free agent this offseason, but was cored by the franchise which therefore retained exclusive negotiating rights to her. Rumors circulated that there were discussions about trading Charles but nothing materialised and most potential destinations now appear to have made other arrangements. The core designation comes with a one-year maximum contract offer, but technically that has now expired. The result of that is that New York continues to hold those exclusive negotiating rights, but any contract will have to be freshly negotiated. In practice, if she still wants a one-year max deal, there probably won't be much argument. Hopefully for both sides she eventually signs a contract and joins the roster. If so, it'll likely be for the $215,000 maximum and eat up around half of New York's remaining cap space.
Beyond Charles, the only real questions for the Liberty roster are over who to keep (and who might not be around). The #1 pick will obviously be expected to make an impact, and the #13 should have a decent chance to make the roster, especially if Han Xu doesn't show up in an Olympic year. Among the players New York held reserved rights to, Marine Johannes and Reshanda Gray both signed contracts, but for now Nayo Raincock-Ekunwe remains unsigned - and is another player who might prioritize Olympic preparation over the WNBA.
Washington Mystics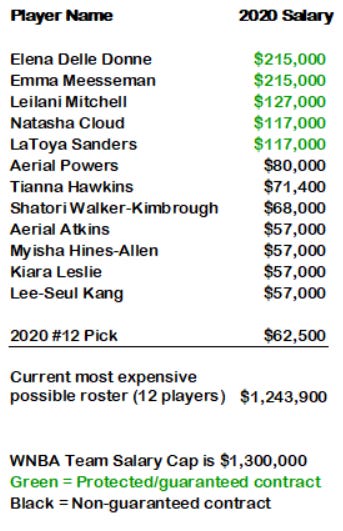 Depth Chart
PG: Natasha Cloud/Leilani Mitchell
SG: Ariel Atkins/Shatori Walker-Kimbrough
SF: Aerial Powers/Kiara Leslie
PF: Elena Delle Donne/Emma Meesseman/Tianna Hawkins
C: LaToya Sanders/Myisha Hines-Allen
...plus the #12 pick. 
Heading into the offseason, it looked like things were going to be very tight for the Mystics. With several star free agents, and others they have to plan for in upcoming years, they could easily have been pushed to move to an 11-player roster. Then Kristi Toliver left for Los Angeles. With that anticipated high-end salary no longer in the calculations and Leilani Mitchell serving as a more affordable replacement, Washington can keep 12 on the roster without any problems heading into the 2020 season.
With 10 players returning from last year's championship-winning team - including 2019 first-round pick Kiara Leslie, who they'll be hoping to actually see on the court this season - there isn't a lot of room for new additions. Korean guard Lee-Seul Kang will have to beat out either the #12 pick or one of those existing players in order to still be on the team on opening day.
------------------------------------
All data presented in this article has been independently sourced and verified by the author. Offseason transactions have been previously reported by High Post Hoops, Winsidr and Women's Basketball 24/7.
---
Thanks for reading the Her Hoop Stats Newsletter. If you like our work, be sure to check out our stats site, our podcast, and our social media accounts on Twitter, Facebook, and Instagram. You can also buy Her Hoop Stats gear, such as laptop stickers, mugs, and shirts!