Discover more from The Her Hoop Stats Newsletter
Unlocking better insight about women's basketball
Over 3,000 subscribers
Wubble Winners: Her Hoop Stats Writers' Predictions for the 2020 WNBA Season
Rookie of the Year? MVP? Champion? Our panel has you covered.
Thanks for reading the Her Hoop Stats Newsletter. If you like our work, be sure to check out our stats site, our podcast, and our social media accounts on Twitter, Facebook, and Instagram. You can also buy Her Hoop Stats gear, such as laptop stickers, mugs, and shirts!
Haven't subscribed to the Her Hoop Stats Newsletter yet?
---
The teams are in the Wubble, the schedule is released, and WNBA basketball is so close we can almost taste it. And what better time to make some predictions than on the cusp of the most unpredictable season in league history? With just over a week until the first of 44 triple-headers, we got out our crystal balls to forecast the biggest winners of the 2020 WNBA season.
Who will be the Rookie of the Year?
Gina Hernandez: Satou Sabally. As an Oregon fan, I am torn, but I am going with Satou. All three Ducks who were drafted in the first round have a shot, but I think Sabally is the most talented athlete in the entire draft class. Not sure if entering the league a year early will hurt her here — regardless, she's a beast.
Jenn Hatfield: Chennedy Carter. Last year, the Dream struggled mightily on offense, finishing last in the league in points per game (71.2), field goal percentage (37.1%), 3-point shooting percentage (29.0%), and offensive rating (89.8). They also lost their top three scorers, all of whom are guards: Brittney Sykes was traded and Tiffany Hayes and Renee Montgomery are sitting out this season. Enter Carter, who ranked sixth in the NCAA in scoring in each of the last two seasons. She'll have the keys to the backcourt and enough shot opportunities to make an Arike Ogunbowale-esque bid for the award.
Megan Gauer: I am sticking with my draft night pick here: Satou Sabally. She's easily the most pro-ready player entering the league and primed to have an instant impact for Dallas. In the spirit of keeping things interesting, though, if Dallas and New York both struggle as young teams I think there could be a lot of hats in the ring for this year's award. I wouldn't be shocked to see it fall to a second-round pick put in a really good position to succeed.
Calvin Wetzel: At first I thought Sabrina Ionescu was a boring pick, but then a bunch of my colleagues went with someone else. How can I not pick the Triple-Double Queen? She's already one of the better players on New York's roster, so she'll get volume on volume on volume. And, despite having to postpone their move to Barclays Center, the Liberty have new life with seven rookies and an entirely new coaching staff. There will be growing pains, but voters love numbers, and Sabrina will put up numbers.
Who will be the MVP?
JH: Breanna Stewart. The 2018 MVP is back after an Achilles injury cost her all of 2019, and although that is one of the hardest injuries in sports to recover from, Stewart says she's in the best shape of her career. That, plus her coach's claim that she's actually improved her 3-point shooting and ballhandling? Say no more.
GH: Stewie, baby. Healthy and hungry to be back on top. Even surrounded by a lot of talent, Breanna Stewart will shine.
CW: I picked Arike on our Unplugged podcast, and I'm staying on that train. Napheesa Collier's success in Minnesota makes it easy to forget, but Ogunbowale averaged 27.9 points per game over her last ten games last year. And she even did so on efficient shooting — 57% true shooting, to be exact — and while being asked to run the point. Arike played mostly off the ball at Notre Dame, but she excelled as a passer down the stretch last year, finishing those final ten games in the top ten in the league in assists. The Wings will probably have to make the playoffs for Arike to have a shot at the MVP, but their draft haul will only shift defensive focus away from the second-year star, and having Ty Harris and Moriah Jefferson at the point will give her the freedom to get buckets.
MG: I'm having a really hard time deciding on who I think the front runner should be here. For now, I am going with Brittney Griner. Adding Skylar Diggins-Smith in the off season and a healthy Diana Taurasi shores up Phoenix's backcourt as first class, but Griner is still going to need to dominate in the frontcourt for the Mercury to excel this season. Plus, among players who are playing this season, she checked in at fourth in win shares in 2019.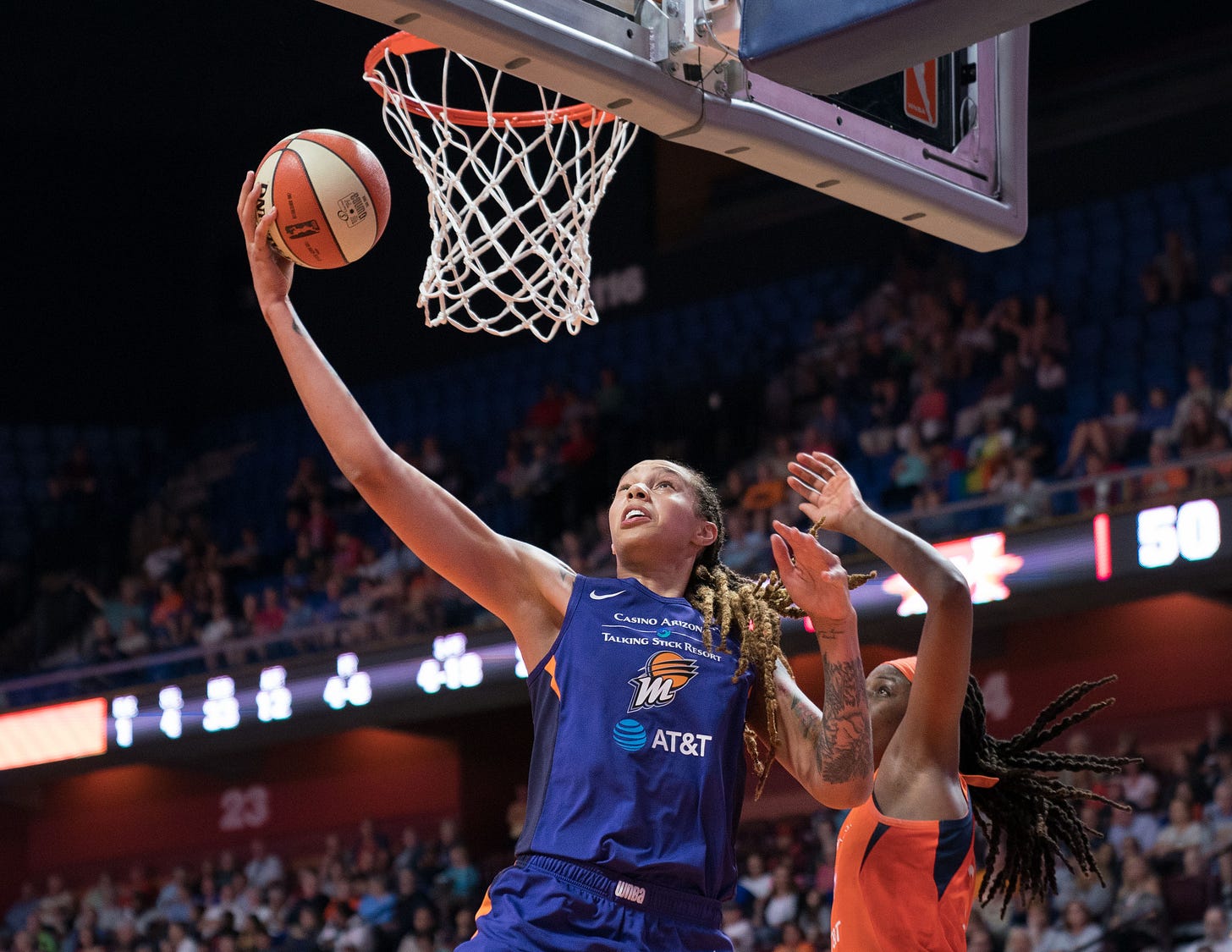 Mercury center Brittney Griner looks to score in a game on July 12, 2019, against the Connecticut Sun. (Photo credit: Chris Poss)
Which team that missed the playoffs in 2019 will make it this year?
MG: I'm going with Indiana. Teaira McCowan took some time last year to adjust to the league, but by the end of the season had a viable Rookie of the Year case. Add in 2020 No. 3 pick Lauren Cox and Victoria Vivians returning from injury and the Fever have a lot of young talent to add to their seasoned vets. They were just two games behind Phoenix for the final playoff spot last year and look poised to slide into that top-eight grouping.
CW: I knew the Wings were young, but I did a double-take when I checked their roster and realized I'm older than everyone on the team. At 27, Kayla Thornton is Dallas' oldest player, and half of the roster earned collegiate All-American honors in 2019 or 2020. This team will be a force — it's a matter of when, not if — and I'm looking for them to be ahead of schedule and snag a playoff spot this year.
JH: At times over the past few months, I would have said Atlanta, but with no Montgomery or Hayes, I'm not sure they have enough in the backcourt to get it done this year. Instead, I'll take Indiana. Along with all the reasons Megan laid out, they return eight players who saw minutes last season, plus Vivians, and I think that continuity will be helpful with an abbreviated preseason and shortened schedule. I also like the additions of Belgian national team point guard Julie Allemand and 2002 WNBA Coach of the Year Marianne Stanley.
GH: Satou Sabally and Katie Lou Samuelson on the same team in Dallas? Look out. And if Megan Gustafson can find her groove this season, that would be huge for Dallas. Gustafson really didn't have an impact in her roller-coaster rookie year, but I am not giving up on her yet. I also think Bella Alarie was a smart draft pick. Alarie can ball. Combine those young players with the other talent the Wings have and I think they make the playoffs this season.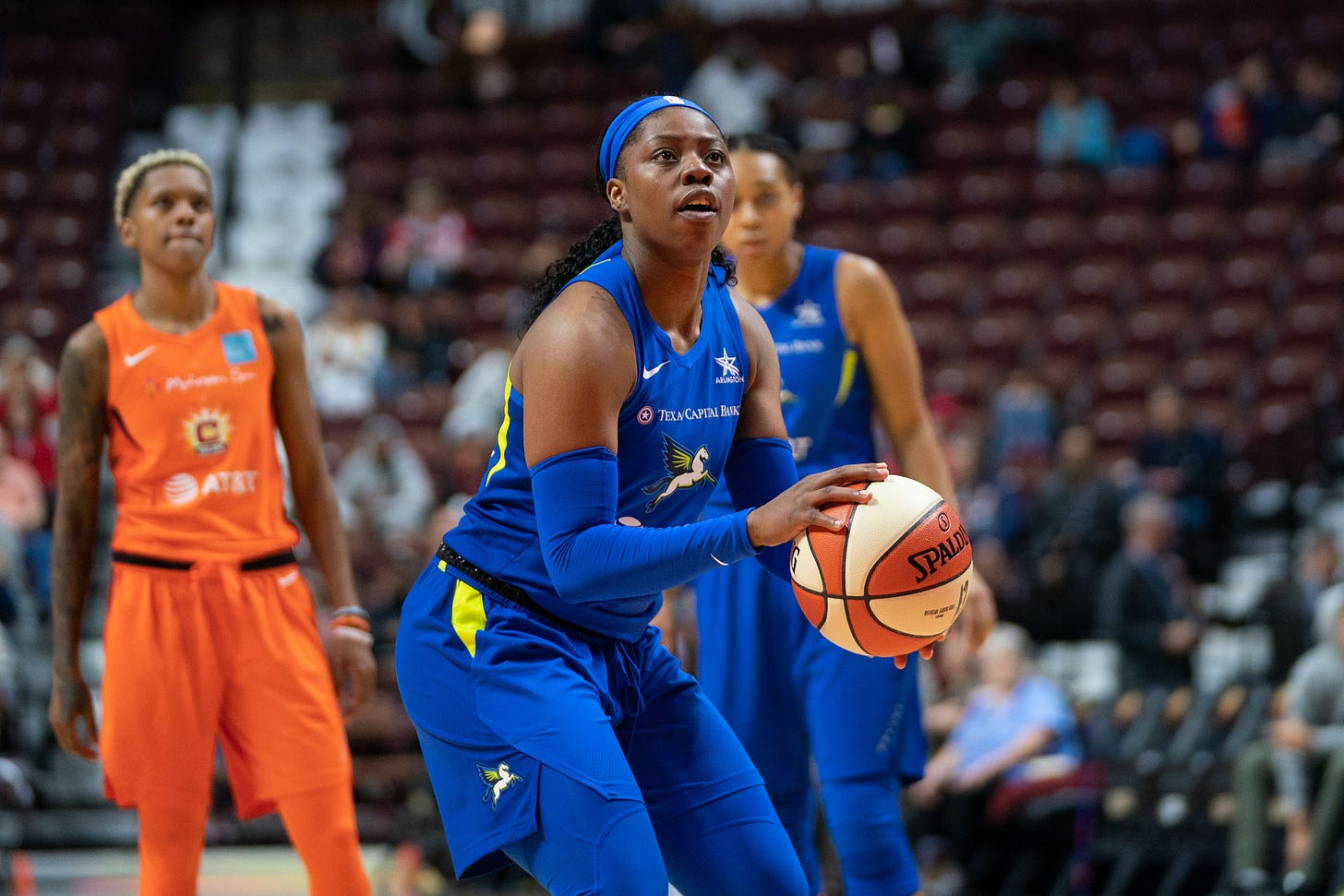 Wings guard Arike Ogunbowale lines up a free throw during a preseason game against the Connecticut Sun on May 14, 2019. (Photo credit: Chris Poss)
Who will win it all?
CW: Lady Accceeeessssss!! Without Liz Cambage and Kelsey Plum, this team will be widely overlooked. Those two will be missed to be sure, but last year the Aces had some diminishing returns with two dominant paint scorers anyway — they actually played better when Dearica Hamby replaced one of them — and the addition of three-time All-Star Danielle Robinson combined with a likely improved Jackie Young should ease the loss of Plum. And we can't forget about the off-season signing of Angel McCoughtry either. Bill Laimbeer hasn't won a title since the Detroit days, but this is the year he ties Van Chancellor and Cheryl Reeve for the most all-time.
MG: If Stewie is fully healthy and playing at a level similar to 2018, I'll go with the Storm. Until we know if she's at full strength, I'm going with Chicago. The Sky were one crazy shot away from making it to the semifinals last season, and unlike the four teams ahead of them in last year's standings, they aren't missing any critical pieces. A big part of their success will be contingent on their two 2018 lottery picks elevating their games, so be on the lookout for excellent seasons from Diamond DeShields and Gabby Williams.
GH: The Seattle Storm will bring their fourth trophy to the Emerald City. Breanna Stewart and Sue Bird are back. Period. They are the heart and soul of the organization right now. Plus, Morgan Tuck. Tuck and Stewart know how to win together. Tuck has been plagued by injury but if she can stay healthy she could have found the perfect home on this well balanced roster. Seattle is going to host one scary UConn reunion. Toss in 2019 WNBA Defensive Player of the Year Natasha Howard and point guard Jordin Canada's ability to get to the basket and they are a true contender again. Plus their bench is stacked — the Storm have some serious depth this season.
JH: I have to agree with Megan and Gina. Washington broke seemingly every WNBA offensive record in the 2019 season, but many of those records were previously set by Seattle in 2018. Washington is unlikely to have Elena Delle Donne or Tina Charles and will not have Natasha Cloud or LaToya Sanders, whereas Seattle might be deeper than, and in some ways improved from, the 2018 team. Look out.
---
Thanks for reading the Her Hoop Stats Newsletter. If you like our work, be sure to check out our stats site, our podcast, and our social media accounts on Twitter, Facebook, and Instagram. You can also buy Her Hoop Stats gear, such as laptop stickers, mugs, and shirts!
Haven't subscribed to the Her Hoop Stats Newsletter yet?