Discover more from The Her Hoop Stats Newsletter
Unlocking better insight about women's basketball
Over 3,000 subscribers
2020 Reflections and 2021 Forecasts: Dallas Wings
What is the Wings' salary cap situation and what might the team look like next year?
Thanks for reading the Her Hoop Stats Newsletter. If you like our work, be sure to check out our stats site, our podcast, and our social media accounts on Twitter, Facebook, and Instagram. You can also buy Her Hoop Stats gear, such as laptop stickers, mugs, and shirts!
Haven't subscribed to the Her Hoop Stats Newsletter yet?
---
The first coaching domino that fell in the WNBA offseason was Brian Agler, who somewhat abruptly, and a little surprisingly, parted ways with a Dallas Wings team that showed some improvement in 2020. How will that impact Dallas in 2021? Read on. 
By the numbers
8-14 (0.364), did not qualify for playoffs

Points Scored: 83.4 (7th), Points Allowed: 87.0 (10th), Margin Per Game: -3.5 (9th)

Offensive Rating: 100.9 (7th), Defensive Rating: 106.5 (11th), Net Rating: -5.6 (9th)

Pace: 81.2 (10th)
2020 Synopsis
It was Double-D time in Dallas: Development and Defense.
The first D worked out OK, as Satou Sabally played enough to learn the ropes in the WNBA, and young players such as Arike Ogunbowale (23), Marina Mabrey (just turned 24), Tyasha Harris (22), and even Katie Lou Samuelson (23) all took steps forward -- though some of those steps were bigger than others.
As for defense, well, "work in progress" is a kind way of putting it, as the Wings let pretty much every other team take flight, ranking 11th in opponents' points per possession and dead last in points per shot attempt.
Of course, one major defensive issue was that Sabally, a rookie projected as a small forward or stretch four, wound up playing the post for much of her 16 games, a position she never even played in college despite being 6-foot-4. There might be regrets at the dumping of post Kristine Anigwe in preseason, but no one could have known Isabelle Harrison would hurt her knee in late August and Astou Ndour would regress significantly from 2019.
The good news, though, came in the backcourt, where Arike Ogumbowale emerged as a big-time WNBA scorer (comfortably led the league with 22.8 points per game), Marina Mabrey surprised in general (10.6 points in 22.4 minutes per game, 41.8% from three) and both Harris and Samuelson had their moments. None were effective defensively, but experience improves defense, and all four got more experience in 2020.
The Wings also were in the playoff hunt until the last day of the season, another positive sign, and it's certainly fair to say that Dallas lived up to (relatively modest) expectations in the Year of the Wubble.
Salary Cap Situation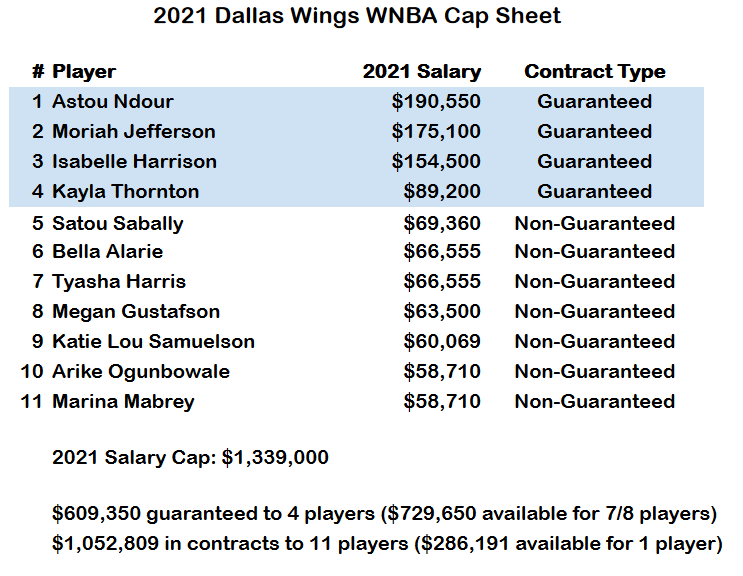 Unrestricted free agents
Free to sign with any team
None.
Restricted free agents
Current team can match contract signed with another team
Reserved and "Suspended-Contract Expired" players
Can only negotiate with the Wings
None.
2021 Draft Picks
Lottery Pick 1-4, $70,040

5th Pick (1st round 5th pick, via Washington), $67,208

7th Pick (1st round 7th pick, via Chicago), $67,208

13th Pick (2nd round 1st pick, via New York)

16th Pick (2nd round 4th pick)

Traded 3rd round pick to Los Angeles
2021 Roster and Cap Summary
Dallas's main problem heading into 2021 is the same as in 2020 - too many players for too few spots. Megan Gustafson is the only non-guaranteed contract who barely played this season while all the others seem like players they'd probably like to keep or at least gain some value from. Then there are once again three top-seven picks in the draft (plus the #13), and presumably they'd like to re-sign RFA Allisha Gray (who won't come cheap). They're a team thoroughly primed to make a three-for-one or four-for-one deal for a star, if anyone happens to want to play in Dallas.
In terms of cap space, if Gustafson was cut they'd have around $350,000, at least 150k of which will likely go to Gray. Lots more could be opened up if they can find anyone who still wants Astou Ndour's guaranteed max deal after she spent most of the 2020 season on the bench. So there's definitely room for a star to arrive via trade, and even space to go fishing in the free agency pool - but at some point they'd have to open up roster spots. You can only keep 12.
Looking to 2021
The Wings have some pieces in place: A great young scorer in Ogunbowale (who's also a decent distributor), several point guard candidates (especially if Moriah Jefferson can somehow remain healthy), an extremely promising forward in Sabally, and a year's worth of experience for a young roster.
They now, however, also must deal with uncertainty at the top, as a new coach will bring a new look to the franchise. Whoever takes over, though, will need some patience with the inevitable growing pains, but will also be in a position to build and develop a group that could be challenging for a title in the next few years.
Much depends, however, on Isabelle Harrison, who missed all of 2018 and half of 2020 with injuries and may not be the final answer for a Dallas team that wants to compete for the title. She's not much above average in the middle, and Dallas will need more than that to contend.
Then again, fully healthy seasons from Allisha Gray and Kayla Thornton could make up for a lot, and if the Wings are willing to match offers for Gray, the Dallas roster becomes both deep and versatile.
There are salary issues, however, and a roster crunch, which renders at least two of the Wings' first-round picks fairly useless. It's troubling that the two highest-paid players are Ndour, who couldn't get off the bench, and Jefferson, who last played a full season in 2016. Then again, perhaps the new coach will be able to coax a better performance out of Ndour, and there's always hope that Jefferson will discover a way to remain healthy in 2021.
Conceivably, Dallas could package some of its assets for a defensive-minded post, solving two problems at the same time, and potentially making the Wings a possibility for a top-four finish. Even without a big trade, however, if the coach can rejuvenate Ndour and tighten up the defense, Dallas could easily transform from an also-ran to a team no one wants to play.
---
Want to read about another team? Here are our previously published breakdowns:
---
Thanks for reading the Her Hoop Stats Newsletter. If you like our work, be sure to check out our stats site, our podcast, and our social media accounts on Twitter, Facebook, and Instagram. All stats are compiled from Her Hoop Stats, and more information on WNBA free agency can be found here.