Discover more from The Her Hoop Stats Newsletter
Unlocking better insight about women's basketball
Over 3,000 subscribers
Why Leilani Mitchell Is the Washington Mystics' Most Important Newcomer
"She plays way bigger than what the paper says," teammate Essence Carson said of the 5-foot-5 point guard
Thanks for reading the Her Hoop Stats Newsletter. If you like our work, be sure to check out our stats site, our podcast, and our social media accounts on Twitter, Facebook, and Instagram. You can also buy Her Hoop Stats gear, such as laptop stickers, mugs, and shirts!
Haven't subscribed to the Her Hoop Stats Newsletter yet?
---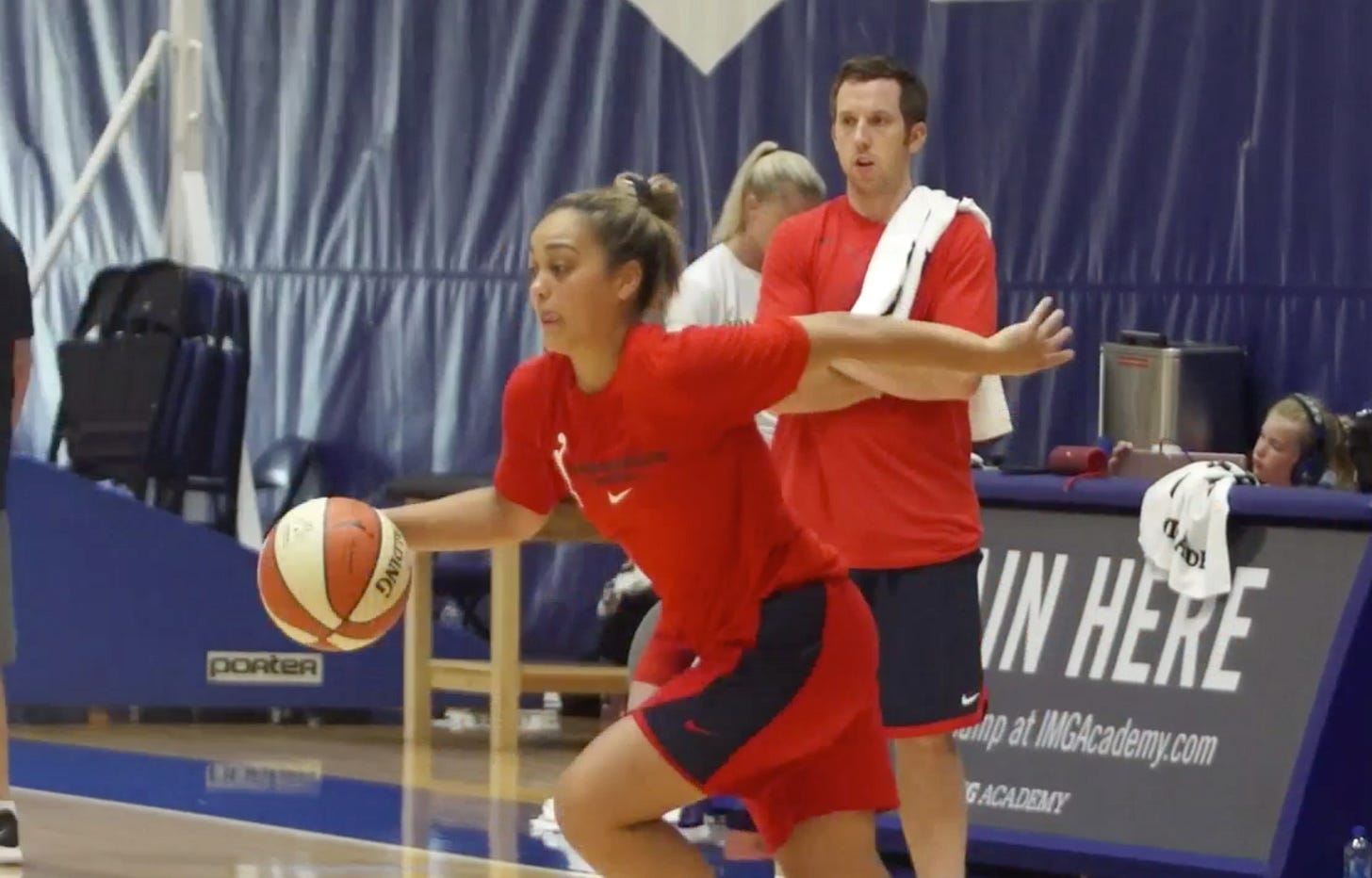 Washington Mystics point guard Leilani Mitchell runs the offense as associate head coach Eric Thibault looks on at practice on July 13, 2020. Photo credit: NBA Content Network
The Washington Mystics added their first newcomer to the 2020 roster what feels like forever ago, when free-agent point guard Leilani Mitchell signed a two-year contract with the team in February. Since then, the team has traded for 2012 WNBA MVP Tina Charles and signed free agents Essence Carson, Shey Peddy, and Alaina Coates. Most observers rightly considered Charles the crown jewel of that group, but now, with the WNBA season finally upon us, it's Mitchell who has emerged as the most crucial addition.
Contrary to popular perception, Mitchell was a player Thibault wanted even before guard Kristi Toliver decided to sign with Los Angeles. "[Mitchell] was a prime target for us this offseason regardless," Thibault told the media last week.
Mitchell had a stellar 2019 season in Phoenix, winning the WNBA's Most Improved Player award for the second time in her career, but she told Her Hoop Stats that she was "open to anything" in free agency. She "wasn't really too happy with what happened" at the start of last season, when Phoenix had to cut one player to get under the salary cap and Mitchell was the odd woman out. The team re-signed her 13 days later, as soon as it had the cap space to do so, but the damage was done.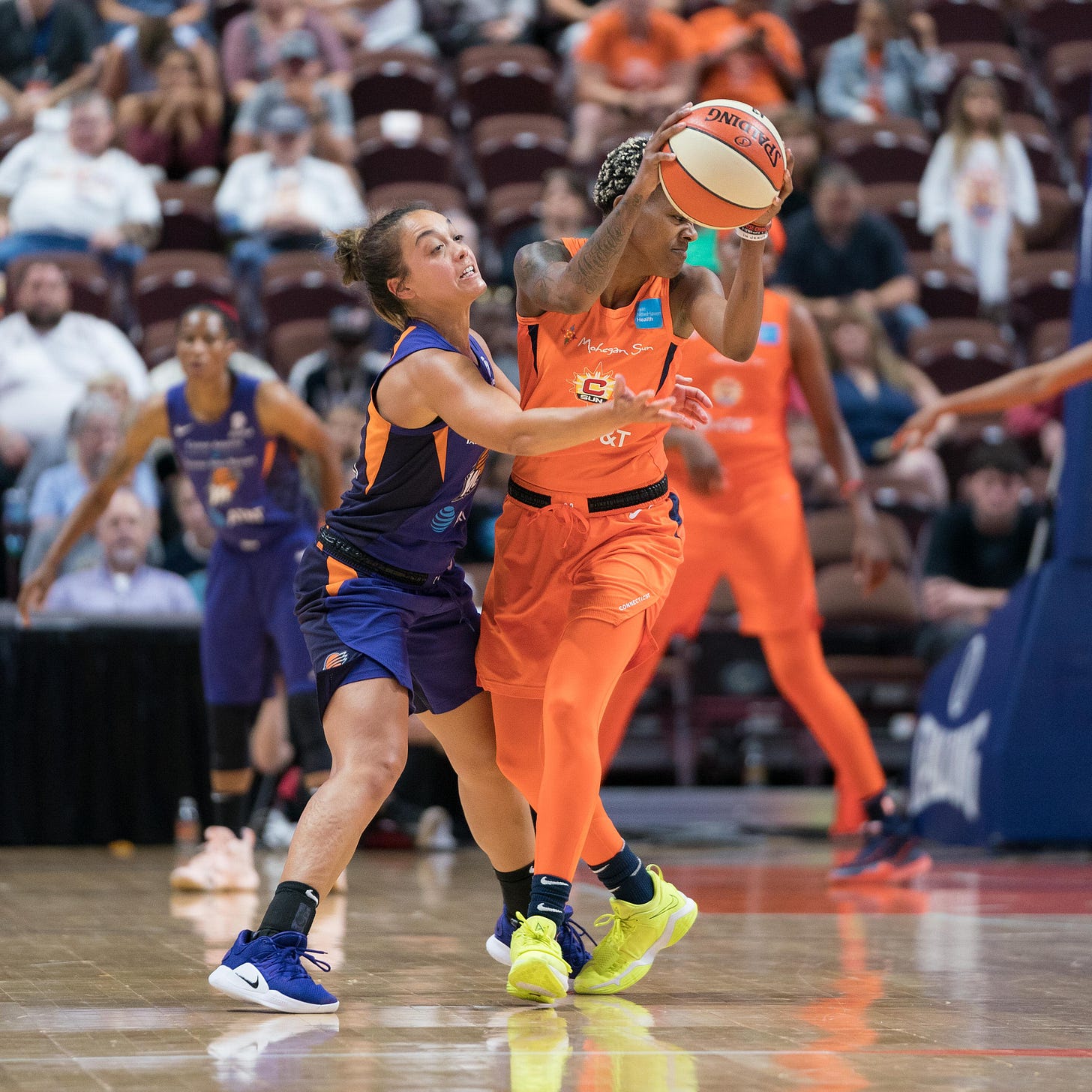 Phoenix Mercury guard Leilani Mitchell (in purple) defends Connecticut Sun guard Courtney Williams during a game on August 1, 2019. Photo credit: Chris Poss
Back in 2016, Mitchell had played 10 games for the Mystics after representing Australia in the Rio Olympics, and she had enjoyed both the team and the city of Washington. The feeling was mutual: Mystics head coach and general manager Mike Thibault tried to bring her back in subsequent offseasons, but it never worked out. This year, he tried again. "When I knew they were interested, it was definitely just straightaway up to the top of my sort of checklist," Mitchell said.
However, much has changed since Thibault opened discussions with Mitchell this winter. By the time Mitchell signed on the dotted line, Toliver was gone, leaving Mitchell and Natasha Cloud as the team's only point guards. Then the COVID-19 pandemic hit, throwing the 2020 season into question and giving many players more downtime than they had ever had as professionals. And as the WNBA geared back up for an unprecedented season—a 22-game schedule at a single site in Bradenton, Florida—several of Mitchell's new teammates opted out of playing.
Cloud was one of those opt-outs, choosing to focus on advocating for social justice over playing this season. Charles and 2019 WNBA MVP Elena Delle Donne are also expected not to play due to health concerns. "I was looking forward to playing with [Natasha] and Elena and Tina," Mitchell told Her Hoop Stats. "… When there's great players, you want to be a part of it and to play with them."
Mitchell admitted that she, too, questioned whether to play this season. She was concerned about flying from her offseason home in Hamilton, Australia, to Washington and then to Florida. And she was reluctant to leave her wife, former WNBL player Mikaela Dombkins, and their nearly two-year-old son Kash.
Mitchell said, "[Kash] didn't have any idea what was happening, so it was hard … I would be laying next to them or, sometimes throughout the day for the last few weeks, trying to explain to him that I was leaving and I love him and this and that, I'm gonna miss him, and I'd start crying. But he would just look at me or sometimes just give me a hug."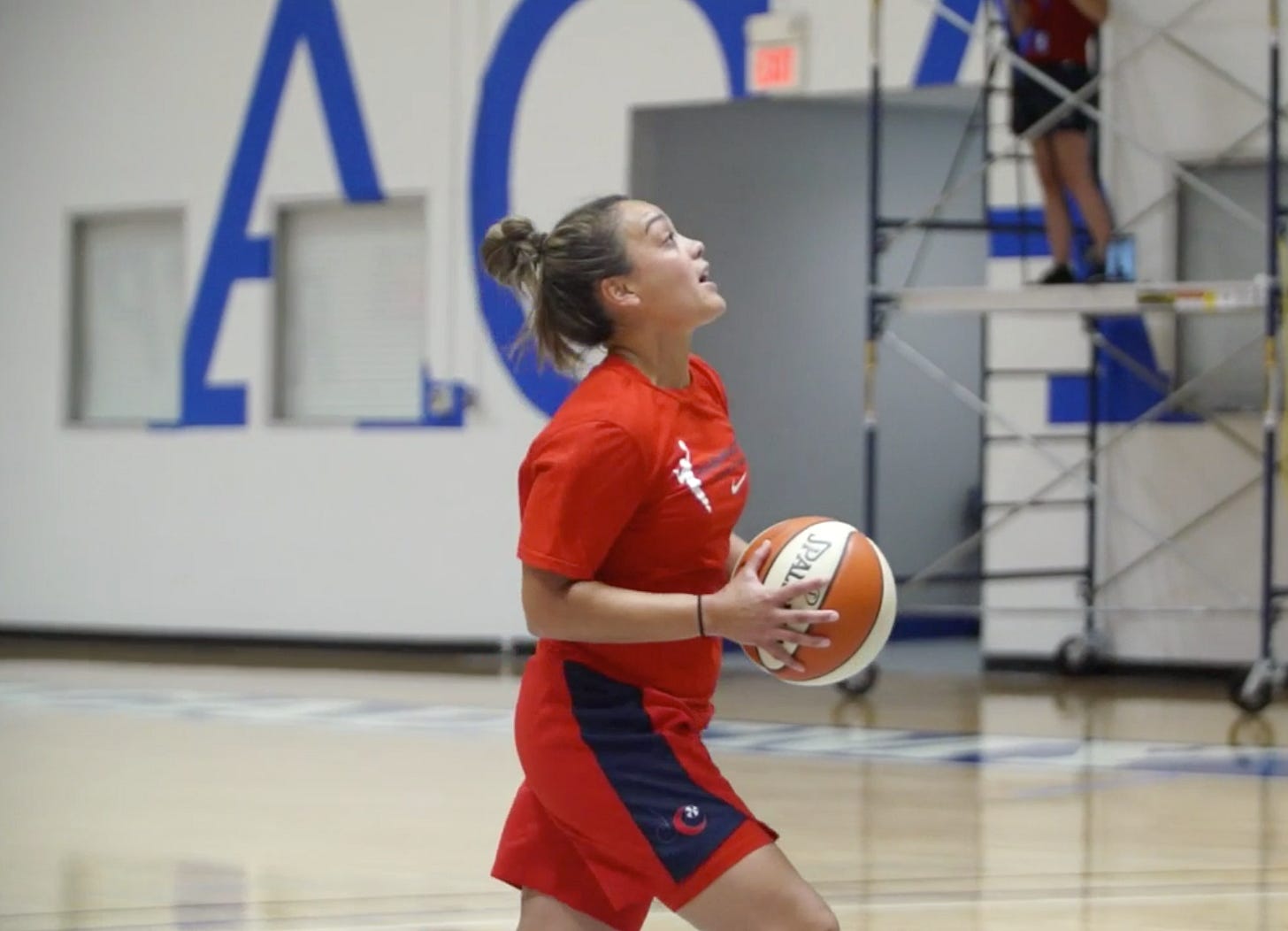 Mitchell's eyes are focused on the target as she prepares to shoot a layup at a Washington Mystics practice on July 13, 2020. Photo credit: NBA Content Network
Fortunately for the Mystics, Mitchell decided to play, and she will be critical to the team's success in 2020. Winsidr's Gabe Ibrahim recently pointed out that players who are not currently with the Mystics in Florida used 55% of the team's offensive possessions last season, so the Mystics will need to reinvent themselves on the fly. (For perspective, the Seattle Storm lost its two best players to injury in 2019, which most people thought had an enormous impact on how the Storm played. Yet those two players used only 34% of the team's offensive possessions in 2018, so the Mystics' retooling is on a much bigger scale.) 
Barring injury or a major surprise, Mitchell is expected to start at point guard for the new-look Mystics after coming off the team's bench in 2016. She had arguably the best statistical season of her career in Phoenix last season: she scored 12.8 points per game, double her career average, while shooting 43.0% from 3-point range and adding 4.0 assists. She also had a career-high player efficiency rating of 17.6, well above the league average of 15.0.
Most memorably for Mystics fans, Mitchell tied a WNBA record by sinking eight 3-pointers in Phoenix's wild 99-93 loss at the Entertainment and Sports Arena last July, including one triple that cut the lead to 95-93 with 1:21 left.
Carson played with Mitchell last season in Phoenix and for six years in New York from 2008 through 2013. Asked what Mitchell brings to the table, Carson praised Mitchell's shooting as well as her leadership, court vision, and basketball IQ. Mitchell is just 5-foot-5, but "she plays way bigger than what the paper says," Carson said. "… When she lets [her shot] fly … it's a lethal weapon."
In consummate point guard fashion, Mitchell downplayed her shooting when asked about her role for the Mystics. "My job is to make sure everyone gets the ball [and] just make everyone else's job easier, whether I'm driving and kicking … or calling certain plays for certain people to get open," she told the media recently. "And then, of course, yeah, my shooting and … organizing the team and making sure we're all on the same page."
Mitchell's passing and shooting will both be essential in an offense that, Thibault revealed, might top last year's WNBA record for 3-point attempts per game. "We might just be firing at will," he said. Last season, Mitchell expertly distributed the ball to MVP-caliber players like Brittney Griner and DeWanna Bonner in Phoenix, and she'll have a similar option with the Mystics in 2019 WNBA Finals MVP Emma Meesseman. The Mystics also have five players who shot at least 35% from 3-point range (minimum 15 attempts) last season—but none of them shot as high of a percentage as Mitchell did, so she will need to balance setting up her teammates with hunting her own shot. 
In addition, Mitchell will help fill the leadership void created by the absences of veterans Cloud, Toliver, Delle Donne, and center LaToya Sanders, who opted out for health and family reasons. "Mitchell by nature is a vocal point guard," Thibault said. "She's … the point guard on the Australian national team [and] she was the point guard on a very high-personality team in Phoenix last year, so I don't think she'll shrink from that pressure." She is also a veteran presence, having already played 11 seasons in the league.
With all of their personnel losses, the Mystics must quickly make up for lost time and gel as a team. "The biggest challenge is our team chemistry on the court," Mitchell recently told the media. "… We haven't played with each other and we don't know sort of the ins and outs of what each player likes. But we're getting there."
Mitchell appears to be enjoying that challenge and settling into the WNBA "bubble" in Florida. Despite the learning curve as the team develops chemistry, Mitchell told Her Hoop Stats that getting back on the court "was really refreshing." And off the court, her new teammates have been extremely welcoming. She is living in the same hotel as the Mystics' other newcomers, and they are bonding over meals and other activities. A games night is in the works, and Mitchell packed a football and a tennis racket, which could come in handy on off days.
Thibault said much of his offseason game planning "went out the window" when key players opted out. But, in hindsight, signing Mitchell was one of the best things Thibault could have done to blunt the impact of those absences. "That's looking like a bigger and bigger signing every day," he said recently.
In fact, Mitchell is poised to be the Mystics' most important newcomer this season, not just because of what the Mystics lost but also because of what they gain with Mitchell running the show. The veteran point guard hopes to help the Mystics wipe the slate clean in 2020 and reinvent themselves—a plan that is only fitting amid the coronavirus pandemic.
---
Thanks for reading the Her Hoop Stats Newsletter. If you like our work, be sure to check out our stats site, our podcast, and our social media accounts on Twitter, Facebook, and Instagram.