Discover more from The Her Hoop Stats Newsletter
Unlocking better insight about women's basketball
Over 3,000 subscribers
2020 Reflections and 2021 Forecasts: Los Angeles Sparks
What is the Sparks' salary cap situation and what might the team look like next year?
Thanks for reading the Her Hoop Stats Newsletter. If you like our work, be sure to check out our stats site, our podcast, and our social media accounts on Twitter, Facebook, and Instagram. You can also buy Her Hoop Stats gear, such as laptop stickers, mugs, and shirts!
Haven't subscribed to the Her Hoop Stats Newsletter yet?
---
Though Seattle was dominant in the 2020 postseason, 11 other teams are looking to calm the Storm in 2021. Here's a look at the Los Angeles Sparks, who were upset in the second round of the playoffs by the suddenly potent Connecticut Sun, but are hoping for bigger and better things next summer.
-------------------------------------
By the Numbers
15-7 (0.682), 3rd seed in the playoffs, eliminated in Round 2

Points Scored: 84.9 (5th), Points Allowed: 80.3 (4th), Margin Per Game: +4.6 (3rd)

Offensive Rating: 103.0 (5th), Defensive Rating: 97.5 (3rd), Net Rating: +5.6 (4th)

Pace: 81.9 (7th)
2020 Synopsis
By almost every measure, the Sparks had a good season in 2020, except the one that fans remember most: the playoffs. With key cog Nneka Ogwumike sidelined with a migraine, the Sparks gave up a 15-0 first-quarter run in the single-elimination second round and fell 73-59 to Connecticut, the second straight year the Sun had made the Sparks disappear.
But a .682 winning percentage in the other 22 games is an achievement, though teasing out how those wins were manufactured isn't immediately obvious. Two stats treasured by traditionalists -- free-throw shooting and rebounding -- were significant L.A. weaknesses, and the Sparks' defense was the worst in the league, percentage-wise, against three-point shooters.
To balance those numbers, Derek Fisher's group shot the ball very well themselves, including a league-best 39.7% from beyond the arc. That impressive number, though, was offset by the fact the Sparks didn't shoot that often from three-point distance and were just eighth in the league in generating points from that area of the court.
So how did they win? By forcing more turnovers than any other team in the league, and by limiting opponents' trips to the free-throw line. Both of these success stories can in part be traced to L.A.'s veteran lineup, led by Candace Parker, who had the best defensive season of her career en route to being named Defensive Player of the Year -- and the high-IQ play of Ogwumike, Chelsea Gray and Sydney Wiese, who emerged as a legit WNBA two guard.
Credit must also be given to Fisher, for instilling the kind of defensive discipline that generates turnovers without fouls, and for also mixing and matching by starting 10 different players over the course of the season.
Salary Cap Situation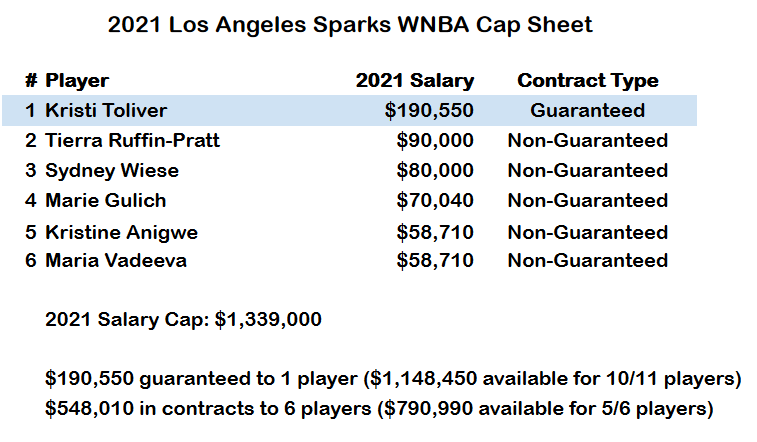 Unrestricted free agents
Free to sign with any team
Restricted free agents
Current team can match contract signed with another team
Reserved and "Suspended-Contract Expired" players
Can only negotiate with the Sparks
2021 Draft Picks
10th Pick (10th pick, 1st round), $64,375

22nd Pick (10th pick 2nd round)

28th Pick (4th pick 3rd round, via Dallas)

34th Pick (10th pick 3rd round)
2021 Roster and Cap Summary
The Sparks have so many unknowns heading into this offseason that it's tricky to even try to do the math. Hypothetically, let's say they cut Marie Gulich (who didn't play much this year) and Tierra Ruffin-Pratt (who became expendable due to the play of Brittney Sykes). They'd then have $951,030 of cap space for seven or eight spots.
It seems likely they'll use their core designation on either Nneka Ogwumike or Chelsea Gray, just in case (it can't be used on Candace Parker, as she's reached the limit of core seasons under the CBA). Either way, both will likely demand the supermax to return. If Parker did the same, that'd be $664,350 for those three alone, leaving $286,680 for the remaining four or five roster spots. Even if three of those went to players on the base minimum of $58,710, that would only leave $110,550 for the final spot (or two). That surely wouldn't be enough to retain restricted free agent Brittney Sykes, and that's without even mentioning Riquna Williams, Chiney Ogwumike or Seimone Augustus (or anyone they might have designs on in free agency).
This is one of the teams where we could see the biggest impact from the new salary structure. Unless a lot of people take significant discounts to stick around (and we're talking big discounts), there are going to be some important pieces walking away from the Sparks.
Looking to 2021
Generally, basketball fans like to talk about basketball, but any discussion of the 2021 Los Angeles Sparks has to begin -- and maybe end -- with money.
Salary cap reality makes it very difficult for L.A. to keep Parker, Nneka Ogwumike and Gray happy with the size of their monthly checks, so presumably at least one will be wearing another uniform next summer. With guards Kristi Toliver, Wiese and Williams potentially available, the logical departure would be Gray -- who also had the lowest PER (16.7, slightly above average) of the big three.
If that happens, Toliver becomes the de facto point guard, with Wiese, Ogwumike, Parker and Brittney Sykes (who the Sparks could then afford to re-sign) as the other four starters, which is a pretty potent starting group. If Williams can be convinced (paid enough) to return, she gets plenty of minutes off the bench, but after that … well, question marks replace dollar signs the rest of the way.
Is Kristine Anigwe a legit WNBA backup post? Will Maria Vadeeva finally prove how good she is? Can Te'a Cooper develop into a competent backup point guard? Can Seimone Augustus help the team at age 37, and if she can, will the Sparks be able to pay her enough to keep her around?
Uncertainties aside, however, any team that runs Parker, Nneka Ogwumike and Toliver out on the floor for 28 minutes a night is going to be a very competitive one. Though the veteran status of the trio might result in some erratic moments in the regular season, a healthy Los Angeles would be nobody's favorite opponent come the playoffs.
---
Want to read about another team? Here are our previously published breakdowns:
---
Thanks for reading the Her Hoop Stats Newsletter. If you like our work, be sure to check out our stats site, our podcast, and our social media accounts on Twitter, Facebook, and Instagram. All stats are compiled from Her Hoop Stats, and more information on WNBA free agency can be found here.