Discover more from The Her Hoop Stats Newsletter
Unlocking better insight about women's basketball
Over 3,000 subscribers
2020 Reflections and 2021 Forecasts: Phoenix Mercury
What is the Mercury's salary cap situation and what might the team look like next year?
Thanks for reading the Her Hoop Stats Newsletter. If you like our work, be sure to check out our stats site, our podcast, and our social media accounts on Twitter, Facebook, and Instagram. You can also buy Her Hoop Stats gear, such as laptop stickers, mugs, and shirts!
Haven't subscribed to the Her Hoop Stats Newsletter yet?
---
The Phoenix Mercury have good seasons and bad seasons -- but they never have a dull one. Here's a look at how 2020 went, and how 2021 might play out.
By the Numbers
13-9 (0.591), 5th seed in the playoffs, eliminated in Round 2
Points Scored: 86.1 (4th), Points Allowed: 84.1 (8th), Margin Per Game: 12.0 (6th)
Offensive Rating: 102.6 (6th), Defensive Rating: 99.4 (5th), Net Rating: 3.2 (6th)
2020 Synopsis
Brittney Griner has always been an enigmatic player. She's marvelously athletic at 6-9, arguably the best shot-blocker the women's game has ever seen, and an offensive force. On the other hand, she has been criticized for not rebounding as well as her size and skills would suggest she should, and there have been off-court distractions.
All of those elements were in play in 2020, as she blocked shots (1.8 per game) and scored (17.7 points per game) while occasionally disappearing on the glass and then leaving  the Wubble for personal reasons.
Meanwhile, another of the team's divas, the ageless Diana Taurasi, had a spectacular season for a 38-year-old (or any age, really), scoring 18.7 points per game, posting a near-2.0 assist/turnover ratio and even defending at an above-average level.
And speaking of defense, the team's pace of play obscured the fact that Phoenix was actually more efficient on that end than on offense, with Brianna Turner sparking a surprisingly effective unit. It would have been even more effective if the Mercury hadn't allowed opponents to get offensive rebounds as often as Taurasi complained about a call, but even so, the 2020 Phoenix Mercury won 59.1% of their games. And that success came despite Griner's sudden departure, Bria Hartley's injury (which derailed her best season) and Skylar Diggins-Smith's turnover issues.
Phoenix, in fact, was just two points away from advancing to the WNBA semifinals, losing to the Minnesota Lynx by one in Round 2 of the playoffs, so regardless of the drama that always seems to hover around the Mercury, they were still a quality basketball team in 2020.
Salary Cap Situation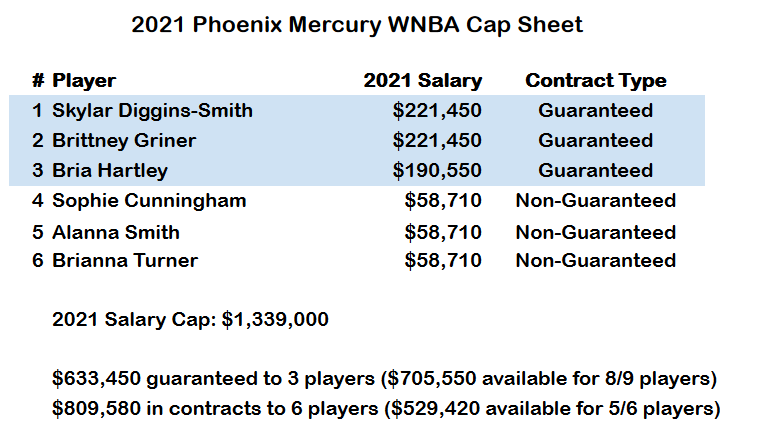 Unrestricted free agents
Free to sign with any team
Restricted free agents
Current team can match contract signed with another team
Reserved and "Suspended-Contract Expired" players
Can only negotiate with the Mercury
2021 Draft Picks
6th Pick (6th pick 1st round, via Connecticut), $67,208

32nd Pick (8th pick 3rd round)
Traded 1st round pick to Dallas

Traded 2nd round pick to Connecticut
2021 Roster and Cap Summary
While a headline-drawing trade or a Taurasi retirement could change things dramatically, Phoenix is another team for which money currently looks quite tight. If Taurasi re-signs for the supermax, which seems likely, the Mercury would have seven players under contract for $1,031,030. That would leave $307,970 in space for four or five players, or $240,762 for three/four if we assume the #6 pick makes the team.
Add two more players for the league minimum of $58,710 and Phoenix would only have $123,342 left for its final roster spot (or two). That's without re-signing any of the other free agents listed above, including Jessica Breland, Kia Vaughn, Shatori Walker-Kimbrough or Yvonne Turner. In the modern free agent market that's not a lot of space, but might be enough to bring back one of those four, or bring in someone of a similar level. The Mercury may well be forced to take some shots on some younger and less proven backups next year, simply because there won't be room to pay any more vets.
Looking to 2021
Assuming Griner has sorted out her off-court issues, and Taurasi returns for another season -- neither a sure thing, by the way -- the Mercury start with an inside-outside combo that few teams in the league can match.
Add Diggins-Smith and a hopefully healed Hartley to the mix, plus the emerging Turner, and that's a quality, if slightly undersized, starting five. Alanna Smith and Sophie Cunningham are competent reserves who can help if Sandy Brondello picks their spots carefully, but a solid backup for Griner is the missing link. Vaughn played well down the stretch, but that late burst of mid-range jumpers may have priced her out of the Arizona market. Breland too will draw attention and more to the point, she's never been a center, and might be miscast playing major minutes in the middle.
Still, the Mercury have continuity (Brondello will be in her eighth year in 2021), Griner, Taurasi and enough pieces in place that having to lowball the bottom third of the bench shouldn't kill their chances of success. That said, though, there's plenty of uncertainty hovering around the franchise, which should make for an interesting, if sometimes unsettling, offseason.
---
Want to read about another team? Here are our previously published breakdowns: