Discover more from The Her Hoop Stats Newsletter
Unlocking better insight about women's basketball
Over 3,000 subscribers
2020 Reflections and 2021 Forecasts: Connecticut Sun
What is the Sun's salary cap situation and what might the team look like next year?
Thanks for reading the Her Hoop Stats Newsletter. If you like our work, be sure to check out our stats site, our podcast, and our social media accounts on Twitter, Facebook, and Instagram. You can also buy Her Hoop Stats gear, such as laptop stickers, mugs, and shirts!
Haven't subscribed to the Her Hoop Stats Newsletter yet?
---
While the Seattle Storm swept the Las Vegas Aces in the WNBA Finals, the Connecticut Sun's journey from an 0-5 start to the WNBA semifinals was one of the season's most intriguing storylines. In the latest installment of our series reflecting on the 2020 season for each WNBA team and looking ahead to 2021, we review the Sun. 
By the Numbers
10-12 (0.45), 7th seed in the playoffs, eliminated in WNBA semifinals

Points Scored: 80.4 (10th), Points Allowed: 79.9 (2nd), Margin Per Game: +0.5 (7th)

Offensive Rating: 97.5 (10th), Defensive Rating: 97.5 (T-3rd), Net Rating: 0.0 (7th)

Pace: 81.7 (9th)
2020 Synopsis
The Sun had high expectations for this year after being 10 minutes away from the franchise's first championship last season. The team looked like it was in a prime position to get back to the Finals after acquiring 10-year veteran DeWanna Bonner via trade in February. But Connecticut lost Shekinna Stricklen, the team's best perimeter shooter, in free agency and traded away Courtney Williams after failing to reach a new deal. The Sun suffered another setback in June when All-Star and leading scorer Jonquel Jones opted out of the 2020 season because of health concerns.
While only six players from 2019 returned for the Sun this season, head coach Curt Miller and Vice President Amber Cox padded the roster with players who have championship experience — Bonner, Briann January, Kaleena Mosqueda-Lewis, and eventually Essence Carson. 
With only 22 regular season games, an 0-5 start looked like it could lead to a doomed season. Guard Natisha Hiedeman missed most of training camp, January didn't make her season debut until August 12 because of COVID-19, and forward Theresa Plaisance wasn't available early due to injuries. However, Miller and his team never let the slow start get in their way. The Sun finished the regular season on a 10-7 run thanks to staunch defense and a more balanced offense.
Unsurprisingly, stars Alyssa Thomas and Bonner were the team's most important players, but fourth-year center Brionna Jones also made huge strides and was an important piece in Connecticut's success later in the season. She was huge on the offensive boards, ranking third in the league behind Indiana's Teaira McCowan and Minnesota's Sylvia Fowles with 2.8 offensive rebounds per game. Her contributions helped Connecticut lead the league with 10.0 per game.
The Sun headed into the postseason with the No. 7 seed but handily beat the Chicago Sky and the Los Angeles Sparks in the first two rounds. Connecticut then took the top-seeded Aces to five games in the semifinals and led by six at halftime with a Finals trip on the line. Despite holding Las Vegas to just 27 points in the second half, Connecticut shot below 25 percent from the field and went cold for much of the fourth quarter before losing by three. 
Consistent offense proved to be Connecticut's Achilles heel this season. The team ranked 11th in the league in points per scoring attempt (1.03), points per play (0.87), and effective field goal percentage (46.9%). The Sun also struggled as the worst free throw shooting team and only shot 31.1% from three. 
Salary Cap Situation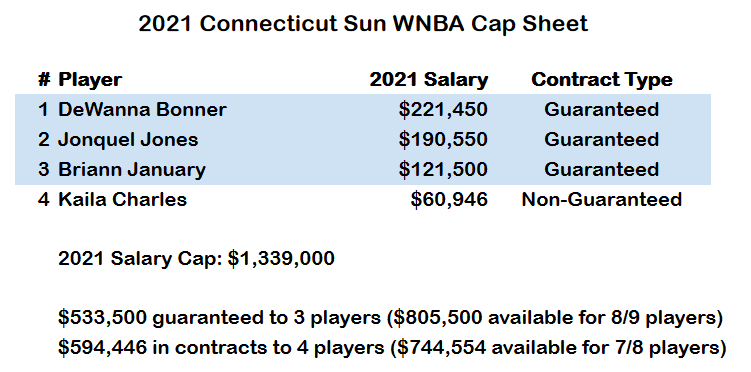 Unrestricted Free Agents
Free to sign with any team
Essence Carson

Kaleena Mosqueda-Lewis

Theresa Plaisance

Alyssa Thomas
Restricted Free Agents
Current team can match contract signed with another team
Reserved and "Suspended-Contract Expired" Players
Can only negotiate with the Sun
2021 Draft Picks
20th pick (8th pick of the 2nd round, via Phoenix)

21st pick (9th pick of the 2nd round, via Minnesota)

30th pick (6th pick of the 3rd round)
Traded 1st-round pick to Dallas

Traded 2nd-round pick to Seattle
2021 Roster and Cap Summary
There is a lot of work to be done in Connecticut, with only four players under contract. The Sun may use their core designation on Alyssa Thomas to ensure she stays (although that could create problems in future years with Jonquel Jones only a season away from free agency herself). Regardless, they need Thomas to stay and it'll likely require a supermax contract. That would leave them with $523,104 for six or seven players.
The Sun would presumably like to keep Jasmine Thomas, their starting point guard for the last six years, but these solid-veteran-but-non-star players are where negotiations can get dicey. Thomas is the type of player who would have earned max money under the old salary structure, but now becomes far more complicated to sign. The franchise might try to save a few dollars by offering less than she thinks she's worth, which is where feelings can get hurt and players may start considering other teams. It will likely take at least $150,000 to keep her. 
A deal like that for Jasmine Thomas would leave around $375,000 for five or six spots. Even if the Sun largely go with a young, cheap bench, that would leave a maximum of about $140,000 for Brionna Jones, which may feel like too much for the presumed backup to Jonquel Jones. That money may be better spent on perimeter options rather than a reserve post. Brionna could find better playing time and pay elsewhere - but the Sun could use her restricted free agent designation to try to convince other teams that they will match an offer for her in order to encourage sign-and-trade discussions.
Looking to 2021
Assuming Jonquel Jones is back next year and the Sun manage to re-sign Alyssa Thomas and Jasmine Thomas, Connecticut should be viewed as a contender to win it all. While the Sun thrived on the #disrespeCT slogan and an underdog mentality in the last few years, no one underestimates them anymore. 
The Sun have the experience and the starting lineup to make it back to the Finals, but they will need a solid bench that's able to deliver energy on the sideline and points on the court. Hiedeman averaged the most bench minutes (18.7 per game) and was the only reserve to play in all 22 games last season. She averaged 6.1 points per game, and scored in double figures four times in 2020, but only shot 35.4 percent from the field. If the Sun keep Hiedeman and she's able to improve her offensive efficiency, she'll be an important piece to their success. Beatrice Mompremier showed flashes of potential throughout her rookie season and could earn the backup post role if Brionna Jones joins another team. Having the opportunity to practice alongside and learn from Jonquel Jones could also be a huge factor in Mompremier's development in year two. 
But undoubtedly what Connecticut needs most is to improve its perimeter shooting. Jonquel Jones' return should help, as she averages 38.5 percent from behind the arc for her career. While the Sun shouldn't count on her to lead the team, being able to draw defenders away from the basket will give Thomas and Bonner more space to create shots. The Sun don't have a first-round pick for the second year in a row, but they won't necessarily need it: in 2020, Miller was able to draft Kaila Charles, who was one of Connecticut's top ten targets, with the 23rd pick. The team may decide to forego adding a rookie to the squad in favor of prioritizing Charles' development. The former Maryland Terp started seven games for the Sun in 2020, and averaged 5.4 points per game on 41.2 percent shooting. While she wasn't known for shooting the three ball in college, she proved that she's capable of making shots from behind the line. She had the best three point shooting percentage on the team, and her 11 made threes in 2020 are more than she recorded in her entire college career. 
Even if the team somehow starts 0-5 again, very few people will be counting Curt Miller and the Sun out this time. 
---
Want to read about another team? Here are our previously published breakdowns:
---
Thanks for reading the Her Hoop Stats Newsletter. If you like our work, be sure to check out our stats site, our podcast, and our social media accounts on Twitter, Facebook, and Instagram. All stats are compiled from Her Hoop Stats, and more information on WNBA free agency can be found here.