Discover more from The Her Hoop Stats Newsletter
Unlocking better insight about women's basketball
Over 3,000 subscribers
2020 Reflections and 2021 Forecasts: Indiana Fever
What is the Fever's salary cap situation and what might the team look like next year?
Thanks for reading the Her Hoop Stats Newsletter. If you like our work, be sure to check out our stats site, our podcast, and our social media accounts on Twitter, Facebook, and Instagram. You can also buy Her Hoop Stats gear, such as laptop stickers, mugs, and shirts!
Haven't subscribed to the Her Hoop Stats Newsletter yet?
---
The bubble burst the Indiana Fever's balloon in 2020, but there's hope for 2021. In the latest installment of our series reflecting on the 2020 season for each WNBA team and looking ahead to 2021, we review the Fever.
----------------------------------------------
By the Numbers
Record (6-16, .273), missed playoffs

Points Scored: 81.7 (8th), Points Allowed: 89.5 (12th), Margin Per Game: -7.9 (11th)

Offensive Rating: 99.4 (8th), Defensive Rating: 110.1 (12th), Net Rating: -10.7 (11th)

Pace: 81.7 (8th)
2020 Synopsis
The plan: Erica Wheeler builds on a successful 2019 and gives the Fever a solid leader at point guard; Victoria Vivians returns from injury and blossoms into a legit perimeter threat; No. 3 overall pick Lauren Cox steps right in at power forward; second-year post Teaira McCowan uses her size and strength to control the paint at both ends of the floor; and Kelsey Mitchell continues to make the case that she can be an All-Star level shooting guard.
The reality: Wheeler contracts COVID-19 and doesn't end up traveling to Florida for the season; Vivians is never close to 100% and plays just 85 minutes in six games before getting hurt again; Cox also battles injuries and is ineffective in her 14 games; McCowan sometimes dominates and sometimes disappears on the floor; and Mitchell didn't improve as much as many anticipated.
Not surprisingly, the result was a six-win season that really didn't prove anything one way or another. No one can blame first-year coach Marianne Stanley too much as she was trying to win poker pots with a small pair, and it's hard to fault the players because they often had to try to do things they weren't capable of.
Still, there were some bright moments, especially the unexpected emergence of Belgian point guard Julie Allemand. But the team was overwhelmed by a torrent of turnovers (ranked 11th in the league) and indifferent defense (last in defensive rating, last in points allowed and opponents' field-goal percentage). Blame the bubble, or just bad luck, but 2020 is a season Fever fans will want to forget as quickly as possible.
Salary Cap Situation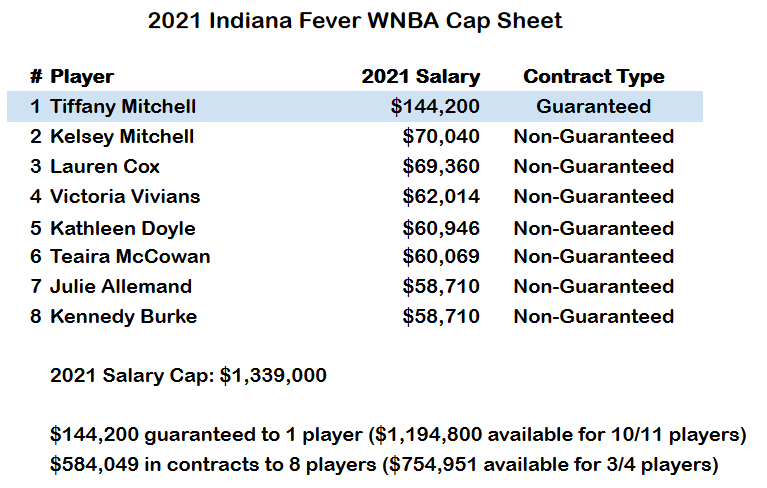 Unrestricted free agents
Free to sign with any team
Restricted free agents
Current team can match contract signed with another team
None
Reserved and "Suspended-Contract Expired" players
Can only negotiate with the Fever
2021 Draft Picks
Lottery Pick 1-4, $70,040

14th Pick (2nd round 2nd pick)

19th Pick (2nd round 7th pick, via Chicago)

26th Pick (3rd round 2nd pick)

31st Pick (3rd round 7th pick, via Chicago)

33rd Pick (3rd round 9th pick, via Minnesota)
2021 Roster and Cap Summary
The Fever have acres of cap space. As a young team with only one player signed for anything above the veteran minimum, they could go wild in free agency if they so desire - and can find players who want to take their money. Their four veteran unrestricted free agents are all players they may want to retain, although with young post players like Cox and McCowan needing room to develop, they surely wouldn't want to commit significant money to all of Jantel Lavender, Natalie Achonwa and Candice Dupree. Lavender's never even played for the franchise after being traded while injured, so she may walk away without ever wearing a Fever jersey.
Wheeler missed the entire 2020 season due to COVID-19, but the Fever still added a Time Off bonus to her contract right at the end of the regular season, which is an extra indication that they'd particularly like her to return. They could even use their core designation on her to make sure she doesn't leave, although a supermax salary would seem like an overpay.
It can often be hard for poor teams to attract free agents, but the new CBA's rebalanced salary structure could force more players to move if they want to get paid. Given that, Indiana may have the chance to grab someone (or multiple someones) who could be a significant upgrade and boost for their roster.
Looking to 2021
If the Fever finally catch a break or two, Indiana could be one of the surprise teams in the 2021 season.
Wheeler, Allemand and Mitchell could easily become a quality backcourt rotation, though they would need to step up their defensive efforts and cut down on turnovers. If Vivians begins to live up to her enormous offensive potential, she and Tiffany Mitchell would be solid at small forward. Cox could easily emerge as a shot-blocking stretch four with surprising athleticism. And all McCowan really needs is a consistent effort at both ends of the floor to be a matchup issue for almost every other team.
And of course, the salary cap flexibility means that unexpected help could arrive, especially if Dupree and Lavender are not re-signed, so new faces could make a big difference as well.
No doubt Stanley would love to see what she could do with the team she expected to have this past year, and given her deep resume, it wouldn't be surprising if she too made a better impression in 2021. All in all, there is plenty of reason for optimism in the Hoosier State, and if things go well, a jump from 6-16 to a .500 record wouldn't be out of the question. If everything goes wrong? Well, Fever fans saw how that worked out in 2020.
----------------------------------------------
Want to read about another team? Here are our previously published breakdowns: