Discover more from The Her Hoop Stats Newsletter
Unlocking better insight about women's basketball
Over 3,000 subscribers
2020 Reflections and 2021 Forecasts: New York Liberty
What is the New York Liberty's salary cap situation and what might the team look like next year?
Thanks for reading the Her Hoop Stats Newsletter. If you like our work, be sure to check out our stats site, our podcast, and our social media accounts on Twitter, Facebook, and Instagram. You can also buy Her Hoop Stats gear, such as laptop stickers, mugs, and shirts!
Haven't subscribed to the Her Hoop Stats Newsletter yet?
----------------------------------------------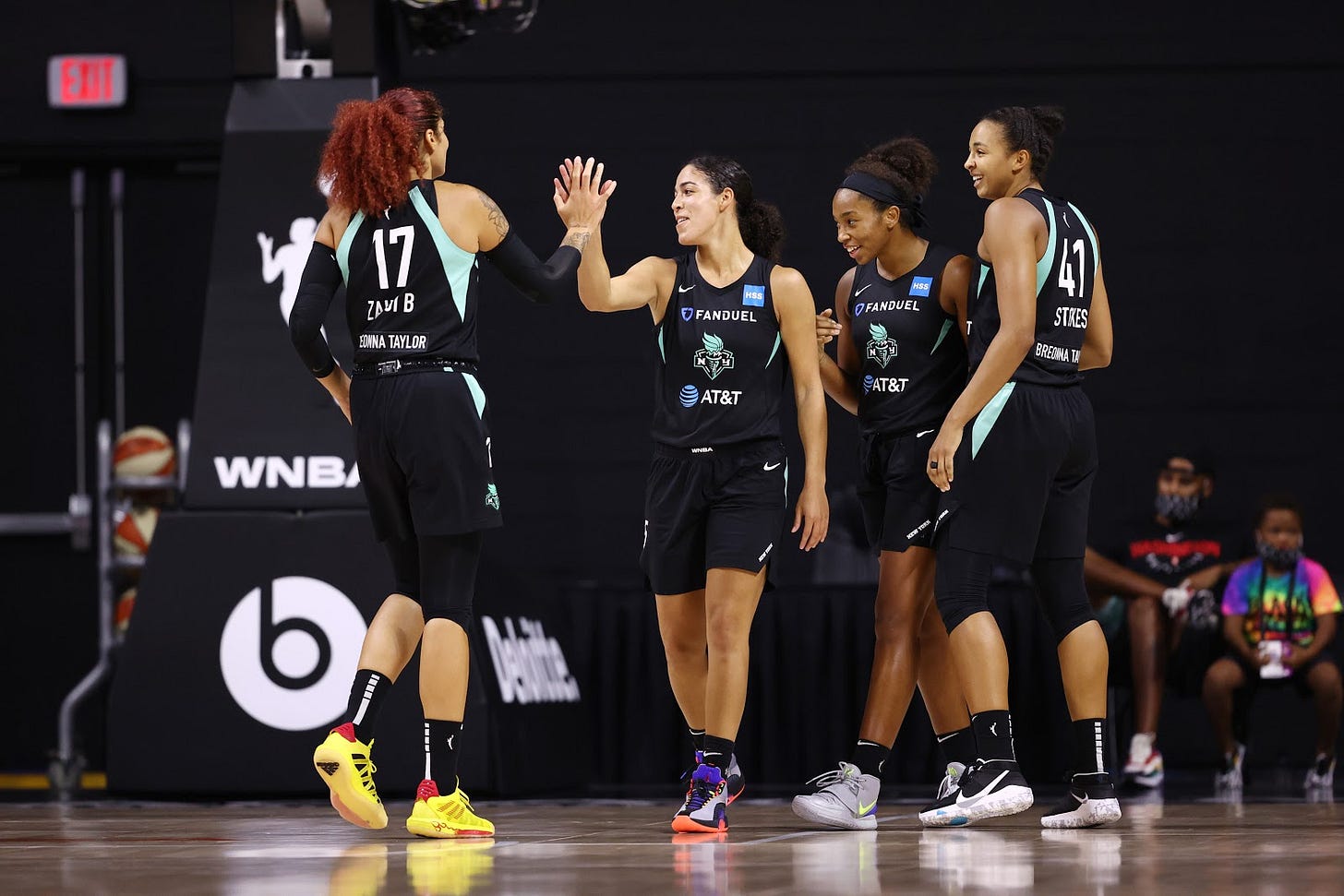 Photo by Ned Dishman/NBAE via Getty Images
The New York Liberty hoped to have a big year in 2020 with a new logo, a new venue (Barclays Center), and a new superstar (Sabrina Ionescu). Because of COVID and injuries, New York did not get to play in Barclays or see too much of Sabrina. Then, they had a disappointing season on the court. But the new jerseys looked great! Let's look at what went wrong for the Libs and what positives came from their time in Bradenton.
By the Numbers
Record: 2-20 (9.1% winning percentage), did not qualify for playoffs

Points Scored: 71.9 (12th), Points Allowed: 85.9 (9th), Margin Per Game: -14.0 (12th)

Offensive Rating: 85.6 (12th), Defensive Rating: 101.5 (9th), Net Rating: -15.9 (12th)

Pace: 84.1 (1st)
2020 Synopsis
New York always planned for 2020 to be a rebuilding year. It was the Liberty's first season since 2014 without franchise leading scorer and future Hall of Famer Tina Charles, who departed in the offseason to the Washington Mystics. First-year Head Coach Walt Hopkins and second-year General Manager Jonathan Kolb looked to change the culture and install a pace-and-space/positionless offense. The roster featured seven rookies on opening night, so winning a lot of games was never a likely outcome.
However, things went worse than anyone could have predicted. Sabrina Ionescu, the #1 overall pick and franchise cornerstone, suffered a bad ankle sprain in the third game of the season after putting up 33 points, 7 rebounds, and 7 assists in the previous outing. She would miss the rest of the season. The Liberty went on to have one of the worst seasons in WNBA history. Here are some relevant nuggets I found using the Her Hoop Stats reSEARCH feature about how poorly things went for New York this season.
Here is my takeaway from these nuggets: 2020 was a bad year for New York. However, the Liberty did have some bright spots. Most importantly, the team never seemed to give up or become apathetic. The Liberty really did care about each game as evidenced by the bench constantly shouting encouragement. It may seem like a platitude but one of the team's main goals this year was instilling a culture of effort and grit. Losing stinks but at least they built the foundation of a culture that could pay off in the future.
Their effort on the defensive end was also a bright spot. New York finished ninth in Defensive Rating and fourth in opponent effective field goal percentage this season. Some of that is due to opponents winning by so much that they took out their starters in garbage time, but the defense definitely improved from their league-worst performance in 2019.
Jazmine Jones embodied what the Liberty want in terms of culture by never once being quiet during a game. She also showed up on the court and played her way onto the WNBA All-Rookie team with averages of 10.8 points, 4 rebounds and 2.2 assists per game. Layshia Clarendon's reemergence was also a bright spot as she had a bounceback season from injuries in years past. Obviously, the team's hopes for the offense and winning did not come to fruition. But it does appear that the culture that Hopkins and Kolb want is taking shape.
Salary Cap Situation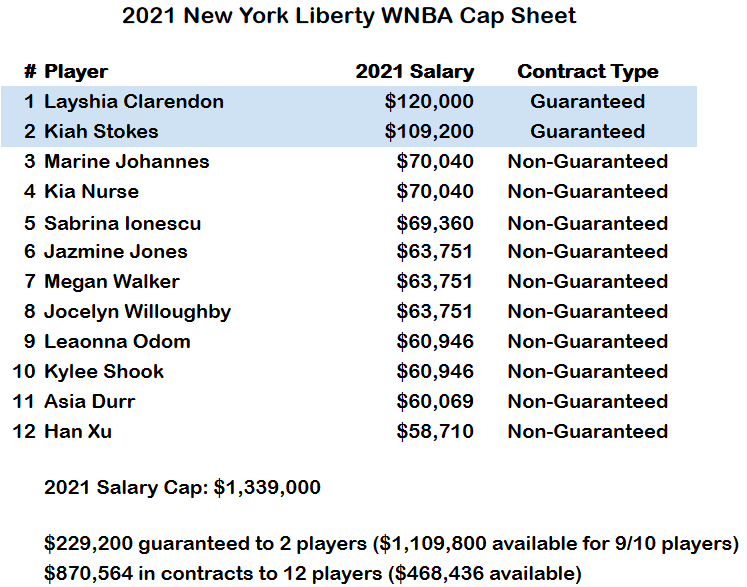 Unrestricted free agents
Free to sign with any team
Restricted free agents
Current team can match contract signed with another team
None
Reserved and "Suspended-Contract Expired" players
Can only negotiate with the Liberty
Rebecca Allen

Joyner Holmes

Paris Kea

Stephanie Talbot
2021 Draft Picks
Lottery Pick 1-4, $70,040

17th Pick (2nd round 5th pick, via Washington)

25th Pick (3rd round 1st pick)

29th Pick (3rd round 5th pick, via Washington)
Traded 2nd round pick to Dallas
2021 Roster and Cap Situation Summary
Between players under contract, players they hold the rights to, and draft picks, the Liberty have a lot more bodies than they have roster spots for 2021. By virtue of being very young, they also have plenty of cap space to add more options in the free agent market if they can convince anyone to join their rebuilding project.
They may wish to retain Amanda Zahui B, who started 20 games for them this season and is still only 27. Theoretically they could even core her to prevent her leaving, but a supermax deal would seem like a significant overpay. It's probably more likely that they try to attract an upgrade on the open market, although a 2-20 team could struggle to draw free agents even with Sabrina Ionescu returning. By the way, there is no rule against carrying more than 12 players under contract in the offseason. If they needed even more cap space for multiple free agents then they might have to start releasing some of the players listed above, but the limit on bodies doesn't come down to 12 until the opening day of the regular season.
Looking to 2021
As I've mentioned, the New York Liberty are in "rebuilding" mode. Step one in a rebuild is fostering a culture of winning and finding an on-court identity that meshes with the culture. The Liberty made strides on the culture side in terms of getting buy-in from players, valuing hustle, and creating an environment of positivity. Step 1 of building culture is not complete, but they have progressed since the beginning of the year, and Libs fans can be hopeful on that front.
New York's on-court identity is still a ways away though. Sabrina Ionescu's absence hampered Hopkins's ideas of a positionless pace-and-space team. The idea requires a point guard who can do everything, including getting into the lane, kicking to shooters, pulling up herself, and being an off-ball threat. While Layshia Clarendon and Jaz Jones acquitted themselves nicely at times, they lacked the shooting to really maestro Hopkins's ideal offense. Ionescu should fix a lot of those problems.
The team did lead the league in pace but struggled with the space part of the equation. The Liberty became the first team in WNBA history to shoot less than 30% on at least 25 three point attempts per game. New York will hopefully get back Marine Johannes, a French sharpshooter and dazzling playmaker, and possibly Rebecca Allen to ameliorate the issue. But the team will also need internal improvement from whichever players remain from 2020.
I would talk about some of those players who need to improve, but I'm not sure who will be back on this squad. In the previous section, Richard Cohen talked about how this team will have to whittle down their roster in the offseason. Kiah Stokes (whose new-found willingness to shoot and defensive buy-in earned her an extension), Clarendon, and Ionescu will be definitely back. I'd be shocked if Jones, Megan Walker, Jocelyn Willoughby and Asia Durr didn't return. But everyone else on the roster is not on solid ground.
To sum it up, the Liberty had a historically bad season on the court in 2020. They made some strides in terms of culture building and got somewhat closer to an offensive identity. New York may have the brightest future in the league and it could start to take shape next year. However for the time being (through mostly no fault of their own), the franchise now has seemingly more questions than answers after their time in the Wubble.
----------------------------------------------
Want to read about another team? Here are our previously published breakdowns:
----------------------------------------------
Thanks for reading the Her Hoop Stats Newsletter. If you like our work, be sure to check out our stats site, our podcast, and our social media accounts on Twitter, Facebook, and Instagram.